Hello, and welcome to some great carp barrow reviews.
Long gone are the days of carrying your tackle to your car, or around the lake – since the introduction of barrows, there is no reason not to spend an hour recovering from back ache!
There are many sizes and styles for you to choose, and whatever you decide to buy – you should consider a few things first!
Will all my tackle fit onto it?
Does it pack down to a reasonable size?
How hardwearing or sturdy is it?
Will the wheels or frame last?
Are you after a barrow or trolley type design?
There are even electric powered ones now!
Besides, all this – a carp barrow can be quite expensive, so as always, look out for any deals or maybe a second-hand barrow might be more suitable?
How often you'll actually use the thing may also be a factor.
So, on with our carp barrow reviews!
Prestige Carp Porter MK2
This is a best-seller, and a firm favourite with many anglers!
It offers perfect balance and stability,with the latest model upgraded with precision bearings.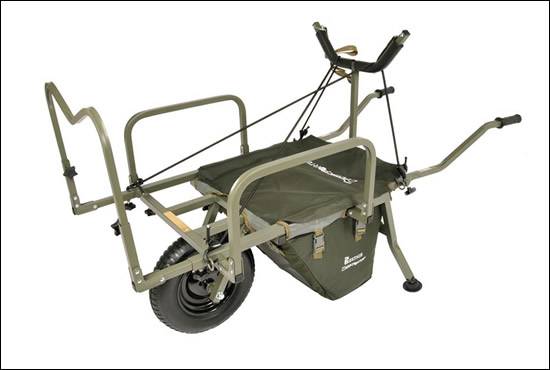 The bars are reinforced, with the front 'Y' bar padded specifically for placing your rod holdall. This is height adjusted so you can raise or lower to your requirements.
The handle is 'corner locking' which makes it easier to remove them and eliminates any movement when lifting.
You'll notice that the main frame is double reinforced with a nice heavy duty carry bag that utilises this space perfectly.
You can fold the side bars flat enabling you to load a large amount of tackle if needed (like your bedchair which tends to be the bulkiest!) . These are also adjustable (max width 110cm) as to your needs.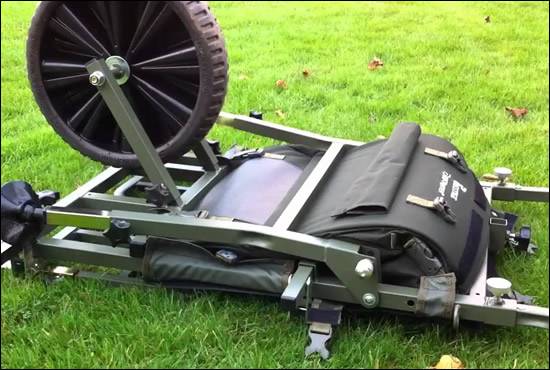 The wheels are instantly removable for a quick pack down, and the extras include a spares kit and bungees.
This barrow can also be motorised if required (sold separately).
The Carp Porter MK2 is a reliable, lightweight barrow making it one of the industry leaders!
There is usually a new version each year with improvements galore, so worth keeping an eye.
LENGTH: 110cm
WIDTH: 88cm
WEIGHT: 14kg
Features
Height adjustable, locking Y bar
Quick Remove Wheels
Full spares and accessories kit
Folding side and front bars to maximise usable load area
Can be motorised with specialist kit (sold separately)
Smooth Handling with the ball-bearing system
Best-selling barrow design
Feel The Love For The MK2 Carp Barrow
---
TF Gear Trukka
The second of our carp barrow reviews is the 'Trukka' from TF Gear.
This is a very easy to assemble barrow that will offer years of service.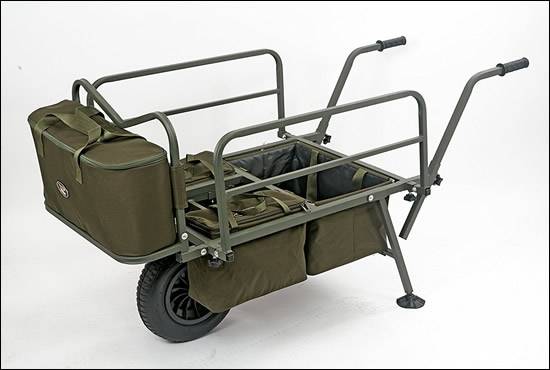 With it's heavy duty frame, high traction wheels and length-long adjustable sides – it can transport a LOT of carp tackle.
It's not only compact, but when transporting, it felt very easy to push and coped with most terrain very easily.
Out of the box, the frame width is 28 inches, and once you've extended the sides, offers a good width at 40 inches.
This makes it ideal for those who travel with the wider bedchairs that around these days!
The Trukka is the perfect way to transport your carp tackle, whilst feeling compact.
Included, are 4 barrow bags (1 Large, 2 Medium that sit just in front and an exterior deep pocket bag)
The Trukka handles well, feels compact and you can expect a lot of space.
WIDTH: 71cm (Extends to 102cm)
LENGTH: 79cm
Features
Adjustable sides give huge carrying capacity
Heavy-duty frame
Easy to assemble
Compact and easy to transport
High traction wheel
Easy to push
Supplied with four barrow bags worth 70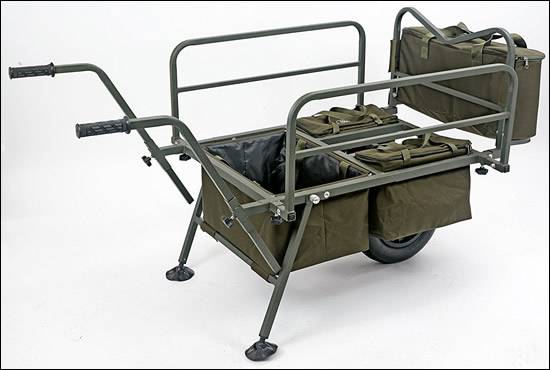 ---
Fox Royale Carp Barrow
Fox have a long carp angling association, and the Royale Carp Barrow fits in nicely with the rest of the range.
This is a low-profile 'lay flat' barrow – there are no side supports, but that means less to fiddle about with I suppose with no width restrictions.
You can just load up your gear – and go fishing!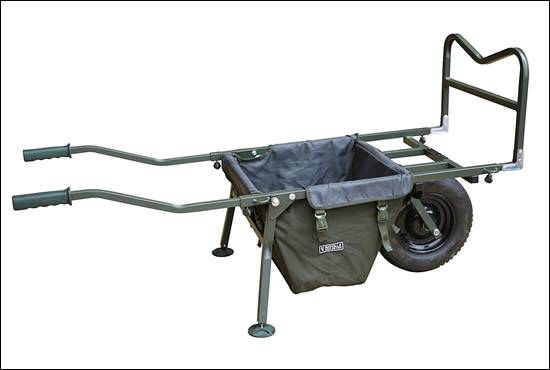 The frame is made from high-tensile steel whilst to the rear there is a 'V' style bar ensuring little movement for your rod holdall.
There is also a spacious storage bag that sits nicely in the centre.
The tyre is air inflated with the pneumatic wheel and handles both removeable. Plus there are looped strap fixings to secure everything down.
After arriving in your swim, the mud feet contain grip studs for extra stability.
Overall, the Fox Royale is a simple transportation solution from a reputable brand.
Features
Extra wide design to fit all of your kit
Quick and simple load length adjustment
Adjustable side support
Quick release wheel system
Compression strap attachment points on frame for use with FX Universal Barrow Straps
Ergonomically shaped handles
Low profile
Swivelling mud feet with spiked bases for extra stability
Pneumatic tyre and wheel bearings
Supplied with free under barrow bag
Fox Royale Video Review
---
Leeda Specimen Barrow
The  Leeda Carp Barrow R300 Compact is strong and incredibly robust, and great value too.
Not only does it fold away flat (more room in the van) but a tidy, stable barrow.
It has a single wheel (removable), steel frame and removable handles.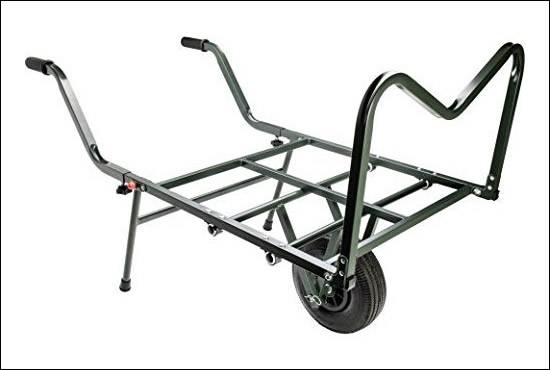 What we liked the most was how wide the steel frame was, meaning you are easily going to be able to stack your bedchair flat with no problems at all.
If we had one complaint – it would be that the wheel is a little on the small size, and if you're pushing a heavy amount of tackle, there could be stability issues!
A good barrow for light travellers or those on a budget, the Leeda Specimen Barrow is certainly a no fuss, lightweight bit of kit!
Features
Folds completely flat
Removable wheel and handles
Steel frame
Strong & Robust
Great Value
Ideal for day sessions
---
Nash Trax Evo
This is another best selling barrow -this time from Nash.
The Trax Evo is an updated version of the same name aimed at those longer sessions.
With attachment points all around the high strength steel frame, extending and adjustable side, rear and front 'Y' bar – this is a barrow with many great features.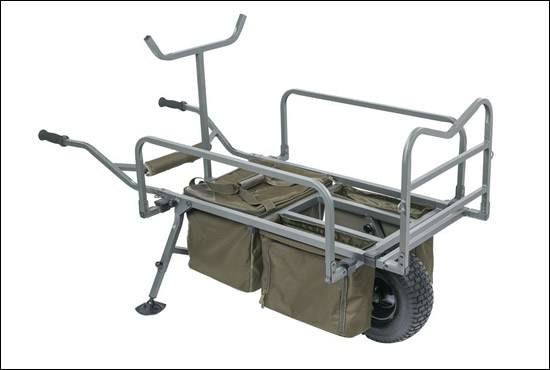 Of course, navigating is the one big factor when buying a barrow – and the Nash is phenomenal when stacked to the roof!
The modular frame layout allows for all sorts of tackle layouts which also includes a waterproof barrow bag (perfect for items such as waders or clothing).
There are accessory bags, with zipped flaps, on both sides for any bait or items you need to access quickly.
The all-terrain wheel (more like a tractor wheel!)  is removable as standard, and you can angle the mud legs accordingly for extra stability (actually, these are also extendable!)
The moulded, ergonomic handles finish the Trax Evo off nicely!
We highly recommend this carp barrow – the features we've mentioned really give you a lot of options as far as stacking everything up and packing down.
LENGTH: 110cm
WIDTH: 71cm
EXTENDS TO: 132cm
Features
Adjustable front and sidebars, locked with moulded cams – no screws to lose
Mesh load bed and sliding bar to prevent tackle falling through
Under barrow storage bag that can be removed and stored under your bed in the bivvy
Braced handlebars for stability
Fold-down front bar to support Barrowlogix Carryall or Food Bag
Quick-release wheel system. Supplied with Trax wide wheel for stability and grip
Trax thin mud wheel available as an optional extra
Rear leg assembly with mud feet
Entire barrow can be quickly dismantled for easy storage at home or in the car
Nash Trax Evo Video Review
…and that just about sums up our list of carp barrow reviews.
We hope you enjoyed them!