Carp angling is synonymous with those who have 'all the gear'. If you are serious about your sport, you probably have quite a bit to carry down to the water. Rods, seats, bivvy, bait, rests, poles, nets… We could go on (and we are bound to have forgotten something). If you can get all your gear to the peg in one trip then you are onto a winner. Not to mention at the end of the session, no one likes the thought of having to do multiple trips to lug all of that gear back to the car. The easier you can make it, the better. Use of a decent trolley can ease the pain.
The best fishing trolley is one that can hold all of your tackle and is easy to push or pull. Quality wheels make all the difference… An area some anglers don't consider is what to do with the trolley when they are not using it. It can be counter-productive if you are struggling to fit all of your tackle in the car because a trolley takes up too much space. Likewise down at the bank, if the fishing tackle trolley gets in the way of you actually fishing then your priorities are likely wrong. A folding fishing trolley might be the answer in this case. Another way to save space is to combine features. A fishing trolley seat box can kill two birds with one stone.
Whether to opt for 2 wheel fishing trolley or a 4 wheel fishing trolley depends on several factors. As a general rule, 4 wheel fishing trolleys require more engineering and this is reflected in the cost. It pays to remember that this is something you only use, briefly, at the start and end of your session. A trolley will not increase your catch rate. Whilst, something like a Maver fishing trolley or Matrix fishing trolley are luxury and a joy to use, they also carry a luxury price tag, which the average angler often can not afford or justify.
Milestone Camping 25180 50KG Heavy-Duty Trolley | Ideal for Camping, Fishing and Festivals | Easy to Store | Sturdy and Durable
NGT Classic Twin Wheel Fishing Trolly
Koala Products Pack Away Flat Seatbox Framed Fishing Trolley
Tyres (Solid rubber or air filled)
Milestone Camping 25180 50KG Heavy-Duty Trolley | Ideal for Camping, Fishing and Festivals | Easy to Store | Sturdy and Durable
Tyres (Solid rubber or air filled)
NGT Classic Twin Wheel Fishing Trolly
Tyres (Solid rubber or air filled)
Koala Products Pack Away Flat Seatbox Framed Fishing Trolley
Tyres (Solid rubber or air filled)
In this article we will have a look at some of the areas worth considering if you are planning to invest in a fishing tackle trolley. Whether you are looking for the best fishing trolley, a cheap fishing trolley or something in between, we will have something for you. Let's roll….
Best Fishing Trollies
Best budget 2 wheel trolley
Compact and easy to store
Holds up to 50kg
Securing straps included
Milestone camping produce a lot of camping equipment. Whilst not a premium brand, their products are functional and well made. Don't let the 'camping' part put you off. What's good for campers is generally good for fisherman too. Uneven terrain, space saving and durability should all be high up on your wish list when considering the best fishing trolley. This model features a handy stand so that the trolley remains upright as you are unloading. If you have a moderate amount of gear this could be the trolley for you.
Best two wheeler for heavy loads.
Stable over rough ground
great weight bearing capability
Robust construction
You know you are a proper angler when you have to carry a lot of gear. If a trolley becomes a chore to move, under load, then it completely defeats the object. The tyres of this trolley are filled with air, as opposed to solid rubber, so it smooths out the lumps and bumps on the way down to the swim. The trolley is also collapsible saving vital space in the car boot, but be aware that the wheels are not collapsible. The construction of this trolley is pretty solid and can handle weights of 80kg. If you want a two wheel fishing trolley that can perform, this trolley shouldn't let you down.
Best for casual use
Rigid steel frame
Ergonomic handle
Easily adjustable base
When we talked about multi purpose trolleys combined with extra features, this is exactly what we meant. The Koala fishing trolley is designed to house a seatbox. The wheels have quick release pins so can be removed, stowed and replaced with ease. There is an adjustable base to account for any uneven terrain on the peg. Basically you wheel your box and other bits down to the bank, set the base, and you are away. The wheels are solid so don't expect too much in the way of shock absorption. One thing we must add is that whilst you can take this trolley to pieces for easy stowage, it comes at a cost. It is not a 'folding trolley' as such, and can take a short while to set up and take apart. But all that said, You will save time normally spent unloading and setting up your seat box.
Best for enthusiasts
Universal box mounting
Easy to transport
Solid design
This product is the Sherman tank of two wheel fishing trolleys. It looks and feels solid, and even comes in an attractive military green colour. The main frame of the trolley features adjustable screws so you can change its size to accommodate your seat box. The handle is presented at an angle, making for easier maneuvering. Overall this is a well constructed trolley that shouldn't let you down. This trolley would suit anglers who want to make a single journey down to the water before starting to fish
Best lightweight trolley
Reputable outdoor brand
Large all-terrain wheels
Portable and light
For those who want a solid, well-made trolley but don't require the luxury of a combination trolley and seat box, this could be a strong contender. Browning has always been associated with outdoor pursuits, so when they build something you know it will perform. Whilst we wouldn't go overboard on piling it with tons of gear, this should be ample for all but the heaviest tackle addicts. The lightweight frame is easy to fold up and store, either in the boot, or the bank after you get set up on the peg. Even more so when you consider that it comes with its own durable bag.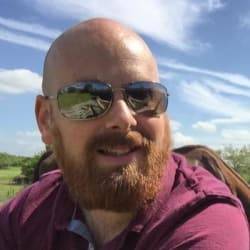 Mike has over 30 years of fishing experience in carp fishing and general coarse fishing. He is always looking for the latest fishing kit to try out and talk about and needs a bigger shed due to all the fishing tackle he owns. You can read more about him here.