Fishing pole rollers are not a new concept, however, as poles become longer and materials lighter, the support provided by as decent pole roller is vital. Further to this if you get your roller set up right, it can make shipping out and bringing your pole back in, much much quicker. In a match every second counts, and you don't want time to be wasted manhandling a pole.
Pole rollers have two purposes. To protect your pole, and also to increase your efficiency. Therefore the best pole roller should be easy to use. If you have to constantly keep looking over your shoulder to make sure your pole is seating correctly, you aren't looking in the right place. Your eyes should be forward when playing a fish so you can be quick and responsive. A good width to the pole roller ensures minimum attention is spent worrying about what's behind you. It is worth considering that the pole roller should also be fully adjustable. Each venue will have different bank-side topography, and you can't always expect the area behind you to be completely level. When you consider that anglers also come in all shapes and sizes, it could be beneficial to have the ability to set your rollers up in such a way as to find the 'sweet-spot' based on your own geometry.
This article is going to look at several different types of pole rollers, with some of their advantages, and help you make an informed choice when purchasing:
Best Pole Rollers
Best for easiest setup
Unique design
Easy to use
Solid and stable
Easy lock legs, saves time
Carry bag included
As the title suggests the V pole roller design makes life simple.  Whilst it lacks a central pole roller it does support your pole centrally by using gravity. The resting point of the pole should always be in the center. The only downside we can see is if you get some inadvertent roll when shipping, which might cause a premature tip of your bait pot. That said provided you are careful it shouldn't be too much of a problem. The legs are quick to adjust meaning minimum set up time, they are also easy to 'tweak' to get the setup at the right place and stable quickly. This roller would be a good upgrade from a more basic setup.
Best for beginners
Low price point
fully adjustable
38cm compact design
For those just getting into pole fishing, you don't want to break the bank to find what works. Whilst there are more expensive rollers out there, this roller should perform the task adequately. The fully adjustable legs mean you can set the roller to the correct height and ensure you have a solid base for shipping your pole. This roller lacks a central vertical roller so you will have to take care that your pole does not 'bounce' in and out of the central joint.
Best for smaller poles
Very low price
Universal mounting
Plenty of padding
Whilst this roller provides the same basic function as our other offerings, it is slightly different in that it is not mounted on four legs. The rollers features a central screw mount that is designed for use with a bank stick or tripod, giving you ultimate flexibility to reposition it with ease. At 20cm it isn't the biggest roller, so beginners might find it difficult to use. It would make an ideal support closer to your seating position, or for use as a guide, either front or back.
Best as part of a set
Useful if part of a set.
Mount anywhere.
V shaped padding
Consistent shipping
This is probably not a roller to use in isolation. As a front roller it would be ideal. If your pole section is in the 'V' then you can ensure consistent movement as you know the pole is always in the same place. The pole sections will also stay fixed in position, regardless of the wind direction.
Best for the professionals
Perfect position, every time
Rock solid
Smooth shipping
Multiple legs
Reduced workload
MAP is renowned for making innovative products. This foam roller could be everything that you ever need. The roller comes with two sets of legs, long and short, so regardless of the terrain you can get it set up to ensure maximum stability. The Horizontal rollers are constructed from memory foam, providing guaranteed protection for your pole sections. There are anchor points fitted on the roller so you can add extra weight in order to prevent it tipping in strong winds, or when clumsily handled.  The set also comes with its own carry bag. Please note that there is only one roller per set.
Best for practice
Advanced features
Stable
Large rollers
Double shipping
This pole roller offers an ideal compromise between budget and features. The independent dual horizontal rollers allow you to fish two poles, without fear of rolling one pole off when you are shipping the other. The width of the roller is extremely wide, once you have it dialed in you will only ever need to face forward, and can find the groove behind you with ease. Three upright rollers limit horizontal movement, and make sure your sections stay exactly where you left them.
Good for technique
Well known and trustworthy
Mid level price point
Excellent visibility
Easy to transport technology
If you do want a quick glance over your shoulder when shipping in, then you want something that can be seen. With high viz orange foam rollers it will be easy to identify exactly where your pole is going. The roller folds down into an easy to carry bag, giving you one less thing to worry about. This roller could be ideal for someone just getting to grips with larger poles, as the high visibility makes it easy to see where you need to put the back end. At over half a meter wide, you can't fail to land on this roller. This is ideal for those who want to use the pole to its full range.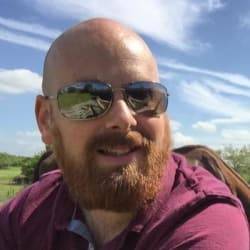 Mike has over 30 years of fishing experience in carp fishing and general coarse fishing. He is always looking for the latest fishing kit to try out and talk about and needs a bigger shed due to all the fishing tackle he owns. You can read more about him here.