Sometimes, you have to wonder if weird flavoured baits are there to catch carp or catch the carp anglers' attention. That being said, chocolate and chocolate flavoured baits are a thing.
We did a survey and asked 10 big carp if they like chocolate. 7 said they did. Joking aside, if carp were able to reply I wonder what their response would be?
So, do carp like chocolate? Yes, carp will happily eat chocolate flavoured carp baits and we find that chocolate boilies are the chocolate bait that the carp prefer to eat.
What About Chocolate Powder?
If you have some strong chocolate drinking powder at home then there's so much you could do with it if it needs to be used up. Chocolate is sweet and full of sugars and carp are known for having a sweet tooth.
My top tip would be to blend up some white bread crumbs and mix them with some cold water and make a chocolate bread paste.
You could also use the bread crumb and chocolate powder to form the base of a chocolate ground bait mix.
Heck, why not throw the chocolate drinking powder into some regular bland ground bait or method mix just to see if it works?
White Chocolate Or Milk Chocolate Carp Baits?
Carp fishing companies use both white chocolate and milk chocolate in their products but it would appear that whenever milk chocolate is used then something extra is usually added like orange to make chocolate orange. Whether this is what the carp want is unsure, maybe it's just been invented by carp bait companies to catch the carp anglers' attention. That would be my guess anyway.
What Chocolate Products Are Available On The Market?
Bait companies will make up anything that fishermen will buy, regardless of whether it actually works. As is the case with many of these fishing baits, it's hard to know if they actually work half the time. Don't forget, these won't just attract carp into your swim as other species of fish will eat any kind of food thats on offer.
Chocolate Orange Spray
I quite like the idea of this spray just because its small, fits in your box and can be used to just give your PVA bag or boilie a quick spray before you cast it into the lake. The idea is that this will give off a nice sweet scent and attract the fish in.
Chocolate Orange Liquid Attractant
This product comes in a big tub and based on the image on the tub it looks like its perfect for spod mixes to be used with particles. It's PVA friendly though, which means it can be used in a PVA bag with no issues.
Chocolate Orange Gluu
I bet this stuff smells amazing. I love chocolate orange and I bet it smells good enough to eat. Dip your boilies, pop-ups or other hook baits in this and let us soak up all the smells. I feel this would work better than the spray above as there's just more substance to it.
Chocolate Orange Pellets
Bag Up Baits make some amazing flavours and they are back again with chocolate orange pellets.
Final Thoughts
Chocolate or chocolate orange would not be my first choice of fishing bait, but some anglers reckon they have used it to catch bigger fish so why not give it a go.
If you decide to try chocolate for your carp fishing, please let me know how you get on in the comments below.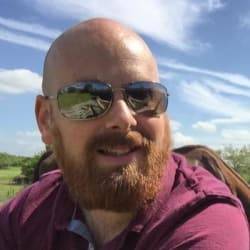 Mike has over 30 years of fishing experience in carp fishing and general coarse fishing. He is always looking for the latest fishing kit to try out and talk about and needs a bigger shed due to all the fishing tackle he owns. You can read more about him here.