Bait boat reviews
Carp fishing is, and always has been, about skill. In fact, many consider it an art form. That technology has caught up with an age-old craft is no surprise, as technology is simply everywhere these days. It should be said that while there are technological advances in carp fishing – especially in some areas of equipment – the basic required skill remains the same.
In the following article, we are looking at an example of a technological advance that not every angler in the carp fishing world is happy about: carp bait boats. For many, using a remote control 'boat' to place bait and fishing tackle is a form of cheating as it makes baiting your swim a lot easier! For other carp anglers, it's a way of getting the bait to places that would otherwise be unreachable.
Budget Fishing Bait Boats
Our first selection features a handful of bait boat reviews that are perfect for beginners or for those who are not sure they want to head down this route and add a bait boat to their fishing tackle collection. These are cheaper versions – usually made in China for those with a lower price range.
1. Goolsky Flytech 2011-5 Bait Boat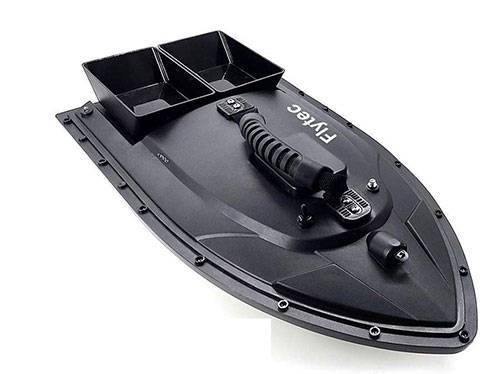 Our first fishing bait boat is this model, which comes with full controls for all directions from a simple hand-held unit. Made from strong and durable plastic, it has twin motors and is designed to be stable on the water. It carries two separate bait tanks, which can handle up to 1.5kg of bait, and can be controlled up to 500m away from the operator. Finished in grey so as to be inconspicuous, it comes with the lithium battery for the bait boat, but you have to supply the four AA batteries for the control unit.
The manufacturers are rather vague on its range; it will take 12 hours to charge but they say you get between '2 to 24hours' of run time. Customers give this one mixed reviews with some claiming it does the job and others it is too light and easily blown away, and at just shy of £100 it's not cheap.
Key Features:
5kg bait capacity
Twin motors
Grey finish
Durable plastic construction
500m range
Up to 24hrs running time
Under £100
2. Zumint 2019 Bait Boat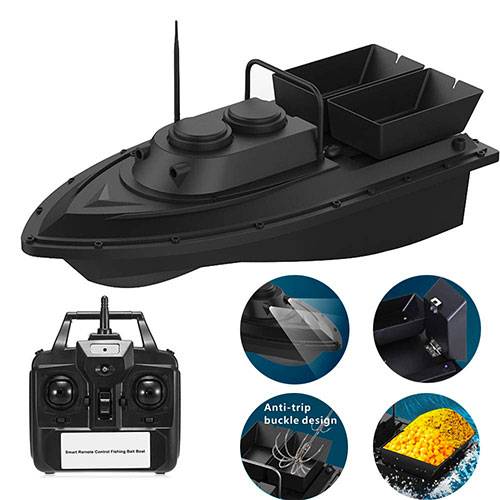 It's no surprise to find that these cheaper boats follow the same design ethos; this one is very similar to that listed above, is also finished in grey so does not stand out, and is also made from the same durable ABS plastic that is ideal for such devices. It is designed with twin motors and two bait containers so that you can place bait in two places at once. Its total bait capacity is a claimed 2kg, which is quite an impressive amount. This one has a built-in balance system that, the makers say, allows you to control it in wind and against waves.
The battery for the bait boat itself is the usual rechargeable model and is included, while those for the controller – which offers easy use in all directions – you will need to purchase. This bait boat has a claimed run time of 3 to 4 hours – more reasonable than that above, we think – and is a touch more expensive at around £120 at the time of writing.
Key Features:
2kg bait capacity
Balance system
Night navigation light
Twin motors
Two bait hopper mode
Guide groove for line and hooks
3 to 4 hours duration
3. Flytech 2019 Bait Boat 1.5kg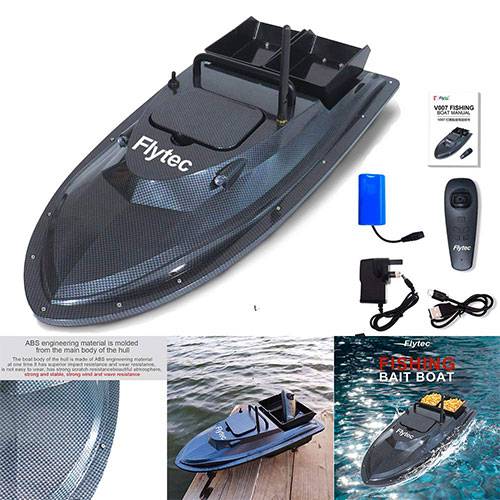 This boat from Flytech is very similar to the first one on the list and comes with all the accessories you need including charging cables. All that is missing are the 4 x AA batteries for the controller, which with this model is a very neat and compact version that is shaped like a TV remote control unit. It can take 1.5kg of bait in two hoppers so can drop your bait at two places in one trip, and it is powered by twin motors for greater efficiency. It's also grey, which is the default colour for one of these.
Battery life is a claimed 3 to 4 hours of run time, again this seems like the norm for a bait boat of this type, and the range is up to 500m which is plenty for most users. This one also has a balance system that claims to be useful against wind and waves, although we're not sure of its efficiency. The price range for this one is beyond £130 so bear that in mind when choosing.
Key Features
5kg bait capacity
Twin hoppers for bait
Two motors
Balance system
500m range
Up to 4 hours running time
Batteries for controller not included
All charging cables supplied
4. ACOC Remote Control Bait Boat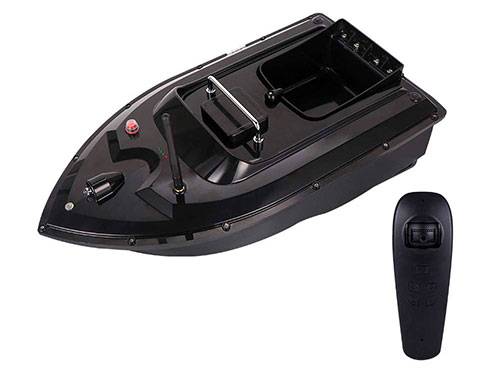 The final example in our budget section of best bait boats is this model from ACOC, and it differs from the others in that it has just one bait container on board. This limits it to placing bait in just one place, but that may be enough for you. It's finished in the usual grey, made from the preferred durable ABS plastic, and comes with a 1.5kg load and twin motors for power. This bait boat is said to be fine in wind and has a 500metre range which is about the norm.
It has the LED lights that these tend to have and is fitted with balance systems, but we think the lack of a second hopper for bait may put some people off. It's priced not much more than a hundred pounds at the time of writing, so is worth looking at.
Key Features
Single hopper
Grey finish
ABS plastic
Twin motors
5kg bait capacity
500m range
Premium Bait Boats
The following bait boats are for serious users only. If you've tried a cheaper model and are convinced it's the way to go, you might want to take a look at some of these. Be aware, however, that these are not cheap!
1. Waverunner Atom Mk2/3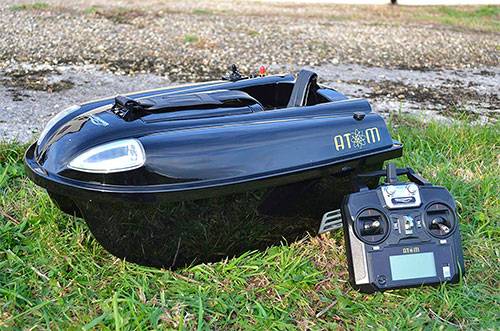 It is easy to see the difference between this, a premium best bait boat, and any of the four bait boats from above. Those were, quite clearly, akin to children's toys, while the Waverunner Atom is obviously a very serious piece of kit. To begin with, the radio equipment is far more sophisticated. and it will be able to handle rough water. The budget boats use standard kit, so if anyone is running a similar boat or RC toy near, you may well get interference. This bait boat has 5.8ghz digital radio signalling, so is not so prone to problems.
With this bait boat, you get a single 1.2kg bait capacity hopper, LED lights all around, plus a solar recharging panel and a spare battery. With a 2 hour run time from each battery, that should give you plenty of running time. It comes with everything you need, is a quality item, and will cost you – at the time of writing – around £700, so you have to be committed to buying one of these.
Key Features
Digital radio frequency
Single hopper
2kg bait capacity
Spare battery supplied
Solar charger supplied
LED lights
2 hours per battery
Not cheap
2. Angling Technics Procat Mk3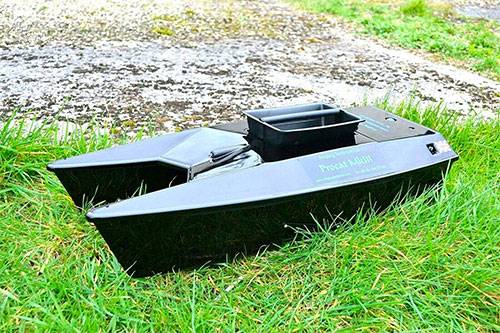 This neatly designed Angling Technics Procat catamaran type boat comes with a single hopper and is capable of delivering up to 0.75kg of bait via that one system. The radio is a 2.4ghz system with a microprocessor for better performance, and the boat is finished in a camouflage green for the best effect. It's designed to be stable in quite rough conditions and weighs 2.75kg it should be, and it is supplied with all batteries required, plus a spare battery for the boat. Each battery gives 90minutes on a full charge.
The Angling Technics Procat also comes with lights, these being able to be remotely controlled from the hand-held unit, and it is offered with a full warranty. If you're looking for a quality bait boat of a serious nature, this boat is very good yet it will cost you around the £500 mark, further proof that these are not cheap devices.
Key Features:
Catamaran design
Single hopper
7.5kg bait capacity
Spare battery supplied
90 mins each battery
Lights remotely controlled
Not cheap
3. Angling Technics Microcat MK3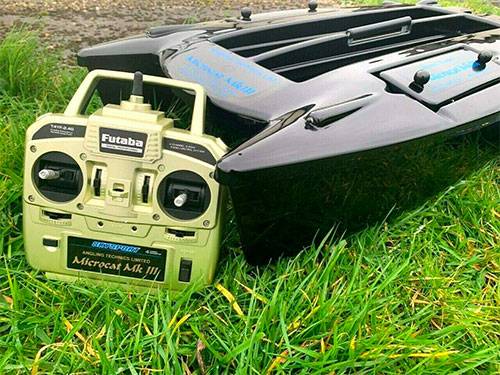 It's fair to describe Angling Technics as a market leader in the premium bait boat market, and this is another of theirs. It's the Angling Technics Microcat – another catamaran hull design and finished in green for effect – and is a surprisingly sophisticated device. It features twin hoppers that can be remotely opened together or separately and is cleverly designed to be well balanced on any water. It's a quality device without a doubt, and the price – almost £900 – reflects that.
However, if you want the best, you have to pay and there are indications the Angling Technics Microcat is up there. Four very quiet water jet motors power this bait boat via the FM frequency controller, it can be told to spin on its own axis for better performance, and it has all the LED lights for use and navigation in the dark. It is fitted with standard batteries that give it 45 minutes and comes with a spare HD battery for an additional 70 minutes.
Key Features:
Premium model at around £900
Four water jet motors
Very quiet
Excellent controllability
Twin hoppers
Hoppers can be opened together
Catamaran construction 
4. Angling Technics Waverunner Mk4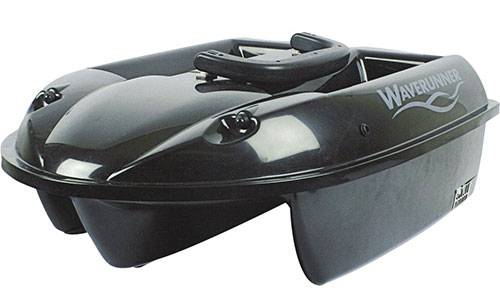 Still with Angling Technics for this very impressive bait boat, which is the Mk4 version of the first boat in our premium section above. This is the same design as the Mk2/3, and comes with the same light set-up and handling characteristics, but it is somewhat bigger in capacity with the ability to carry a massive 5kg of bait. It also has a 1000m range so can take you just about anywhere, and is quite spectacular in being able to run at full speed for 2 hours.
This boat also comes with a solar charger and spare battery and is equipped with an interference-free sophisticated radio system for fault-free running, and it is a quality machine, without any doubt at all. The problem as we see it is that this model will cost you at least £1300 with all the trimmings it comes with. It's very good, but do you need to spend that much on a bait boat?
Key Features:
Highly sophisticated
5kg bait capacity
1000m range
Night lights and navigation lights
Quality product
Free solar panel charger
Very expensive 
5. Waverunner Shuttle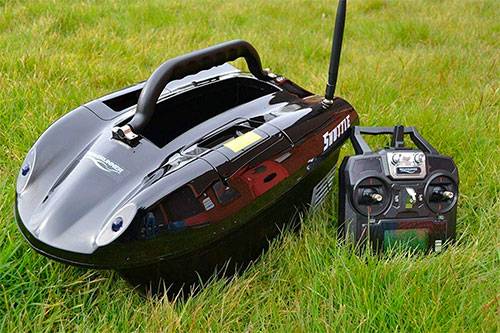 This is the smaller model in the Waverunner range, and perhaps makes more sense for someone wanting a sophisticated bait boat – in other words, not a toy – but without having to pay silly money. At just less than £700 it is certainly not cheap, but it undercuts others in the range despite offering similar performance in a smaller package. This boat comes with a single 5kg hopper, and also has a neat function whereby if you lose the radio signal it will automatically return to base.
You also get the solar panel charger for free, plus spare batteries that are worth having and come as a great saving, and it's a quality bait boat from one of the top brands. It has the usual lights that can be controlled from the handset, and it's a nice model all-round if you want to pay the price.
Key Features:
5kg hopper
Fully integrated radio control
Return to base function
Lights
Spare batteries
Solar panel charger
Everything you need in a bait boat
6. Cult Ranger Bait Boat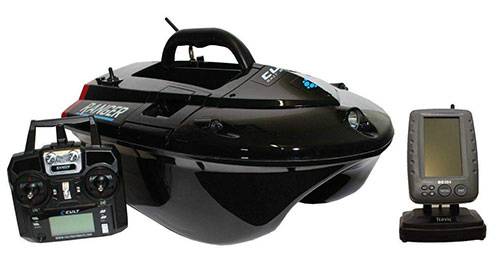 The Cult Ranger is a sophisticated bait boat that has a hopper capacity of up to 3kg and can be used in single or dual-hopper configurations. It also runs on the secure 5.8GHz frequency to avoid any interference and is a sleek design presented in black. Shop around and you'll get this package for about £1000, but make sure you get a boat that comes with the accessories that this boat does – including the black/white Fish Finder, a great tool that helps you put your bait in the right place.
The Cult Ranger comes with lead rather than lithium batteries, that give you up to 3 hours of performance, and can be upgraded to heavier duty batteries for longer hours. It's good in rough weather, too, so you can put your rigs in place where you want at any time. Is it worth the price? We believe it to be one of the best bait boats here, and with the fish finder is an interesting package.
Key Features:
3kg
Single or dual hopper
8GHz
Fish finder included
Lead batteries
Upgrade possible
Sophisticated design
Not cheap 
7. Anatec Catamaran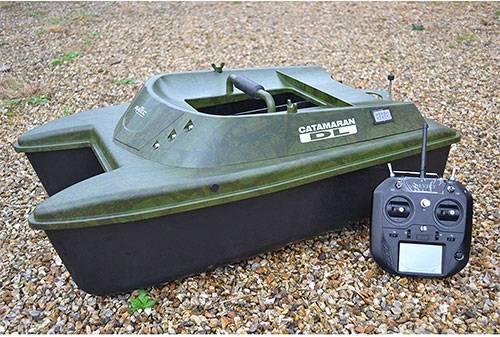 Described by its makers as 'the Rolls Royce of bait boats', this is perhaps the most sophisticated of all the models we looked at. It's also the most expensive; look hard, and you might get a boat for around £1700. However, if you are serious about your carp fishing and really want a bait boat, this is undoubtedly one for a shortlist. Notably, this bait boat has been used for filming by the BBC, National Geographic and others, and this guide comes with the impressive TF500 Toslon Fish Finder.
It's a catamaran design with twin hoppers, each offering capacity of over 1kg which is great for large quantities of bait. It has stability built into the design, is powered by twin motors and comes with extra batteries. Usage on one charged battery is two hours. The fish finder is built-in and ready to go and offers a full range of features and functions, and it has the requisite lights for night usage and large waters.
Key Features:
Highly sophisticated design
Used by professionals
Toslon fish finder built in
2 hours per battery
Twin hoppers
Up to 3kg capacity
Very expensive
That's our selection of bait boats, so before we go on to single one boat out – that's assuming we can – here's a buying guide including what you need to look for.
Bait Boat Buying Guide
Before we talk about individual features of these bait boats, there's the controversial subject of whether or not they are acceptable that needs to be addressed. Essentially it is an RC bait boat with a hopper attached and as mentioned, some anglers see them as a way to cut the skill out of the sport, and we can't disagree with this. However, if catching a lot of fish is your idea of success, then these boats will help you – we know that from experience!
I've actually known an angler (on big lakes and rivers) row out in a lightweight fishing canoe to drop off their bait. These are cheaper than some bait boats, but it's probably a bit too much effort for my liking.
So, now that we have that sorted out, assuming you want to use a bait boat – or perhaps try a boat and see what they are all about – let's run through what you need to look for to make sure you get the right one.
Features to Consider When Buying The Best Bait Boat
Battery Life
One of the most important factors of all the boat features is the battery life. With most, you'll get between 90minutes and two hours from a fully charged battery. However, some packages – among the premium bait boats especially – will be supplied with a spare battery or more, and others come with a very handy solar battery charger. If you're planning on using your bait boat over a long session, it's worth looking for the longest possible battery life, and also a spare for backup.
Hopper Size
The hopper is the part that carries and delivers the bait, and the difference in size here is quite considerable when it comes to the best bait boats. First, you need to decide upon whether you want a single or double hopper – the latter allows you to carry more ground bait, and to deliver it to two locations in one journey – and then how much you need to be able to carry. The range starts at 1.5 kilos and goes up to 5kg, with the latter only available via the most expensive of the premium models. Also, have a think about the bait delivery when it comes to the hopper. You want to make sure it delivers the bait smoothly.
Range
How far away do you want to place your bait and rig? It's sensible not to go too far – a couple of these offers a range of 1000m – but you need to be able to get a fair distance to achieve the purpose of a bait boat. The usual maximum range of a boat is around 4-500m, but beware of losing radio signals in areas where it may be obstructed by trees or buildings.
Does the boat Have a Reverse?
This may sound like a strange question, but it's the easiest way to bring them home. Many do not go backwards, but some have a handy 'return to base' function which, when activated – either by the user or when radio contact is lost – automatically sends the bait boat back to where it started from, which makes life a lot easier. For us, if you want one of the best bait boats, then you need a reverse.
Easy to Get parts?
Over the year your bait boat will need maintenance, so it's essential that you can get replacement parts, or have it serviced and fixed. Our chosen models are from the main manufacturers, so you should have no trouble there but check with your supplier for recommended parts suppliers before you commit.
Other Accessories
Other accessories can include a fish finders device, although only on the more expensive models, so if you are going for a top-end bait boat, look for a package that includes one in the price.
Cost
The final point to cover is the price: even the cheapest of the budget models is around £100 and is really little more than a modified child's toy, but the most expensive boat of the sophisticated premium bait boats is about £1700, and there's something at intervals between those two across the board. It's up to your budget, and how serious you are about using a bait boat.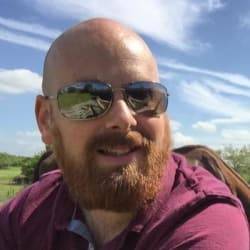 Mike has over 30 years of fishing experience in carp fishing and general coarse fishing. He is always looking for the latest fishing kit to try out and talk about and needs a bigger shed due to all the fishing tackle he owns. You can read more about him here.