Perhaps one of the most important is a carp rod, you can't really fish without one.
Lengths range from 9ft up to 14ft, with many different types and styles available.
So, what should you look for when choosing a Carp Rod?
There are many answers to this question, but firstly, you must decide what type of fishing it is you'll be doing.
Short day sessions, fishing on rivers, a fishing holiday in France….
The size of lake could also play a part, so let's try to help you out with this!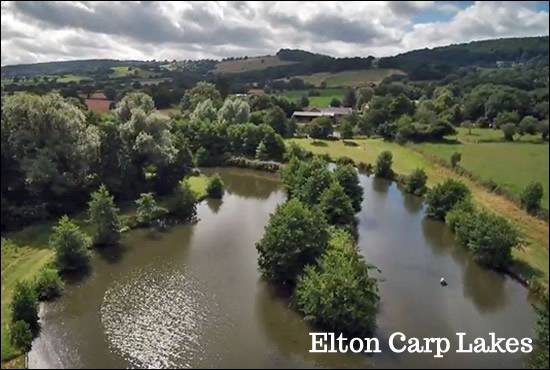 The most common, all round carp rod is around 12ft in length, which is a perfectly good size for all angling situations you could be faced with.
Generally, it will have a semi-fast playing action (sometimes known as progressive or fast-taper) with a test curve of around 3lbs (we'll explain further on).
One carp rod is enough, but most anglers will have two, or even three (with the 3rd as a main rod, back-up rod or for spodding or marking out a swim)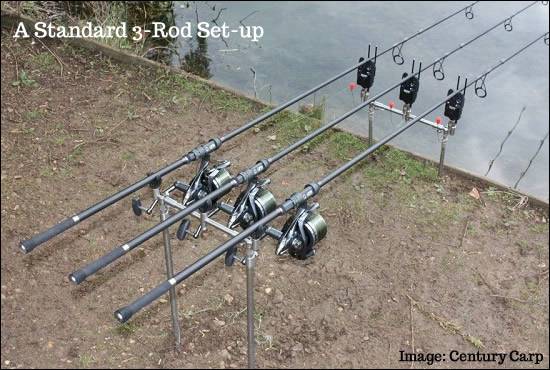 Here's what you should know about carp rods…

Rod Length
Rod lengths range from 9ft, up to 13ft.
Anything under 12ft is considered ideal for either stalking carp, or fishing in tight, confined spaces.
A carp rod of 13ft is better suited to the larger waters – where casting long distances is required.
These longer carp rods also tend to be fitted with a bigger butt guide (see below) of 50mm (some 12ft rods are equipped 50mm butt ring these days – so that's something to keep an eye on!)
---
Can You Explain Test Curves?
The test curve of a rod is the strength applied to the rod tip to create a 90-degree angle.
When you've hooked into a fish, this means your rod tip can handle 3lb of pressure (not the weight of the carp)

The are a varied range of test curve options you can opt for when choosing your carp rod, as a general rule though:
2.75lb and under – You'll have lots of fun 'playing a carp', but you won't be able to cast too far.
3lb – This is considered an ideal test curve for most carp angling situations
3.5lb and up – Long-distance casting animals – and can make it slightly easier to land those monster carp!
---
What are Blanks?
Carp rods are made from carbon fibre, a material which consists of thin, strong crystalline filaments of carbon.
A proxy resin is injected into this, then crafted into a rod (you should visit Harrison Rods for a more in-depth look into the composite process!)
The cheaper carp rods may use a glass fibre mixed in with carbon.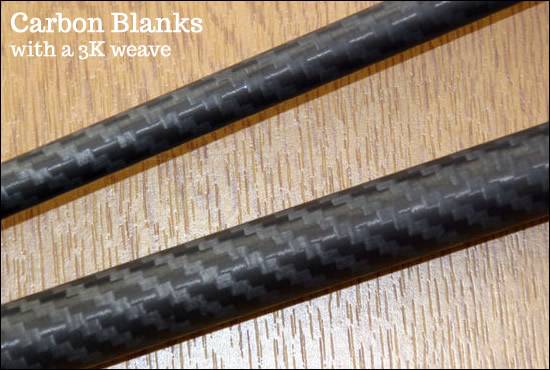 The blanks on some carp rods may state a 1k or 3k weave.
What this means is that the higher the number, the more dense the weave is.
For example, a rod with a 3k weave gives a carp rod superb balance (without sacrificing the strength)
1k (or 2k) carp rods are rarer – because they are incredibly light.
Some carp rods are described as being a 'high-modulus' blank – this is industry jargon really, but in effect, it means the carbon is stiff.
---
Rod Fittings & Features
There are many parts that make up a carp rod. Some carp rods won't have all these features.
Guides – Or eyes, allow the line to pass freely through. Carp rods tend to have 5 or 6. The butt guide is usually the largest and again, will be either 40mm or 50mm in diameter.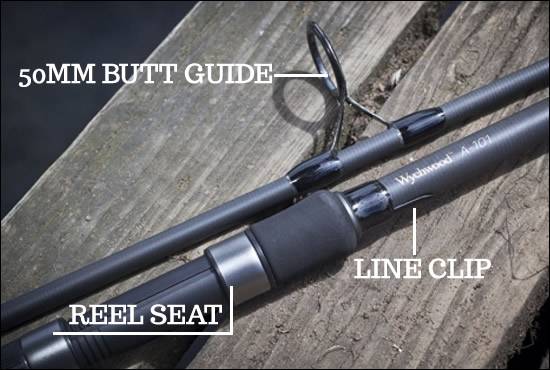 Reel Seat – This is the part of the rod where your reel is attached. You unscrew the bottom, place your reel under the top fitting (known as the hoods), then tighten accordingly. Try not to do this up too tightly because it may break or damage your reel. A common type is a DPS reel seat, possibly made by Fuji – a renound Japanese company.
Rod Tip – Incredibly flexible (and prone to damage!), carp rods tend to have a heavier tip. Some may possess a 'progressive tip' which means it is lighter and probably made up of glass fibre rather than carbon. You can tell the type of tip by the size of the eye (bigger meaning heavier!)
If you're casting a large set-up (feeders, PVA bags – that kind of thing) then look to buy a rod with a larger eye.
Handle Types – There are 3 prominent types, abbreviated which provides a really nice finish, full duplon which is black or grey foam ( a cheaper alternative really) or cork for a good grip, a nice traditional look, and is warm to the touch. You'll find a lot of carp rod handles are fully shirnk wrapped to provide better grip.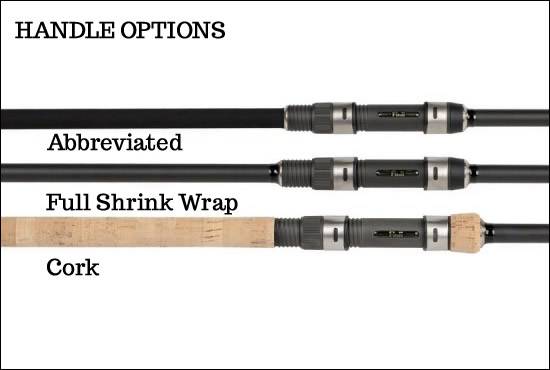 [/bg_collapse]
---
Playing Actions
[bg_collapse view="button-green" color="#000″ icon="arrow" expand_text="Show More" collapse_text="Show Less" ]
There are 3 types of playing action to choose from.
Fast Action (or Fast Taper) – These types will have a stiffer butt section and a whipping like tip for flinging carp leads a long way. It takes a lot of practice and skill to perfect your casting with this rod action.
Through Action – Offers the angler a more 'connected' experience when playing a carp. Not ideal for casting far, but powerful enough to tackle a carp snared in weed. Good at short range work such as margins, or as part of a lighter tackle setup – perfect for surface fishing.
Middle-to-Tip – More of a combination of the two above. Most carp rods will be defined as having this type of playing action.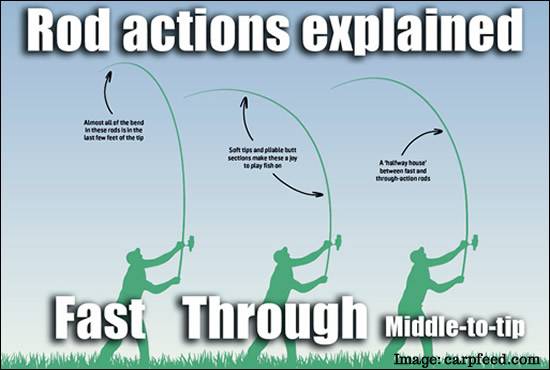 [/bg_collapse]
---
Spod & Marker Rods
A marker rod is used to 'mark out your swim'.
Referred to as 'leading around', you attach a special type of lead to your mainline (nothing else).
You then cast this out at varying points of your swim to identify any sudden depth changes and more importantly, the type of terrain found on the lakebed.
Clay, silt, weed or gravel spots – this will help you judge what could be an ideal spot to place your rig or bait.
Using a marker float, you can also learn about depths and record these where possible.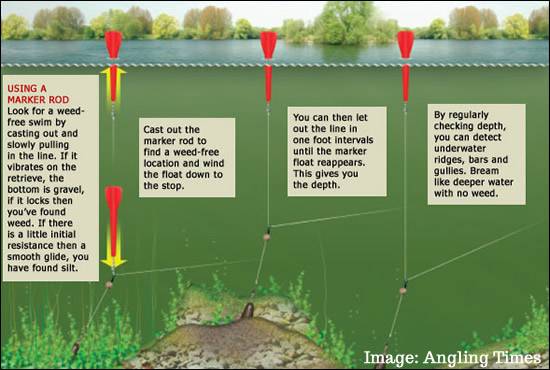 What you are trying to achieve is to create a map of your swim – an important angling skill.
Here is a great example of a 'mapped out lake' showing depth and features.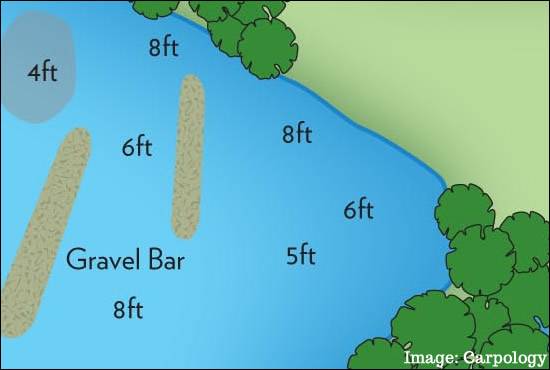 You can save money by using your main rod for marker work – or a more preferable way would be to double up and use your spod rod!
What is Spodding?
This is a method of rapidly delivering an amount of bait to your target area.
You fill up a device,that looks like a rocket or bomb, with bait – purposefully aerodynamic for accurate casting!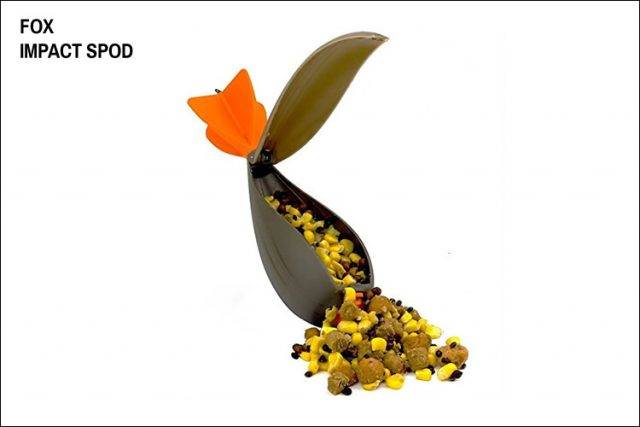 It's an alternative method as opposed to using PVA bags or Bait Boats I suppose.
Because you are repeatedly casting a heavy weight, you'll want a strong carp rod that can handle this.
It will need a recommended test curve of at least 3.5lbs and a powerful butt section to deliver the required power – you really don't want to undercast and waste your bait!
You could use your main rod for spodding – but you can be sure that casting will be a nightmare, not to mention the wear and tear on your carp rods.
---
How Much Are Carp Rods?
Depending on your carp rod budget, this is what you can expect to pay.
Budget Carp Rods are generally made from lesser quality components, although some may offer really great features found on a higher priced rod.
These retail at around £30 to £50.
For a quality carp rod that has more features and is made of more superior materials, you can expect to pay around £70 to £100.
Specialist or custom made carp rods can go up to £150-£200 – sometimes even more!

A budget of £200 will get you a decent carp rod set-up.
Take a look at our Carp Rod Comparison Chart – it will help you compare features, test curve options and the available lengths of the most popular carp rods.
---
Carp Rod Placement
What mean by placement, is where do you keep you rods once you've casted them?
In the good old days, you would simply rest it on the side of the bank, maybe propping it up with a stick or bankstick if you could get hold of one.
Luckily, there is now a mountain of solutions!
You've buzz bars, rod pods, goal post setups….
Let's explain the types available.
Rod Pods
Hugely popular, rod pods (although a somewhat bulky tackle item) are perfect for fishing 2 or 3 rods at a time.
You can adjust the spacing between rods, or raise and lower the height as necessary – a useful option for uneven terrain.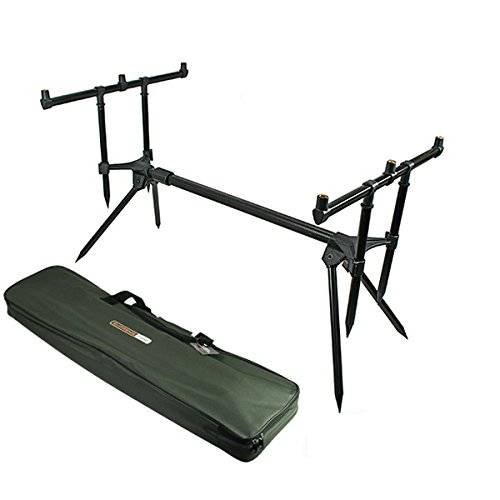 Try to find one that's lightweight, but not flimsy, and made of quality materials.
Make sure you can adjust as much as possible to offer you complete control over where you want to carp rods to sit.
Banksticks
It still pays to have a few banksticks stored away you know!
They are perfect for fishing a single rod, or situations such as stalking where you need to quickly get a rod in the water and ready. It saves having to move your main rod pod setup too.
Modern bank sticks are strong and adjustable, so you don't have to worry about tripping into one and it bending or breaking!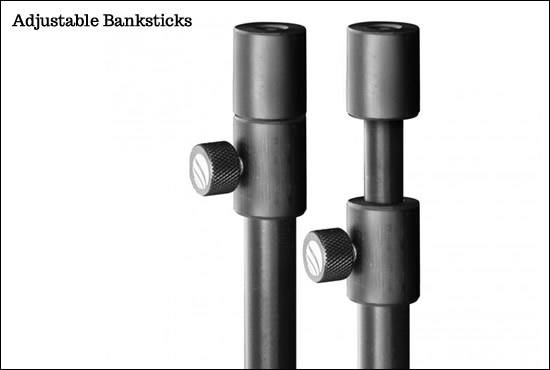 Buzz Bars
More of an additional tackle item these days, but buzz bars provide a compromise between banksticks and rod pods.
They give you the ability to fish a goal-post system and they can be bought in various styles and sizes.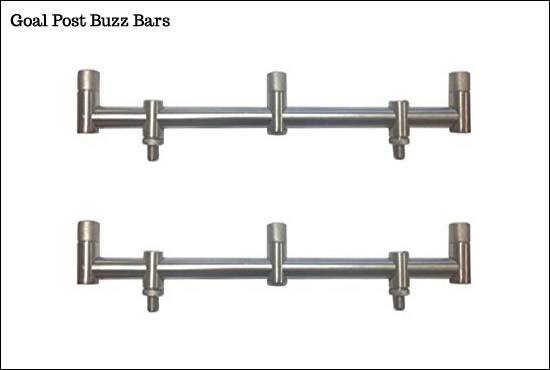 Just make sure whatever setup you're thinking of putting together, that they all fit into each other correctly!
---
Bite Indication
How do I know if a carp has taken my bait?
You can detect movement (or hopefully a bite!) using whats called a bite alarm.
They are used to detect any movement whatsoever between your carp rod and hook bait.
They are placed underneath your rods with the line running through them, and contain built in sensors that detect vibrations of your mainline.
You can set the volume and sensitivity (useful for windy conditions) as standard on most alarms.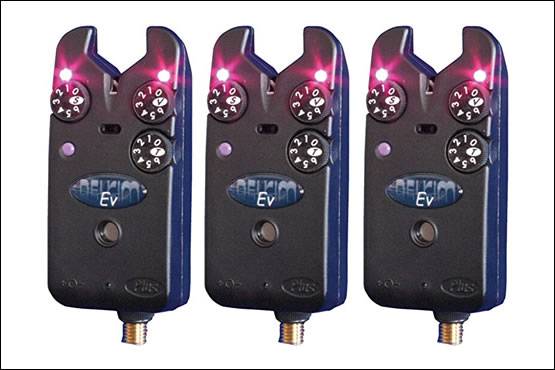 Some are prone to rust (especially the really cheap ones) so take care when choosing your bite alarm set!
You can find out more about choosing bite alarms, and how they work in our 'Bite Alarm Review Guide'.
Bobbins & Swingers
Bobbins, or Swingers, are designed to detect what's called a 'backdrop'.
This is when a carp has picked up a bait – and kited towards your rods, rather than to the side or away from you.
If you're not using these – you may not even know you have a bite if you're not constantly rod watching!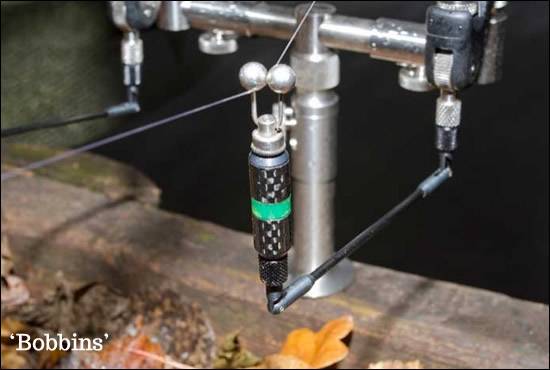 To use them, you simply 'clip' them to your line (placing between reel and bite alarm) and they 'hang' in the air.
When they drop to the ground – or you notice they've moved, either strike your rods or at least investigate the cause.
---
Here's a few examples of what you can expect from our carp rod reviews….
1. Grey's Prodigy GT4
The Grey's Prodigy GT4 is actually the 4th generation class carp rod from this series.
It's blank design has been much improved on, which has increased the all round performance.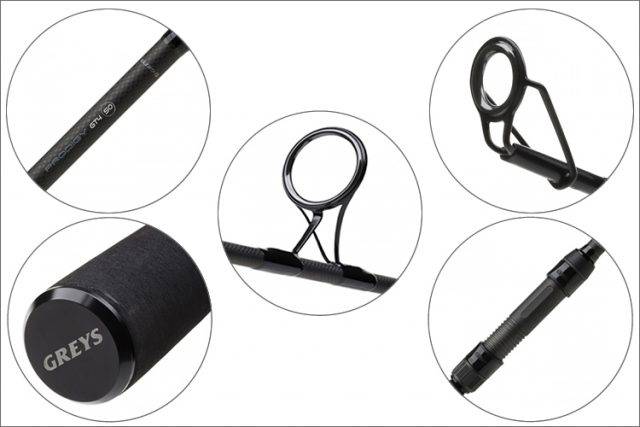 Features and Technical Details
3k-UD high modulus woven carbon fibre blank
Classic Prodigy progressive action
Carbon Armour™ blank finish
Full Japanese shrink wrap handle
G-Lite™ guides (black edition)
Test Curve Options: 3lb, 3.25lb and 3.5lb (3 options)
Rod Length: 12ft and 13ft (2 lengths)
Don't forget to choose a quality carp rod pod that's sturdy, safe and robust!
---
2. Daiwa Phantom
A really great carp rod for beginners, the Daiwa Phantom gives the angler superb performance vs value!
It's modelled on the more expensive "Black Widow" – so you'll certainly be getting some good angling from the Phantom.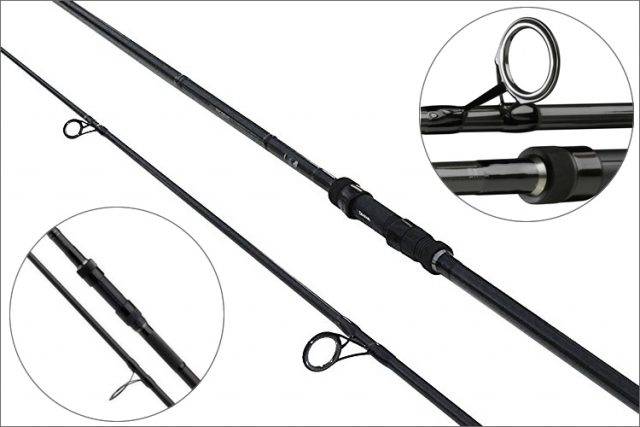 Rod Features
Ideal for Beginners – 2-rod setup for under £100
Breaks down into 2 Sections
Strong Backbone but Great Flexibility
5 Double Leg Titanium Oxide Guides
Lightweight & Slim line
Black Matte Finish
Made from Carbon Fibre
Test Curve Options: 3lb
Rod Length: 12ft only
---
3. Fox Warrior S
If your budget allows, we would recommend these as a great starter setup.
They are built to last, and the performance is fanstastic!


Features
Fox Slik guides (40mm butt to 14mm tip)

DPS-style 18mm reel seat with reinforced steel collar

Matt black, understated finish

Laser engraved gun smoke butt cap
Test Curve Options: From 2.75lb, right up to 3.5lb + a 5.5lb Spod Rod option.
Rod Length: 10, 12 and 13ft.
[wp-review id="2728″]
---
 What Other Carp Tackle Do We Review?

You can take a look at some of our other carp tackle reviews below!
If you would like a specific item of tackle reviewed, please visit our contact page and we'll see what we can do!
Bivvy Reviews

Latest bivvies from Fox, Trakker, Nash + other reputable brands

Bite Alarm Reviews

Is a wireless receiver really worth the money?

Rod Pod Reviews

A good quality rod pod will last a lifetime!


Bait Boats

How much are you willing to pay for for perfect rig placement?

Carp Holdalls

Choose quality for a longer lasting, hard wearing tackle bag.
---
Carp Fishing Tips for Beginners

If you're new to carp angling, we would like to welcome you to this fantastic hobby!
Getting to grip with all the tackle can be overwhelming at first….
So, please take a look at some of our guides to the basic concepts of carp fishing below….
….or take a look at our other articles dotted around the website.
1. Tieing Knots
Making sure you know how to tie 2 or 3 good strong knots to begin with.
As in the video below, the Palomar Knot and 5 Turn Grinner are great beginner knots you can try.
We can assure you that losing a carp to a poorly tied knot will leave you feeling frustrated!
2. Setting up your tackle correctly
[bg_collapse view="button-green" color="#000″ icon="arrow" expand_text="Show More" collapse_text="Show Less" ]
When you start to buy the main bits of tackle you need like rods, reels and terminal tackle -you need to know how to operate, store and maintain it all!
Not only will your tackle last longer – but it will save you a great deal of money in the future.
You can find some great guides on the internet, such as:
7 Things You Should Know About Hook Sharpening
How to Clean & Maintain your Rod & Reels?
3. Research
We can't stress enough how valuable it can be to prepare for a session than carrying out a little research beforehand!
Small things like keeping an eye on the weather, checking the lake rules and any local knowledge you can get your hands on could really boost your chances of catching….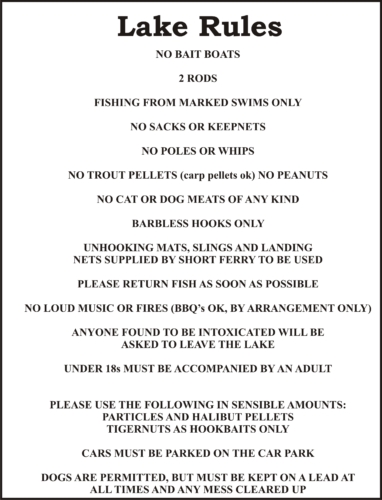 4. Casting
Learning to cast accurately is very important.
It will probably take you a while to buid up casting confidence, but, practice makes perfect as they say!
5. Know Your Tackle
Tackle Craft – as we like to call it, is learning what each bit of tackle is actually for!
You can keep this simple by:
Learning to match hook size with bait sizes
Choosing the lead type and sizes….
Spodding – The Bait Deliverance Service
6. Bait
So MANY CHOICES!
But, there is no one bait for all in carp fishing.
We suggest experimenting with how much to bait an area with…..
Maybe mix shapes and sizes too?
..boilies are a hugely popular bait!
7. Patience
( a key ingredient to carp angling is time…..we've all blanked, and it's these sessions where we've learnt the most!)
---
Carp Fishing Methods, Rigs & Tactics

Carp fishing is a sport enjoyed by many, either competitively or just for leisure as a hobby.
Once you've got the hang of the basics and bought the right tackle, many anglers go on to adopt their own approach.
It really is an art – and carp anglers with over 20 years experience are still learning new methods, baits, rigs, and ideas.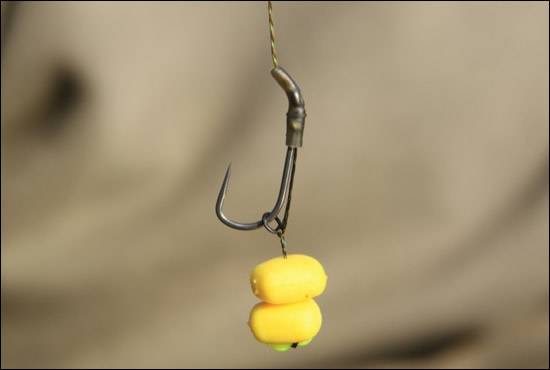 Your preparation and approach are key.
By analysing a carp lake, studying weather patterns and locating carp can increase your chances of catching tenfold.
You can improve your feature finding using a marker float which helps you accurately bait up the intended area. Using the right tackle correctly coupled with an efficient rig and bait presentation will give you the edge over others fishing the same lake as you.
Remember – carp can be caught anywhere on the lake, at any time.
Off the bottom, in the margins, on the surface – adapting your style to suit these conditions can really pay off.
For these reasons, carp angling can be challenging at times, but breaking your personal best or landing a lake record can be so rewarding.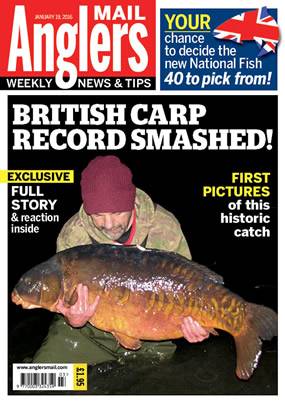 Check out some awesome carp fishing tactics you can try out.
---
Stalking Carp
Let's talk about stalking – one of my favourite methods.
I'd stick my neck on the line and say not enough of you stalk for carp.
OK, lake rules could prevent you from fishing in between swims but I see so many anglers pitch up with their bivvy, find a couple of spots to fish and then chuck a few kilo of bait in and then….wait….wait…..wait.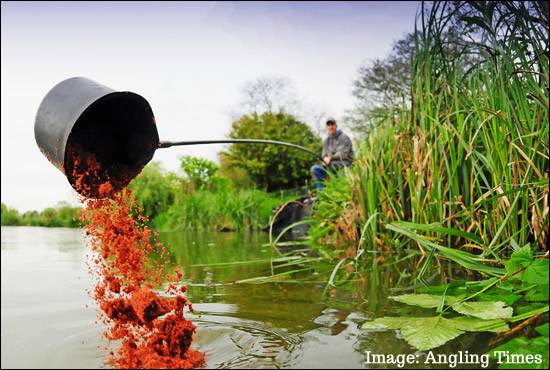 That's fine, but if you're pro-active, you can really nick a fish here and there and creeping through a bush stealthily has kind of a 'hunter gatherer' feel about it don't you think?
Stalking for carp can be so much fun, and for short sessions, you're making good use of your time – as you should be!
OK, I've convinced you so how do you go about stalking properly?
During you walk around the lake, keep your eyes peeled for any carp patrolling or even better, feeding close to margins.
Lily pads and weedy areas are keen locations carp like to visit frequently due to natural food sources.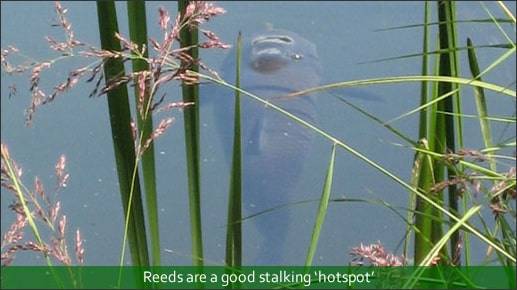 Once you've located a spot or two, introduce some bait little and often over the course of a few hours or so.
What you're doing is 'priming the area' and tricking the carp to feed confidently on your bait of choice.
After that, you're ready to begin stalking.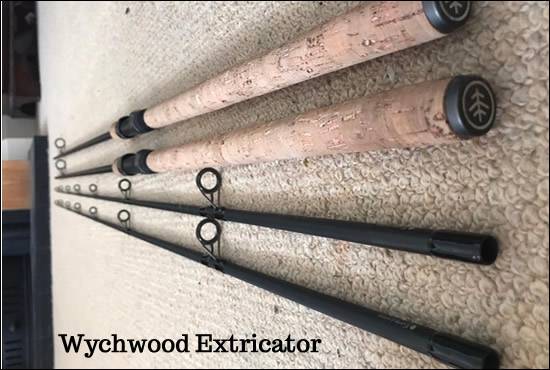 It's all about 'going in' slowly and with very light tackle as not to scare any resident carp away.
If necessary, use a smaller rod that can easily be manoeuvred through dense areas and one that won't cast a shadow over marginal areas.
Keep your end tackle minimal, because ideally, you're looking to drop your rig onto the spot without making too much commotion.
A light lead (say 2 to 2.5oz) is sufficient enough.
Try to match your hook bait with the free bait offerings you previously introduced earlier.
Now you're all set and it should just be a case of waiting for your rod to bend (hopefully not for long!)
Some other tips to offer you here would be to wear clothing that matches your surroundings (green or brown) and place your rig maybe slightly off of your spot if you see carp feeding there on your approach to the stalking area.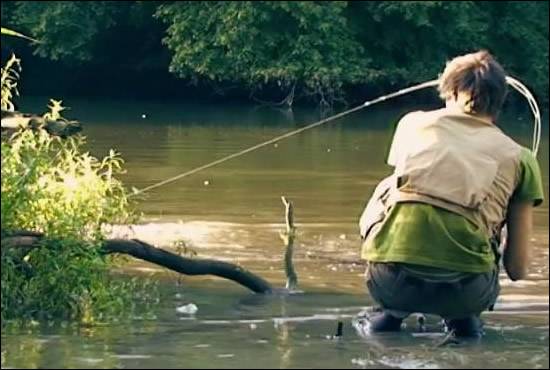 There is no doubt carp fishing is challenging, and there is nothing worse than drawing a blank in wet and windy conditions.
We discuss some carp fishing tips and tricks that you can add to your fishing, and improve your bite rate for those horrible, bad weather days.
---
Swim Choice
There's no doubt swim choice can make or break a session.
Carp can change their location in an instant so you should constantly keep an eye on the lake and watch out for carp rolling, or bubbles indicating a feed.
They can also be very fussy about particular baits
Try to experiment with bait types, shapes, sizes and flavours – and once you hit upon a bite, you should stick to these changes.
Keep mobile, and if you spot carp elsewhere on the lake, you should probably move.
This change can pay off BIG TIME!

---
Accuracy
Achieving good accuracy is earned through practice.
If you need to re-cast 20 times to land exactly on a productive spot, then so be it.
If your rig is presented too far away from your baited area – you're sure to blank.
Take into consideration the weather conditions, and if your recasting during the night, be sure to mark out your lines using marker sticks.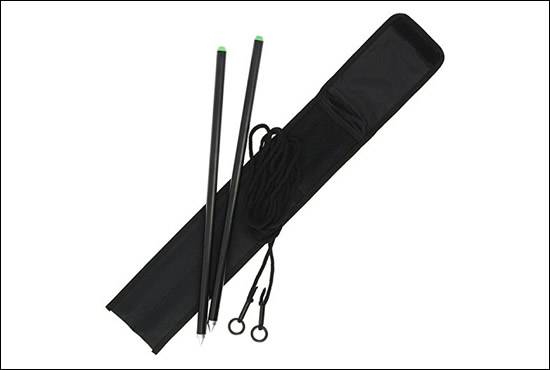 Check out this video from Wychwood for some great casting tips.
---
Timing
From the very beginning of your session, you should take notes on areas where you've spotted carp and the time of day this happened.
This is because carp like to patrol and they'll frequently re-visit these spots.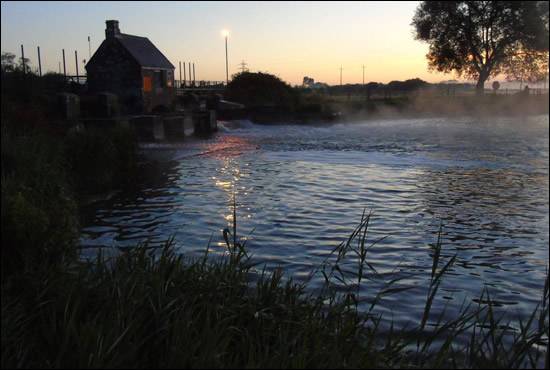 We really hope you've enjoyed reading through our carp rod reviews – and all the many other carpy articles!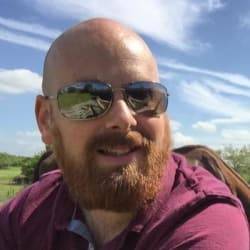 Mike has over 30 years of fishing experience in carp fishing and general coarse fishing. He is always looking for the latest fishing kit to try out and talk about and needs a bigger shed due to all the fishing tackle he owns. You can read more about him here.