A good set of fishing scales can be an invaluable tool to have at hand in your angler's kit. Measuring your record breaking catches with ease and at the spot is a clear advantage and that's where digital carp fishing scales really shine. With many efficient models on offer, boasting a lot of modern advantages, you can be certain that measuring with ease, precision, and speed will all be possible for you. They are also a great option for night fishing – with backlit screens you can measure in the night without issue. Join us in our fishing scales review as we explore the best of the best!
Digital Fishing Scales (Our Choices)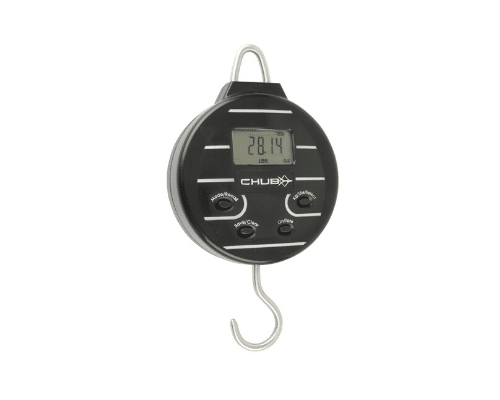 These compact, straight forward fishing scales have a plenty of interesting design features that really make them an efficient addition to your kit. Small in size but with plenty of features, these Chub digital scales are quite easily carried in your backpack.  The design attempts (successfully) to implement a variety of nifty features covering all aspects needed in angling. These include a backlit digital display – great for night fishing; large and labeled numerals, 50 lbs weighing memory, several different modes, and a tare option. You can also switch from lbs to kg and vice versa. These scales don't have the t bars for holding, but instead need to be hoisted. Nonetheless, when the prices is considered and the quality of manufacture and efficiency, these Chub digital scales are more than an adequate choice if you are on the lookout for a reliable and quality gadget.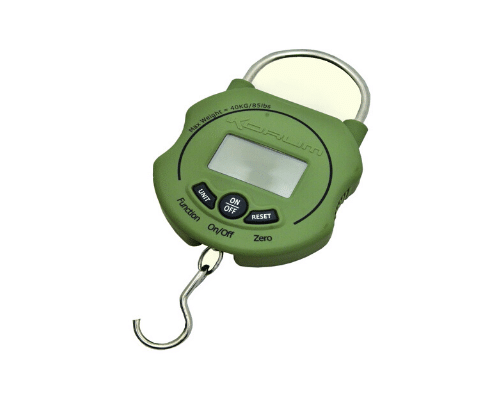 Koprum digital fishing weighing scales are amongst the finest on the market. These heavy duty, durable, and efficient scales are really the ultimate choice – both in their efficiency and the quality. Having a max measuring weight of 85 lbs or 40 kilograms, they are more than adequate in the role of carp fishing scales. With quite a robust design, these Korum scales feature a rubberized protective casing, a wide handle to hold, and a large backlit display which is easy to read. Just three buttons will provide you with all the necessary operations, with a dedicated on/off button, and several modes.
These scales come with a durable protective cover, so you can always keep them dry and unscathed. A plethora of positive reviews are guaranteeing that the product is really as good as advertised, and it proves to be a great measuring tool when on the prowl for those big carp!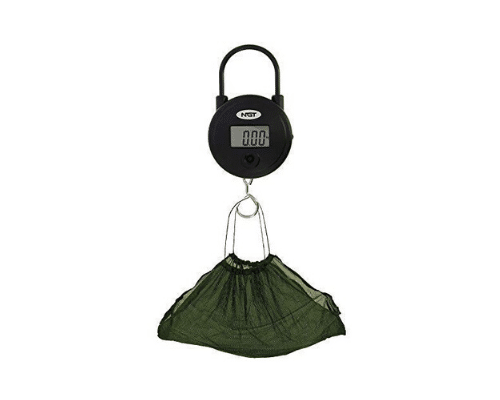 These NGT digital carp fishing scales are a great budget version if you are looking for a simple and straight forward design. While in no way a robust design, these scales are aimed more at the average angler, offering a great balance between price and efficiency. This is designed to provide the basic weighing features, and is a great little tool to have with you by the water, or as an emergency scale. The main feature is a large LCD display with really large numerals, and a single button for a tare function. You also get a mesh weighing sling with a drawstring, a nice little bonus addition.
For a beginner angler, this is a great little budget option – it does its job! But if you are looking for something heavy duty and advanced, other options come into play.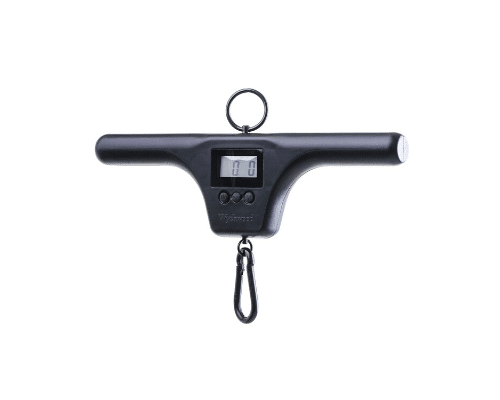 This unique carp weighing scale takes a different approach, offering a useful design to make your job so much easier. The main feature that is easy to spot is the so called T bar grip. Great for on the spot and fast measuring, these scales can be held in hands and raised up to the desired level. Also, Wynchwood opted for a karabiner clip instead of a traditional hook, minimizing the possibility of the catch sliding off. This is a durable set of scales, with a textured hard plastic grip that minimizes slipping. The LCD is easy to read and backlit as well. There is a memory function too, alongside the usual options of most scales.
Definitely a great option for experienced carp anglers, this T bar scale can be a real advantage on the shore. Recommended!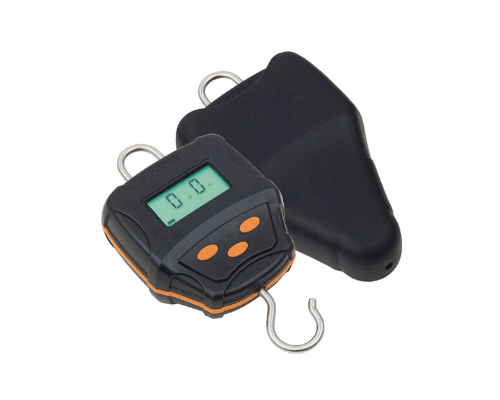 Fox is easily becoming one of the finest brands that offers angling equipment, and this robust digital scale is just the proof we need. This heavy duty gadget is perfectly designed to offer the ultimate efficiency when it comes to weighing your catch. A durable, hard plastic frame and an added plastic protective cover ensure minimum possibility of damage. A large backlit LCD screen offers all the info plain to see, with three command buttons that offer tare, kg / lbs change, and other basic functions. The handling U hook could be bigger, but it still does the job well. The interesting addition is the large and very durable plastic covering that offers maximum protection. If you are looking for the slightly pricy option, but the one that will certainly get the job done in any situation, then this is the set of scales you are looking for!
Traditional Fishing Scales
But even in the time when we have all these digital and backlit modern gadgets at our disposal, the traditional angling tools are still valid – more than you'd expect. That's why we need to mention the traditional measuring tools, the way it was done for years in the time of our fathers. Sometimes analogue is just more reliable than the battery powered digital scales, especially if they are not backlit. Following is a great example of how a good, high quality analogue traditional fishing scale can be a great choice for all anglers.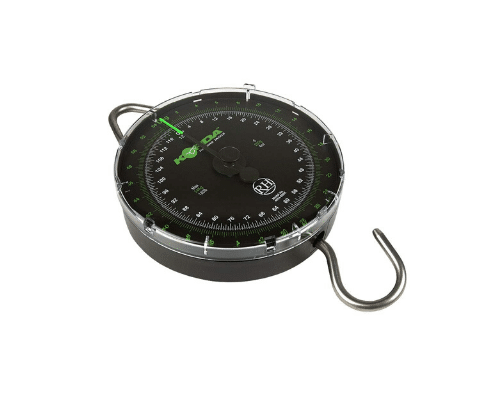 Traditional Korda scales are high quality analogue weighing tools that offer the most precise measure. These rugged scales are built to last, and feature no batteries whatsoever – totally old school and reliable. They are very large and can measure up to 120 lbs! All the numbers are clearly visible, and best of all the scale and the digits are fluorescent, enabling you to see clearly even in night fishing situations. A thick, hard plastic screen protects the scale tip, and the outer case is rugged enough. There is the usual hook and stainless steel hanging point.
Korda is a trusted brand for tackle and all things fishing related. And the many positive reviews just confirm that this traditional fishing scale is well worth the investment.