It's a common image of the modern-day angler… "It was this big," he says, holding his arms out. Yeah right. If you are serious about your catch and weighing fish, you'll want precise numbers, not arm lengths. For that, you are going to need the best digital fishing scales for 2022. There's a little bit to consider. In this article, we are going to run through some really great suggestions and then give you a few pointers on how to choose a set of digital scales.
The Top 5 Best Digital Fishing Scales Reviewed 2022
Best budget digital scales
These great value fishing scales will be more than sufficient to accurately weigh fish you will catch in the UK. The maximum weight is anything up to 50lbs. The solid metal handle is ideal for hefting a full keepnet two-handed whilst you read the large LCD screen.
For such a budget-friendly digital scale it has some nice features. The digital display is large and easy to read. One really nice feature that makes these absolutely ideal is the integrated measuring tape, allowing you to accurately gauge the size of any fish up to 1 metre!
You are able to change units of weight measurement at the touch of a button.
One great feature is that this set of digital scales themselves off automatically following a period of inactivity. No more wasted batteries.
Our Top Pick
Best All-Round Digital Fishing Scales
This set of digital scales for fishing are super smart. They are super compact making them ideal if you are trying to save space in your tackle box. As with our previous choice they have a few handy features.
For a start, the tubular body of the digital scales also doubles up as the handle and works as a great weigh bar. A really neat solution, which keeps them compact. We really like the T bar style of them.
They are ideal for low light conditions. This is for two reasons. First, the display is a backlit screen for easy reading. Secondly, the scales also include an incorporated torch. If you like to fish at night these could be perfect for you.
They are super accurate too, they will measure your fish with supreme precision, all the way down to one-hundredth of a pound!
Best Heavy Duty Digital Fishing Scales
Next-generation tackle is a real up and coming brand, and if you are in the market to catch big fish or regularly pull in heavy bags then these heavy-duty set of scales could be a great selection. Thats why they have made it onto our list of best fishing scales.
The chunky 'T' bar handle means that you use the scales two-handed, reducing stress on your fingers as you can sometimes get with thin handles. A big screen means that you can read your fish's weight quickly and get it back into the water in a shorter amount of time.
The digital scales automatically turn themselves off after 60 seconds giving a huge battery life whilst you are down on the bank.
Best Digital Fishing Scales Combo Deal
If you are looking for an all in one weighing solution you are in the right place. Included with these tough and durable digital fishing scales is a carp safe mesh bag, making it perfect for specimen hunters.
The flexible loop on the top of the set of these NGT scales will allow you to suspend it from a bank stick or pole for a rock steady measuring platform.
One great thing to see is that the batteries are included with these.
Best Premium Digital Fishing Scales
Next up on our list of best fishing scales are these Fox digital scales. The price tag is at the premium end, but you get what you pay for.
The fox digital scales are entirely waterproof, which is exactly what you need when you are down on the swim. They are suitable for all weathers and conditions.
To protect your investment, fox has included a sturdy carry case, so these digital scales will be safe in the bottom of your box or fishing tackle bag.
These fox digital scales have the ability to switch between units of measurement. You have the ability to calibrate the scales based on the weight of your wet net, meaning total accuracy with regards to the weight of your catch.
The maximum weight these can weigh is 60kg.
Buyers Guide
There's quite a lot of options when it comes to buying the best fishing scales, so you need to know what to look for. Let's go through some common features of digital fishing scales so you can make the best choice.
Why do you need Digital scales?
One word. Accuracy. Accurate scales can mean all the difference.
Imagine you caught your PB carp, but couldn't be sure due to a small error in the scale, which often happens if you go manual. Another reason why accuracy is important is due to bag limits. If you are a match fisherman you want to make sure that you don't risk disqualification for exceeding your keepnet quota.
By being able to get a pin perfect measurement you can avoid both of these scenarios.
What should I look for in the best digital scales?
Here are some features that can make a big difference: –
An accurate display
Generally, the more accurately you can weigh fish, the better the scales. After all, that is their primary purpose. As a general rule of thumb, the more digits you find after the decimal place on your display, the more accurate a measurement you can take.
A large display
The bigger the display is on your weighing scales, the easier they will be to read. This is good if you fish in low light conditions or wear glasses. As an additional benefit, the sooner you can get the weight read off, the sooner the fish can be back in the water where it belongs. Look for displays with LCD screen backlights for the ultimate in easy to read fishing scales.
A back light
If you are one of those carp anglers that goes carp fishing at night then you will want digital scales with a good backlit display. If you don't have a back light then you run the risk of not being able to see the weight as easily.
Substantial handholds
The risk of dropping a fish whilst weighing is not something you want to entertain. The best scales will have a handle that allows you to easily weight the fish safely and easily lift it up. In lieu of a substantial handle, look for loops that you can thread over a bank stick or a good t bar design that's easy to hold.
A compact scale
Space is always at a premium when fishing. If you are starting to consider how much your bag weighs then you are probably overloaded. Don't compound the problem when you don't need to. The best scales will be lightweight and compact.
Other Features
Often scales come with the odd bonus feature. In our selection above you will find other great features such as torches, tape measures and carry cases. Anything that saves you having to carry another piece of gear and that is easy to use is a good investment. Battery life is something that should not be overlooked.
FAQ
What scales are more accurate?
As we've said, look for carp scales with at least two decimal places. We've included scales in our line-up that are accurate to within one-hundredth of a pound.
What are the best digital fishing scales?
For the money, we like the XT1 weighing scales. They are light, compact and really accurate. They encompass all the features that we have mentioned in our fishing scale buyers guide.
How do you weigh a carp?
Carefully! Carp can either be weighed in the landing net (after you have calibrated your carp scales) or alternatively there is the possibility to weigh the fish in a fish safe mesh bag or weigh sling. Two-handed is always the way regardless of fish size. That way you can minimise the chances of an accidental drop, which could prove fatal for your prized catch.
Are old fashioned scales more accurate?
No, they aren't. Whilst "dial scales" may appear to be more solid, they work using springs and cogs. Over time these springs can stretch and 'relax' meaning inaccurate readings.
Inaccuracy aside, metal and water don't often mix well. You will find that, after a few seasons, traditional mechanical scales may stop working completely as the corrosive effects of rust and dirt begin to take their toll.
In Summary
A good pair of carp scales is vital if you want to be accurate in your measurements. You'll need something that is easy to hold, easy to see and accurate. Provided all of those things are satisfied you'll be good to go.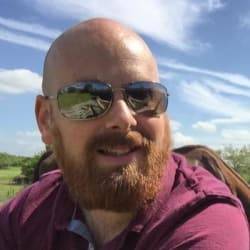 Mike has over 30 years of fishing experience in carp fishing and general coarse fishing. He is always looking for the latest fishing kit to try out and talk about and needs a bigger shed due to all the fishing tackle he owns. You can read more about him here.