Let's not beat around the bush here, everyone wants a "bigger everything" in life and for fishermen, we all want a bigger carp on our next fishing trip and become a piece of carp fishing history.
We all hear about venues that supposedly hold fish over 50lb, but you don't want to waste your time trying to catch a 50lb carp if they are not there.
In this article, we are going to tell you which carp lakes have 50lb carp and how many there are.
Some of these carp lakes may even hold carp that go way beyond 50lb!
Chances are, even if you don't catch a 50lb fish at these locations there's still a good chance you are going to catch a fish that's over that magical 30lb mark. All of the below lakes allow night fishing and a lot of them are day ticket waters.
The Best 50lb Carp Lakes UK
1. Kingfisher Lake – Bluebell Lakes
Let's get one thing mentioned here before we discuss this venue any further…. the lake record and most famous carp is a massive 64lb! Yes, 64lb.
While there are 6 lakes at Bluebell Lakes, the lake you want to fish in is Kingfisher Lake as this holds the biggest stock of large fish which gives you the best chance of landing a true specimen carp.
Fishing here is hard as the water is clear, so you really need to give your tactics some thought. These old carp are wise and can be very spooky. If they swim past your rig you may only get one chance of them taking it before they swim off.
If you can't get on Kingfisher Lake then Swan Lake is another one that could be worth a try as the lake record fish in this lake is 58lb.
There is a tackle shop, cafe, toilets, and showers at this venue are great additions.
Tickets are available for a minimum of 24 hours, but I know I could stay here for 7 days.
2. Nirvana Lakes at Anglers Paradise
Anglers Paradise is probably one of the most famous fisheries in the UK. That's because it's not only catering for fishermen but it's also catering for families as it's got some great facilities onsite.
Think of it as being a haven for fishermen, but it's also a place you can go if you don't fish as there are loads to do there. This could be a good place to take all the family along while having the possibility of landing yourself a 50lb carp!
A rule that I really like about this venue is that it doesn't allow the use of bait boats. While I do sometimes see the advantage of these, I do think they can take away some of the skills and cause issues with people fishing out of their swim. Anyway, that's a debate for another day!
3. Meadow Lake at Holme Fen Fishery
The lake record is 68lb!
Located in the lovely Cambridgeshire countryside, this is a massive 26-acre lake that is a carp fisherman's dream. What's even better is that there are only 15 swims which means everyone has plenty of room to fish for.
There are plenty of features to fish to at this venue such as islands, lily pads, sand bars, and much more. This means there are plenty of spots that the carp love to hang around.
Fishing here is not easy, which means you need to think about your tactics carefully. The water here is also very clear as it is at a lot of gravel pits so presentation really is key.
There just isn't one 50lb fish in here, or even 2. Over 100 fish currently weigh over 40lb in this lake which really is a large number. It is almost 2 per acre which is a good ratio. It is estimated that 20% of these are over 50lb which means numerous carp in this lake are over 50lb. That's almost 1 per acre which again is a great amount for this lake.
Accessibility here is great and you can't park quite close to a lot of the swims which saves you walking far with your tackle.
4. North Lake at Elphicks Fishery
Elphicks fishery has a fantastic reputation as one of the finest fisheries in the UK and is definitely one of the best carp lakes in Kent.
Their North Lake is probably the jewel in the crown and comes in at 6 acres in size.
Within the lake, there are 19 fish known to be over 50lb which works out at just over 3 fish per acre. Obviously, that's if they were all perfectly spread out, but it's a ratio we like to use here to give a clearer idea of how likely you might be to catch one.
Only 10 anglers are allowed to fish on it at any one time, with a total of 19 swims. This gives you plenty of room and it never feels like you are casting over each other's lines.
There is an access road that goes all the way around the lake which means it's easy to transport your bivvy and all the extra gear we need (or sometimes don't need, if you are a tackle tart like me), right to your peg without the need for a barrow.
5. Oxlease Lake at Linear Fisheries
Linear Fisheries is one of those special fisheries that we all want to fish at least once in our life.
This is a big lake at 26 acres in size which is one of the biggest on our list. There are a lot of big fish in here with there being a reported 60 huge fish that weigh over the 30lb mark which we think is pretty impressive.
However, the lake record is 52lb and from what we can find out this might be the only 1 fish that is over the 50lb mark. We recommend you contact them on Facebook to find out the full details, but you can be sure of catching a big carp when you fish this lake and probably get a new personal best.
On-site there's a tackle shop where you can get everything you need so there's no need to worry if you haven't got everything when you get there.
Unlike some of the venues on this list, this lake allows you to bring guests and even dogs. This could be a great deal if your wife wants a few quiet days away but you want to get some fishing in. It's a win-win, surely?
6. Church Lake At Nash Lakes
When you hear the word "Nash" you instantly think of the words "carp fishing".
Nash has some picturesque lakes and their Chuch Lake really is a lovely, special lake.
Compared to some other lakes on this list, Church lake is 4.7 acres in size which might suit some carp anglers. I know, I, personally prefer smaller lakes as they just feel a bit more intimate. I like to think that I've got a better chance of fishing in a smaller venue.
The good news is that this water is now open to anyone as it used to be a water that was invite-only. It's also good that only 6 anglers are allowed on at any one time which means it will never become overcrowded.
The lake bottom is silty and there are weed beds so make sure that you choose your tackle correctly when fishing as you don't want to lose what could be the biggest carp of your life.
What's also great is that there's a hut on site that comes with a shower, kitchen, and charging points for your phones and bait boat batteries. That's always a nice extra feature to have if you are there for a few days.
7. Monument 1 at RH Fisheries
At the time of writing there are no fish that have been caught over 50lb, but don't let that put you off as you could be one of the first to catch one over the 50lb mark. 2 of the biggest fish are just under 50lb at the moment and if they put a bit of weight on then there should be 50lb carp in there.
The good news about this venue is that there are 85 big carp in the lake and the lake itself isn't that big which gives you a good chance of catching a really big fish.
Another really nice thing about this lake is that its been designed with disabled anglers in mind. You don't find this at a lot of big carp venues as access can be a bit tricky. It also isn't just the lake pegs that are disabled friendly as its also the lodge and toilets are disabled friendly.
People can only book here for a maximum of 36 hours which means you won't get people hogging it for a week at a time.
8. Birch – Old Mill Lakes
Old Mill is the premier fishery in Lincolnshire and can be found tucked away in lovely surroundings.
When it comes to catching a fish over 50lb then Birch is the lake you want to try.
Up to October 2021, Birch has seen over 27 fish caught that weighed over 40b with the biggest of these being 62lb. A total of 7 of these 27 fish were over 50lb so there really is a good chance you can catch one.
Even if you don't manage to catch a 50lb fish there are over 80 fish that weigh between 10 and 30lb so you always going to land some decent-sized fish.
This lake has a great shape to it when compared to some other waters as it's not just 1 big open water. There are plenty of little parts of the lake that go off to give you some features to fish to. Reports say that fish are caught in the margins and they also love to patrol between the islands.
The lake is shallow at 10ft in depth which when compared to others on the list is one of the shallowest.
Day tickets are available at £35 a day but there is also a membership option.
9. Willows Lake – Erics Angling
Willows Lake is a big gravel pit at 25 acres in size.
Up until 2013, it was a syndicate lake, but the good news now is that it's open to anyone on a day ticket. The reason for the change was so that more money could be made from the fishery which could then be put back into wildlife management by the local authorities. This, in turn, keeps the water healthy which allows the carp to thrive and grow bigger.
There are over 450 fish in this lake with the lake record being 59lb which is the biggest in Yorkshire.
There are also known to be over 3 other 50lb fish and 20 fish over 40lb with the biggest of these being 49lb which could break the 50lb mark sometime soon. This is a great venue for most anglers to catch a fish of a lifetime.
10. Wellington Country Park
There isn't a lot about this venue online as it's part of the Yateley complex.
It is a syndicate-only lake.
There is a great write-up here about a guy called Dave Gaskin who caught 2 fish over 50lb on his latest session.
To date, there is a recorded 25 fish over 50lb with some approaching 60lb.
Final Thoughts
The lakes above are a mix of day-ticket carp lakes and syndicates. My advice would be to start with a few of the day ticket lakes that are smaller as there's a better chance of you landing a big fish.
Some of the venues might be hard to get on, as many people want to catch a large fish but it will be worth the wait. My advice would be to book on early to avoid disappointment.
FAQ
Is there 50lb carp in lakes out there that we don't know about?
I definitely think there is. I think some lakes won't publically announce how big some of the fis are in there as they will want to try and keep anglers out and have the place to themselves.
Why do carp struggle to grow over 50lb in the UK compared to other countries?
The UK is colder than a lot of Europe and fish are cold-blooded. The winters won't be as long in places like the south of France. Therefore, they get warmer weather and which means the fish are active for a longer portion of the year.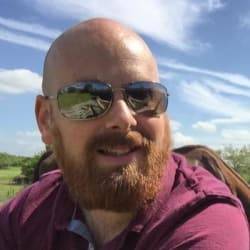 Mike has over 30 years of fishing experience in carp fishing and general coarse fishing. He is always looking for the latest fishing kit to try out and talk about and needs a bigger shed due to all the fishing tackle he owns. You can read more about him here.