Carp fishing sunglasses. What are they all about? Whilst it's great to look 'cool' whilst you are sat in your bivvy, sunglasses are more than just fishing fashion accessories. The first thing you are looking for is a decent level of protection for your eyes.
It's no good planning a full-day session, to find that by midday you've got a headache because of the surface glare. The second and some serious carp anglers would argue, the most important thing, is that a decent pair of fishing sunglasses can help to increase your catch rate.
Polarised sunglasses work by cutting a significant amount of glare from the water. As a result, you can often see whats beneath the surface when fish spotting in much greater detail. Weeds, features, and of course, fish. If you know for sure that there are fish in your swim, it eliminates one of the variables of the puzzle. Or if you are into stalking, they make it easier to locate the fish and cast directly to them. Generally, carp are found in murky water. Darker tints such as brown and grey are especially effective in allowing your vision to penetrate the light conditions deeper when fishing.
Knowing which sunglasses to buy is tricky, as there are plenty to choose from. We've assembled a list of the best sunglasses for fishing and put together a buyers guide at the end for you.
Best Polarised Sun Glasses
These have a camo frame, which we think is a nice touch. The glasses are of the wraparound style meaning they will stay firmly where they belong whenever you lean over, on your face and not in the water. Brown chrome tinted lenses ensure maximum visibility.
Want to look cool, and be able to see fish at the same time? With this contribution from Korda you can do both! A brown tint to the lenses ensures that visual comfort is optimised. The polarised lenses are also fully polarised, allowing you to pick out the finer details sub-surface. As an added style factor, the frames are in a matt tortoiseshell finish.
Now for something a slightly different. Wraparounds are not for everyone, enter the fox rage sunglasses! A lightweight, light coloured frame with orange lenses, these glasses truly stand out! Being well made and sturdy, these glasses should last a while, making them a worthy investment. If you've ever owned a pair of Avid carp blaze sunglasses these are equally as stylish and well made.
Korda is a name associated with quality amongst anglers, whilst also being a budget-friendly. If you like the idea of wraparounds and polarisation, without having to spend a fortune then these are worth a look. Black frames and brown lenses combined mean that the only thing shouting 'look at me' will be the fish.
Understated, dark and low profile. These Fox Matrix sunglasses are one colour, black. Black frames and grey lenses aren't the most attention-grabbing sunglasses, but then when you are in among the fish, your catch rate will do the talking for you.
Fox features again here in our list. Fo true carp anglers, who wants everything to be camouflage these are right up there. The well-built frames are finished in camouflage, and with brown polarized lenses, you will look every bit the veteran fisherman.
If you wear spectacles you'll often be stuck between brightness or clarity, as you have to remove your glasses to don your carp fishing sunglasses. With this offering from Fortis, you don't have to as the go over your normal spectacles. They aren't the cheapest on our list but that's because they have several extra features, including; rubber inserts on the arms, a range of lens colour options and a unique vent system to prevent 'misting up'.
Buyers Guide
Below is a mini buyers guide that goes over prices, different types of lenses and other features to look out for when buying a pair of fishing sunglasses.
Material Of The Lenses
The lenses are the most important part and these could be made from either glass or polycarbonate. Which material you pick for your lenses will affect the price. We recommend trying both if you can, as what works for one person's eyes might not work for another. Some lenses might also work well in certain light conditions such as low light that other lenses don't work in.
Frames
If everyone wore the same glasses frames it would be a boring world. With polarised glasses, you can go really funky and get something that's camouflaged that you wouldn't wear on the street as an everyday pair of glasses.
Any Extras?
Are your fishing glasses staying in your fishing bag all the time? If they are, then you might want to check that they come with a handy case to keep them safe. A hard-shelled case is always best as there's likely to be heavy stuff in your bag, or if its like mine, it will be full to the bursting with all my gear.
A lanyard is another handy extra that some of these come with. This can go around your neck which means that your glasses won't fall off and go into the lake. Believe me, I have lost 2 brilliant pairs over the years!
Price
Ahh yes, the product price! There are a lot of cheap glasses out there but we would recommend just spending that bit more to get a really decent pair that you will be happy with and that might help you land a few more fish each session.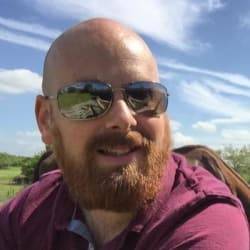 Mike has over 30 years of fishing experience in carp fishing and general coarse fishing. He is always looking for the latest fishing kit to try out and talk about and needs a bigger shed due to all the fishing tackle he owns. You can read more about him here.