Some products and names are automatically linked. A prime example is the words Shimano and baitrunner. When looking for a great baitrunner reel you no longer have to be limited by a 'designer' name. There's plenty of bait runners out there, offering great quality and value. In this article, we are going to look at some great examples and explain a little about what goes into a good baitrunner reel.
Best Carp Fishing Baitrunner Reels
Best Combo Deal
Average price: £30
Reel Size: 4000
Capacity (15lbs): 250 metres
Retrieve Ratio: 5.2:1
It's always nice to get two of something. When that 'something' is a pair of high-quality baitrunner reels you can't go wrong.
These are not the biggest bait runners you will see, but for an introduction to this style of fishing, they will work perfectly. And because they are identical, you'll achieve that key element that is vital to successful angling. Consistency.
These carp fishing reels have great capacity considering their size, giving you more than enough line to work in all but the biggest venues.
They are constructed with lightweight and corrosion-resistant graphite, complimented beautifully by a camo finish. They look the business.
For the money, this pair of carp fishing reels offer a few features far over their price range. An oversized bail arm and micro-adjustable drag system are both good examples.
This would be a great set for a beginner or new entrant to carp fishing.
Our Top Pick – Best All Round Bait runner
Average price: £60
Reel Size: 5000
Capacity (15lbs): 320 metres
Retrieve Ratio: 5.5:1
If you are looking for premium quality without a premium price tag then this reel is where it is at as Fox is a well known brand by anglers.
This is a professional set up. The line capacity is one of the highest on our list. When you combine this with a silky smooth retrieve and a fearsome ratio, you have one a great baitrunner reel for carp fishing.
A front and rear-mounted drag give you versatility whilst fishing, and the ability to put pressure on any fish.
5 ball bearing make the action smooth, and the large spool size ensures even line lay. If it goes on well, it will come off well too.
Best for Improvers
Average price: £28
Reel Size: 5500
Capacity (15lbs): 240 metres
Retrieve Ratio: 5.1:1
Mitchell has been around for decades, so they know what they are doing. This baitrunner reel for carp fishing offers performance and great value.
The body of the reel is manufactured from aluminium, well known for its corrosion resistance.
The multi-disc drag system will allow you to play fish of all sizes, without fear of overstressing the line or your rod. We particularly like the chunky soft-grip single handle, enabling you to put the pressure on when you need to.
The line capacity and retrieve rate easily make it a great choice of reel for carp fishing, especially if you are on a budget.
Best Budget Bait runner Reel for Carp Fishing
Average price: £20
Reel Size: 6000
Capacity (15lbs): 200 metres
Retrieve Ratio: 6.2:1
Shakespeare knows a thing or two about making fishing tackle. This lightweight graphite offering would be a great choice for smaller venues.
The large diameter bail arm keeps everything nicely out of the way, particularly when you are putting a bend in your rod with a big cast.
The reel is available in several sizes, but for monster carp, we would recommend sticking with the 6000 series. Along with this high-quality reel, you also get a spare spool, giving you a little flexibility as you can load two different types of line.
This budget-friendly option would be great for a beginner who's looking to upgrade their gear.
Best Reel for Small Waters
Average price: £40
Reel Size: 3000
Capacity (15lbs): 200 metres
Retrieve Ratio: 5.2:1
This isn't the largest baitrunner. But it's small and mighty. With a 5kg drag, you'll still be able to battle decent sized fish.
FI you want the functionality offered by a baitrunner but normally fish on smaller venues and think a 6000 sized reel might be overkill then this could be ideal. It would work particularly well with a light feeder rig.
The reel features infinite anti-reverse, preventing tangles and giving you ultimate control over your line. The composite body and rotor offer a frictionless performance and are lightweight and strong to boot.
The aluminium handle features a chunky grip, perfect for winding in whatever has taken your bait.
Best Budget Baitrunner Reel for Large Carp
Average price: £29
Reel Size: 6000
Capacity (15lbs): 200 metres
Retrieve Ratio: 5.2:1
For big fish, you ideally want to be pulling out the heavy artillery. For a low price, you'll get all of the features of a carp fishing reel that are far more expensive than this particular model.
Although the reel is pretty sizeable it manages to keep weight down with a graphite spool. The aluminium body feels solid in the hand.
If you are casting a long way then you'll have a lot of line to bring in. This reel has a great retrieve rate, making line retrieval effortless, with a fish on or without.
A nice feature is a super grippy handle, it will perform even when wet.
If you are looking to beef up a couple of rods then this might be a really cost-effective option, offering big reel performance without the big reel price tag.
Best Premium Baitrunner reel for Carp Fishing
Average price: £190
Reel Size: 5000
Capacity (15lbs): 400 metres
Retrieve Ratio: 4.6:1
Ok, sometimes the original is the best. If you've got a few quid burning your hole in your pocket then we can't say we blame you. But we can only sympathise if you are buying these carp reels for more than one rod.
Shimano is the grandfather of the bait runner, so this is the gold standard of baitrunner reels for carp fishing. The line capacity alone should tell you that it is designed for big things.
The black aluminium body is sleek and very good looking. The easy to reach and release bait runner switch is ideally placed and is intuitive.
You'll notice the retrieval rate is slightly less than our other options, this is made up for by the huge spool. Just as with big pit reels, bigger spools enable longer casts, and better line lay during the retrieve.
This reel is built to last, the internal ball bearings are shielded, protecting them and increasing the lifespan of this quality reel.
Frictionless gears make winding in utterly effortless.
This is a reel for serious carp anglers with a serious budget.
Buyers Guide
As you will have seen in our reel reviews, we have suggested various baitrunner reels with various capacities and they come in various sizes to suit all carp anglers. And you'd be forgiven for thinking they are just like any other reel. What sets them apart (and as the title suggests) is the bait runner function. We are going to explain how it works and what to look for in the best bait runner reels.
What is a Bait runner Reel?
Essentially a bait runner reel is like a regular fixed spool reel, but with an additional feature. Normally there are two ways to let line out of a fixed spool reel. Either you open the bail arm, or you releasee the drag so that line can be pulled from the spool.
A bait runner allows you to release this drag to its absolute minimum at the flick of a switch. What this enables you to do is cast a bait out, disengage the drag and wait for a bite. Due to the lack of drag, when a carp takes the bait it will swim away without being spooked by the pull of the line. Meanwhile, on the bank, you'll see the spool turning and at the flick of a switch can set the hook and begin your fight with the carp. By using a bait runner reel you can be assured of more hookups.
Size of Carp Bait runner Reels
If you are fishing with a light match rod, chances are that a 6000 sized reel will be overkill. Likewise, if you have baited up your spod rod and are using a 2000 sized reel, you will likely be outgunned.
The point we are making is that you should choose a reel that fits the size of the rod you are intending to use. This can often be dictated by the size of the venue you are fishing on. Bigger carp reels cast heavier and further so if you don't need to throw a huge weight or distance go smaller… around 3000 or 4000.
Conversely, if you are specimen hunting or want to launch a huge feeder, then use a reel that will deliver the goods. We'd suggest 5000 sized as a bare minimum.
Spool Capacity in the Best Bait runners
Again, this will depend primarily on how far you cast. The lowest you would probably want to go is 200 metres of capacity.
What if we were to tell you that the size of species will influence your spool capacity. No, it isn't because you can expect to have 300 metres of line stripped from your reel (especially if your venue is only 100 metres across). The reason is that a bigger spool can fit thicker line. Allowing you to handle bigger fish without fear of the line breaking.
Retrieve Ratio
We'll explain this as simply as we can. Do you see the three numbers in our guide above? They do mean something and once you know what, it makes perfect sense. The first two numbers tell you how many turns of the line you will get around the spool for every full turn of the handle. Here's an example or two to help you: –
8.1:1 This means that for every full turn of the handle the spool will make 8.1 winds of line
2.4:1 This means that for every full turn of the handle, the spool will make 2.4 winds of line around the spool.
The higher the first two numbers, the faster you can bring the line in.
As a good guide, we'd suggest 4.5:1 as the minimum you will need in choosing the best reel. Anything quicker than that is a bonus.
Ball Bearings
Now, this isn't a deal-breaker but ball bearings can make a difference. It is often believed that the more ball bearings, the smoother the reel will work. This is true… To an extent. Often fewer ball bearings can be a good sign too, so don't be put off by models that have 4 or 5. It isn't so much about quantity and far more about quality. 4 quality ball bearings (like those found in the Shimano baitrunner) can often perform better than 12 poor quality ball bearings.
A Freespool Switch
Bait runners are characterised by this feature. If your reel doesn't have this switch, it isn't a bait runner. This is what we use to 'turn the drag off and on'. Ideally, you want this switch to be located somewhere easy to reach, the conventional position is on the back of the reel.
Summary
Gone are the days when a bait runner reel has to be an expensive investment for carp anglers and a lot now provide great value for money. You can get a performance that is so close to premium with other options that it seems less sensible to throw away money that would be better spent elsewhere. With some of our reel reviews above you could even use the money saved towards a great rod to go with your new bait runner reel. Make sure it has a free spool function, is reliable and can hold enough line. As long as those criteria are met, you'll have a fantastic reel.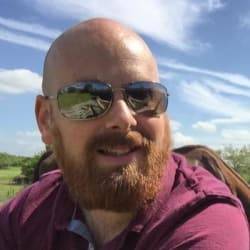 Mike has over 30 years of fishing experience in carp fishing and general coarse fishing. He is always looking for the latest fishing kit to try out and talk about and needs a bigger shed due to all the fishing tackle he owns. You can read more about him here.