Our aim is to help YOU find the best bite alarms to suit your budget and your carp fishing tackle needs. So which is the best bite alarm is the best on the market? Read our buying guide below and hopefully, we can help you out.
The answer depends on exactly what you are after. There is no "one fishing bite alarm suits all" option as some of you will require bite alarms with a great battery life that will last all week, and some of you will be after a cheap budget option to find out if carp fishing is for you.
Do you need alarms for night fishing? Or are you using alarms in the day? Are you using them for general coarse fishing? This will affect your buying decision.
Our Top Choices For Bite Alarms
Sonik SKS Carp Fishing Bite Alarm Set – With Free Bivvy Light 100% Waterproof Construction
JRC Fishing Alert Radar CX Sets Set 3+1 Blue Carp Fishing
New Direction Tackle Bluetooth Bite Alarm 3+1 Set For Carp Fishing
Battery Type
2 x AAA (indicators). 1 x 9v (Receiver)
1 x 9v (Indicators) 1 x 9v (Receiver)
2 x CR2 (Indicators) 2 x CR2 Receiver)
Night Light (Whats this?)
Bivvy Light (Whats this?)
Sonik SKS Carp Fishing Bite Alarm Set – With Free Bivvy Light 100% Waterproof Construction
Battery Type
2 x AAA (indicators). 1 x 9v (Receiver)
Night Light (Whats this?)
Bivvy Light (Whats this?)
JRC Fishing Alert Radar CX Sets Set 3+1 Blue Carp Fishing
Battery Type
1 x 9v (Indicators) 1 x 9v (Receiver)
Night Light (Whats this?)
Bivvy Light (Whats this?)
New Direction Tackle Bluetooth Bite Alarm 3+1 Set For Carp Fishing
Battery Type
2 x CR2 (Indicators) 2 x CR2 Receiver)
Night Light (Whats this?)
Bivvy Light (Whats this?)
You are probably wondering which one would be our top pick from the ones above. If we had to pick just one, it would be the Sonik SKS Bite alarm set this is because it comes with a Bivvy light which we really like and is priced in the middle of the range for premium fishing bite alarm sets. We also like the fact the bite alarms need AAA batteries which makes replacing batteries a lot easier.
All of the above are excellent fishing bite alarms and you can read more about the reviews of each by clicking the "more information" link in the table for each fishing bite alarm set.
Let's have a look at all of the above carp fishing bite alarms in a bit more detail.
First on our list of best bite alarms it this set of three alarms, a receiver and an LED light is as advanced as it gets. Each alarm has its own colour – red, blue and white – and along with the audible alarm, the LED lights up on the colour of the bite alarm that is sounding.
These fishing alarms are waterproof – there are comments from customers who have used it in heavy rain without a problem – it has an adjustable volume or you can select light only mode.
There is also a vibration alert, it comes with a free bivvy light – a nice touch that many customers have commented on – although you do need to buy batteries (2 x AA for the alarms, 1 x 9v for the receiver) and there is a carry case included. The carp bite alarms come with a low battery warning. Overall, a nice piece of kit that comes with plenty of recommendations from users, but at a premium price.
Second, on our list of best bite alarms is a set similar in style – and in the price – to that above, this set and a receiver is worth checking out. Where it differs is that there is no colour differentiation – just a white light that will show bite indication.
Guaranteed as waterproof, what they do offer is a 'travelling' LED signal; this runs one way to bite indicates a drop back, and the other for a run. This feature is very welcome indeed and will make a good selling point over some rivals here.
The alarm is adjustable for volume, and also for sensitivity, plus they are fitted with rubber grips to stop the rod slipping on the rod pod. You need to buy batteries – 3 x AAA for each alarm and 1 x 9v for the receiver – but there is a carry case included. Users speak very favourably about this alarm set, so it should be one for your shortlist.
The remote control ability of these fishing alarms is one of the major selling points of these best bite alarms, as you can remain in the bivvy while you adjust the volume and sensitivity of your alarms. This set, from New Direction Tackle, features another great idea in the shape of a mobile phone app, from which you can also control your alarms.
This is not a cheap alarm set, but it is a quality set. You can change the colour of your LED on each alarm and set the receiver to correspond, and you also have a range of in excess of 100m, which is more than enough.
Customer comments are very favourable, with particular emphasis on the ease of use and the range. The batteries for this bite alarm set are not the standard type: you need to buy ER14250M or C2 batteries, and we recommend you purchase them at the same time as the set. Overall, a very good fishing bite alarm set, but at a high price although you do get a nice carry case.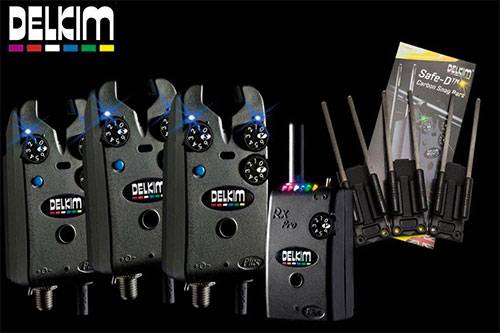 This set of alarms is undoubtedly of the very highest quality, and also comes at a supremely high price which is why they have made it onto the best bite alarms list. The Delkim TXI bite alarms don't use the traditional roller wheel like other alarms, they have a fancy method of working. Nevertheless, we include it because it offers everything you could want in a set. You get three alarms and the receiver – as seems to be standard – and also a set of snag ears, making this a nice package.
These Delkim TXI alarms have adjustable LED indicators, adjustable volume control and also an anti-theft alarm, everything can be set remotely from a good distance away. The high-visibility LED colour indicators – two on each alarm – can be set in a choice of six colours, and there is also a night light function.
Batteries are not included so you have to equip yourself with those, and the makers say that battery life can be in excess of a year. This is a great set of alarms, but we advise you to look very carefully at the others on this list, as the price is somewhat inexplicable. If you wish, you can also buy the alarm unit separately.
This is another take on the Delkim TX-1, as with this package you purchase the alarm only, and no receiver. As with the package deal, it's a fully waterproof bite alarm that you can buy with a choice of different LED colours: green, blue, white, red or purple. It's not cheap, especially when you're only getting the bite alarm, but it is very good.
Not only can you vary the volume, tone and sensitivity, but with this model, you can also adjust the brightness of the LED, which is handy for those dark nights. The controls are made to be easy to use in poor light and the anti-theft alarm is a welcome touch, too.
The built-in FM transmitter means it is compatible with the Delkim RX Plus Pro Receiver, which we remind you is not part of this package, and you need to supply your own batteries for this one. As we said, it's not cheap – in fact, it's among the most expensive here – but it is a top-quality alarm and every carp anglers dream to own these alarms.
This single bite alarm and receiver set will appeal to anyone who wants to add an one of the best bite alarms to their existing kit. It's a decent price and is also available as a set of three with a carry case. There is no case with this single option, yet it does offer sensible features and is a quality item.
The LED indicator lights can be in either red, white or blue but cannot be changed, and the alarm section comes with adjustable snag ears for added versatility. Sound and sensitivity are both remotely adjustable, as is the tone of the alarm.
You need to buy the batteries for this one – it takes a 12volt 23A type – and it does not have a night light feature. It's fully waterproof as you would expect, and customers have talked about its excellent range, which is around 150m. If you want a single alar and receiver it's a good choice.
Another example that is just the alarm, this model from Fox is around half the price of that listed above, so that's worth bearing in mind if this is what you want. It's a typical quality product in every way, waterproof and well-made which is why its on our best bite alarms list, and works via 2 x AAA batteries which are not supplied.
This one has a bright blue LED light that indicates when you have a bite, and is adjustable for tone and volume. You also get adjustable sensitivity across two settings, so you can eliminate false alarms.
The controls are all large and easy to use, it's a simple to set up and, although listed among our premium buys, is a reasonable price. Compatible with the same makers TX-R transmitter, this single item does come with a nice hard case for added protection.
The first of our budget choice of bite alarm sets is this three-piece set – there is no receiver with these alarms – that are perfectly decent at a genuinely bargain-level price. You get three alarms, each with two LED indicators; the green indicator will tell you when the line pulls back, the red when it drops.
The volume, tone and sensitivity are all adjustable using easy to handle and suitably large controls. With the adjustable tone, it means you can have the bleeps set to different noises for each alarm. The alarms are waterproof and have an automatic night light sensor. They are supplied in a nice, zipped case for carriage and added protection.
At the price, if you want alarms only and don't need a receiver or remote control, there is nothing wrong with this bite alarm set at all, so it's worth looking at if you're on a budget, and remember to buy 1 x 9-volt battery for each.
The first thing to say about this single alarm from Touchstone is that it is very cheap. Think the price of a couple of beers, and you're in the ball park. It's just an alarm – one only, and no receiver or remote – but if that's all you need, we see no reason why you shouldn't check this one out.
It comes with dual LED's – in green and red, with the green being a battery indicator only – and is very simple to set up and use. The controls are large enough to be handled in poor visibility, and comes with full adjustability for sensitivity, volume and tone.
Customer comments are largely favourable, although some have mentioned that this is a very small device in comparison with some others. The battery is the A23 type, but almost uniquely among these bite alarm reviews the Touchstone bite alarm comes with one already fitted. You also get a fabric carry bag, so all-round it is a very good value alarm, if simple and very basic.
NGT is well known for its affordable carp fishing and coarse fishing tackle, and this best bite alarm – the VX2 – is highly typical of the brand. Simple and basic – which is what you would expect for this very cheap price – it does what it says, with no frills and no need for them.
It's waterproof – it is worth bearing in mind that, as with all of those on the list, that means it will withstand the rain, not being immersed in water – and has adjustable tone and volume, but not sensitivity. It has the usual twin LED's for indicating your bite and is simple to set up and use with large controls.
As with all of these alarms, it uses a standard screw attachment, and it comes with a battery included – a long-life LRV08 type for future reference. You also get a nice zip carry bag with this one, and given the price, we think it is very good value if all you need is a cheap, straightforward choice for budget bite alarms.
Buyers Guide
Let's take a look at some of the key features when looking at bite alarm sets.
Battery Life – the bite alarms will be powered by batteries; some are rechargeable, others simply use standard batteries that you will need to replace. However, as the bite alarm is not a powerful device and only occasionally indicates you have a bite, it should have a long battery life. A couple of manufacturers suggest that their batteries may last up to a year; we would treat that with caution. Our advice is to always carry a spare set of batteries with you as you never know when they may run low.
Waterproof – a bite alarm will naturally be designed to be used near or in water and be weatherproof. Some may not be completely watertight but you can rest assured that a decent brand will make sure the alarm will be safe at the water's edge, although may not last long if completely immersed, which is not what they are designed for. Check with our descriptions for advice, or talk to your retailer.
Budget – if you look through the bite alarms on our list you'll see that there are a couple of items that cost you around a tenner – these alarms are the simple bite alarms that are that and that only – and some more that may cost you anything up to £120. There are plenty priced in-between those brackets, too that will offer you good value for money. Would we advise against buying very cheap items? That depends upon how serious you are about getting told you have a bite.
How Many? – how many alarms do you need? That depends on how many rods you are using at once! To be honest, we reckon one or two alarms should be enough, and most people go for a set that has two alarms or perhaps three – it's up to you!
Sensitivity Control – Very important for if it is windy. You don't want the wind setting off your alarms all the time. Most of these alarms will have some kind of sensitivity settings.
Bivvy Light – This is something that many people find essential, while other anglers don't bother with them. It's a useful item to have when you wake in the dark or are alerted of a bite, and some of the bite alarm kits come with a light included, but we're not sure whether it would be the item that made us choose a particular set as there are more important factors to consider. If you don't have a bivvy light and are looking for one, you might bag a bargain.
Snag Ears – one complaint that comes abut frequently regards bite alarms is that they are designed with 'snag ears' that are too short, hence your rod can easily be pulled away from the bite alarm once you are set up and ready. The answer to this is to buy an optional set of 'snag ears' which will keep the rod in place more readily on top of your alarms. Do you need snag ears? If you're not to miss a bite they come recommended, and they are not expensive.
Protective Casing – something we found unusual is that many of the bite alarms we looked at do not come with their own protective casing. Some do, and we find this an attractive incentive to choose those particular items. What you do not want when you are on the move – and you will carry your gear around with you a lot – is for the likes of bait and other items to come into contact with your bite alarms, as this can cause them to malfunction. We recommend you purchase a case of some kind – or keep the alarms in their own tackle box – if you are to get the maximum life out of your bite alarms.
The Alarm Itself – how does a particular bite alarm notify you of bite indication? How sensitive is the alarm? Can these alarms be set, and does it have volume and tone control? All of these are questions you should ask when checking out bite alarms, and you may also want to check the range – if it is a set with a receiver – as you may be some distance from the water at times. Also, does it have a visual indicator that you have a bite, and a separate one that tells you if you have a low battery?
The above are some of the main features and factors that you need to consider when you are buying best carp bite alarms, so make sure you check manufacturer details to ensure you get the right alarm for your requirements. Happy angling and we hope you have made your decision.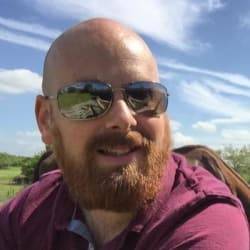 Mike has over 30 years of fishing experience in carp fishing and general coarse fishing. He is always looking for the latest fishing kit to try out and talk about and needs a bigger shed due to all the fishing tackle he owns. You can read more about him here.