Whether you are camping out overnight or just setting up your rods early in the morning or late at night, you must invest in a good quality bivvy light. The last thing you want is to miss that opportunity to land that elusive catch because you couldn't get up and out of your shelter quick enough because the light you choose let you down.
That is why we felt it was important to help make the decision of which light you are going to choose from the literally thousands of products there are out there. Below we have picked out 8 products that we would happily recommend to you for all your carping bivvy illumination needs.
1. Ridge Monkey Bivvy Light Pro IR Lite Li-ion Battery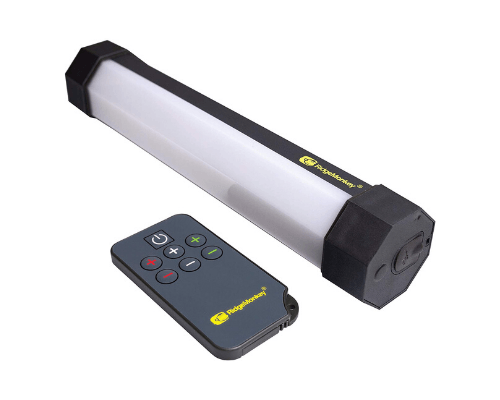 First up we have this very practical and stylish light bar from Ridge Monkey. The brand has already established itself as an innovator when it comes to tackle options. Therefore, it should come as no real surprise that their lighting options for bivvies would be to the same standard with regards to the design, battery light and reliability.
The Pro IR is one of the best on the market and certainly one of the most popular. Unlike many traditional bivvy lights, that are often just white and red, you have the choice of three different colours, including the rather fetching green.
Everything can be controlled at the touch of a button, on the handy remote control. This means that you can switch the light on or off as need be even when it's out of arm's reach when you are relaxing in your bed chair.
The rechargeable lithium-ion battery that powers the Elite IR provides 180 hours of continuous illumination, which means you will get a full week out of it before needing to recharge it. given that it is dust and waterproof to a high standard and features magnetic fittings for versatile and flexible setup wherever you need it in your bivvy, it's hard to argue with the many industry experts and anglers who consider this to be the best option.
2. Fox Halo Bivvy Light
Fox is another well-known brand in the carping and angling community and their Halo bivvy light is another shining example of their commitment to designing and producing accessories that are as easy to use as they are effective. With it, you get the benefit of four adjustable brightness settings and incredibly compact construction.
As it comes with a magnetic base plate and a hook you can hang it up where you need it inside your bivvy, keeping it off the ground and out of your way. One of its best qualities is in the illumination it provides. Thanks to the 9 x Samsung LEDs housed inside it, you will get the benefit of exceptionally bright light, especially from such a small accessory.
It is particularly useful on the outside of your bivvy when you need to have as clear a view as the surrounding area. When you are about to land a beautiful carp, for instance. Although it has been designed for around 7-hours on a single charge, you may be able to get more time out of it if you are careful to only use it when you really need it.
3. New Direction Tackle Bluetooth Smart Bivvy Light and Power Cell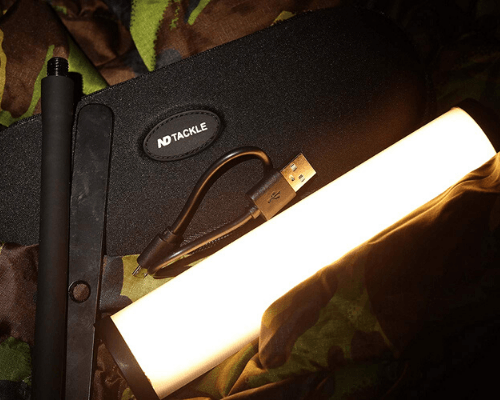 If you are looking for something as equally compact and lightweight as the two, we've already covered, but with a more cutting-edge and technologically advanced edge, then look no further than the New Direction Tackle Bluetooth smart bivvy light. This connects up to your smartphone using Bluetooth and allows you full control over it via the easy to use smartphone app.
From the app, you can alter the colour of the light and the mode you need to use. It is reported by the manufacturer that the light offers more than 16-million colours. We are sceptical, but there is definitely a wide range of shades and hues to choose from.
The best mode is reading mode as that provides a consistent and bright light which is ideal when you are trying to tie rigs up at the darkest point in the night or morning. Do you have a K9 bite alarm from New Direction Tackle? This light can be linked up to that particular alarm to illuminate when you get a bite, making it much easier to deal with those tense moments.
As well as providing all the light you need inside your bivvy, this light also provides a practical solution to the problem of your smartphone losing its charge on one of those long, action-filled nights.
As you'd expect and hope, this model is also waterproof, to the IP-65 rating.
4. Mergerled 2-in-1 USB Rechargeable Camping Lantern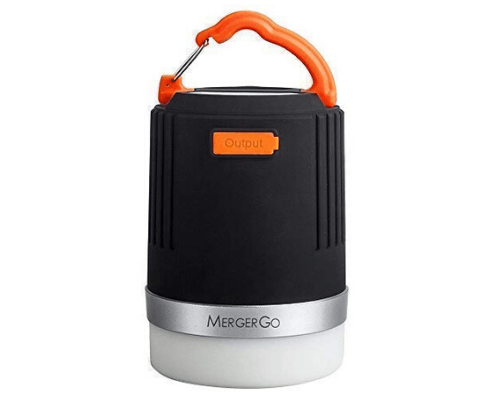 Next, we have from a company called Mergerled, a waterproof rechargeable LED lantern that also doubles as a power bar for charging your devices when they start to run low. It features a handy hook that allows you to attach it anywhere you need it and only weighs 280g so is unlikely to affect the structural integrity of your bivvy.
When you use the light with a brightness of just 200-lumens it will last for up to 100 hours. Even if you have it set to 280 or 440 lumens, it will still last a respectable 88 or 28 hours respectively. Easy to use and features a strobe light function that's perfect if you find yourself in a spot of bother.
5. Rolson LED Lamp with Hook and Magnet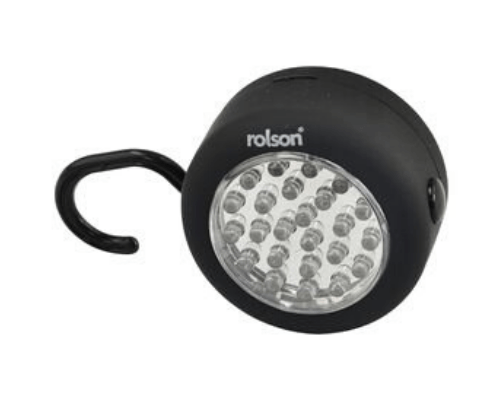 While this is hardly the most sophisticated bivvy light in our guide, the price tag is what makes it so attractive. That and the 24 super-bright LEDs contained inside it for an adequate bivvy lighting solution when you are on a tight budget. We also think it's worth pointing out that while we would not normally recommend such low priced items, especially when it's something as crucial as a bivvy light, the fact it's manufactured by Rolson Tools convinces us that it wouldn't be throwing good money for bad investing in this.
Easy to use and easy to attach just about anywhere, this is a no-fuss option if you don't really want or need anything too fancy.
6. Trakker Nitelife Bivvy Light
From an extremely simplistic design to a more sophisticated bivvy lighting solution, the next product we want to discuss is the Nitelife Bivvy Light 150. This offers a total of 6 different lighting options and provides illumination for a total of 80 hours. As is standard with many of the best bivvy lights we've featured, it also doubles up as a power bank, so you will never be caught short if your smartphone or tablet loses charge.
It is relatively simple to use – just press the button to go through the different brightness levels of the colour lights. The light has been designed to be less attractive to moths and mosquitos, which will make time in your bivvy more comfortable.
To set it up in your bivvy, there is a specially designed and very sturdy steel backing plate that works in conjunction with two very strong magnets. This enables you to fit it directly to the fabric of the bivvy.
7. NGT Rechargeable Bivvy Tent Light and Power Bank with Free Headtorch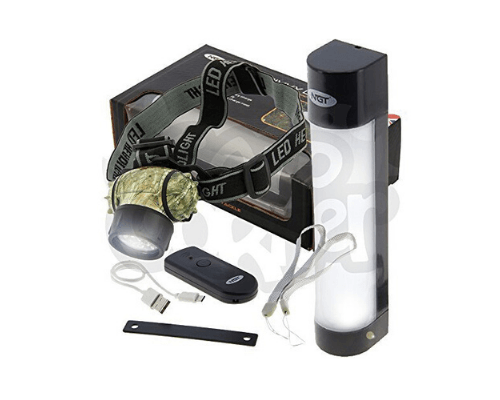 NGT Tackle is not a name that commands a lot of respect in the industry as many of their products are known to be ineffective and not especially robust or durable. However, this bivvy lighting solution from the company is a relatively low-priced affair that offers a suitable amount of adjustable brightness, has magnetic fittings and functions as a power bank, just as the other more expensive models do.
Although on the basic side, we also love the fact that for the price of some single lights, you also get a free headtorch. Perfect for when you need to leave the comfort of your bivvy to assess the swim and check your rods and baits.
8. ThorFire Mini LED Folding Portable Rechargeable by Crank Lantern and USB
We can't say we are completely enamoured by the colour, but this portable rechargeable bivvy light is a great product to invest in. Thanks to its ingenious design it can be extended out to function as a camping lantern inside the bivvy or can be folded down into a focused and powerful flashlight for when you need to leave the shelter and check the swim.
We also love the fact it weighs just 5.8-ounces and can fit snugly into any spare pocket you have. Okay, so you might not like the idea of having to turn the crank to start the light, but that's why it offers the option of recharging it via the USB cable or by hand. It offers two brightness levels, low and high and is one of our favourites of the bivvy lights we have looked at for this post.
There you have it, folks, the choice is yours. Although we wouldn't like to say which we think is the best, you can be sure that we have been careful when picking out the products so that you only have a selection of high-quality bivvy lights to choose from. There are definitely no duffs here!
Happy angling!