Whilst you're waiting for your rods to spring into action, you deserve to relax and feel as comfortable as possible which is why we reviewed the Best Carp Fishing Chairs around!
You don't want anything cheap and nasty, that will either collapse after a few sessions on the bank or get damaged because of the poor quality materials used.
Then there's the issue of storing and transporting your carp fishing chair, which means it needs to be compact too (especially if you plan on adding it to an already full carp barrow!)
ABODE Compact Carp Anglers Fishing Tackle Camping Folding Sport Low-Chair Green
Nash Indulgence Carp Fishing Chair (Sub-Low)
Korum X25 Accessory Chair Deluxe - K030002
Leg shape (square or round)
ABODE Compact Carp Anglers Fishing Tackle Camping Folding Sport Low-Chair Green
Leg shape (square or round)
Nash Indulgence Carp Fishing Chair (Sub-Low)
Leg shape (square or round)
Korum X25 Accessory Chair Deluxe - K030002
Leg shape (square or round)
Best Carp Fishing Chairs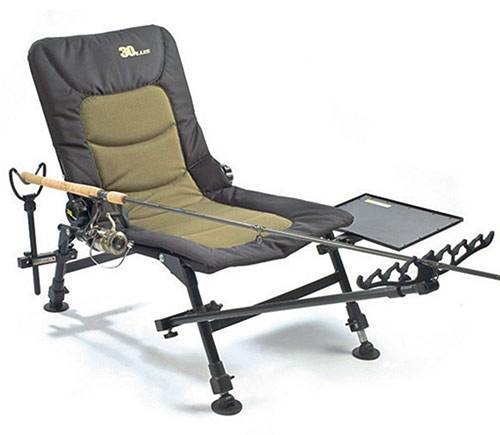 30 Plus might not be a brand you are familiar with but we really do like this chair.
It is perfect for day fishing or for those that like to move around the lake as it is lightweight as it weighs in at 5k and easy to carry around.
With this being the "Full Monty" combo it comes with a front feeder rod rest and a supporting rod rest for the back. It also comes with a side tray and 2 bait boxes which is pretty much everything you need for feeder fishing.
The maximum weight this chair can support is 120kg and when the legs are fully extended they are 17 inches long. It is a great contender for the best fishing chair.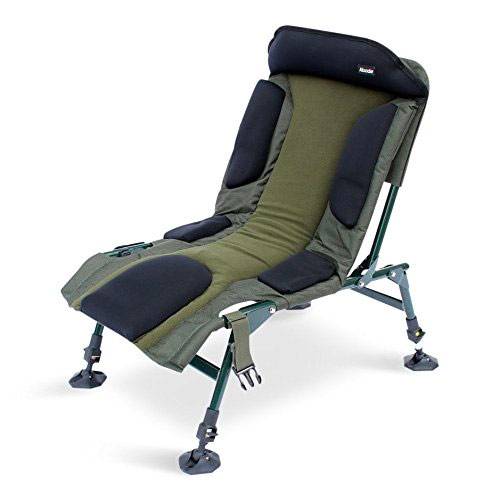 Adobe is another of those that you won't find in most tackle shops but it's a great chair and we had to include it.
What I really like about this fishing chair when you are sat down there is a lip that goes just behind your knees down to the back of your legs. Its a bit hard to explain but it means the chair doesn't just end like most others and it makes it really comfortable on the backs of your legs.
It is really well padded and has a high back and will easily suit those who are fishing for a weekend and want something outside of the bivvy to sit on for a long period of time.
It weighs only 4.5kg which makes a decent lightweight chair.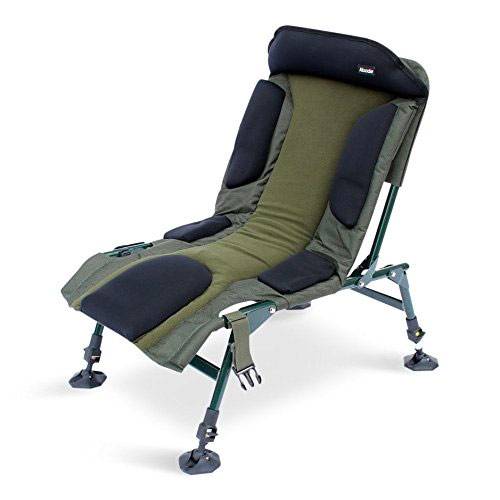 We couldn't put together a list without including a chair by Nash.
The indulgence fishing chair is a good all-round chair with decent padding.
When researching we found reviews of this chair to be very positive. We would put it in our mid-range of chairs on this list.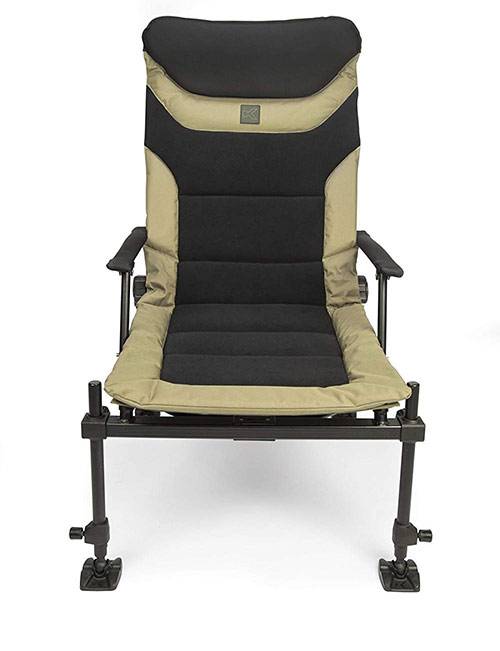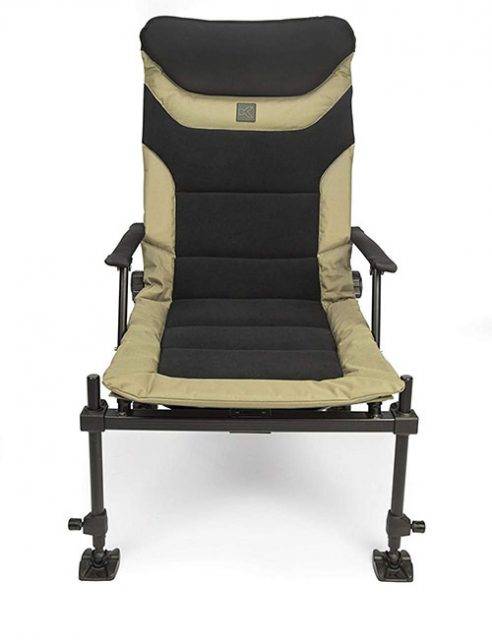 I love the Korum brand and I own their roving kit which has a decent chair but the X25 accessories chair is a whole different level of comfort.
The padding is decent and even the armrests are padded with neoprene which is great if you have a long day planned at the bank.
The legs are fully adjustable and can reach a height of 61cm.
The chair can be folded down quickly and the maximum weight it can hold is 133kg or 21 stone which makes it one of the best heavy-duty chairs on the market.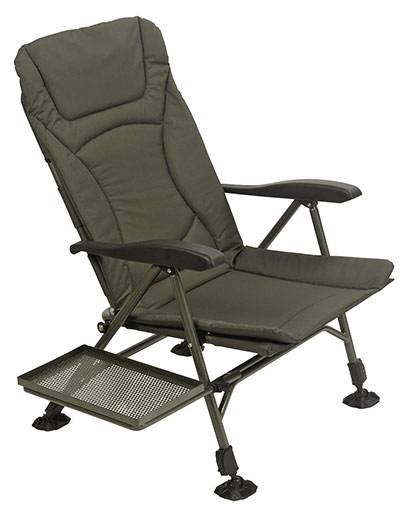 TF gear really does some great products that are at affordable prices.
This chair is perfect for those that like a high back on a chair which is great backrest for back support. I've sat in this one a few times as its one my friend owns and it is really good. It comes with a removable pillow which fits onto the headrest and has a unique recliner system which means it does not use the usual wheel to adjust the angle of the chair.
It comes with a free side tray and can support up to 25 stone in weight!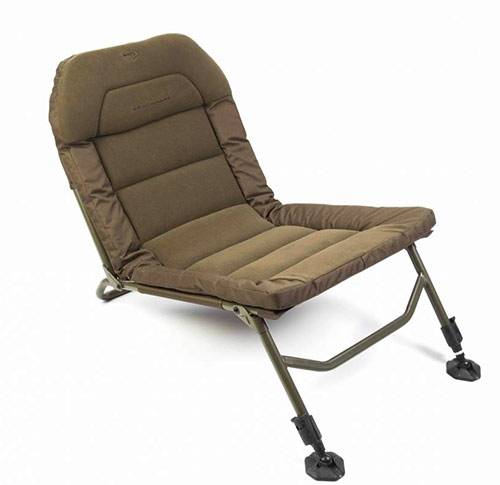 You might be looking at this picture and wondering where the back legs are? Don't worry as this is a special kind of chair that is made to attach to your bedchair. The chair will rest on top of the bed and therefore does not need any rear legs.
These are very popular as it takes up less room but in all honesty I just prefer taking an extra normal chair then I can place it where ever I want it and I am not then restricted to using it on the bivvy bed. However, it does serve a purpose and it just depends on your needs.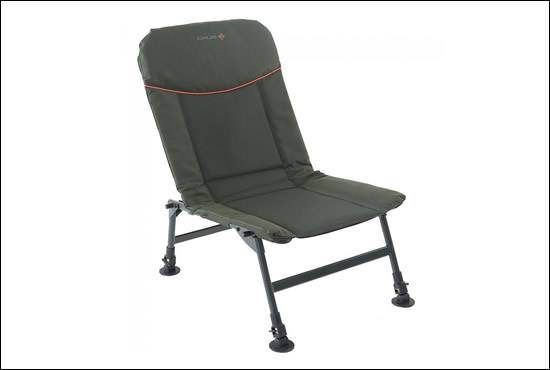 Weighing in at a solid 4.3kg, the Chub RS+ is a very stable and robust chair.
Its fully adjustable, including the front and rear legs which fold in. In fact, all four legs can be individually 'locked in' giving even greater stability.
The frame is made of steel, and once you've rested up, you'll notice how stable and comfortable the RS+ is.
This is because that behind you, the back mattress style padding is very durable (and tied around the frame with elasticated material) with extra padding in all the right areas.
It rains alot in the UK, so the mud feet actually swivel to again, improve stability.
Finished subtly in black, with the material a nice dark green, the Chub Rs+ is a great carp chair!
Features
Robust steel frame
Adjustable legs
Swivel mud feet
Extra padded mattress design
Leg locking pins
Dimensions (cm): H 52 x W 48 x L 42
Weight: 4.3kg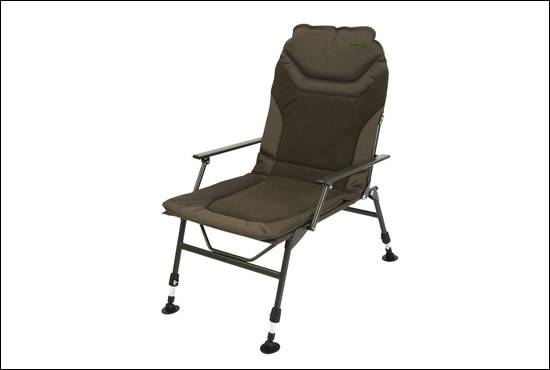 Next up is an entry from carp tackle specialists Daiwa.
Part of the 'Mission' carp range, this is a deluxe, low profile carp chair that oozes comfort.
It has sturdy arm rests, if you're a fan of that sort of thing, which are built onto an aluminium frame.
It weighs 5kg, which isn't too heavy and as you'd expect from a carp chair, the legs and mud feet are all adjustable.
Overall, this is a stylish and very comfortable offering from Daiwa, and it completes the Mission range perfectly.
Features
Lightweight chair

Low profile design

Adjustable legs

Mud feet

Arm rests

Weight 5.0kg
This is a fantastic looking chair from Trakker that looks like it has been crafted around a carp angler whose been sat there for hours!
The Levelite 'longback' chair is the ultimate session chair, 'a carp anglers dream' some might say.
With integrated arm rests, and long back design, the Levelite offers unrivalled comfort.
It has fully adjustable 'one-touch' mud feet allowing you to dictate the optimum height and position.
The chair itself is made from a blend of stainless and aluminium, which, surprisingly, by the size of it, only weighs 4.1kg – making it one of the 'lightweight leaders' of the carp chair world!
To open or close, you simply unclip the legs by the press of a button, then clip back into position ready for transit.
It's safe to say the Trakker Levelite is one of the best carp chairs around.
Features
Compact, strong and lightweight aluminium chair

Ergonomically-designed chair padding for optimum comfort

Super-quick to use –

simply unclip and unfold

Unique patented leg mechanism, just p

ush the button and it drops into position

Clips to hold chair closed in transit

Material: Aluminium/stainless steel frame

Weight: 5.1kg

H64cm x W60cm (open)

L80cm x W60cm (closed)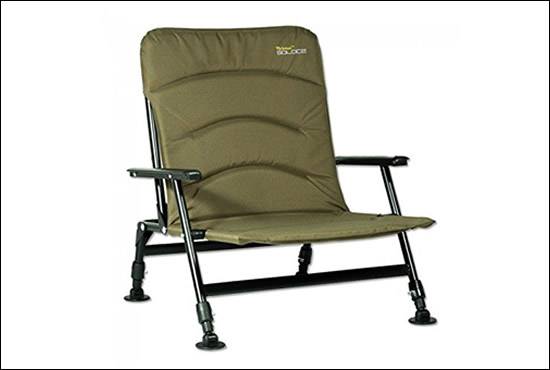 We really like the look of this low profile chair, which we imagine would be perfect for those hot, sunny short day sessions (stop dreaming editor!)
Anyway, this is another carp chair that forms part of a range, this time being the Wychwood Solace series of carp tackle.
The great feature of this chair is the frame design, which incorporates folding rear legs so you can sit down on steep sloping swims.
All four legs are adjustable, have swivel mud feet and the seating area is oversized so you can really sink into it!
The back is nicely padded and the seat is filled with mattress foam.
Once you're done with it, the Solace Comforter folds away nice and flat for easy transportation.
This surely makes it one of the best carp chairs for day sessions in our opinion!
Features
Design of frame enables the rear legs to be folded when in steeply sloping swims

Four adjustable legs with swivel mud feet

Oversized sized seating area for comfort

Padded back and seat mattress

Super strong frame

Folds flat for easy transport
Right, thats the list of the best carp chairs so far, but watch this space as we look to add more in the coming weeks!
Until next time – tight lines!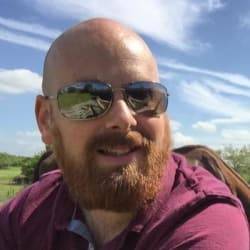 Mike has over 30 years of fishing experience in carp fishing and general coarse fishing. He is always looking for the latest fishing kit to try out and talk about and needs a bigger shed due to all the fishing tackle he owns. You can read more about him here.