Best Fishing Bivvys
TF Gear Force 8 Speed Lite Bivvy 1 Man Carp Fishing Bivvy
TF Gear SCOUT 2 MAN CARP FISHING BIVVY - LARGE, SPACIOUS WATERPROOF SHELTER
NGT Carp Fishing Tackle 2 Man Fortress Bivvy Winter Second Skin Overwrap Wrap
Dimensions (when erect)
Width 260cm - Depth 230cm - Height 140cm
TF Gear Force 8 Speed Lite Bivvy 1 Man Carp Fishing Bivvy
TF Gear SCOUT 2 MAN CARP FISHING BIVVY - LARGE, SPACIOUS WATERPROOF SHELTER
Dimensions (when erect)
Width 260cm - Depth 230cm - Height 140cm
NGT Carp Fishing Tackle 2 Man Fortress Bivvy Winter Second Skin Overwrap Wrap
Among all the equipment you will acquire for your carp fishing exploits, a good, solid and comfortable bivvy will always be among the most important for night fishing and longer sessions. You simply cannot go fishing without one! Your bivvy is your home from home when you're at the water's edge, the space you use when you need a rest or protection from the wind and rain, so you need to make sure you choose one that is suitable, and of a decent enough quality that it will last a long time.
As with all areas of carp fishing equipment, the market for bivvy's is one that is hotly contested, with any top brands vying for market share. When we looked at the best available we tried to keep prices at a sensible level – you can pay a great deal of money, but we believe those that are reasonably priced are just as good. So, let's have a look at the best bivvy that we found when we looked at what's available for the angler who loves his carp fishing and then we'll talk about what you need to look for when choosing a new bivvy.
1. TF Gear Scout 2-Man Carp Bivvy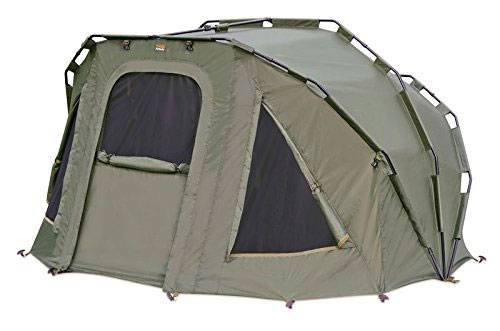 The TF Gear brand is one that is well-known for supplying quality fishing gear at sensible prices. This 2 man fishing bivvy system is no exception. When we set out to find the best fishing bivvy this is the sort of item we had in mind. It's a great price at around the £150 mark, is from a known brand, and is a no-frills item that does what it's meant to do. Here are a few features that you need to know about:
Oxford nylon outer shell
Multiple door options
Pram-hood style construction
Easy to set up and take down
Comes with heavy duty groundsheet
Tension bars for stability
260x230x140cm
Known brand and decent price
2. MK Anglesport Fort Knox 2-Man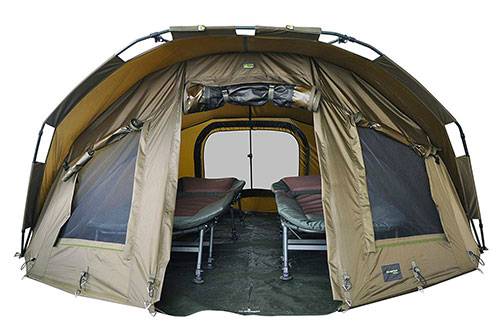 This is one of the traditional dome-shaped models, and comes from another known brand, MK Anglesport. It's a touch more expensive than the above but is a best-seller, and comes with all the weather protection you need. With double-stitched seams and a door that has multiple options, plus a lightweight aluminium frame, it is one that we thin deserves a place on your shortlist. Here's what you need to know:
Rubber mallet supplied
Double-stitched seams
Aluminium frame
Mosquito nets supplied
Multiple door options
100% waterproof nylon
302 x 292 x 146cm
3. NGT 2-Man Fortress Bivvy Overwrap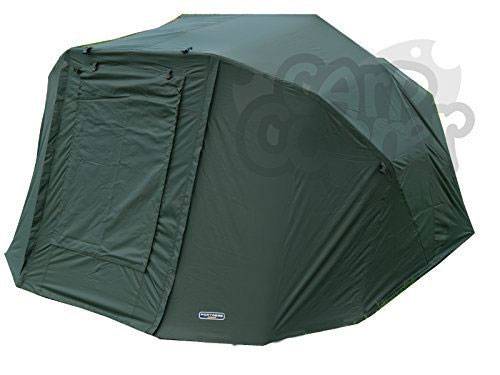 This item, we should stress, is not a bivvy as such: what it is, is an additional overwrap that fits the NGT 2-Man Fortress bivvy, which is a perennial bestseller. Why would you need this? It acts as a second skin for the bivvy, and many customers comment that it helps prevent one of the biggest problems found with fishing bivvy's, which is condensation and weather conditions. The choice is yours as to whether you need one or not, but many people use it so here's some facts:
Overwrap for NGT Fortress 2 man
Comes with 12 x high grade t-pegs
Mesh window and door cover
Carry bag included
Prevents condensation
Easy to use
NOT a bivvy
4. Fox EOS 1 1-Man Bivvy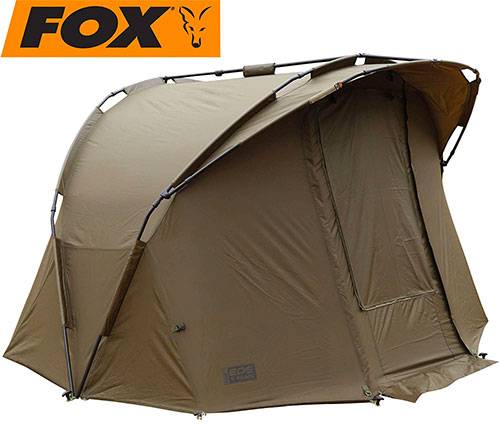 This is the first of the single-person bivvy system on our list, and it comes from a known brand in Fox, who have a strong presence in the market. It's the standard design of bivvy – made from fully waterproof fabric and is supplied with heavyweight pegs and a carry bag. This one is a sensible price and comes with a decent groundsheet, plus it's a notably popular model with buyers. Here's what you want to know:
Pram hood design
Extra peak for protection
Two way door with PVC panels
Groundsheet provided
Comes with t-pegs and bag
205x270x140cm
5. TF Gear Force 8 Speed Lite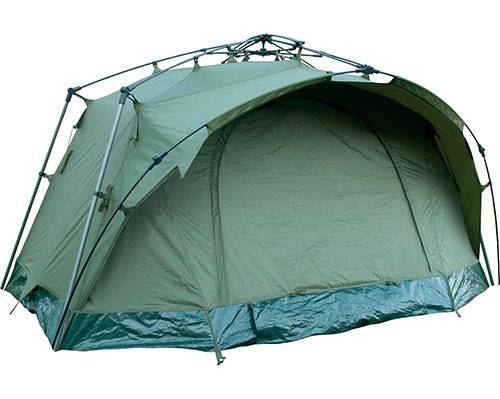 Another from the popular and extensive TF Gear range of fishing gear and equipment, this is the Force 8 Speed Lite, so named for its durability and the fact it can be erected in under a minute. This one-man bivvy is supplied with everything you need for a quick job, comes with a carry bag and pegs plus aluminium framing makes it light to carry. It's a very decent price from a top brand, so worth a look with the following features:
One man
Top brand
Easy to erect
Zipped carry bag provided
Aluminium poles
100% waterproof
Multi-use door
Mesh window nets help
Velcro straps for rods
Good price
6. Abode Continental 2-Man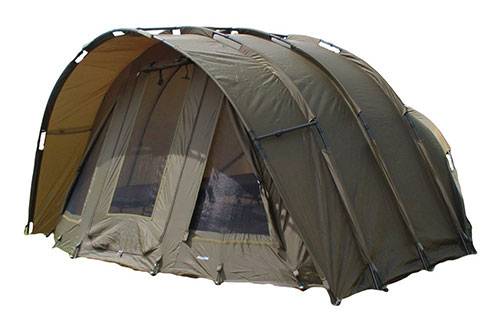 The Abode range includes some top quality products, and this is a perfect example of the highly regarded brand. It is considerably more expensive, however, than some of those on our list, which should be borne in mind when deciding. Made from heavy-grade Oxford nylon with a fully coated cover, and supplied with tension bars, it is nevertheless very good in every way, and is designed for added weather protection. Here's what you might want to know:
210D Oxford nylon
Fully coated outer layer
2-way zipped barn style door
Mosquito mesh protection
7 x storm tension bars
Heavy duty t-pegs
Groundsheet supplied
430x310x160cm
Velcro straps to tie your rod to
7. JRC Defender Peak Bivvy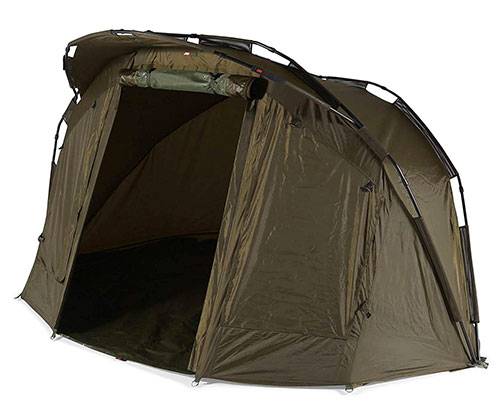 This model is available as a one or 2-man setup, and is equally well-priced in either guise. It's from a known brand and is the usual pram-hood style for easy erection, comes with an extended peak for weather protection, is made from durable material with a fully coated outer, and has taped seams for more durability. It comes with heavy-duty pegs and reinforced pegging points, features mosquito mesh vents and a multi-use door, and is a well-made and popular model. Here's a few features you should look at:
Heavy duty pegs
Extended peak
Taped seams
Mesh openings
Aluminium lightweight frame
Fully coated outer
Sensible price
8. Trakker SLX V3 2-Man Bivvy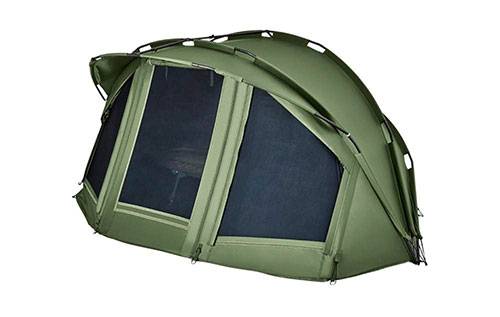 This weighs in at more quite a bit of money which is considerably more than most on the list – needs to offer a lot to live up to its price, but does it go beyond what the rest are offering? It comes with strong aluminium frame supports designed to withstand harsh storms, is a fully-enclosed unit when the door and vents are closed, and an incorporated groundsheet. This one is aimed at the fisherman who wants to keep going through the worst nights, but it's up to you if you're willing to pay the added price. We love the Trakker brand though.
Here are some of the features:
10000 hydrostatic protection
Aluminium frame supports
Twin zip door
Fully enclosed
Integrated groundsheet
Fully waterproof
Two skin design
Storm peak
Side and rear ventilation
9. Cyprinus Base 2-Man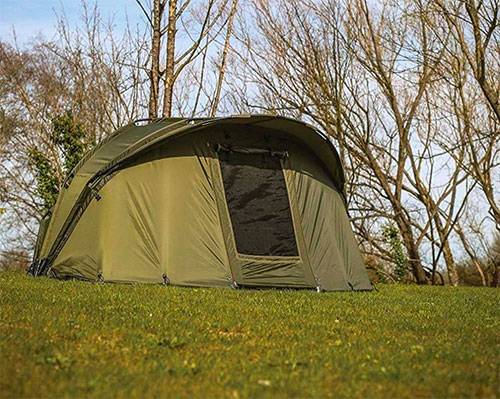 This comes complete with pram hood construction, aluminium poles for lightweight and 10000mm hydrostatic cover for full waterproofing is from the Cyprinus brand, another with many options in this type of item. This one also comes with a separate mozzie mesh part that can be used alone or with the standard double-zip door, and also with a quality overwrap and a heavy-duty groundsheet. It's a decent price, too, and all you would expect from a quality fishing bivvy with all the accessories included.
10000mm waterproofing for full protection
Separate mozzie mesh attachment
Aluminium poles for light weight
305x250x140cm
Taped seams
Locking frame support
Sensible price
10. Nash Titan T1 Bivvy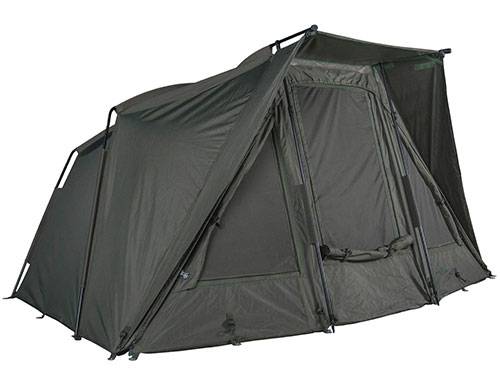 This is a top of the range, premium bivvy that comes at a price that is far beyond any other on the list but we thought we'd include it as it is a quality item. It's got everything you want including the inner capsule and waterproof outer layer for a double-layer construction and the aluminium frames for lightweight and tension straps for storm protection. It has an integral groundsheet, comes with t-pegs and a carry bag, plus the usual dual-zip door, and the expected mozzie mesh vents. This one measures 275x135x197cm, so is just about suitable for two people who have a bedchair each. Here's the features:
Two man bivvy
Fully sealed inner capsulef
Waterproof durable outer
Very light with aluminium poles
Tension bars for added strength
Pram hood design
Dual zip door
Mozzie mesh openings
Expensive price
That's our selection of the top 10 carp fishing bivvy's on the market, and we've tried to stay with known brands for added guarantees of quality. Before we go on to try and recommend one for you, we thought it best to talk about how to choose one, so here's our fishing bivvy buyer's guide!
Buying a Bivvy – What You Need and What to Look For
The above brief descriptions give you some idea of what you can expect from a fishing bivvy. What we want to do in this section is try and help you create a sensible list of criteria from which to make your decision. This may not be as easy as you think, as a bivvy – unlike many other items of fishing gear – is a multi-purpose item.
There are certain initial criteria you will have thought of – your budget is one of the most important, which is why we have included mainly bivvy's costing less than £200, with a few exceptions to give you an idea of what is available if money is no concern – but perhaps the first step is to ask yourself this: what is a bivvy for? Here's a quick list to help.
A bivvy needs to:
Keep you warm and dry, and protected from the wind and rain
Keep your tackle under cover for the same purpose
Be easy to set up and take down, with no complex construction required
Be big enough for the purpose – are you fishing alone or are there two or more of you? Will it fit a bedchair in there nicely with some room to move?
Have that extra space for your tackle and you
Be light enough to carry without too much trouble
Offer easy maintenance and cleaning
Last a long time when enduring quite arduous use
That's the basics that every bivvy needs to be able to achieve. You also want to make sure it has ventilation, and that the door can be used as a 'letterbox' type for added versatility.
Now that we have that covered, let's see if we can create a list from which you can compare certain features, and end up with a choice of a few bivvies that are worth checking out further. The following are criteria that differ between bivvies, and that you should carefully consider before making your choice:
Size 
Among our list are a mixture of one and two-man versions. There are bigger, but these are the two most popular sizes in the UK. If you are intending to enjoy your fishing alone – and many people prefer it that way – then a one-man setup may sound like the best option. This might be the case, but consider what else you will be taking with you – all your tackle and other gear that takes up space – that you will want to keep inside the bivvy in the event of poor weather.
Given that there is not a lot of difference in price, and also that most bivvies are available in one or two-man sizes, we recommend that you consider a two-man, even if you are fishing alone, as the extra space does provide that extra storage space, and a touch more comfort. We would also advise that you take particular notice of the height; more headroom means easier moving about, and we would suggest a bivvy of 150cm height or more is ideal.
Design or Style
There are a few types of design that you need to consider. The 'Pram Hood' bivvy is one of the most popular, as it is easy to erect and set down, doing so in the manner of the pram hood after which it is designed. These offer great convenience and are compact when not erect.
Brolley style bivvy's are also popular, but they may not offer as much protection, so check them out more carefully before you make a choice.
Dome-shaped bivvy designs also appeal as they are in effect a small tent, and they do offer more protection. However, they can often be a touch more complex to put up, so be aware if you want to try this type.
Level of Protection
A bivvy is, as we said above, all about protection from the elements for a long fishing session, but how do you know the one you choose will offer you sufficient protection against the varied and often quite horrible British weather? We know they are definitely better than just using a brolly though.
There are certain things to look for, including what is known as the 'Hydrostatic Head'. You will see this mentioned above in some of our descriptions, but what does it mean? It is actually a very useful measurement. A bivvy will usually be made of coated nylon, and the hydrostatic head tells you the strength of that nylon in terms of how much water it can cope with before it will begin to leak.
If, for example, a bivvy has a hydrostatic head measurement of 5000mm, it can withstand 5 metres of water at a time, which is pretty substantial. 5000 is around the average, but if you add a second skin – an outer layer that comes with many examples – you can double this to 10,000H. Check with the manufacturer for the details.
Other forms of protection you require are taped or sealed seams, so that water cannot get in where the joins are, a door with a double zip so you can close yourself in but still use the letterbox opening, and covers for the vents for added protection. Also, some come with added tension bars for wind resistance, so consider where you will be fishing and you'll get a better idea of the ideal model for you.
You may also want to consider the likes of an extended peak – many of those on our list have such a design feature – as this will help keep the weather at bay that little bit more.
Ease of Use
You need your bivvy to be light enough to carry around – all of those we feature have aluminium frames for this purpose – as you may be making a quite long trip to and from the car and the waterside – plus you want it to be easy to erect and collapse. These are all modern designs which do their best to achieve both of these aims.
Price
We will revisit this subject one last time here, as it is important. It is our belief, having looked at the models on offer as above, that good, fully waterproof 2-man bivvy with all the features needed can be bought for less than £200, and perhaps even £150. We have featured a few that are much more expensive and, while they are very good indeed and of obvious premium quality, it's up to you if you want to justify that extra price for really not much more in terms of practicality and performance. If you are fishing in the day then maybe a brolly with sides will suit your budget a bit more?
Now that we have outlined what to look for, which is the one on the list that we would buy? Let's see if we can come to a conclusion.
Our Choice
When we set out to produce this buyer's guide for the best bivvy's we did so with the aim of using known brands where possible, as a big name in the market does add extra trust and guarantees. All of our example are from good, established fishing gear brands, so it's hard to choose.
For this reason we are not going to single out any one bivvy as the best buy; we will say that the two or three that are considerably more in price than the others – those in excess of £250 – are very good, but we can't help feeling that's money you might want to spend on other gear. Look for a two-man bivvy at between £150 and £200, with as high a hydrostatic head rating as possible and all the other features we mentioned, and you will be on the right lines.
We hope we've helped you understand the best way to choose a bivvy, so enjoy your carp fishing and good luck!