Article Updated: February 2019
A carp bivvy is your 'home on the bank', so when it gets down to choosing the perfect carp bivvy, it needs to be just right!
Nowadays, there is a growing variety of styles, shapes and sizes tailored to all carp anglers requirements.

The competition amongst brands is tough – and it needs to be, because a carp bivvy can be the most expensive purchase an angler can make. 
---
Best Budget Carp Bivvy Reviews



As you may well know, carp fishing can become expensive, so if you've a small budget set aside for a bivvy – we've handpicked a few bivvies under £150
These can often look and perform just as well as a top-end bivvy, so well worth a look!
Let's begin with the….

JRC Contact One Man Bivvy
The JRC Contact One Bivvy (billed as a 1 or 2 man bivvy) is a lightweight shelter featuring a practical design perfect for new anglers.

JRC Contact One Review
Noticeably, it doesn't have a hood, but we can report that once your bedchair and all the rest of your carp tackle is stored away – there is plenty of room.
We may add that vertical space is all good, but not so much horizontally – so pack it all in wisely with this in mind!
This is actually an upgraded 'version' if you will, because some key improvements have been made by JRC.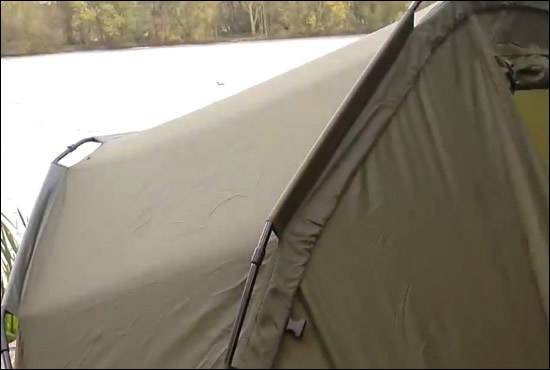 Firstly, although still utilising the 2-rib design concept, new mesh sleeves have been introduced to reduce the weight whilst also giving you much better airflow all around.
On the outside, there are also 2 rod retaining straps (we've always loved this feature on bivvies) to the front to aid you with setting up or recasting etc.
We did mention a lack of a porch – but what you will see is a 'letter box' style front entrance which completes the look nicely.
There are two options for the door – either a clear plastic window or for the summer months, a mozzi mesh panel to take your pick from.
For the extras, the JRC Contact comes supplied with heavy duty pegs and groundsheet as well as a carry bag (who makes bivvies without a bag eh?)
To recap what we've reviewed so far, the Contact has:
100% strong 210D Oxford nylon material with a 5000 HH PU coated outer shell
A practical design with fully usable internal space
Easy set up 2 aluminium rib construction
Double sealed taped seams
Reinforced tension bar
Heavy duty groundsheet and pegs
2 rod retaining straps
Is there a Winter skin?
There most certainly is!
You'll also be glad to hear that an 'outer skin' is available to keep you nice and warm in the colder months!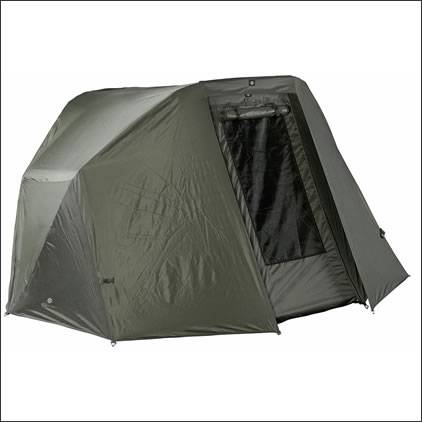 Abode Evoque Pram Hood Bivvy
The Abode Evoque is a one-man 'pram-style' hood bivvy with a brand new peaked front design offering the serious angler premium comfort and protection from whatever elements are thrown at it.
It looks very stylish – and not too big or small if we had to describe it to you.

Abode Evoque Review
Setting the thing up took no time at all – the instructions were pretty clear which was straight forward enough to follow – reverse the instructions to take it down which when we packed into the carry bag seemed a struggle (as with a lot of bivvies these days) but don't let this put you off!
Onto the nuts and bolts now and we'll start with the entrance which featured a two-way double zip as part of a barn style door which was fully tape sealed.
The bars click into place easily to form the 3 ribs as part of the frame which we then followed up by slotting the tension poles into place (there are 3 of these) and adjusting them accordingly.
The edges of the bivvy all seemed strong, sealed and correct and so we proceeded onto pegging it all down.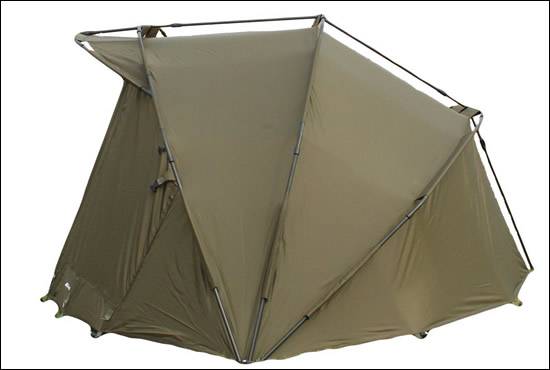 It's worth noting that there were 2 'pegging heights' which allowed us to firmly peg out each section as we moved from front to back and around the sides – the pegs were pretty heavy duty so no chance of these breaking in the short term anyway.
We then unrolled the ground sheet (which seemed very thick) and positioned this as best we could!
So, there it was – the Abode Evoque was all pegged down and taking a look around we noticed mozzi panels as standard which of course can be rolled up or down as necessary.
Overall, the bivvy looked very strong and spacious once everything was into place.
Abode Evoque Key Features
5000 Hydrostatic Head
210D Oxford nylon 210D PU coated cover with green taping
Strong heavy duty 3 rib frame
Peaked front bivvy Mozzi mesh panels
Two way double zip barn style door
Fully tape sealed and reinforced edges
Bar stitching at stress points
Two pegging heights
Groundsheet skirt
Supplied with heavy duty groundsheet and pegs
3 Storm tension bars and a carry bag
Any accessories?
Yes – if you're after a winter skin for the Abode Evoque – you're in luck!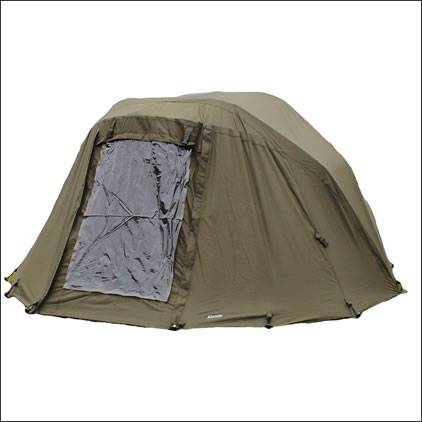 ---
Fox Easy Shelter Camo Bivvy Review
This bivvy from Fox dubbed the 'Easy Shelter' is aimed towards the short session carp angler.

 

What we say…
Whilst light and compact enough to carry to the lake, it's a bivvy that won't take you 5 minutes to set up courtesy of its 'pop-up' frame design and fibreglass poles.
It may look like something the army would prefer to use rather than the modern carp angler, but we rather like the camouflage design ourselves!
Once popped up (which was instant) and pegged down, what surprised us was the space inside – there was plenty, even when tucking away our bed chair, tackle bag and table.
There is also some adequate porch space for our wellies due to the front peak design (marketed as a storm peak actually).
On further inspection, provided with the dual zipped door was a mozzy panel for those rare hot days, plus a rear panel to increase airflow during the day if you so wished.
Either side of the door were rod straps which was a bonus!
We know that when it comes to actually pegging out the door to how we want it, there are not 2 but 3 toggles allowing you to really stretch and peg out as necessary.
Overall, this is a high quality, compact carp bivvy ideal for those short day sessions or overnight fishing – a great effort from FOX which we've come to expect from them.
Why Not Watch The Video Review?
Fox Easy Shelter Key Features
Lightweight to carry and very compact
Ultra quick to set up and take down
Hard wearing polyester fabric (2000mm hydrostatic head rating)
Unique Fox camo pattern
Pop-up frame design ensures rapid erection (we wish!)
Front peak gives protection from rain when door is open
Can be pegged to the ground for maximum stability
Supplied with zip-in mozzy mesh front & rear panels
Designed to fit most standard sized bed chairs
Rod straps either side of the door
Dimensions are: L= 230cm, W = 130cm & H= 115cm
So, here we have three very good budget bivvies for you to choose from.
Let's move on to 2-man bivvies, a very popular choice amongst carp anglers….
---
2 Man Carp Bivvy Reviews (or just  for the extra space!)
Anglers may decide to opt for a 2-man bivvy because of 3 main reasons:
1. Sharing Extra
2. Storage Space
3. Wide Bed chairs
There is no doubting what the extra room can do for your fishing experience, especially if you're fishing abroad or long sessions on the bank.
We admit there is nothing worse (apart from no teabags) than trying to sleep inside a cramped bivvy adding to the bed chair to bank 'timeframe' when your alarms are buzzing!
Let's take a look at some of these spacious 2-man bivvies…
Nash H-Gun Dwarf Bivvy Review
The Nash Dwarf Bivvy uses the popular 2 rib flex design model which makes it ultra strong and weather proof.

It's incredibly easy to set up bivvy and is marketed as a shelter that 'packs down to just 34 inches' and Nash claim it's smaller than its 9ft Dwarf Rod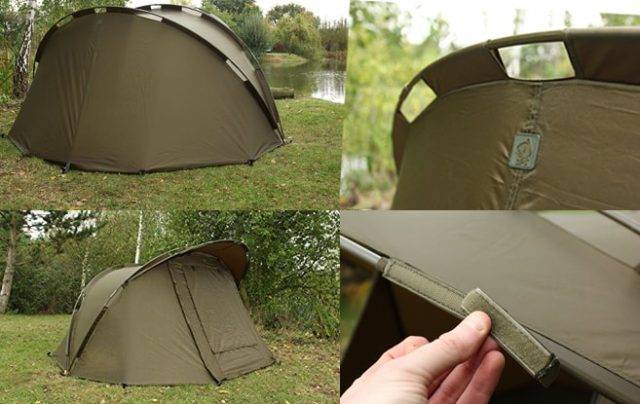 Nash Dwarf Review
It utilises a clever lightweight two rib flex design and there is ample space for a bed-chair or sleep system.
Even during a day session, you'll find yourself feeling comfy, dry and very spacious.
The exterior features a nice extending fibreglass peak to protect you from the weather and the roll-up storm door will put you at your mind at ease throughout the night.
A cool feature that Nash have added is the inclusion of twin rod retaining straps that enable you to bait up easily and safely prior to casting – always a lovely bivvy option these days.

Once inside, you'll notice a removable ground sheet that is lightweight and easily detachable as well as a nice sized PVC window so you can keep watch over your rods.
The extra strong 'T' pegs will add strength to the bivvy during bad weather conditions.
All of this is stored in a nice robust carry bag.

Nash Dwarf Features
Offers complete all-year round protection
2 rib design shelter
5 sections made from tough fiberglass
Packs down to 87cm
Extendable rain peak
Easily takes a bed chair/sleep system
Twin rod retaining straps
We've featured a nice review video below to demonstrate all the above to help make up your mind!
Force 8 Carp Bivvy Review
Courtesy of Total Fishing Gear, we introduce the 'Force 8', available as a 1 or bait up easily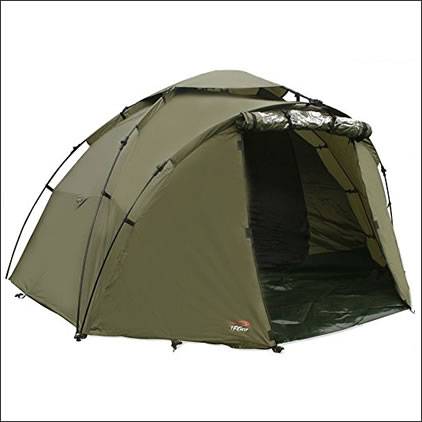 The Review
The picture does not do justice to the size at all.
At 150cm high – it feels really spacious, especially when the door is fully open and the Force 8 can be can be fully erected within 20 secs (according to their website) which is great if you turn up at the bank during bad weather.
All that is required is to access the central hub system which pulls the strong flexi ribs into place, then, sliding a lock into position, the shelter is good to go.
The Force 8 is twin skinned to create a warm, thermally insulated condensation free bivvy offering ultimate protection to the angler and his carp tackle.
The integrated porch area allows for extra storage space for wellies, bait or tackle that requires quick and easy access.
On top of all this, the groundsheet is built into the bivvy to prevent any moisture seeping into your living area.
Constructed from heavy duty PVC, plus the usual bivvy accessories such as pegs and a carry bag – this is a really good value carp bivvy.
The only downsize is that when packed, its quite heavy so we would suggest a carp trolley.
Force 8 Features
Supplied with carry bag
Erect in under 20 seconds
100%waterproof
Built in groundsheet
Integrated Porch Area
Super strong rib construction
Twin skinned
Available in 1 and 2 man versions
We've also discovered a twin skin model which, it this appeals to you.
If you want to know more about buying a 2 man bivvy, we've reviewed more than you can find here
---
Bivvy Accessories



So, you've unpacked your gear, set-up your rods and placed everything inside your bivvy 'feng shui' style, now what?
Well, if it's added comfort you're after, how about a pair of bivvy slippers? (We kid you not)
Maybe you're tired of flashing your torch around whilst trying to locate the zip on your bivvy when a bivvy light is just the ticket?
In today's technology driven world, there are now plenty of gizmos and gadgets to enhance your bivvy lifestyle, so let's take a look at the most popular bivvy accessories.
Spare Bivvy Pegs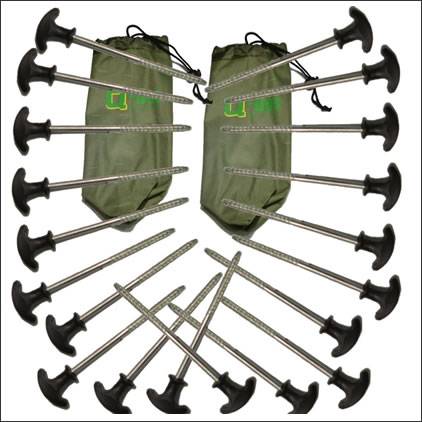 We've a lost a bivvy peg here and there down the years – make sure to stock up with this pack of 20.
Bivvy Slippers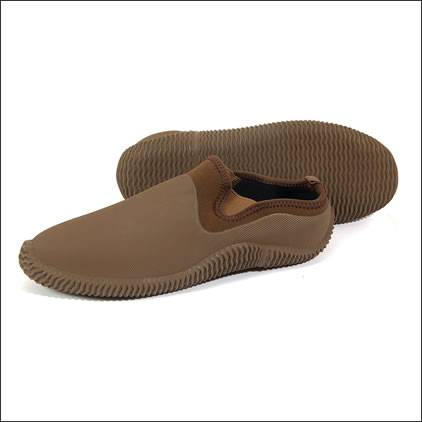 Feel right at home with these not so necessary pair of bivvy slippers!
Fox Bivvy Table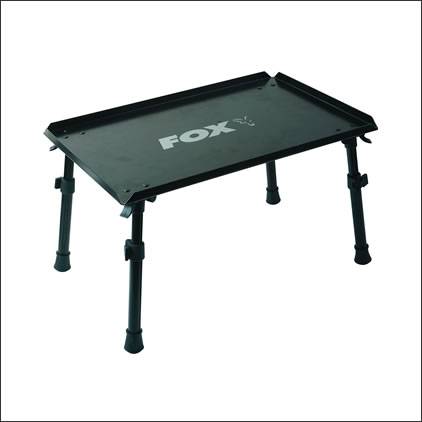 When it's freezing cold outside there really is no better way to construct your carp rigs using a sturdy bivvy table from the comfort of your bivvy!
Ridge Monkey Bivvy Light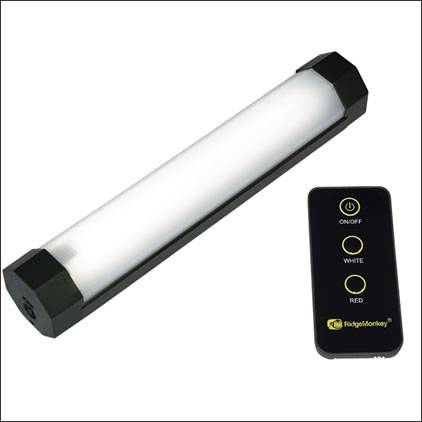 This very popular bivvy light from Ridge Monkey is wireless allowing it to be controlled from the comfort of your bed chair.
With a huge battery life and two brightness settings – this would make an excellent addition to any bivvy!
---
Saving the best till' last, our review winner is…
Trakker Cayman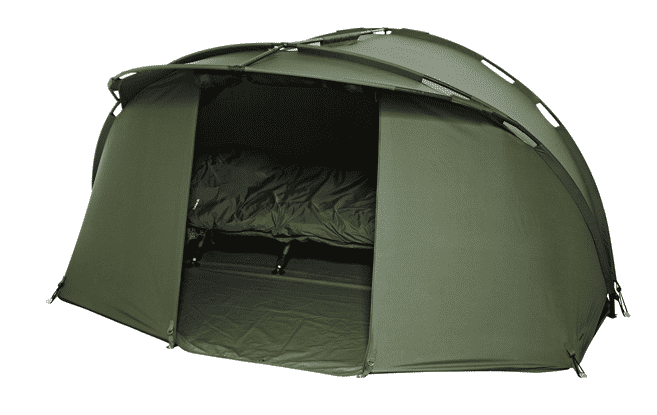 The Review
Utilising a two-rib system to give it a square shape, the Cayman bivvy is quick to erect, lightweight and provides a superior fishing area.
Available models include a 1 and 2 man bivvy option.
Here we have an expensive looking, well designed shelter that incorporates an inter-locking frame support as well as a dual zipped door.
The side panels can be rolled up if you require a shelter that just houses your fishing gear or to protect you from the sun.
The slight peak means rain water runs off to the sides rather than directly down. A heavy duty ground sheet, although not integrated, provides good ground cover from moisture.
A mosquito mesh cover keeps out the unwanted and allows vision if your preferable to fully zipping up at night.
The usual tension straps, heavy duty pegs and carry bag are all included.
For your money, the quality is outstanding a great purchase that will last. We loved this shelter!
Dimensions: W260cm x D205cm x H122cm
Weight: 5.3kg
Key Features
Two-rib system – quick-to-erect bivvy
Lightweight and compact shelter
Peak to front of bivvy
Front and rear rod straps
Interlocking frame-support system
Sides can be rolled back and clipped in place
Dual-zipped doors
Heavy-duty groundsheet
Tension strap
Heavy-duty T-pegs
Zipped carry bag
---
Carp Bivvy Review Features
We hope you've enjoyed browsing through our carp bivvy reviews – and watch this space because we add new bivvies all the time.
Our carp bivvy reviews need to be spot on, and to help matchmake you to a perfect bivvy, we've based our reviews on the following criteria:
1. Bivvy Design & Style
Whether you're looking at buying a brolley style system, a pram hood design or dome shaped bivvy, each design is really down to your own personal preference really.
Although it makes sense to choose a bivvy (or brolley) suited to how often you'll be using it, the amount of space for tackle such as bedchairs and tackle bags should also be considered.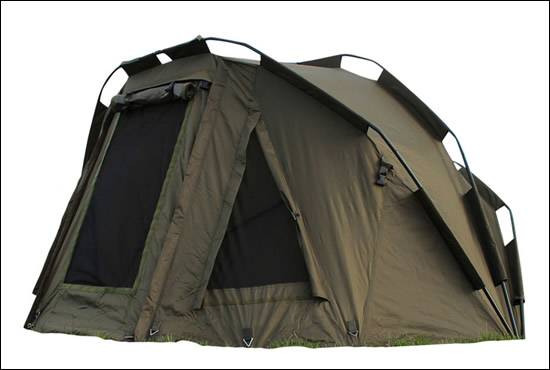 2. Protection
Carp bivvies vary in what protection they can offer you, so it pays to check the construction material used.
Most are made of nylon and are PU coated as standard (this is an acrylic waterproof coating) with the thickness of the nylon measured is described as a 'hydrostatic head'.'
This is the amount of water pressure a bivvy can withstand before leaking.
For example, if you see a bivvy review with a Hydrostatic Head of 3000H – the '3000' means 3 metres of water thrown at it (imagine a 3m column of water!).
Carp bivvies tend to have a rating of around 5000H as standard, which doubles to 10,000H when placing a winter skin over the top.
The seams (placed where parts of the bivvy join up) are waterproofed and sealed, and if you have the luxury of visiting a carp tackle store, check everything feels tight and secure for peace of mind.
Want to Re-proof Your Own Bivvy?
3. Price
Whether you're saving up a couple of hundred for a 'quality bivvy', or maybe you're just looking for a spacious day shelter – make sure you look around for the best deals.
Websites such as TackleUK, Eric's Angling and Angling Direct regularly have deals on!
The average UK bivvy price is around £150.
4. Features
Manufacturers' are constantly looking to improve bivvy features – this means we're rewarded with some great innovations such as rod retaining straps and storm poles!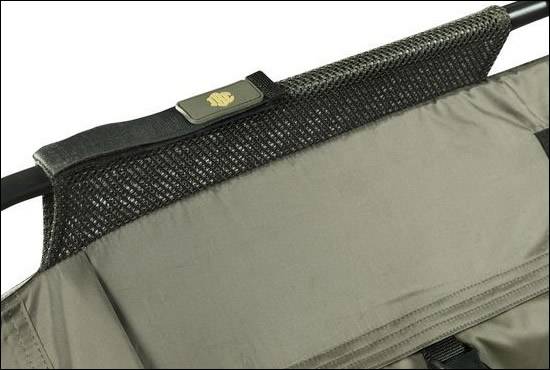 ---
What To Look For When Choosing A Bivvy
More importantly, your bivvy should:
Keep you warm – and your tackle dry and safe!

Be simple enough to erect, set-up and take down.

Have enough space to store everything you'll need!

Easy to clean, maintain and be built to last.
Because bivvies can be quite pricey, competition is strong.  So, naturally, our reviews feature all the big players from brands such as Trakker, Chub, Fox and Nash giving you, the angler, plenty of choice.
Fishing is a sport that is widely enjoyed by many millions of people across the world. In the UK, it is one of the most popular pastimes of all, and there's little that can beat a leisurely day on the bank, angling for a prize carp!
Of course, you need the right kit, and in addition to your poles and other gear, you need a bivvy tent to keep you dry and sheltered from the sun on those very hot days. There are many different types to choose from, some that are more convenient than others.
Why are we recommending pop up bivvy tents? Quite simply, they are a compact package when not in use – but a full-sized and usable one when erected – and are easy to set up and collapse down. They come in a wide variety of sizes, colours and types and are not expensive, and they make an excellent addition to your kit.
Are you ready to find out more? We took a look at a few of the very best pop up bivvy tents so that you can see just how versatile and inexpensive these items are.
2 Man bivvies
We've put together a selection of 2 man bivvy reviews for anglers who prefer to share or just require extra space for tackle storage.
We've featured the very best 2 man bivvies from the likes of Trakker, JRC, Nash & Fox so you can be sure of finding a great quality bivvy built to last even the worst weather.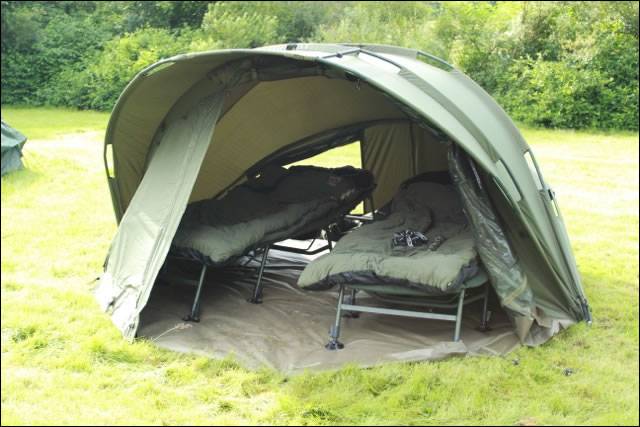 We also take a look at other vital ingredients that make up having a great bivvy such as a warm bivvy bag, built in ground sheets, accessories and even how to repair a damaged bivvy.
So, let's get this show on the road as we delve into the best, value for money, two man bivvy reviews.
Please see our post one one-man bivvies for more information on these types.
---
JRC Contact Two Man Bivvy Review
Our Rating: 4.5 out of 5
This two-man carp bivvy from JRC looks rugged and is built of solid stuff when we carried out our little weather test (we pulled and pushed it around a bit to imitate strong wind and threw a couple of buckets of water over it to boot!).
The strong ribbed frame houses ultra light aluminium poles that seem unlikely to go snap either.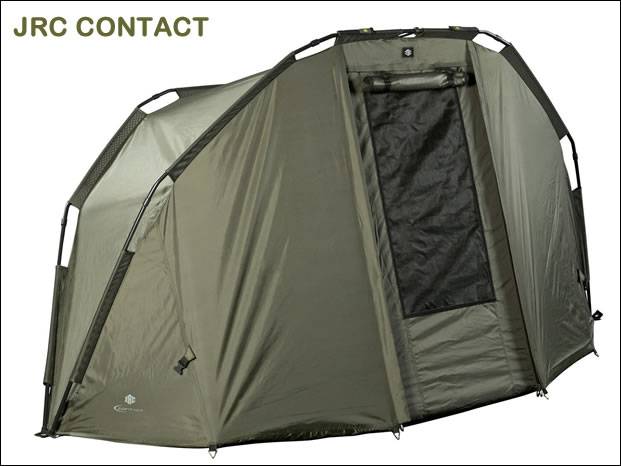 The outer tools involve tension bars and heavy duty pegs that seem of high quality (unlike some poorly made tension bars that feature grips that don't grip well at all) and the ground sheet is detached and seems nice and thick.
The front is fastened by way of a zip that runs all the way across if you prefer to open out your bivvy during the day to air.
Space-wise is more than sufficient, even for those of us who have shelled out on an over-sized Bedchair!
You'll have no problem with storing all your tackle with room to spare I'm sure.
A great practical bivvy that can withstand extreme weather any time of the year, it truly does offer all season protection.
A quick recap of the JRC Contact 2 man Bivvy:

Easy to setup
A rib construction involving 2 aluminium rib poles and double sealed taped seams all around.
Reinforced quality tension bars
Detachable heavy duty groundsheet
Fully opening (and zippable) front door including mosquito mesh
Made from strong 210D Oxford nylon
Outer shell is PU coated with 5000 HH
Supplied in a practical carry bag
Dimensions: 275cm x 230cm x135cm.
JRC actually offer a one man bivvy for those that prefer something smaller.
---
Trakker AS 365 Sleeping Bag
Our Rating: 4.6 out of 5
Next, we introduce a bivvy sleeping bag into the mix – the Trakker AS 365.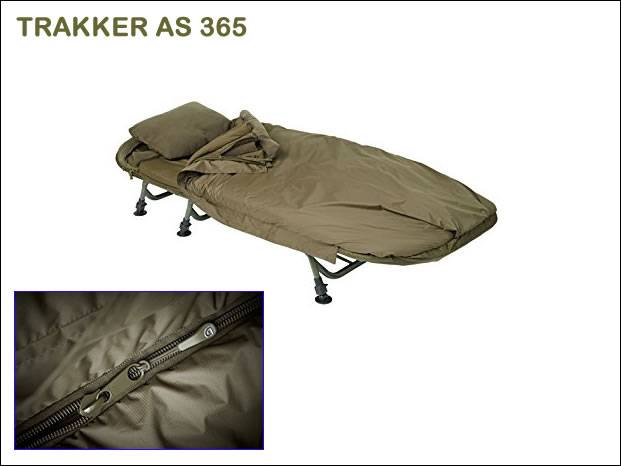 Ensuring plenty of sleep inbetween your buzzers going off is important.
The Trakker AS is made of breathable and waterproof material and filled with hollow fibre known to improve insulation.
Designed for all year round use, the inner is reversible allowing you the choice of fleece for those colder nights or ultra soft polyester when it's too hot to sleep. Internal baffles also prevent heat loss.
Other bivvy bag's often undervalue the importance of a decent hood so Trakker have included a hood that is filled to the max for added comfort and it comes elasticated so you can really bury your head!
External baffles are designed to stop air penetrating the zip so you can be sure any moisture is left outside.
From my experience, you can often find your sleeping bag all over the place by morning, so Trakker's unique bedchair fixing straps prevent this.
If you need to escape your bivvy bag quickly, both sides offer quick releasing zips so you can be on your rods in no time.
Finally, a compression sack is also included.
To recap, the Trakker AS features:
Breathable and waterproof outer material
Q7 hollow fibre filling for improved insulation
Designed for all-season use
Reversible inner can be zipped in or out with the choice of fleece or ultra-soft polyester
Internal baffles for less heat loss
Filled hood for improved warmth and comfort
External baffles to stop air penetrating the zip
Elasticated hoods top and bottom
Unique bedchair fixing strap design
Dual-sided quick-release zips
Supplied with compression sack
Dimensions: 215cm x 90cm
Weight: 5.5kg
Summary
A superb all round sleeping bag from Trakker where a lot of care and thought has gone into a comfy night's sleep in any adverse weather conditions.
---
Sonik XTI 2 Man Bivvy Review
Our Rating: 4.5 out of 5
I've been very impressed with most carp tackle from Sonik, especially the SK4 Carp Rods which I value very highly indeed.
So I was very excited to review the XTI bivvy!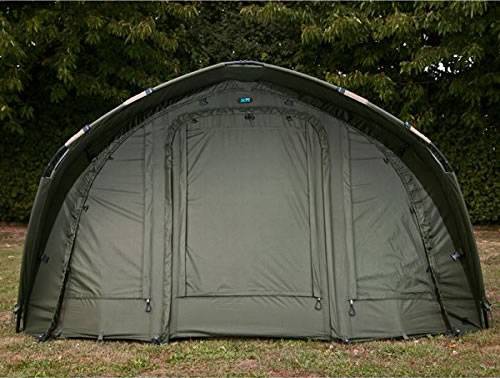 Compromising a 3-rib system using 4 rock steady aluminium poles for support, the XTI is an excellent all weather bivvy that really maximises the internal space to the full.
Constructed from super-strength 'Armatek' fabric to offer the angler superb protection against any weather.
Sonik have gone one step further by offering a clip-in vapour shield that eliminates condensation (without stealing any space either)
The rear panel really helps maximise the internal floor space which consists of a heavy duty 350g groundsheet that can be pegged down if you wish.
For those that like to open out the front, it is fully zipped allowing you to completely remove the entrance panel to really air out your gear.
Mozi-mesh panels are included as standard which are black and look high quality (unlike some panels I've encountered which are flimsy and never last very long)
These panels have the option to be switched to clear PVC windows if you so wish.
Pinning everything down is important (especially with the weather we usually get in the UK) and there are many 'pegging points' all around the bivvy fitted with stainless steel rings to allow you to really peg out your shelter properly.
Extra features include:
Reinforced pegging points
Sonik 'easy grip' zip pullers
Includes a heavy duty carry case
Dimensions: 140cm (h) x 250cm (w) x 250cm (d)
External Rod retaining straps
Extended Peak
Wide-gauge black powder coated aluminium pole system
Dual zipped doors for letterbox opening
Summary
There is ample space to fit two large bedchairs inside, so space is certainly not an issue with the XTI.
It's made from very high quality materials packed with all the features you would expect to find.
A good point to make is the included 'vapour shield' which stops any condensation from entering your bivvy space.
A superb bivvy that you shouldn't rule out.
---
---
Abode Continental 2 Man Air-Mesh Pram Bivvy
Our Rating:

4.6 out of 5
Sounds like a bit of a mouthful that – but again, a premium bivvy from Abode where space has been at the forefront of this design.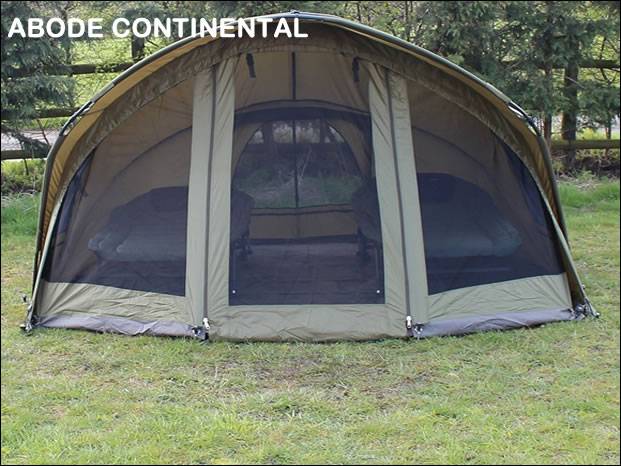 Made from 210D Oxford nylon with a 5000 hydrostatic head (this means the measure of how water resistant the material is) in this case it can hold a column of 5000 millilitres of water for those who like technicalities!
Anyway, the nylon is coated with 210D PU (Waterproofing) with green taping.
There are 4 sections to the structure (or 4 ribs as it were) that contain 19mm aluminium poles which provides for a nice, robust hold.
Mozzi panels can be found at the front, rear and sides which also allow plenty of light inside.
It has a barn-door style front door which has a two-way double zip which can be fully removed.
Clear PVC windows are included if this is preferred.
Every part is fully tape sealed with extra stitching at all the stress points.
The Continental can be pegged out at two heights using heavy duty pegs.
The groundsheet is heavy duty and removable and we noticed groundsheet skirts inside so you can really pin it down.
6 storm tension bars are also included so you can be rest assured your bivvy will survive in any weather thrown at it.
To recap:
5000 Hydrostatic head and 210D OXFORD nylon.
210D PU coated cover with green taping.
4 section 4 rib 19mm aluminium poles.
Mozzi mesh panels front, side & rear.
Two way double zip barn style door.
Removable clear door which is fully tape sealed with Bar Stitching at stress points.
Two pegging heights. Groundsheet skirt. Supplied with Heavy duty pegs.
Reinforced edges. 6 Storm tension bars included
Heavy duty PVC Ground sheet included
Heavy duty Carry bag also included
Summary
Another quality 2 man bivvy from Abode with ample space for 2 people plus extra room for your tackle.
---
How to Repair a Bivvy
We find that video's demonstrating easy-to-follow instructions are  easier to follow along to rather than step-by-step text, so here we entertain you with some useful bivvy repair videos on things like how to re-waterproof nylon, repairing poles and sealing worn bivvy seams.
These are all fantastic sources of information to get you started so if you can't bring yourself to replace your bivvy, watch on!
Reproofing and Cleaning Your Bivvy
Courtesy of Trakker.
Repairing Broken Fiber-Glass Tent Poles
---
Sealing Bivvy Seams
You can purchase Seam Seal products from here.
We hope you enjoyed our 2 man bivvy reviews.
Save
Best Pop Up Bivvies
1: Quest Stealth Bivvy Pop-Up


Our first example is a simple and yet very effective pop-up bivvy that comes from a good maker. It's finished in a nice neutral colour that will not stand out from the crowd, it is easy to pop up and collapse, and it weighs just 4kg and folds down into a compact package of 80x80x5cm. There are also four poles that come with it for added stability, and it is supplied with pegs that help secure it to the ground for more arduous weather and added versatility.
When up and ready it measures 220x120cm, which is easily big enough for adults and would fit a food-sized bed chair, and it has a steel frame so you have a robust and usable bivvy. It's adjustable in terms of the door situation; you can have it with the door fully on or off, mesh or half mesh, and a window slot, and it's easy to set up in each format. Made with very durable material with a coating inside and double seams to prevent leaks, this is a very neat, compact and usable, yet surprisingly affordable pop up bivvy tent that is recommended.
Key Features – steel frame, durable skin, coated, waterproof, very compact when packed
2: MK Fishing Pop-Up shelter


Although most makers recommend their pop-up bivvies for short use, there is no reason why these should not be utilised as overnight shelters. This one, like most, is big enough to fit a good-sized bedchair, and will withstand quite strong winds and rain without a problem. It's nicely made from strong material – not as strong as that above perhaps but also with double seams for waterproof effect – and is easy to erect and take down, and forms a very compact package when not in use.
250x130x125cm is a good size, it's finished in a nice neutral colour, and it has T-pegs for added stability. In a nice touch, it even comes with its own rubber mallet. The frame is strong yet the overall package is light, so it is easy to carry around, and putting it up for use takes a matter of seconds. There's nothing we can say that is in any way negative about this one; it's a very nice bivvy tent at a good price from a good brand.
Key Features – compact package, easy to set up, strong, waterproof, good size
3: Jacksons Quick Bivvy 2000


Another excellent bivvy from a good maker, this is one that offers everything you need from a light, easy to use pop-up shelter, and at a price that won't break the bank. Packaged, this one measures just 58x58x7cm, so is very small indeed, and it is light too at just a few kilos. It's finished in the requisite plain and unobtrusive colour, is made from strong and durable material, and is very much one for the shortlist and a popular model with many satisfied clients.
This model measures 175x150x140cm when it is up and ready to use, so is a little larger than some and will easily fit a night use bed chair, and it can be set up for use in a matter of a few seconds. It comes with a removable ground sheet and a small canopy, as well as a nice opening for pole fishing from within. The material is waterproof – some of the others offer greater protection but this one is perfectly adequate and, all in all, it is a very handy, nicely made and useful pop-up bivvy at a price that is very reasonable indeed.
Key Features – good size, waterproof, light and compact to carry, strong
4: Fox Carp Easy Shelter


Fox is a brand with a wide selection of impressive fishing gear, and you can expect a good deal of quality from this pop-up shelter. It's finished in a very effective camo style so will certainly not stand out, and is a large model that measures some 230x130x115cm when up and ready to use. It comes complete with a nice bag for carrying and all the pegs you need to secure, plus a front mosquito net that is detachable.
This one is very small when not in use – 70x5cm for carrying around – and also light as it weighs less than 4kg. It's very strong in terms of material, and double-seamed for waterproof and wind protection, and will serve the purpose very well in even the windiest of circumstances. You have a letter-box opening for protection and access, it takes mere seconds to erect, and it is a very nice bivvy. It may not be the cheapest here, but we recommend you take a good look at it before you dismiss a quality item for the sake of a few pounds.
Key Features – large size, very small when folded, light, strong, camo colour
5: Lucx Pop-Up Tent


Our final offering doesn't do anything special; it's a typical pop up bivvy just like the rest of them, and one that is very neat indeed. It's finished in a brown colour that will let it blend in, it is easy to erect in a few seconds, and it is made from very strong material that is designed to withstand the elements. It makes a perfect choice for protection against wind and rain, and comes with handy opening for pole fishing – or can be used as a hide or for other country and game usage.
This one measures 200x150cm when up and ready, and weighs little more than 3kg when folded for carrying. Indeed, it comes with a handy case into which the tent, pegs and other bits can be put for carriage. It will easily fit a bed chair, is fully waterproof and made from the strongest material, and will serve the purpose very well. Overall, it's a simple, yet very effective and usable pop-up bivvy at what can only be described as an excellent price.
Key Features – Large, easy to erect, very light, strong, carry bag
That's our selection of pop-up bivvy's for you, but which one suits you best? Let's check out some of the key features you need to look for before we try and give you a verdict.
Features to Look For
So, you want a pop up bivvy; it's a good idea, as they are very convenient and are much easier to carry around and set up than the traditional style of bivvy. Before we talk about the best choices from the above list, here's a few points to consider.
Ease of use – the purpose of a pop-up is that it can be erected in a few seconds; all those selected have this feature, so no worries there.
Size – when in use, you want your bivvy to accommodate a bed chair and be big enough for you to be comfortable; when folded away, you want it to be compact, light and easy to move around. Again, all of these offer such convenience.
Waterproof – each of those featured is a waterproof bivvy, but you should check the manufacturer specifications for the best level of protection. There's little in it, but it could be a clincher for you.
Openings – some come with various doorway options, and with removable nets, and you should look at this as a consideration when buying a pop-up bivvy.
That's a few things to look for, but is one of the above for you? Let's have a look!
Our Verdict
To be fair any of the above selections will make a great choice of pop-up bivvy, as each is of the requisite size, is waterproof, and folds down into a suitably compact size. If we were to pick one, we would recommend you take a second look at the first one on the list as it is a good size, has excellent waterproofing, and is very well-priced.
The choice is yours, but whichever one you go for, enjoy your fishing to the full!