Nothing is nicer than retiring to your bivvy after a hard days fishing. Pick the right one and you'll be warm, dry and comfortable. Make a poor choice or cheap out on your bivvy and you'll have a cold sleepless night, and ultimately your fishing will suffer. In this article we have chosen the very best bivvies for carp fishing on the market, we are going to look at their features and talk you through a few things you'll want to be included. Let's crack on.
Quest Compact MK5 Carp Fishing 1-2 Man Bivvy, Day Shelter, Tent, Brolly, Overnight
Lucx® Wolf umbrella tent Brolly shelter fishing tent carp tent tent bivvy camping tent 10,000mm water column
Fox Bivvy EOS 1 Seater Shed
Material
Fully waterproof material 5000HH
Hydrostatic fabric 210D PU Nylon
8000mm Hydrostatic head fabric
Quest Compact MK5 Carp Fishing 1-2 Man Bivvy, Day Shelter, Tent, Brolly, Overnight
Material
Fully waterproof material 5000HH
Lucx® Wolf umbrella tent Brolly shelter fishing tent carp tent tent bivvy camping tent 10,000mm water column
Material
Hydrostatic fabric 210D PU Nylon
Fox Bivvy EOS 1 Seater Shed
Material
8000mm Hydrostatic head fabric
Best Carp Fishing Bivvy
Best All Round Carp Bivvy
Specifications
BROWN
280X240X135CM
6.5KG
2 MAN BIVVY
Key Features
Highly waterproof
Removable ground sheet
Quick setup
3 storm poles
Good ventilation
Solid construction
For the money, this two man bivvy is absolutely packed with features, based on these features it performs far over its price point!
The bivvy is 100% waterproof and should see you through even the very worst weather. The outer skin is made of durable and highly waterproof 10000MM oxford nylon. The seals are also double taped meaning that leaks are not an issue.
The aim is to spend the day fishing, not setting up a bivvy. This bivvy is quick to set up. Just assemble the 3 strong ribs, thread through the reinforced eyes, hammer in your pegs and you are done! Taking it down at the end of the day is just as easy.
The best bivvies for fishing will be light enough to carry down to the swim with ease. This bivvy system weighs in at just 6.5kg which is remarkably lightweight!
For summer use, the bivvy system has front and rear-mounted air inlet flaps, so you can keep it cool.
The fixtures and fittings are all reinforced and great quality. This includes chunky zips, sizeable pegs and metal reinforced peg loops.
Best Budget Two Man Bivvy for Carp Fishing
Specifications
Dark green
305 X 300 X 153CM
9.5KG
2 man bivvy
Key Features
Peaked doorway
Heavy-duty pegs
Oversize carry bag included
If you are in the market for durability and great value then you have found it. This one offers great performance at a relatively low price.
5000MM waterproof polyester will stand up to most weather, The fabric is backed too, so you can touch it when you are inside without worrying about leaks. It also includes a removable heavy duty groundsheet which is vital for keeping your gear dry, especially on soft ground.
Space in a bivvy is important. The lightweight 5 section poles create an optimum shape so you should have plenty of room for all of your gear.
The large doorway is peaked, keeping the rain off and is entirely removable too for those warm summer days. There are several options with the door, you could opt for the solid green option, a clear window or even a mozzie net, ensuring that you are the only guest sleeping in the bivvy at night.
The one comes with an oversize carry bag, so no fighting with a rolled-up bivvy down on the bank. Heavy-duty T style pegs ensure that it stays in situ, regardless of the weather.
Take a look at it in action in this video
Best One Man Carp Bivvy
Specifications
Olive green
275cm x 300cm x 150cm
1 man bivvy
Key Features
Lightweight and portable
Roomy and high
Letterbox style door
Integrated mesh insert
For a low price, you certainly get a lot of room with this one man bivvy. It will easily accommodate two standard sized bedchairs comfortably. The ample size comes from the durable frame, the bivvy itself is suspended from this frame by reinforced loops.
Included with this one is a lightweight groundsheet and heavy-duty pegs, these are ideal for bad weather and especially useful in high winds.
You can choose multiple panel options, so if you want a great view of the outside world, choose between an integrated PVC panel or a mosquito net. Alternatively, just roll the door back and secure using stable Velcro fastenings.
The one is made from 8000MM hydrostatic fabric covering you in practically all situations.
This is on budget to be one of the best bivvies that we have seen. It would be ideal for an angler new to night fishing or someone who is looking to take upgrade from a budget model.
Don't just take our word for it, you can see it for yourself right here in this video
Best Large Bivvy for Carp Fishing
Specifications
Green
325X300X162CM
3 man bivvy
Key Features
Lots of room
Great visibility
Winter skin included as standard
Suitable for all seasons
Ever heard the saying "you get what you pay for"? If you are looking to invest in quality then this is what you'll be buying.
As bivvies go this is one of the biggest. This particular model is designed for three people, but might be ideal for two giving you a bit more room.
This one is really bright and airy. You'll be able to keep a good eye on your rods and what is going on around the swim as every single wall has a clear PVC window. You might think that privacy would be an issue, however, the Leopard Bivvy comes with a winter skin included. This will keep the rain off and allow you to use it all year round.
Lucx has thought of everything with this bivvy so you won't need to buy any extras. They even included a free rubber mallet to drive your heavy duty pegs into the ground ensuring absolute security. They attach to the bottom of the bivvy through a total of 16 metal loops.
This is truly for all seasons. If you don't let anything weather-related get in the way of your fishing then this would be an ideal choice, it's for serious carp anglers.
Best Premium One Man Carp Fishing Bivvy
Specifications
Green
260X265X140CM
8KG
1 man bivvy
Key Features
3 in 1 – doubles as a brolly system
Open front
Light and portable
Quick to setup
If you found the previous suggestion just a little too large, then you will want the same features and quality, but in a smaller version.
Enter the wolf!
10,000MM hydrostatic nylon will keep you and your gear bone dry, regardless of if it is tipping it down. This one is amongst the lightest on our list too, so no need to break your back lugging it to the water.
The bivvy is super quick to put up. And can be assembled in around 15 minutes. On a nice day, you can even remove the walls and use it as a single-pole fishing brolly system giving you ultimate versatility.
The front is entirely removable, as is the included heavy duty groundsheet. When the front is fitted three sizeable PVC windows will let enough light in to be able to easily see what you are doing, whether that is setting a rig up or just relaxing and waiting for that bite alarm to ping.
Best All Round Budget Fishing Bivvy
Specifications
Dark green
205 X 140 X 270CM
9kg
1 man bivvy
Key Features
Low price
Fully taped seams
Hooded bivvy
Quick setup
JRC make budget options, but you shouldn't let that put you off, this is really good!
A peaked hood allows you to stay dry without having to zip the front down, so you aren't missing out on quality fishing even during a heavy downpour. The rolling letterbox style door will allow you to sit inside and fish also.
The seams are taped and this, combined with 5000MM polyester fabric is enough to weather moderate rain showers.
The one comes with a lightweight carry case giving you the ease of transportation and is quick to set up, requiring the insertion of two rigid storm poles.
For a summertime bivvy, this offering by JRC excels, as with some of our premium suggestions it has an included mozzie mesh panel and also vents to allow fresh air inside.
To see some more features, have a quick watch of this
Our Top Pick – Best Value Fishing Bivvy
Specifications
Green
260 X 175 X 137CM
10kg
1 man bivvy
Key Features
Clever space saving design
Highly effective waterproofing
Lightweight
Quick setup
Sonik is a well-known and respected fishing brand. This quality carp fishing bivvy is a prime example of why.
As we've said you don't want to waste time pitching a tent when you could be fishing. Amongst all of our suggestions, the AXS bivvy is one of the quickest to set up. It only has two storm poles, reducing construction time. The new model features an upgraded 10,000MM fabric and is very waterproof.
The peak will prevent rain and water from getting inside even when you have the door open.
One feature that we think is clever is the flat back wall. This optimizes space as you'll find many bedchairs are also flat-sided. The back side is also really steep, this is good as gives you more head height. If you are a tall angler this is a real blessing.
We can't believe how little this bivvy system weighs based on its size. At only 9.2kg it is one of the lightest bivvies on the market today.
Sonik's bivvies are great for the more serious angler. This video will show you just how good they are
Best Lightweight One-Man Carp Fishing Bivvy
Specifications
Green
235 X 285 X 135CM
6Kg
1 man bivvy
Key Features
Really kught
Threaded tent peg screws
Letterbox front
Suitable for all weather
The last of our Lucx suggestions. This one is a personal affair. It is a carp fishing bivvy for one person. You might think that a smaller bivvy would be less practical. However, what you lose in space, you more than gain in your ability to keep warm.
During the day and if it is sunny this bivvy is open plan with a wide exterior. If the weather closes in simply zip on the front for 100% waterproof protection. At 10,000MM it will withstand rain, sleet and even snow! Any vulnerable areas gain the benefit of reinforced seams for the ultimate in protection
This is the lightest bivvy on our list, it weighs a mere 6kg. It's a breeze to set up two. As you will have seen with some of our other offerings, two storm poles make erecting your bivvy quick and easy.
Another great feature is the threaded pegs, allowing you to lock them in position.
Carp Bivvy: Buying Guide
Alongside your rod and maybe your seat box, a bivvy is likely to be one of the biggest investments you make in your gear. If you are going to commit such a lot of money, not to mention the amount of time you'll be spending in it, you want to make the right choice. Let's look at some features that you'll find in the best bivvy for carp fishing.
Size
This one should be obvious. If you always fish with your mate, either you're going to have to be really good friends or you'll want a larger bivvy. When looking at size consider how much tackle you have, and perhaps most importantly the size of your carp fishing equipment such as your bed chair. It's no good having the best bedchair on the market and wet feet every morning because your hooves are sticking out of the door flap.
It isn't all about horizontal size either. If you are a little taller then it pays to buy a carp fishing bivvy that gives you a little more headroom. You probably aren't going to be able to stand up fully, but you don't want to have to stoop whilst sitting down, that's for sure
Rain rating
The main purpose of a bivvy is to keep you sheltered from the elements and a key fundamental in this quality is rain rating. You'll notice that most of our suggestions have something given in 'MM'.
A basic rule of thumb is, the higher the MM the more waterproof a bivvy is. 5000MM is the bare minimum you want to see, 8000 is good. 10,000MM is excellent. If you want to know how they calculate the MM rating, check this video out, it's a quick watch and is rather interesting.
Door access
Obviously, you are going to want to get in and out with ease. For good weather days, we love a wide-open removable front on our bivvy. When it is lashing it down, you don't want to have to stop fishing. The best solution is a letterbox style door system. This still offers some protection from the elements but will allow you to see what is going on with your rod.
The door will be subject to constant zipping and unzipping, so, therefore, the more substantial and hard-wearing the zips are, the better. Zips are a key failure point on cheaper bivvies, and as the saying goes 'buy cheap, buy twice'. Go for something with good quality zips and fittings.
Ease of setup
If you've read our review you will see that the majority of our suggestions are quick and easy to set up. This was deliberate. You aren't going on a camping expedition, the only thing you should be taking your time setting up is your carp rigs, not a bivvy. We aren't the biggest advocates of cheaper 'pop up' solutions suggested by less reputable sites, you'll find the quality of such bivvies is poor.
What makes bivvies easy to set up are storm poles. These are strips of carbon or metal that you thread through eyelets on the bivvy material. You bend them and secure them and they maintain the shape. Most of the best carp fishing bivvies that you see will use this system.
Another critical area on bivvies is the loops into which the storm poles thread. Look for reinforced loops made of high-quality material. If one becomes detached your bivvy cant keep its shape.
Pegs
What do you call an angler chasing his bivvy down the bank? Tragic.
This is a situation that can be easily avoided provided you choose a better bivvy. The first thing to guard against this happening is the use of pegs. The best carp fishing bivvies should have substantial pegs included. These are hammered into the ground, and provided they are big enough will keep your bivvy exactly where it belongs.
But you have to be careful.
In strong winds, you can find that if the bivvy is blown too hard, the attachment points can tear. To protect yourself against this look for bivvies that have reinforced anchor points. We find that metal loops offer the ultimate in strength. The more anchor points there are, the more secure your bivvy will be.
Winter covers
If you want a lighter bivvy then you might think that you have to compromise on weather resistance. But this isn't the case. If you've gone down the route of say, a 5000MM bivvy, you can supplement and guarantee your dryness by investing in a winter wrap. This is a custom-fitted outer blanket that goes over your bivvy to ensure 100% weatherproofing. The best Carp bivvies often come with this great feature included as part of the package.
Ventilation
Bivvies aren't just good for keeping the rain off. If you are protecting your skin, or are fair and can tan under a strong lightbulb, you can use your bivvy as shelter. If the sun is out then you might find that the bivvies' outer skin can get quite warm, not ideal if you want a few hours kip.
To counter this some of the best bivvies have adjustable inlets where you can get a decent breeze blowing through by pulling a couple of Velcro tabs.
FAQ
What Bivvy Should I buy?
It all depends on what you are looking for and how serious you are about your fishing. If you are only going to be using a bivvy now and again, it probably won't be too cost-effective to spend an absolute fortune. Go for something moderately priced, £150 should get you something quite decent, but don't go too cheap, or you will certainly regret it.
If your sessions are counted in days and not hours, then pick a premium quality model. You want to be completely comfortable and will want something reliable.
How do You Waterproof a Fishing Bivvy?
You shouldn't need to do much to make a fishing bivvy waterproof. They normally come with a degree of waterproofing as standard. However, a leak or drip can be really annoying, especially if it is at the start of your session. You can treat bivvies with various sprays, to ensure that they stay waterproof, even after sustained use.
Can You Sleep in fishing bivvies?
Of course, you can! That's the point! Think of it like a regular tent that has been specially adapted to making it the best for fishing!
What is The Best Bivvy on the Market?
That is a tough call. We like the look of the Lucx bivvies. They have a range of styles and sizes to suit all anglers. As long as you pick a reputable brand and check that the features are up to scratch you should be good to go.
How Do I Clean My Bivvy?
Well, you'll be sleeping and fishing in your bivvy, so after a while, it might get a little 'funky'. They are pretty easy to clean. If you want some great tips, we've got this video here for you to take a quick look at
Summary
The best bivvy for carp fishing is one that keeps you dry, sheltered and is easy to put up and take down. Provided you choose the best bivvy you can, you can ensure potentially years of enjoyable sessions. Sitting in your bivvy fishing, with a hot brew, whilst it is lashing it down is one of life's little pleasures. It's even nicer if you catch a carp as the other anglers are having to beat a hasty retreat! We hope you have found this guide useful, maybe see you one evening down on the swim.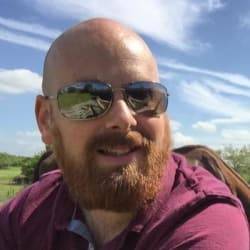 Mike has over 30 years of fishing experience in carp fishing and general coarse fishing. He is always looking for the latest fishing kit to try out and talk about and needs a bigger shed due to all the fishing tackle he owns. You can read more about him here.