How far can your throw a boilie? Actually, how far can you throw a handful of boilies? In fact, what distance can you accurately throw a handful of boilies? If the answer is 'not that far' then you are going to need to invest in the best catapult for boilies and particles. In this article we are going to look at 9 catapults for firing boilies, talk about some of their features and offer some advice to help you choose.
Top Picks
Best Catapult for Beginners
Range: 2/5
Accuracy: 3/5
Capacity: 2/5
Colour: Black
No products found.
If you are looking to launch different of baits into the distance, and want good value then this is for you. It isn't pretty but it will do the job.
The ergonomically shaped handle will keep your hand feeling comfy as you stretch the integrated durable elastic.
A nice feature is that rubber cup includes a small 'knob' suitable for pulling without crushing the boilies or particles in the cup. The capacity isn't massive but should be ample enough for up to three boilies.
It's a simple and cost-effective solution that will easily fit in your tackle box.
Best Anti Tangle Catapult for Carp Fishing
Range: 3/5
Accuracy: 3/5
Capacity 4/5
Colour: Orange
For a similar price to our offering above you can find something a little more durable. It has a wide frame meaning you are less likely to scatter particles all over the swim.
A notable feature is that the elastic is mounted on the top of each arm. This means that regardless of which direction you pick it up, it will be ready to load and fire.
The ample plastic cup will fit plenty of particles inside and has a handy pull tab to keep your bait intact. Whilst marketed for boilies and particle baits, we did notice that the cup is perforated, this might allow leaks when using fine baits such as hemp.
Best Long Range Boilie Catapult
Strength: 5/5
Accuracy: 4/5
Capacity: 5/5
Colour: Wood/Metal
We really like the look of this. The top-mounted elastic makes this really easy to use, it can be fired both ways.
The lightweight frame is strong enough to take a decent pull and the large moulded pouch should safely contain anything you choose to launch.
As you'd expect it comes with a handy puller chord, keeping the bait pristine whilst also aiding in accuracy for a consistent release.
The bands are made of strong natural latex
Best Lightweight Catapult for Boilies
Strength: 5/5
Accuracy: 4/5
Capacity: 5/5
Colour: Green
Next generation tackle produces great gear at low prices. Prominent features on this include a strong surgical elastic, shipped especially from the USA.
It is very lightweight and compact, making it easy to stow when not in use.
The plastic pouch should hold plenty of particles. Whether that is boilies or your favourite particle groundbait.
Best Catapult for Those on a Budget
Strength 1/5
Accuracy 1/5
Capacity 3/5
Colour Blue
Well, it does exactly what it says on the tin. Dinsmore's have been in the business for years, which is great, especially when you can get such expertise at such a low cost.
Ok, this probably isn't going to be your 'forever' catapult, but in a pinch, it will fire a respectable amount of bait somewhere in the direction of your hook.
The frame is made of moulded plastic, as is the cup. It isn't particularly flexible, but ultimately you get what you pay for.
Best Lightweight Boilie Catapult
Strength: 3/5
Accuracy: 5/5
Capacity: 4/5
Colour Green/Blue
If you are willing to part with a few quid more then this represents a great choice.
Superslick rotating bearings mean that there is little friction as you release the pouch, making pinpoint accuracy easy. It also means that the elastic won't tangle, which can be vital to ensuring continued accuracy and avoiding 'bait spray'.
The pouch itself should last a while too, it is made from moulded super-tough polymer.
Keep a lookout for the various sizes in this range as they are all suited for different styles of angling. As a good all-round piece of kit this fits the bill nicely
It doesn't have the longest range, but should get your bait headed in the right direction.
Our Top Pick – Best Catapult for Boilies
Strength: 5/5
Accuracy: 5/5
Capacity: 5/5
Colour: Green
The cup size is the biggest we have seen, just right for firing out a pile of food for the fish.
The chunky handle will give a firm grip and features a thumb pad for improved accuracy.
The elastic and range are amongst the highest on our list. You'll be able to send your boilies a long way with this, and accurately too!
Best UK Made Catapult for Carp Fishing
Strength 5/5
Accuracy 4/5
Capacity 4/5
Colour Green
If you are looking for UK designed quality, then you are in the right place. This product is seriously heavy duty.
The ultra-rigid arms offer little flex, as a result, you get real power.
It's versatile too, aside from boilies you'll be able to propel maggots, pellets and anything else that you slip into the ample cup.
The final flourish of this is the ergonomic handle, making it really easy to grip.
Best Intermediate Boilie Catapult
Strength 5/5
Accuracy 5/5
Capacity 5/5
Colour Black
This is really nice. The chunky grip is also textured, so there is less chance of your hand slipping, even in the wettest of conditions.
Top mounted elastics make the firing direction universal.
The cup is a great size too offering plenty of room.
To top it off this offers finger protection, which, if you've never had it will be something you wish for if you manage to hit your digits.
Best Boilie catapults | Buyers Guide
Well, there's a fair bit of choice. Let's have a quick run through what you should be looking for in catapults when fishing: –
Elastic
The ideal solution is to go for natural latex. It is really stretchy and fairly durable. It tends to hold its shape well, meaning that you won't get a decrease in power over time.
With regards to strength, you want something that is easy to pull, but strong enough to propel your boilies. Depending on the how far out you intend to fish, you might get away with a slightly softer elastic.
If using a pole, you want a softer elastic, as you'll effectively be firing this with one hand still on the pole. You can see an example of what we mean just here.
Catapult handle
Moulded handles are normally the better option. One-piece handles are good, as they tend to warp less, aiding accuracy. Look for extra features such as knurling or texture on the handle to ensure a really good grip, especially with wet hands.
Catapult Arms
The stiffer the arms, the more accurate the boilie catapult. When looking at catapults also take a good look at the width of the arms. Whilst these may degrade accuracy slightly, they prevent bait from contacting the arms, which can result in a 'sprayed' shot, spreading bait, and potentially the fish, all over your swim.
Catapult Pouches
Generally, a large pouch is better, but there is a caveat. If you have a large pouch you may be tempted to overfill it, leading to stray boilies in your catapult, not good. Also, larger pouches increase air resistance, making for inaccuracy.
A key feature found on catapults is a pull tab on the rear of the pouch. This prevents the need for you to hold the pouch and boilies between your fingers when firing, creating inconsistency and crushing your bait.
How to Shoot a Catapult for Carp Fishing
So, you've chosen your weapon now you need to learn how to shoot it. It isn't complicated but there is a little bit of a knack to it. This video will show you how and give you some top tips on using a catapult for carp fishing.
Conclusion
It isn't really rocket science. Make sure you pick something that will fit your bait in its pouch and will be easy to draw. The aim at the end of the day is accuracy, if you can land on the target, consistently, by using a catapult for boilies and particles then you will have achieved your aim. Good luck and happy shooting!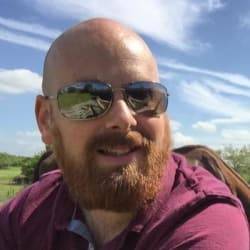 Mike has over 30 years of fishing experience in carp fishing and general coarse fishing. He is always looking for the latest fishing kit to try out and talk about and needs a bigger shed due to all the fishing tackle he owns. You can read more about him here.