Let's be clear. Carp anglers haven't 'caught' a carp until it is safely tucked away in the folds of your net. But depending on your choice, that can be easier said than done. To ensure the highest chance of success when fighting a monster, you'll want the best one you can get.
Let's take a look at some ideas and later we'll give you, the angler, a guide as to what you should be looking for when making your choice.
The Top 5 Best Carp Landing Nets 2022 – Reviewed
Best Budget Carp Landing Net
Good old Shakespeare, they always offer something that really works at a great price. This net is great for a number of reasons.
Let's show you why.
With regards to fixtures and fittings this net fits on any standard pole screw. This is great as it gives you flexibility in your approach. To make the ultimate combo pair this with an extendable fishing landing net pole to create the perfect carp landing nets.
The mesh itself is constructed from durable black rubber. This is good for two reasons first it is odour free, and secondly, it is fish friendly and kind to scales.
The black rubber mesh is also useful as it will be low visibility in the water. This minimises the chance of them making a last minute dash when it sees the net
Average Cost: £14
Net size: Large
Colour: Black
With Handle: No
Best Carp Landing Net for Beginners
If you really struggle for space then you are going to need something that is compact. Here is the solution.
This landing net is foldable making it really easy to store and transport. However, it doesn't end there, the pole is telescopic so basically you have a fully functioning net that occupies about the same amount of space as a hand umbrella.
The net itself is big enough to accommodate moderately sized catch, and the black rubber mesh keeps the fishes scales in tip top condition.
You'll be holding the net one handed as you land your catch, so a good grip is vital. This net features a grippy non slip handle to make life easy.
It even comes with its own compact storage bag.
Average Cost: £27
Net size: Medium
Colour: Green/Black
With handle: Yes
Best Premium Carp Landing Net
If you are specimen hunting then you are going to be looking for a net that can handle even the largest catch. This landing net is a really great choice.
First let's talk transport. The net comes in two pieces which you can easily assemble on the bank. When it is not in use the pole, net and spreader bar come in their own made to measure stinkbag.
Once you have assembled the net you will see that it has a massive capacity. This is great as it means that you can land fish of all sizes. Another key benefit of a large net is that it gives you a bigger target to aim for when landing the fish.
The super fine green mesh of this net is specifically designed to be gentle to your catch. Another key advantage of this mesh is that it is quick drying. The net has really decent depth so if you hook a really lively fish you can be sure that it won't be going anywhere once netted.
Average Cost £55
Net size: Very large
Colour: olive green
With handle: Yes
No products found.
Best All Round Carp Landing Net
It's got 'specimen' in the title. That should tell you something? This net is purpose-built for big carp.
It comes supplied with a substantial extendable handle that will make light work of even the largest swims. A really nice feature that makes this one of the top landing nets is the integrated foam floats that surround the out ring of the net.
As with a few of our other landing nets, it comes with stinkbag included.
Average Cost: £40
Net size: Large
Colour: Dark Green
With handle: Yes
Our Top Pick. The Best Carp Landing Net
Here is another high-quality offering from Sonik. With this net you get all of the benefit of a premium landing net with an added extra. An extendable telescopic handle.
Big catches won't be a problem with this net, it has plenty of room to accommodate Carp. To make this even better it has fibreglass reinforced arms which will bear the weight of anything you can land. The arms of the net are especially long which transfers weight across the entire net, making it really easy to use.
The pole of the net is worth noting. It is made of lightweight carbon, every gram makes a difference when you have a 20lb specimen in one hand and a wet net in the other.
The green mesh is designed to be low visibility and protects the fish.
Average Cost: £65
Net size: Very Large
Colour: Olive
With handle: Yes
Buyers Guide
There are as nearly as many landing net combos as there are anglers, so you'll already know that there is plenty of choice. Choosing the perfect fishing net can take a little time, and pay dividends toward your catch rate. Here are some things to think about when choosing the best carp landing net for carp fishing.
Choosing the Best Landing Net Size
Size is everything. Essentially there are two dimensions that you need to consider.
First, look at how deep a landing net is. The ideal aim is to make sure that once the catch is netted that it can't escape. However, be aware that if your landing net is too deep, it will take longer to unhook your catch once it is landed. Which is not ideal in match fishing situations.
The second thing to consider when deciding on landing net size is to look at the size of the hoop or 'spreader bars'. Basically, the larger the better. Large spreader bars distribute weight evenly over the hole 'hoop' of the net. This makes holding the net and landing fish so much easier.
What Landing Net Colour?
As a general rule, you will want to go for a landing net that is dark in colour. There are a couple of reasons for this. First, as we already mentioned in our review of the best carp landing nets, bright colours may startle a fish that is almost landed, causing it to run.
There is no worse feeling than almost catching a prize specimen.
The second reason you want a dark colour is to avoid spooking other fish that you haven't caught. It's no good spending an hour feeding up your swim only to scare everything away again with one swish of an orange dayglo monstrosity.
Deciding on a Pole Length for Your Landing Net
If you've got the space a long landing net pole wins every time. A longer pole means that you don't have to reel in as far until the carp is 'safely in the bag'. Provided you choose a lightweight pole made of something like carbon or fibreglass, the extra weight will be minimal and it will make so much easier to land your catch.
FAQ
What Is The Best Shape?
Landing nets for Carp come in all shapes and sizes. There is a small element of personal preference. However if we had to choose, we would say that a triangular shape makes the best carp landing nets. There are a few advantages.
For a start they tend to be the biggest. This makes landing fish easier.
Another key advantage is that they are easy to move through the water, and are shaped in such a way that when they are most heavy (with a big old carp in) they are easy to pull back through the water.
Circular nets are ok, but you have to get the fish bang in the centre to land them. Triangular nets form a 'line' at their furthest point. Either the fish is over it, or it isn't. Making the process far simpler.
What size landing net do I need?
Big landing nets can catch all sizes of fish. Small landing nets can only deal with small fish.
What are we saying?
Essentially, go for a big landing net. There won't be a species that you cannot land and it gives you flexibility and peace of mind that you are equipped to deal with whatever the swim may throw at you.
What is the best landing net handle?
Well we are happy that you asked, we have a section dedicated to the landing net handles. You can see our article here.
Whats a spreader block?
A spreader block is simply the plastic or metal part that joins the net to the handle. Its important you have a strong spreader block as you don't want this part to break.
What is the best carp landing net?
For the money we reckon that the Sonik Xtractor offers everything you need. It is a really great quality landing net.  It is sizeable enough to cope with any carp, the colour is about right and it comes with a decent-sized handle. With form such as that it is hard to go wrong.
Conclusion
The best carp landing nets will increase your chances of success and make fishing easier. It really is that simple. We treat having a good net with the same level of importance as you would a rod or reel. Hopefully you will have seen some really great choice in our suggestions above. We wish you, the angler, good luck in catching more carp.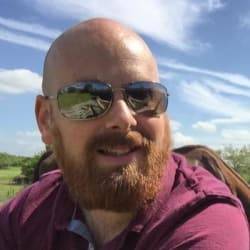 Mike has over 30 years of fishing experience in carp fishing and general coarse fishing. He is always looking for the latest fishing kit to try out and talk about and needs a bigger shed due to all the fishing tackle he owns. You can read more about him here.