Caring for your catch is so vitally important. Gone are the days of unhooking a fish on your lap, or (shudder) a wet towel. Valuable specimens are exactly that and need to be treated as such.
Carp fishing cradles are the new improved version of traditional unhooking mat that most carp fishermen have as part of their fishing tackle. They are designed to safely and securely hold the carp whilst they are unhooked. They also make the process of returning the fish to the water so much easier. If you want to be kind to your carp (and you should) then a carp cradle is a worthy investment for carp unhooking.
We are going to have a look at several different styles, types and options that will appeal to all budgets. After that, we will address some of the most common questions we are asked. Read on to see which fishing cradle is the best fish-friendly carp cradle and holds the most promise for you.
NGT Jumbo Folding Carp Fishing Cradle Unhooking Protective Soft Inner Padded Mat
Sonik SK-TEK Framed Cradle - Unhooking Mat (SKTFRCDL)
NGT Jumbo Folding Carp Fishing Cradle Unhooking Protective Soft Inner Padded Mat
Sonik SK-TEK Framed Cradle - Unhooking Mat (SKTFRCDL)
Best Carp Cradles
Size: 88 x 55 x 21cm
Dark Green
Folding system
Foldable
Fully waterproof material
Value/cost: 5/5
Convenience: 3/5
Features: 3/5
Best for novices
See it for yourself: The NGT Pop-up Cradle
Info: First on our list of best carp cradles is this product from NGT. The beauty of the folding system cradles is that you can often use them to stow and carry gear down to the swim. This NGT pop-up cradle comes with an extra well-padded unhooking mat to protect the carp. It also has a small knee pad attached to help you.
The ability to fold the product means that storage and transport is easy. The cradle is made from waterproof material so you can give it a rinse. It isn't the biggest offering, but for the price point, it offers really decent value. For your novice carp anglers, this NGT pop-up would be a good starting point.
70 x 50 x 16cm
Light Grey
Frame design
3 U shaped legs
Velcro cover
Value/cost: 4/5
Convenience: 3/5
Features: 3/5
Best for casual anglers
See it for yourself: The Leeda Rogue Carp Cradle
Info: The three legs on this cradle design are designed to give enhanced stability. The cradle is a frame design meaning that the weight of the carp is suspended between the outer frame.
The metal on the outside itself is not well padded, which we would have liked to see, but for a cheap option, this fits the bill. The size is more suited to casual use than genuine specimen hunters. This carp cradle will do the job for casual anglers.
126 x 71 x 33cm
Olive green
Frame design
Holds up to 50lbs
Deep capacity
Value/cost: 4/5
Convenience: 2/5
Features: 3/5
Best for intermediate anglers
See it for yourself: The Banshee Carp Fishing Giant Cradle by TF Gear
Info: We are getting into the big league stuff now. If catching bigger carp is your thing then this cradle should accommodate your needs. The cradle is deep and capable of holding up to 50lbs. It has mesh in the corners to aid in drainage.
A nice feature is the top retention cover, if you have to look away for a minute the carp stays zipped up, safe and sound. The lack of frame padding is compensated for by the depth of the cradle. If you are a regular who occasionally might hook the occasional monster then this cradle will suit.
89 x 61 x 35cm
Green
Frame design
Smaller footprint
4 legs
Value/cost: 2/5
Convenience: 3/5
Features 2/5
Best lightweight model
See it for yourself: The Nash CARP CRADLE MKIII
Info: Nash were the original pioneers of the carp cradle concept. The materials used in the sling section are not quite as luxurious as some of our other offerings, being simple PVC. The good things it offers are rigid stability and it folds to half its size when not in use.
Nash has gone the opposite way to their competitors and have made their design retain water, whilst this is good for the carp, it can be a bit of a pain to clean and dry. The technology in this cradle is not the most advanced but it is light, simple and effective. If it's features you are looking for, you may want to look elsewhere.
105 x 51 x 20cm
Dark green
Folding system
Compact storage
Stinkbag included
Value/cost: 4/5
Convenience: 4/5
Features: 4/5
OUR TOP RATED: Best budget folding system
See it for yourself: The TF Gear Hardcore Packaway Large Unhooking Mat
Info: This cradle system is nice middle ground size-wise. We really like the peg eyes situated at the ends, ideal for making sure your cradle stays put. The ease of storage is another great feature, for an unhooking mat this large it folds down to a really small size. which is why it's on our carp cradles list.
Another nice touch is that it comes with its own stinkbag so your car boot stays nice and fresh on the drive home. You get quite a lot of cradle for your money. This cradle would ideally suit someone who is looking to advance their skill and move on to catching bigger carp.
120cm x D 64cm x H 35-43cm
Black and Green
Frame design
Massive Capacity
Padded frame bars
Value/cost:4/5
Convenience: 3/5
Features: 4/5
OUR TOP RATED: Best budget frame design
See it for yourself: The Sonik SK-TEK Framed Cradle
Info: It's great that this cradle has adjustable feet. Regardless of the terrain, it will stay nice and secure. The cradle is also kind to the angler, a soft kneeling pad to protect your knees so you can really concentrate on unhooking.
A good feature is the padded frame section that ensures complete safety for slippery carp. If you want to go a little above average budget and invest in some pro features then this could be a step in the right direction for the avid carp angler.
115 x 70 x 42cm
Dark Green
Frame design
2 leg folding system
Reflective rim
Value/cost: 4/5
Convenience: 4/5
Features: 5/5
OUR TOP RATED: Best premium frame design
See it for yourself: JRC Cocoon 2G Hi Care Carp Cradle
Info: A little extra goes a long way. This item is packed with decent features and that's why its on our best carp cradles list. Substantial and grippy feet prevent movement. This cradle has a two-leg design, but the rigid frame means stability is not compromised. The frame is padded all over, and it comes with a stinkbag.
A really great feature is the inclusion of a reflective frame, so you are never going to miss it, even in the dark. We love the extras. Whilst this cradle is a little more expensive it is certainly worth it. For professional performance, you'll probably not need to upgrade if you make this a one time purchase. Good for serious specimen hunters who really care about their carp care and fish safety.
138cm x 73cm x H28cm
Green
Folding system
Soft lining and Super thick padding
Compact and easy to transport
Value/Cost: 4/5
Convenience: 5/5
Features: 5/5
OUR TOP RATED: Best premium Folding system.
See it for yourself: The Fox Deluxe Carpmaster XL Mat
Info: This is the last item on our list of best carp fishing cradles. When you call something 'deluxe' you had better be sure it's good. Fortunately, this unhooking mat is pure luxury. The carp will want to stay, get tucked in and have a snooze as if its a carp cot.
Everything about this unhooking mat oozes quality. The unhooking mat is constructed entirely out of high density, super-safe foam which means its got a well-padded base. It is lined with a soft touch, fish-friendly lining. It has nice touches like pegging points, and pockets for little extras like your scales, disgorgers and fish antiseptic for fish care.
The rubber mesh base means your unhooking mat is easy to clean and keep fresh. A premium price tag means premium quality. Whilst at the upper end of the budget, this is truly a 'get what you pay for'. It will hold pretty much anything you catch. For our money, this is one for the true enthusiasts.
Some common questions and answers.
What is a carp fishing cradle?
Now that we have shown you the best carp cradles its time to look at them in more depth.
Fishing carp cradles generally take one of two forms. There is a frame style design, where the carp's weight is held between the frame rim, similar in principle to a hammock. And there is the folding design, this is basically like a big padded bed for the carp to lie on. Both are designed for fish protection and are better than traditional unhooking mats.
Why do I need a carp fishing cradle?
If you think that normally, in its natural environment, a carp's weight is suspended and supported in the water from all sides. The benefits of removing direct pressure on a single point on the carp's body are obvious. This is especially true for heavier carp. You will tend to find when using a carp cradle that the carp are calmer and easier to unhook. Happy fish, happy angler and that's why its important to think about carp care.
What do I need to think about with a frame style carp cradle?
Frame style carp cradles generally tend to be much lighter. On the one hand, this is good as it makes it easy to store and carry. The downside is that they can be blown over unless weighed down. Another area that needs to be considered is the terrain around your usual venue.
Frame style carp cradles tend to work very well on flat, even ground. If they don't have adjustable legs and feet they can be unstable. Generally, the frame style fishing cradle is a tried and trusted method. When the carp is inside it's own weight causes it to rest firmly in the middle of the cradle, keeping it stationary for unhooking and treatment.
What do I need to think about with a folding carp cradle?
Folding carp cradles are versatile in many ways. With modern designs, they fold down and are also easy to carry. The fish is protected by thick padding on the floor of the cradle and is prevented from escaping onto the bank by padded, high side walls.
The terrain can also be an issue, but generally, they are slightly more versatile than the framed version. One huge benefit of a folding carp cradle is that they make it easy to return the fish to the water simply by lifting and lowering it wholesale into the water.
What features do I need in a carp cradle?
We'll get straight to the point before we talk about things that are 'nice' to have. The best carp cradle is one that keeps the fish secure, safe and stress-free. Right, now that's out of the way lets consider a few areas:
What size of carp cradle? If you are going to be actively fishing for specimen carp, then you shouldn't be caught short when you actually land one. A bigger one will hold bigger and smaller fish alike. If you have too small a cradle then you risk stressing or damaging your catch.
Where is it going to be used? If you regularly fish on steep banks or uneven ground then you will most likely need either a folding style or at least adjustable feet and adjustable legs if you opt for a carp cradle with a frame.
How much padding do I need ? If you are in the market for big fish you'll appreciate that they can be heavy, cumbersome and sometimes strong. It only takes one moment of carelessness to injure a heavy carp. The more padding on your carp cradle, the better.
Which is most stable? If you don't mind fishing in all conditions, you probably want a fish cradle that is very secure. Folding designs of carp cradles often have anchor holes or pegging points where you can secure them to the ground.
Which is easiest to clean? When the fish are in contact with your cradle there will be a certain amount of 'residue' left behind. If you can rinse and drain the cradle on the bank it can make life easier. Some cradles come with stinkbags, you can stow them 'drip free' and give them a proper wash at home.
Should I get a pop-up cradle? None of the above is difficult to set up, but its something to consider.
Is a cradle better than a hooking mat? We think it is, but an unhooking might be a better solution depending on where you are fishing.
Summary
That's all we can tell you for now about carp cradles. Remember, the aim of the best carp cradle is to keep the fish safe and well. By treating your catch with as much care as you can, you are protecting the future of your sport, and more importantly the future of the fish. Hopefully, our guide has given you some good ideas to consider on your journey.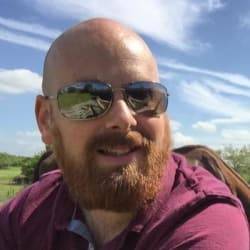 Mike has over 30 years of fishing experience in carp fishing and general coarse fishing. He is always looking for the latest fishing kit to try out and talk about and needs a bigger shed due to all the fishing tackle he owns. You can read more about him here.