Part of fishing successfully is being comfortable and having what you need to hand. Particularly your rod. Gone are the days of attempting to smash a bank stick into the undergrowth. The best rod pods will allow you to fish in an organized way and in comfort. Let's look at some really great suggestions and the things that go into the best rod pods for carp fishing.
LEEDA Rogue 3 in 1 Rod Pod + Carrycase
Dinsmores Shadow Rod Pod with Bag - Multicoloured
NGT DELUXE CROSS ROD POD & PADDED CARRY CASE
LEEDA Rogue 3 in 1 Rod Pod + Carrycase
Dinsmores Shadow Rod Pod with Bag - Multicoloured
NGT DELUXE CROSS ROD POD & PADDED CARRY CASE
Top 10 Best Rod Pods for Carp Fishing 2022
Best Mid-Priced Rod Pod
Colour: Green
Number of Rods: 3
Case Included: Yes
Costs Around: £64
Leeda has made quality gear for decades and this rod pod is no exception. You are getting a lot of bang for your buck. It is really versatile so you can fish the way that you want to.
You'll be able to fit a maximum of three rods easily. Everything that you need is included; the pod body, buzz bars, adaptable single bank sticks and even an include a padded carry case making transportation really easy.
The sharp and fully adjustable legs allow you to mount the rod pod on soft or firm ground with ease, ensuring ultimate stability. They can be adjusted to change the height.
The frame also has housing for up to 3 alarms, perfect for night fishing.
For a rod pod which is strong, stable and lightweight you should find this a really excellent choice. And the best bit is that you'll have some change in your pocket.
Want to see it in action? Check it out here
Best All round Rod Pod For Carp Fishing
This Lightweight rod pod set is ideal for a number of different applications. It isn't just for carp fishing. It features an extendible centre column making it easy to position however you would like.
The four adjustable legs will suit a variety of different terrains.
The solid aluminium frame is both lightweight and corrosion-resistant making it perfect for all weathers.
The adjustability doesn't stop with the height. If you have shorter or heavier rods, the length of the pod is also easily adjustable to suit.
The top of the high-quality buzz bars features standard screw mounts, perfect for bite alarms or other accessories.
For another budget-friendly option that gives you a degree of flexibility, this rod pod would be ideal for an intermediate carp angler with a modest budget. These also come with a rod pod bag.
Colour: Black
Number of Rods: 3
Case Included: Yes
Costs Around: £50
Best Budget Lightweight Rod Pod
If you are looking for a budget rod pod then you have come to the right place. This won't win any awards for innovation, but it is cheap and it works.
It is held together using universal screw-top fittings, making it customisable.
Whether you want to attach a buzz bar or a standard rod holder you'll be able to mount 3 rods with ease.
It is actually really light, making for easy transportation.
We'll be honest, this one might be a little bit 'old school' but provided you aren't too bothered about 'designer labels' it certainly works.
This rod pod would be ideal for beginners or those carp anglers who are on a tight budget.
Colour: Metallic
Number of Rods: 3
Case Included: Yes
Costs Around: £20
Best Quick Setup Rod Pod
This rod pod is really great. It doesn't unscrew, but what it does do is fold up to a fraction of the size. It is really easy to set up, which is just what you want, it means you get to spend more time catching fish instead of preparing to fish.
This is what is known as a low-profile pod, so it sits really close to the ground. It would be especially effective in windy conditions which makes it a more compact rod pod.
The pod set comes complete with buzz bars and its own easy to carry case. When twinned with the fact that this is made from lightweight aluminium, it will do everything that you need.
For the money it offers really great value and looks much more expensive than it actually is.
It's quality… Don't believe us? See for yourself
Colour: Green
Number of Rods: 3
Case Included: Yes
Costs Around: £55
Best Budget Triple Rod Pod
Sometimes we like a few little extra's. This is a great example.
Order one of these and you'll get a fully adjustable rod pod that comes complete with 3 front and rear mounted rests, and a green nylon carry bag.
But that isn't all. This set comes with 3 different colours of swingers, making bite detection on a budget really easy.
It isn't exactly low profile but is positioned at a height that would really well with your bank chair.
It can be set up in about two minutes, which is great as it will let you spend more time catching fish.
We love that it includes a few little extra's, this would make this the ideal setup for someone just starting out with fishing. The screw mounts mean that as you progress you will be able to fit more advanced technology like bite alarms. Not bad for the money when you think about it.
Colour: Black
Number of Rods: 3
Case Included: Yes
Costs Around: £23
Best Premium Rod Pod
If you are looking for premium quality then look no further. This is a setup for serious carp anglers for a 3-rod setup.
It is adjustable in length as well as the height and can be set up in several different ways to suit your style. Either use it as a rod holder or utilise the removable central post and use it as a buzz bar 'goalpost' style rod rest, giving you ultimate flexibility.
The spiked storm poles can be removed from the frame completely, this is one of the most versatile.
We hate having to pack away fishing tackle the end of the day, this rod pod solves a common problem. When it's time to pack up and leave this rod pod comes into its own. There is no disassembly required, just fold and go. and pack it into the padded carry bag. It's really convenient, and the best bit? If you leave it set up, you just fold it out again at the start of your next session.
Colour: Black
Number of Rods: 3
Case Included: Yes
Costs Around: £80
Best Carp Fishing Rod Pod for Two Rods
Nash have kept things simple with this 2-rod pod. But that's ok, that's just how we like it. This rod pod is goal post style meaning that they will rest on the crossbar. There is also the option to attach traditional rod holders if you so require, but these aren't included.
There is some play in how high you position the rod pod, making it ideal for uneven banks and terrain. The pointed storm legs can also be mounted in soft ground.
It might be a little disappointing that this pod doesn't come with a case, but it is light and compact enough to find a home in your barrow or bag.
Have you got a minute? Why not see them up close and personal?
Colour: Black
Number of Rods: 2
Case Included: No
Costs Around: £70
Best Heavy Duty Rod Pod
Remember when we said we love a few little extras? Well here is another example. Aside from gaining a really good-looking rod pod, you'll also benefit from receiving two high quality alarms as part of the deal. That makes this one of the most cost effective solutions on our list.
You can use this rod pod in a couple of ways. Set the stable legs and use as a standard rod pod or alternatively remove the legs completely and drive the storm legs into softer ground for a 'goal post style' configuration.
This is an aluminium rod pod, meaning it is durable and is covered in an anti-flash finish, so no spooking the fish when you set it up.
We love watching a good review, especially when it comes to the best rod pods for carp fishing… We bet you do too, so check this out
Colour: Green
Number of Rods: 2
Carry Case Included: No
Costs Around: £52
Best Lightweight Budget Rod Pod
Sometimes simplicity is the way to go, especially if you are on a budget. This rod pod set is ideal for soft ground or if you are looking for something really portable.
In a set you get two buzz bars and two-pointed bank sticks to push into the ground as you wish. The beauty of this is that it is really adaptable. The only downside is that if you are fishing on harder banks then you may be out of luck.
These would be ideal for fishermen who like to move around the venue without carrying too much bulk.
For the more experienced angler these aren't advanced enough. But then that said they are light and small enough to act as a backup just in case.
Colour: Green
Number of Rods: 2
Case Included: No
Costs Around: £20
Our Top Pick
Best Overall Rod Pod
We love how easy it is to reconfigure this rod pod. Pretty much everything fitted is adjustable. The rod rest holders can be moved through 360 degrees, as can the legs, making it really easy to get into the ideal position.
A multi-directional nut allows you to select an angle for your tackle and then lock it in place, ensuring ultimate stability.
The frame is also fully adjustable, this allows you to fit a wide variety of rods regardless of size or the bankside topography.
If we had to pick one solution this would be it, we think this set is absolutely brilliant. See it fresh out of the box right here.
Colour: Black
Number of Rods:
Case Included: Yes
Costs Around: £79
FAQ
When buying a new setup, you want to make sure that you get the best rod pods that you can. It's important to understand a few key features. Let's take a look at some commonly asked questions and give you the answers
What is a Rod Pod?
It is actually quite simple. A rod pod is a frame that allows you to rest a rod, or several rods in an organised manner to allow you to fish more effectively. They are generally in one of two formats.
Which are?
A 'goalpost' format. Exactly as the name suggests these rod pods look like a goal that you'd see on a football pitch. The rods rest on the 'crossbar'.
The other way is by mounting them in dedicated rod holders. These are really great if you are fishing for specimen carp as they prevent your rod from being pulled over.
How do you use a rod pod?
Rod pods are really easy to set up, simply assemble the frame, adjust your rod pod's legs and place it in whatever position you feel most comfortable in.
Some rod pods have flat feet, we find the best types are those with spiked legs. These can be used on a variety of different surfaces and they are the most stable.
If you want to see examples of a rod pod in action check this video out.
How Do You Set Up A Rod Pod?
There are a few ways you can configure your rod pod. Check this video out to see how useful a rod pod can be
What Are Buzz Bars?
Buzz bars are essentially flat sections of your rod pod and are the areas on which your rods will rest. You don't have to use buzz bars, but they are really useful if you want to fish several rods at different angles.
What Is the Best Rod Pod to Use for Carp Fishing?
We've reviewed quite a few above, for us, the gold standard is the New Direction Tackle Rod Pod. It is so dynamic and easily adjustable. Granted it isn't a budget model, but chances are if you invest in one of these you will ever need to buy another.
Why would you use a rod pod over bank sticks?
This is all down to personal preference but bank sticks are a good choice for a short session. A rod pod is great for a longer session and perfect for places that have a concrete peg where its not possible to put bank sticks into the ground.
Conclusion
Choosing the best rod pod can be a little tricky. After all it's only when you have used one that you will know what you like and don't like. Our suggestions offer a few budget options that offer performance far in excess of their price point, so they would be a great place to start. They are fully customisable, so they will allow you to upgrade your ideas as time goes on. Have you got any more suggestions for rod pods? Why not leave a comment below and we'll have a look.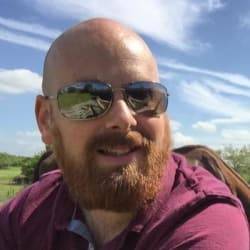 Mike has over 30 years of fishing experience in carp fishing and general coarse fishing. He is always looking for the latest fishing kit to try out and talk about and needs a bigger shed due to all the fishing tackle he owns. You can read more about him here.