Preview
Best Price
Best Choice
Title
JRC Unisex's Contact Lite Bedchair, Green, One Size
Cyprinus Lightweight 6 leg Fishing Carp bed bedchair 5 Season Sleeping bag sleep system
Cyprinus Memory Foam bed chair bedchair for carp fishing, put me up bed camping chair or guest bed 6 leg bedchair
JRC Defender Wide Levelbed Bedchair, Green
Abode 8 Leg FLAT-BOY® Carp Fishing Camping KING SIZE Rip-Stop Level Bed
Sonik SK-TEK Compact Levelbed Fishing Bedchair
Material
Polyester cover filled with high density foam
2-inch thick memory foam mattress
Polyester cover filled with high density foam
Fleece-covered foam mattress
PVC backed SK-TEK camo material
Best Price
Preview
Title
JRC Unisex's Contact Lite Bedchair, Green, One Size
Material
Polyester cover filled with high density foam
Preview
Title
Cyprinus Lightweight 6 leg Fishing Carp bed bedchair 5 Season Sleeping bag sleep system
Best Choice
Preview
Title
Cyprinus Memory Foam bed chair bedchair for carp fishing, put me up bed camping chair or guest bed 6 leg bedchair
Material
2-inch thick memory foam mattress
Preview
Title
JRC Defender Wide Levelbed Bedchair, Green
Material
Polyester cover filled with high density foam
Preview
Title
Abode 8 Leg FLAT-BOY® Carp Fishing Camping KING SIZE Rip-Stop Level Bed
Material
Fleece-covered foam mattress
Preview
Title
Sonik SK-TEK Compact Levelbed Fishing Bedchair
Material
PVC backed SK-TEK camo material
There are some items of equipment that, while not essential, make you life a lot easier when fishing. One of these is the bedchair. You may not consider it a priority, but if you like to spend your time night-fishing, a little rest is welcome every now and again, and a quality, comfortable bedchair is the way to make sure you have the perfect place to settle back and relax. Usually lightweight, with enough padding to provide you with a soft place to lie back, and foldable so they can be carried in the car, a bedchair is of benefit whether you fish in the dark or the day.
Carp fishing involves a lot of waiting – for many people, the time available to relax is among the many attractions of the sport – and there's a lot to be said for investing in a bedchair to go with your bivvy. With a choice of sizes and styles, and some very sensible prices, this should perhaps be a part of your standard kit, just in case you need one! Let's have a look at the top bedchairs for fishing that you can buy right now, and then we'll talk a bit more about what you need to consider, and answer a few popular questions we are often asked.
Let's have a look at some bed chairs.
Our selections of the best fishing bed chairs
1: JRC Contact Lite Bedchair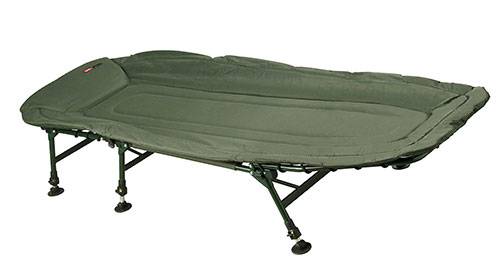 We've chosen a selection of popular bedchairs that you can buy online and most come from well-known brands in the fishing world. This one, from JRC, is a typical model at a sensible price, and comes highly recommended by a number of buyers. The usual colour for bedchairs is as this one – a muted green so as not to stand out too much – and this one is a unisex, one-size model that has a very robust steel frame that is designed to withstand the rigours of many years of fishing trips. It's neat and simple, with no frills.
The JRC Contact comes with several reclining angles that are easily adjustable – so you can sit upright or lie back as you wish – and is fitted with full-swivel, adjustable 'mud feet'; these are a required fitment when you want to site your bedchair at a pitch that may be less  than level! The legs are also adjustable for height and are fitted with a clever locking system for added sturdiness. The 600D polyester cover filled with high density foam provides the cushioning, and it folds down easily to a compact size for carrying, with a weight of just 10kg. All in all, a good bedchair that does the job.
Key Features:
Known brand
Steel frame
Adjustable legs
Mud feet
Strong polyester cover
Compact when folded
Just 10kg
2: JRC Defender Wide Levelbed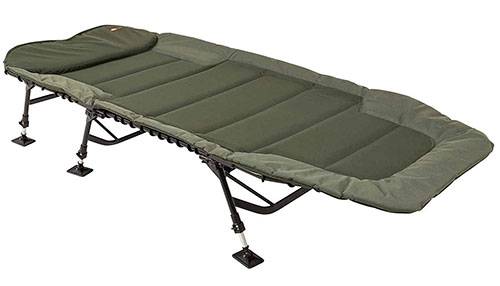 The JRC brand is known for its quality items – as per the bed we talked about above – and this one addresses a problem that is prevalent across the board where bedchairs are concerned. This is the fat they can be very narrow – a requirement in many ways where compactness is concerned – hence the slightly wider size of this model. It's designed with a few extra inches for more comfort, comes with the usual strong steel frame that is easy to set up and collapse, and even has a cavity designed in for the sleeping bag to be carried as part of the package!
This model, as you would expect, comes with fully adjustable locking legs; it's not unusual to make your pitch where the ground is far from level, so this helps you achieve a comfortable position. It's also fitted with the mud feet for added stability, another must where these items are concerned. The usual very durable polyester cover is filled with high-density foam for added comfort, and it weighs just 10kg – the same as the smaller model from the brand. Price-wise, this is in the ballpark at a little under £100, which is a decent price for a quality bedchair.
Key Features:
Extra width
Steel frame
Locking and adjustable legs
Durable cushion and cover
Folds compact
10kg
3: Sonik SK-Tech Compact Levelbed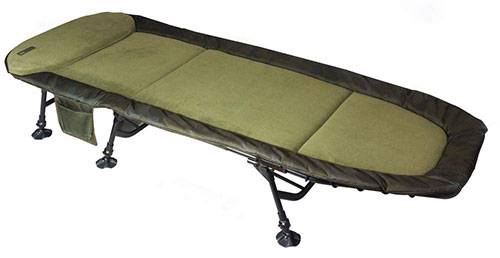 Sonik is a brand with a range of fishing equipment and accessories at sensible prices – and also known for good quality – of which this compact bedchair is a good example. It's worth us mentioning that there are other sizes of this item: the Compact, this model, measures 200cm x 70cm x 48cm (the latter being maximum height with legs fully adjusted). For comparison, the Large example measures 220cm x 95cm. The frame is a durable steel construction that folds down into a neat compact size for transport (74cm x 70cm x 26cm in this example) and the cushioning is heavy duty with added support in the centre section.
This design comes, as should be expected, with lockable legs that can be adjusted from 34cm to 48cm on all sizes, as well as the requisite mud feet that are fully adjustable to get the best support on rough terrain. The weight of the compact model is 9kg, the larger model 11.4kg. All in all, a nice and very typical bedchair design from a known brand, and one that is a decent price compared to others.
Key Features:
Known brand
Compact size
Other sizes available
Steel frame
Adjustable lockable legs
Mud feet
9kg weight
4: TF Gear Chill Out Giant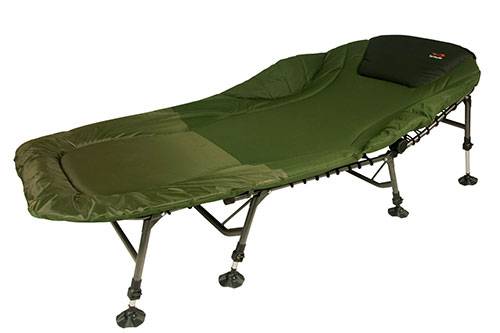 Our first best carp bedchair is from one of the biggest names in fishing gear, TF Gear, and it's a large one so if that's for you, it might be the one! This one measures 210cmx120cm, so will accommodate tall people, and is made from very strong material with padded edges for extra comfort, and is also fully sprung. Four adjustable and strong legs mean you can make sure you are on the flat wherever you pitch it, and folds down into a nicely compact carry package with a weight of less than 13kg. It's good, big and sturdy, and not badly priced either.
Key Features – TF Gear brand, large size, four sets of legs, adjustable, foldable, quite light
5: Bison Camping Bedchair


It would appear that the six-leg design is pretty much the standard for bivvy chairs, and this model – from Bison – is another example of such. Made from suitably strong material with padded edges, and with legs adjustable for the terrain, it measures 200x75cm, so is standard size too. This one folds down to an easy to carry size and is finished in a dark green colour – again, pretty much the standard – and weighs just 8.6kg, so is again very light. At the price, this is a decent quality bedchair that is well worth checking out further.
Key Features – standard size, 8.6kg, padded, six adjustable legs, price
6: Carpitrix Super Deluxe Bedchair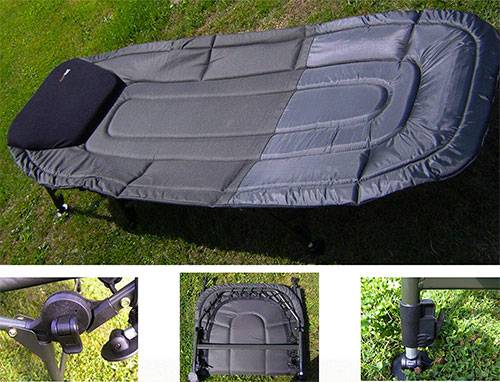 One of the selling points for this bedchair is that it comes complete with a neoprene pillow. That's a neat addition, but what about the chair itself? It measures 207x83cm, so is a little larger than standard, has fully adjustable legs with full mud feet, is padded where it matters and of course, comes with a pillow for added comfort. When folded it is an easy to carry size, and it weighs just 9kg so is not at all heavy. It's a decent product at a reasonable price, so worthy of inclusion here.
That's our selection of the best carp bedchairs, so which is for you?
Features to Consider
If you're looking to buy a bedchair, the likelihood is you spend long periods of time by the waters edge waiting for a bite! A bedchair gives you that added comfort you need to make the experience more enjoyable, and to allow you to relax. What to look for in a bedchair? Let's cover a few of the most important points.
Size
as even the small selection above shows, bedchairs can vary in size, and it depends on your own stature as to how big you need yours to be. Using one of the above as an example, the 'compact' size of bedchair may measure around 200cm in length, with a width of perhaps 70cm. The larger version of that chair measures 220cm by 95cm, so will carer for larger people. It's important you buy one that is big enough for you! Also, make sure they fold into a compact size – all of these do, and are easy to carry as a result. One last thing, if you're looking for a bedchair that might accommodate your girlfriend when you go fishing, you might want to bear in mind that these are made for one! Buy two, and you can enjoy fishing and romance in one go!
Weight
following on from above, you need a bedchair that is not only sturdy enough to last a long time and bear your weight, but to be easy enough to carry when folded into position. You may need to park the car some way away from the pitch, so it can be some distance. The weight for a standard size bedchair appears to be around 10kg, which is not a lot to add to your kit!
Adjustable Legs and Feet
A must for a bedchair, as you will be pitching in some unstable places during your fishing trips. Legs that extend a few inches in height – and that lock into place – are a certain requirement, and all of those on our list have this feature. Also, mud feet – those that swivel and can be angled – are also a necessity, and again all of our examples have this feature.
Comfort
Comfort is a requirement, and the bedchairs we have included here all feature heavy duty foam in a very sturdy outer casing, and some have additional padding to give you better support. You're going to spend quite a long time on your bedchair, so make sure it's one you appreciate.
Will it Fit in the Bivvy
This is another good question! You don't want to be stuck with a bedchair outdoors in poor weather, so you need one to fit in the bivvy! Check out the sizes before you buy!
That's the main features – we could include cost but the differences involved in our choices are very small – to look for, so is there one that is best for you? To try and come to an answer, we looked at a few different questions that are popularly asked by people buying bedchairs.
Some Frequent Questions
What is the Best Bedchair for a Bad Back
This is a good question, as many of us who like to fish suffer from regular back problems and back pain. Research has pointed us in the direction of buying a wider than usual bedchair if you suffer back problems, along with a memory foam mattress addition that will allow you to achieve greater levels of comfort. The large version of the Sonik model on our list may be ideal for this purpose, for example.
Best Bedchair on a Budget
The bedchairs on our list are within a price range that is barely noticeable. If you are on a budget, our suggestion is to allow at least as much as the cheapest model we have listed, as this is an item that you are going to use a lot, and one you want to be correct, comfortable and suitable for your purpose. We strongly around you shop around – there are many online suppliers – and keep an eye open for special offers and clearance lines. Last year's design may be just what you need at a knock-down price!
Best Lightweight Bedchair
An inescapable fact about fishing is that there is always a great deal of equipment to carry, and your bedchair is simply going to add to your kit! However, what we will say is that all of the chairs we looked at have been designed to be as light as possible while being strong enough to do the job. One, the Sonik Compact, weighs in at just 9kg but is smaller than usual, while the models from JRC do not exceed 10kg so are also surprisingly light for what they are. Look around for lighter models if you wish, but beware compromising on strength too much as you want your bedchair to last a sensible amount of time.
We can't recommend one from our list over the others, simply because all are very similar in design and close in price, too, but what we will say is make sure you have a budget of not a lot less than £100 when you go shopping for a bedchair. You will find that it is money well spent, and enjoy greater levels of comfort at the waterside!