The beauty of fishing, one of the most popular pastimes of all, is that you can take your time. Unless you're under match conditions there is never a time limit, and as long as the fishery allows you to be there, it's up to you how long you stay.
Every angler likes to make sure they have the best gear for the job at hand, and that means adding to your regular kit. For example, if you like night fishing – or even if you just require a bit of additional comfort – you might want to invest in a carp fishing bedchair.
You may already have one and are looking to replace it with a better or newer model, or you might be looking for your first one, so we've taken a look at the best fishing bedchairs you can buy right now, so you can choose the one that suits your requirements and budget.
Let's have a look!
Our selections of the best fishing bed chairs
1: TF Gear Chill Out Giant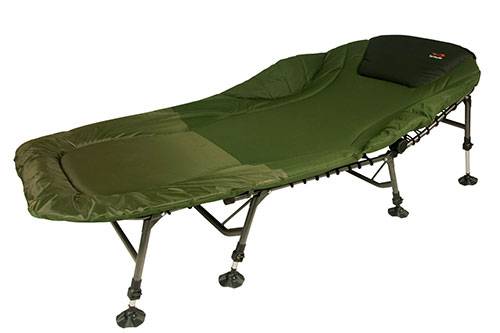 Our first best carp bedchair is from one of the biggest names in fishing gear, TF Gear, and it's a large one so if that's for you, it might be the one! This one measures 210cmx120cm, so will accommodate tall people, and is made from very strong material with padded edges for extra comfort, and is also fully sprung. Four adjustable and strong legs mean you can make sure you are on the flat wherever you pitch it, and folds down into a nicely compact carry package with a weight of less than 13kg. It's good, big and sturdy, and not badly priced either.
Key Features – TF Gear brand, large size, four sets of legs, adjustable, foldable, quite light
2: Bison Camping Bedchair


It would appear that the six-leg design is pretty much the standard for bivvy chairs, and this model – from Bison – is another example of such. Made from suitably strong material with padded edges, and with legs adjustable for the terrain, it measures 200x75cm, so is standard size too. This one folds down to an easy to carry size and is finished in a dark green colour – again, pretty much the standard – and weighs just 8.6kg, so is again very light. At the price, this is a decent quality bedchair that is well worth checking out further.
Key Features – standard size, 8.6kg, padded, six adjustable legs, price
3: Carpitrix Super Deluxe Bedchair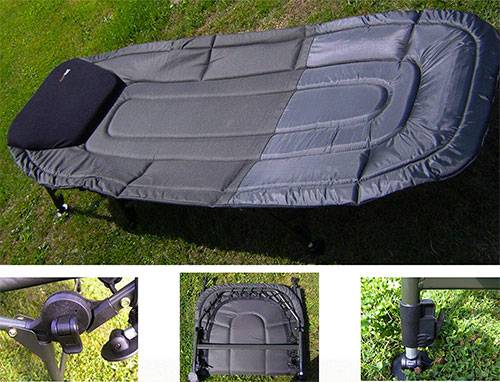 One of the selling points for this bedchair is that it comes complete with a neoprene pillow. That's a neat addition, but what about the chair itself? It measures 207x83cm, so is a little larger than standard, has fully adjustable legs with full mud feet, is padded where it matters and of course, comes with a pillow for added comfort. When folded it is an easy to carry size, and it weighs just 9kg so is not at all heavy. It's a decent product at a reasonable price, so worthy of inclusion here.
That's our selection of the best carp bedchairs, so which is for you? Let's see!
Our Choice
It's not easy to choose one from all of these for you, as to do that we'd need to know your height and weight! If you need a very big bedchair, the choice is the first one from TF Gear which is a great size and a very nice model. If a standard size chair will do, and you're looking for value for money, our choice would be No.6 from Koala, as it does the job very well, is extremely light for carrying around, and is a decent price.