It's a hazard of modern life that you require various devices to keep in contact with the outside world. Even if you prefer to leave your phone in the car, numerous things might require power when carp fishing; Bait boats, bivvy lights, maybe even a kettle! By using a fishing power bank you'll be able to ensure your comfort. We are going to look at some great value portable power banks for carp fishing and talk to you about the features that you will need.
Fox Halo 96K Fishing Power Bank Pack - CEI178
Ridgemonkey Vault C-Smart Wireless 42150mAh (Camo)
Powertraveller Tactical Powergorilla: Multi-Voltage 24000mAh Portable Power Bank – DC & USB Outputs, Rugged Lightweight Battery Pack for Laptop (Under 88W), Tablet, Smartphone, Camera & more
Fox Halo 96K Fishing Power Bank Pack - CEI178
Ridgemonkey Vault C-Smart Wireless 42150mAh (Camo)
Powertraveller Tactical Powergorilla: Multi-Voltage 24000mAh Portable Power Bank – DC & USB Outputs, Rugged Lightweight Battery Pack for Laptop (Under 88W), Tablet, Smartphone, Camera & more
Best Power Banks For Carp Fishing
Best Heavy Duty Power Bank
Colour: Yellow/black
Size: 209mm x 157mm x 72mm
Weight: 3.9kg
mAh: 96,000
Costs around: £200
If you are looking for decent capacity and the ability to charge pretty much anything then this power bank could be a great choice. This is a substantial and durable battery that can keep certain devices powered for weeks…
If you want to talk specifics get this…
You'll be able to fully charge a bog-standard iPhone from empty to full a total of 36 times. More than enough to cover any fishing trip.
It isn't the smallest or most compact best power bank on our list, however, it is kept portable by a durable canvas and rubber handle.
You can see how much power you have left by four highly visible LED lights on the indicator. And this big battery will take around 5 hours to go from empty to full from mains electricity at home.
There are several outputs for a whole manner of cables including USB, USB-C, a dual cigarette lighter sockets.
Best Wireless Power Bank for Fishing,
Colour: Camo
Size: 190mm x 110mm x 42mm
Weight: 500g
mAh: 42150
Costs around: £160
Now, this Ridgemonkey vault power pack is smart.
If you are like us you will already have a bag jam-packed full of bits. The last thing you want is to be taking cables and wires along too. Well, here is the solution…
With this power pack, you can charge your compatible devices wirelessly. Just switch it on, and place your device on the custom-made plate. It's like magic!
It's fair to assume that things get a little beat up when fishing, fortunately, this portable best power bank has a really tough and durable outer shell, it's pretty much bomb proof. Aside from functionality, it looks great too, a carp fishing battery to match your bivvy, amazing!
You should get around 9 charges of your smartphone out of the Ridgemonkey Vault with heavy use. Not bad, considering it only takes 3 hours to fully charge at home.
If you have decided to bring a bunch of wires then there are plenty of ports so that you can plug in more than one thing at a time with this Ridgemonkey Vault power pack.
Best Lightweight Power Bank for Fishing
Colour: Black
Size: 155mm x 69mm x 23mm
Weight: 400g
mAh: 23,800
Costs around: £25
Coming in as one of the lightest on our list is this power pack from Charmast. If you want to know how much power you have with precision, then this could be the one for you. Don't let its small size fool you. For a day out on the water, this is ideal.
The power capacity is good enough for a couple of days at least, you'll be able to charge an iPhone sized device around 5 times. Whilst this isn't the highest capacity what you will get is speed. This device should charge your peripherals at a rate that is up to 4 times quicker than a standard fishing power bank.
The ultra-slim design means that this power pack for fishing takes up less space in your tackle bag and is small enough that it can be easily stowed in a pocket.
A digital display constantly tells you what percentage of power you have remaining, so you'll never be in danger of being caught short.
Our Top Pick – Best All Round Portable Battery for Carp Fishing
Colour: Tan/Black
Size: 255mm x 160mm x 90mm;
Weight: 700g
mAh: 24,000
Costs around: £ 165
You've seen ridge monkey, now look at powergorilla!
This little power bank is capable of charging a huge range of devices. Iphones, tablets, bait boats and laptops. What more could you want? It can give a power output of 24V making it the ideal all-rounder.
The outer case has rubber shock protectors, which prevent you from breaking it when out on the swim.
It is also really easy to use, unique 'one-button' technology allows you to select a power output and 'lock it in', meaning you can provide different levels of power to different devices. You will get around 10 charges of an iPhone with this device and it also comes with a whole selection of wires, plugs and cables giving you the ultimate versatility in charging your battery.
Colour: Black
Size: 81.5mm x 180mm x 22mm
Weight: 500g
mAh: 26,800
Costs around: £50
Small and mighty! This little power bank is perfect as it is low profile but with plenty of power under the hood.
You'll be able to charge up to three devices using the 3 integrated USB output ports. And it charges devices fast too! This power bank will fill up an iPhone device at around double the speed of standard batteries, great if you want to tell the Mrs you won't be coming home at short notice. It can charge your phone around 6 times from empty to full and takes around 6 hours to charge to full at home.
Best Solar power Bank for Carp Fishing
Colour: Red/Black
Size: 160mm x 80mm x 32mm
Weight: 450g
mAh: 30,000/unlimited
Costs around: £27
Well here is something versatile and innovative for carp anglers. Provided you pick the time and weather correctly you can be reasonably assured that you will never run out of power with this power pack. Literally!
This clever power bank uses some smart technology to keep you powered on the go… Solar Power!
Just leave this lightweight device pointing skywards and let the nearest star do the work, as it fills the 30,000mAh battery up. This should charge a standard-sized phone around 5 times. But if it gets a little low just give it a blast of sunshine, before plugging in your devices again.
You'll have to be careful not to damage the solar panels, but provided you take care of it this will work well.
One clever feature that we think is smart, is the inclusion of an integrated torch. This can be charged via solar power during the day, to be used at night. This saves space as you won't need to carry a separate torch.
We know the weather is sometimes a little 'grey' in this country, but you don't need to worry, this power bank can also be charged via mains electricity!
Buying Guide
You'll have no doubt seen hundreds of carp fishing power packs. But they aren't all created equal and you want to get the best power bank that you can. We are now going to go through a few features and explain some common terms so that you can make the best possible choice.
Power Pack Size:
Optimal use of space is important when carp fishing. You want something with enough power to provide a fair bit of juice but isn't too unwieldy or difficult to fit in and amongst your tackle. If you are planning on a few days' worths of fishing then you can afford to go slightly bigger as the power bank will be sitting in your bivvy.
If you are one of those anglers that need to be a little more mobile, or don't require days and days of power then you could consider going for a smaller sized powerpack.
Number of plugs
As we move forward in this modern age we may find that we have a reliance on quite a few devices. You might have, say, a phone, a fish finder and a tablet. Ideally, you want to be able to power all three without playing cable 'musical chairs'. The best way to achieve this is to pick a power bank with 3 plugs or more. USB output ports are the most versatile choice, but for bigger units keep an eye out for cigarette lighter style outputs, these will enable you to power bigger things like lights and kettles.
Capacity
Power bank capacity can get a little confusing and it may sound a little 'technical'. Whilst this is true it is easy to understand with a little explanation.
Power packs, and all batteries, are given a rating. This rating is called milli-amp hours and is denoted by this series of letters; mAh. As a general rule the higher the mAh rating, the greater the battery capacity, and the more 'juice' you will get from a single charge.
Beware though. Heavy users will use more battery. Think of your battery like a glass of water. Some people will sip at it, others will gulp it, this is the same with your appliances. A phone might take a little sip, a laptop or bait boat will take a big old gulp. If you are going to be charging lots of devices, or things with bigger batteries, then pick a power bank with a higher mAh rating.
If you want to understand battery capacity in less than three minutes, we've found a handy video that explains everything just here.
Output
The 'push' of electricity to your devices has a name. It's called 'volts' or V. Lower voltages mean slower charging. Higher voltages mean faster charging. The output of the battery can make a huge difference in how fast something charges. Look for power packs that have fast-charging capability, they'll often have a higher voltage
Durability
You'll see that most of our suggestions above feature some kind of protection. The power packs will probably be coming into contact with a whole manner of bankside debris. Further to this, a bivvy is slightly less electronic friendly than, say, your office at home. For this reason, look for power banks that are strong and durable. Thing such as rubber guards and reinforced cases are ideal.
Conclusion
So, now you should be in a good position to choose the best power bank. Provided it has enough power to charge your devices at least a few times and is sturdy enough to withstand the pressure of a fishing trip, you should be good to go. What gadgets do you take fishing? Let us know in the comments below.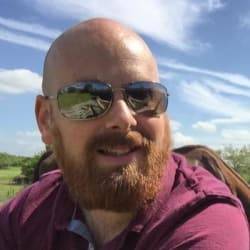 Mike has over 30 years of fishing experience in carp fishing and general coarse fishing. He is always looking for the latest fishing kit to try out and talk about and needs a bigger shed due to all the fishing tackle he owns. You can read more about him here.