Gone are the old days of a man standing on the bank with little more than a garden cane, some silk line and a handful of worms. Fishing is going properly high-tech. If there's anything that gets a carp anglers juices flowing, it is the promise of catching carp more easily. Or if it is a bit quiet, being able to enjoy the comfort of your bivvy with all the mod-cons.
There has been an influx of tech into the market over recent years in the fishing world, all designed with the aim of addressing common problems when after those elusive carp. A few anglers may see it as gaining an unfair advantage, but each to their own. And who are we trying to kid?
We don't recommend buying things just for the sake of it. Gadgets for carp fishing should make your life easier in or address a common problem. You can go as advanced as you would like with our ideas, making your carp fishing much more of a special forces mission than a relax down by the bank.
This guide is going to take a look at some of the newest carp fishing tackle technology available online or in your local shop and how they might help you either on the bank or on the water. Enjoy!
Best Carp Fishing Tackle Gadgets
Our #1 choice: Best fishing gadgets UK
Wi-Fi technology
Mobile compatible
10m waterproof depth
First on our list is this amazing underwater camera. Have you ever sat on the bank and thought; 'I wonder what is actually going on under the water while out on your fishing trip?'
Well with this gadget you will no longer be in any doubt. This is basically a fairly large float that houses a camera. You can keep an eye on your rig, see where the carp are shoaling, or what they are eating, and assess underwater features to cast to. The manufacturer recommends using 50lb line, this is so you don't cast and lose it. The camera has fins to help it cast a fair distance with precision accuracy. The signal is sent back to your mobile device using Wi-Fi. But what if it is submerged? Well here is the clever part.
When it loses signal it switches to record mode, so you can easily playback what it has discovered in the deep! This is easily one of our best gadgets! It will blow your mind about what is happening under the surface.
A light, portable and highly useful gadget for fishing
Long battery life
15 scans per second
Compatible with most IOS and Android devices
Ok so you aren't comfortable casting a video camera out? Well, hows about this? How would you like to be able to accurately map the bottom of your swim and create a picture of what the entire swim looks like, whilst also locating the fish?
The Deeper Pro Plus is small and compact enough that it will stow just about anywhere, either in your box, bag, or even your pocket. It's easy to use this awesome carp gadget. Simply attach it to your line and cast out.
As you retrieve it will beam real-time data to your mobile device and even has an aerial view map mode meaning that you can build up a birds-eye view picture of your swim. This gadget can scan down to 260ft. And the battery lasts for about five and a half hours, hopefully by that point, you'll already be catching carp.
Hands free, for use with your newest fishing gadgets
Compatible with most handheld devices
Horizontal and vertical mounting for certain devices
Attaches to any rod handle
So you have taken the plunge, decided to go all out and bought either a Fishspy or a fish finder. But have you ever tried to hold a rod and reel in with one hand, whilst looking at a phone at the same time? No us neither, but we can't imagine it will be easy.
You attach the mount to your rod handle and then you can attach your mobile device to your rod. Meaning you can hold the rod, reel in and watch the screen, all at the same time!
The mount is made from super grippy and durable silicone, and grips so strongly that you can leave your phone attached whilst you cast. The way it is secured means that your screen is kept entirely free. Whilst the mount is not particularly high tech, it is the best solution to make life easy if you are using one of our other awesome fishing gadgets.
Precision groundbait delivery device
500m range
5kg bait capacity
Pinpoint feeding accuracy
Back in the day you would throw your ground bait in a ball or launch it haphazardly it into the swim with a catapult. But where is the fun in that? Bait boats are not the newest fishing gadgets and, whilst somewhat controversial for a few anglers, are here to stay. As the adage goes; "If you can't beat them, join them". You can spend up to five grand on an advanced bait boat, however, if you aren't sure whether it's for you or want to try something slightly cheaper Goolskys offering is pretty decent for the money.
How bait boats works is that you load it with your ground bait or boilies, manoeuvre it to the correct point in the swim, hit a button and it jettisons its cargo out the back. It is a far more accurate, if slightly more expensive, way of getting your ground bait exactly where it needs to be. The double motor means the boat's speed is a decent 4 miles per hour and is highly manoeuvrable.
Now the real tech-savvy amongst you may have seen that you can combine a couple of our awesome fishing gadgets? Both the Fishspy and the Deeper Pro Plus can be mounted on your bait boat, meaning if you so desired, you could map and see an entire lake!
Customised, long lasting light
Impressive battery life
Multicoloured lighting
Wireless control
If you are making a proper day of it or night, we've got you covered with one of the best lights for when you are in your bivvy. It's no good booting over your brew in the bivvy or not being able to see your disgorger. Head torches are OK and serve a purpose, but with constant head-turning, you'll end up with a stiff neck.
With this cool fishing gadget, you'll be sat in near-perfect daylight, regardless of the time of day. Don't worry about spooking the carp as this bivvy light has a variable brightness setting. You can change the colour at the touch of a button, our favourite is red, which helps to preserve your night vision. You have no need to worry about it going flat in the middle of the night either. LED technology typically uses low power, so the battery lasts for 180 hours. Another really great feature is that by using the wireless controller, you don't even have to move, leaving you free to continue catching fish.
Stacks of power, wherever and whenever you need it
USB-C connectivity
Multiple output ports
12V output
Even if you haven't been taken with our offerings, having the ability to give your electronics a bit of a top-up is a good reason to invest in one of our more practical gadgets.
We mean, if your phone dies, how else are you going to tell the Mrs you're staying out and won't be back for dinner? With a maximum capacity of 77850mAH, this battery has plenty of power to keep you going regardless of what you want to power. It will even fully charge a laptop from empty to full in just under two hours. You aren't only limited to charging one thing at a time. If you so choose you can use all four of the ports at once while you are chilling in your bivvy. Just pop it on your bivvy table.
Solid one-piece construction
Hand held
Easy to use
Ever so occasionally you will want to create a few offerings of particle ground bait without having to blend a bag full of boilies. If this sounds like something that would be useful to you, we have the answer.
This bait crusher isn't particularly high tech, but it is very effective. Just put two or three boilies into the crusher, close the lid and you'll be reducing your boilies to a fine powder within seconds.
The system is constructed from a single piece so is really durable. Corrosion isn't a problem either as it is made from strong and weather proof nylon. As an additional bonus it is also really easy to clean.
Auto off battery saving
High accuracy
Small and compact
Ok you wanted the best gadgets for carp fishing. We are going to geek out on technology and fishing all at the same time.
The key to successful carp fishing is getting as much information as possible and finding what works. One parameter you might want to consider is water temperature. Depending on how hot or cold it is can affect the fish's behaviour.
But you don't want to be getting your hand wet for the sake of it. Especially when, with this clever fishing gadget, you can point and shoot at the water and be given a temperature that is accurate to within one tenth of a degree.
The colour LCD screen is easy to read and backlit too meaning that you'll be able to use it after the sun goes down. Why not make a note of the temperature every time you have a successful day?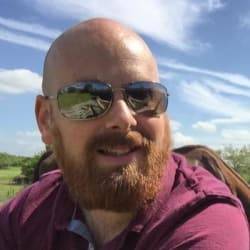 Mike has over 30 years of fishing experience in carp fishing and general coarse fishing. He is always looking for the latest fishing kit to try out and talk about and needs a bigger shed due to all the fishing tackle he owns. You can read more about him here.