When you watch the professional match anglers one thing stands out above all others. They are organised. They take 'professional admin' to a whole new level. Like Herons above the water the only time they move position on their box is when they are catching fish. Having to move is time wasted, everything they need is to hand. The most frequently used gear, bait, and tackle is just an arm's reach away.
One of the things you'll be reaching for often is handfuls of groundbait. Having to reposition, turn around or even bend down is energy, and time, wasted. A groundbait bowl and hoop isn't the most technically advanced piece of kit, but it reduces the effort required to perform a regular task, and in our book that's a very good thing.
The best groundbait bowl and hoop will have the following: It must be big enough to hold as much groundbait as you need, without requiring constant 'topping up'. It must be wide enough for you to get your hand in and out easily. Another key feature is that it is effortless to position. Finally, it must be durable and easy to clean.
Based on the above we've gone through the list and assembled a handful of the best groundbait bowl and hoop sets, so that you can get an easy grasp:
Best Groundbait Bowl and Hoops
Best for beginners
Easy to position, wherever you like
Solid construction
Wide 23cm bowl
We like this, a lot. As the name suggests the setup is adjustable and universal. It is easy to move and place in an optimal position and will fit on absolutely any frame, box leg, or bank stick. The bowl and hoop are both well made and durable. This would make the ideal solution for those new to fishing. When it comes time to upgrade your box, you can take these accessories with you.
Best for multiple baits
Dual set
Large and small bowl
Rigid hoop, no sagging
The Preston Offbox 36 range of accessories are new and revolutionary. They offer universal fitting for frame sizes up to 36mm (hence the name). Customisation is a key feature, and all the products come with 3 different mounts to ensure a tight and secure fit. Two hoops and bowls allow you to have two baits within easy reach. You can have your hookbait in one and your groundbait in the other. This set would make a great choice for anglers who like to mix it up.
Best quality
Fixed at two points
Vertical or horizontal mounting
Fits a range of frames
This isn't the cheapest option on our list, but you'll never need to buy another. The dual mounting points give solid fixed stability. You have the option to mount it either horizontally or vertically so it will fit pretty much anywhere (provided you have room). The wide and deep lime green bowl is easy to see and reach into. This setup would suit an angler who is going to be fishing on a very regular basis.
Best space saver
Anti-snag mounting
Smart design
Space-saving
Preston is telling the truth when they added 'innovations' to their name. This is seriously clever. This 'bowl' is basically a round groundbait bag suspended on a round frame. The mounting system should fit most frame sections. The best bit is that it folds down into a flat pancake, making it the ideal solution when space is at a premium. If you like to travel light or already have a nearly full box, this is well worth considering.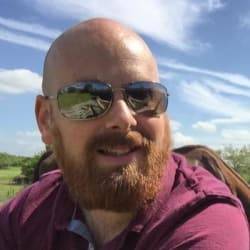 Mike has over 30 years of fishing experience in carp fishing and general coarse fishing. He is always looking for the latest fishing kit to try out and talk about and needs a bigger shed due to all the fishing tackle he owns. You can read more about him here.