The ideal fishing setup is one where everything is within easy reach. An organised angler will out-fish those around them. Part of being organised is having or making the space to ensure that you have what you need around you. A fishing seat box doesn't always present the ideal space to make this easy. Often what you need is located underneath where you are sitting. So what's the way around this?
If only we could add shelves and trays to our box so that we have a 'fishing workstation' creating all the space we need to put frequently used items? Well, the good news is that you can. There are lots of different solutions to extending your horizontal surfaces around you. The use of a side tray or two will mean you will have plenty of space to work from.
The best side tray for fishing needs to be stable above all else. If there is any sag or it tips then you are going to end up frustrated (and probably feeding the geese instead of the fish). Additionally, you want to be able to customise its location based on your seat geometry. It is down personal preference, but you should have the ability to set the tray to exactly where you need it. The ability to change its orientation to account for any slope on the peg is another big plus.
Other nice features are lips or grippy surfaces to prevent anything you put on there from sliding or rolling off. Some brands offer little 'extra' luxuries such as covers to prevent your stuff from getting wet in inclement weather. A nice guide to go by with regards to strength is to look for the number of contact points on the side tray. As a general rule of thumb the greater the number of contact points, the more stable the tray will be. Another feature to pay attention to is legs. A leg takes some of the stress off the fixing point and ensures your tray can hold heavier things, and means it will probably last longer too.
We've prepared a list of some of the best fishing side trays. We've had a good look at them and will explain some of the benefits and key features, along with our recommendations based on budget and ability. Let's have a look…
Fishing trays without legs
Best large all rounder
Black
49 X 43cm
Lightweight aluminium
Strong construction
Fits seatbox legs up to 25mm
This particular fishing side tray is strong and sturdy. It features a perforated surface so any liquid that makes its way onto your tray drips straight through (unfortunately we found out that this is also true of split shot and hooks). This tray is a simple and effective solution. The tray is also available in a plastic version which is fully sealed, so if you are worried about the holes this may be a better option. It can fit to most seatbox legs or a bank stick. As it has only one point of contact we wouldn't go too heavy. One minor pitfall we can see is that there isn't a way to alter the angle of the tray, so if there is a slope on your leg or bank stick then your tray will have the same slope. All that said, it does have a substantial lip on the rim, so your things will stay safe and secure.
Best combination bait tray
Blue
37 x 37cm
Durable plastic
Adjustable
Two maggot boxes
This side tray is slightly more specific in its role. As a bait holder it is pretty decent. The two maggot boxes fit perfectly into two 'holes' in the tray, allowing you to be super organised. The actual surface of the tray is moulded plastic, mounted at the edges, and probably wont be strong enough to hold a wet landing net. Due to the moulded shape you are limited in what you can do. The way we would use it is to have two different baits in your boxes and use the remaining part of the tray for groundbait.
Best for Tronixpro only
35 x 25cm
best for
Black
Plastic
For Tronixpro seatboxes
Simple construction
This tray is only for use in conjunction with the Tronixpro box series. It clips to the insde of the seatbox and provides a nice platform for bait or a few lighter essentials. Due to the nature of it's attachment you are not able to alter the height of the tray.
Strongest single point fishing side tray
Black
49 x 30cm
Lightweight construction
Aluminium
Central support
Whilst this tray has a single point of contact, it is seriously strong. The support arm is fixed all the way along the centre of the tray. With a solid lip surrounding the usable surface your things won't be going anywhere. One feature that we really like is the corner drain holes. It means that smaller articles aren't going to 'slip through the gaps'. It also reduces the risk of inadvertently hooking the tray when you are baiting up.
Best specialist fishing tray
Black
43 x 39cm
Two shelves
Small footprint
Easy to mount
Now we are getting serious. With this tray you are really getting two for the price of one. A clever shelf system allows you to be super organised and gives you plenty of room. The tray has two moveable extra strong knuckles, so it will be pretty stable. The lower tray has a mesh surface giving excellent drainage. Aside from giving you more space when you are fishing, because the tray folds, it also reduces space when you need to store it.
Fishing trays with legs
Best budget large fishing side tray
Black
54 X 46cm
Legs included
Perforated mesh surface
Universal fixing points
This is a large and stable platform. It comes supplied with two legs, meaning three points of contact and plenty of strength. Whilst the tray is bigger and heavier than single trays, the grated base should reduce some of the weight. The tray is big enough to allow you to perform most common tasks whether that is getting a nice selection of groundbait assembled, loading up a feeder, or just having somewhere to put your cup of tea. The tray comes with two sliding attachments so you can alter the height at which the tray is presented.
Best budget fishing side tray with cover
Blue/Black
65 X 45cm
Strong aluminium
Cover included
Universal thread
This side tray is slightly more fancy with some interesting features. It comes with its own adjustable leg. At the base of the leg is a moveable foot, making it suitable for uneven terrain. The single leg gives two points of contact so there shouldn't be any 'flex' regardless of how you load it up. The tray is quite versatile, you can fit it to legs up to 36mm. The interesting part about the tray is that it comes with its own cover. Whilst rain can be an issue, so can direct sunshine, especially when it comes to bait. Maggots in particular need to be kept cool and this will prevent your bait from either dying or drying out.
Best premium fishing tray
Black
64 x 72cm
Large fishing side tray
Adjustable lid
Eva material
This fishing chair side tray definitely gives a lot for your money. Aside from having a durable and weatherproof lid to have the added bonus of being able to use the top. The only downside that we can see is that you would need to remove whatever was on top if you want to access what's inside. It's a compromise however, Preston have come up with some really decent gear and it's always very well made. This side tray has nearly all of the features we liked in the other trays. It has three points of contact, an adjustable leg (complete with moveable foot). One hidden feature is that the lid has pockets on its underside. Perfect for storing floats, disgorgers, and other gadgets.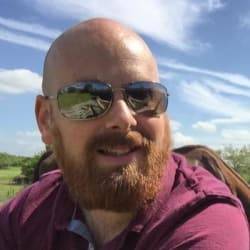 Mike has over 30 years of fishing experience in carp fishing and general coarse fishing. He is always looking for the latest fishing kit to try out and talk about and needs a bigger shed due to all the fishing tackle he owns. You can read more about him here.