Are you tired of having a numb bum while fishing? Is your seat box causing you to walk all funny after a few hours on the bank? Does your seat box make you walk like Mr Wayne? Well, then you need a seat box cushion! Having a seat box cushion is a game changer! Firstly, if you do a lot of match fishing, you need to concentrate on that match! You do not need to start shifting around on your box because your butt is going numb! If you're shifting around, your bait may be shifting around, and you might be losing fish because of it! Yeah, that's right, we're claiming that a seat box cushion could just help you catch more fish!
Okay, that might not be true. However, seat boxes can be really uncomfortable. When I fish, I want to enjoy myself, and no one enjoys a numb butt sat by a lake! So, having a seat box cushion brings joy back to my fishing. It keeps me on the bank for longer too, so perhaps a seat box cushion does help me catch more fish!
Buying a cushion for your seat box is also a fantastic way of not spending a ridiculous amount on a seat box too! To get a comfortable seat box, you're looking at an investment. While cheaper seat boxes make your butt numb. At least, they did until you came across this seat box cushion article!
Best Seat Box Cushions
This is a waterproof, insulating cushion that is made to fit on loads of different fishing boxes. In fact, this seat cushion is just made for outdoor use, us anglers have just stolen it from boaters because of how comfortable it. It is an anti-slip cushion too so you won't fall off your fishing box when you get into a fish. It also has a fashionable design, so you'll look like you've just stepped off the runways of New York or Paris as you sit on the bank waiting for a bite!
This padded seat cushion, once again, fits all kinds of seat boxes and is actually designed for the job. It has a high-density foam inside so it's very kind on your backside. The outer layer is waterproof too, so your bum doesn't get wet when using this seat box cushion. However, it also has a pole retainer. The pole retainer is a lovely touch, and it does work with a rod too. This will keep your butt warm, dry and comfortable and retain your pole too! That's a mighty fine fishing box cushion if you ask me!
We hope one of these seat box cushions is suitable for your fishing box. There's no need to thank me, your butt already has! Now, go forth and fish for hours without any numbness at all! Your fishing enjoyment is all the thanks I need! Do come back and check out the rest of our fishing articles, though. We have even more fishing accessories that can help your fishing. Perhaps none as important as seat box cushions, but they are still worth a read!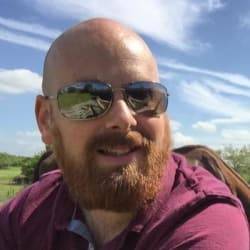 Mike has over 30 years of fishing experience in carp fishing and general coarse fishing. He is always looking for the latest fishing kit to try out and talk about and needs a bigger shed due to all the fishing tackle he owns. You can read more about him here.