We all love a cuppa when we are after carp, especially when the weather is cold. But in order to get your kettle boiling, you are going to need the best carp gas stove that you can get your hands on. We are going to show you some really great ideas to ensure you can brew up wherever and whenever you like, and then talk you through what you need to look for. Ours is two sugars… Let's go.
Fox Cookware Heat Transfer 3200 Stove CCW011
Saber Turbo Gas Stove SCW1
Odoland Camping Cookware Kit, Outdoor Cooking Set Non Stick Pot and Pans Lightweight Backpacking Hiking Utensil Gear for 1 to 2 People Traveling Trekking and Camping, Stainless Steel, Green
Fox Cookware Heat Transfer 3200 Stove CCW011
Saber Turbo Gas Stove SCW1
Odoland Camping Cookware Kit, Outdoor Cooking Set Non Stick Pot and Pans Lightweight Backpacking Hiking Utensil Gear for 1 to 2 People Traveling Trekking and Camping, Stainless Steel, Green
The Top 8 Best Gas Stoves in 2022
Best Compact Stove for Carp Fishing
If you are looking for something solid and stable, this could be the stove for you. Three steady legs will keep your kettle or pan on an even keel.
The best bit is that you won't need to waste time looking around for a lighter, just press the ignition system switch under the burner and you are underway.
It will work well with both butane or propane.
It is easy to transport too, the folding legs of the stove fit flush with the body making it ideal for stowing in the corner of a carry bag.
Weight: 320g
Colour: Black
Power output: 3200w
Best Budget Lightweight Carp Fishing Stove
For an ultra-lightweight stove you won't go wrong with this choice. It weighs in at just 210g making it the ideal choice for weight saving.
The stove is rather minimalist and actually looks pretty space age. Whether you have it deployed or tucked away, it doesn't take up much room.
The power output of this stove is really good, especially considering its size.
A feature we really like is the included orange carry case. Often you want a brew when it's dark and gloomy, so this will be easy to locate amongst the rest of your tackle.
Weight: 210g
Colour: Silver
Power output: 3000w
Best Budget Cookware Set for Fishing
Ever heard the phrase 'everything but the kitchen' sink? This is what they were talking about. But don't worry, a lot of gear doesn't mean you'll need much space, especially with this. It consists of ten pieces!
It's an all in one solution.
You'll have everything you need to ensure you are catered for the day. It includes; a stove, two pots, a cutlery set, a bracket, a mug a protector and two carry bags! For the money that's a lot of gear!
Whether its brewing up or frying up, you'll be covered.
Weight: 620g
Colour: Silver/Grey
Power output: 3200w
Best Budget Windproof Stove for Fishing
If the wind is blowing, you'll want something that is windproof, with the necessary output to still get your kettle up to speed. This stove fits the bill
The output and efficiency of this stove is second to none. The flame is sheltered by an included protective shroud meaning that it is immune to gusts.
This foldable unit comes with two different types of connector as standard, so should burn whichever gas you can get your hands on.
It isn't the lightest of our range, but it makes up for this with rock solid performance.
For the money it is a really great stove.
Weight: 380g
Colour: Silver/Orange
Power output: 3500w 
No products found.
Best Compact Stove and Cooking Set for Fishing
It isn't all about cups of tea. If you are planning a proper session you are going to need to eat too. If you want your own highly portable kitchen inside your bivvy, this could be the solution you've been looking for.
Aside from a rock solid and eye-catching stove, you'll also find a sizeable cooking pot and a small pan to go with it if you choose this set. The pans have great build quality, and the best bit is that they have silicone coated handles, so no burnt fingers!
When the kit is not in use it slots together so is as compact as possible.
Other features include a push button igniter, a control knob to ensure perfect cooking temperature and an insulated sleeve to keep the contents of the cooking pot nice and warm whilst you tuck in.
Weight: 540g
Colour: Green/Grey
Power output: 3000w
Best Premium All in One Stove and Cooking Set for Fishing
NGT make gear for carp fishermen, so you just know this is going to be good.
You have various options with this kit. We'll be honest, if you take the lot to the swim it is not the smallest. But the kit is designed to give you everything you need as a portable catering solution. The good news is it comes in a custom-made carry bag… And includes a tea towel!
In this kit you'll find plates, cutlery, a decent sized kettle, a stove, and a couple of mugs.
The output of the stove is more than enough to get your water boiling in next to no time, and it folds up to be super compact, so you could even take it for shorter sessions.
Weight: 220g
Colour: Gunmetal
Power output: 3000w 
Our Top Pick
Best Carp Gas Stove
As all in one solution go this Coleman stove one of the best stoves for carp fishing that we have seen.
The output of the stove isn't the highest, but that shouldn't matter. Provided that you use the supplied cooking pot, you'll be able to get your water up to temperature in the region of 5 minutes! And you'll save gas whilst you do it.
As windproof gas stoves go, this is right at the top of our list. It's specially designed to be used in all conditions and shouldn't let you down.
A really clever feature is how compact this unit is. When you are transporting it, the pot doubles up as a carry case.
Weight: 490g
Colour: Red/Silver
Power output: 2200w 
Best Lightweight Stove for Fishing
This stove is the lightest on our list. But it's still mighty when it comes to the flame department with a wide and strong flame.
When it is not in use the burner folds flat for storage.
It isn't windproof on its own, but you'll be pleased to know that to get around this, Optimus have included a shroud which will clip neatly around your gas bottle for ease of transportation.
Using the integrated flow knob, you'll be able to control the temperature perfectly.
Weight: 200g
Colour: Black
Power output: 3000w
Buyers Guide
As you'll have seen there is a lot of choices when it comes to the best gas stoves. But to make the best choice, there are a few things and some information you need to know. Let's have a quick run-through.
You'll need to consider:
The Best Size of Gas Stove for Fishing
Space is a key area that you will always need to consider, or you'll spend more time carrying gear than you will fishing. Look for models that fold down, or are at the very least compact in order to save space in your bag.
Power Output
It could be argued that the higher the power of a stove, the better it is. Well, yes and no.
Why do we say this?
Well for a start a high-power output leads to higher gas usage, which is going to cost you. Anything from 2000w – 3500w is more than enough. Often lower-powered stoves are better, provided that they have a tight-fitting pan or cooking pot supplied to ensure that the heat isn't dissipated.
Weight of The Best Fishing Gas Stoves
A few grams here and there actually makes the difference, especially if you are carrying lots of gear. Lightweight carp stoves and all in one solution are the way to go as they save weight and space.
Stability (Low Centre of gravity)
There's nothing worse than making tea when on the bank, only for your stove to blow over at a critical moment. Look for carp stoves that have stable legs, a low centre of gravity) or have a decent sized pan holder to avoid this happening.
Other Features
A degree of wind proofing is always good to see on the best carp fishing stoves. It ensures that your flame stays lit, whilst also allowing the heat to go straight up into your kettle.
Other things you might want to consider, especially with all in one carp fishing stoves are things like handles and covers. They will stop your hands from being burnt and also keep the contents of your cup or pot warm.
FAQ
What Is the Best for Fishing?
Well having consulted our carp fishing stove buying guide, we'd have to say that we really love the Coleman PCS Stove. It is stable, windproof, really efficient and it is easy to use. With all of these features, you won't need anything else.
Which Gas Do I Need?
Carp Stoves run on different fuel. Normally a Butane gas bottle, Propane or a mixture of both. Provided that your adaptor fits the gas bottle, you can use whichever gas canister suits. If you are unsure, look for a stove with multiple adaptors which will fit a wide wide range of gas canisters.
How is The Output Measured?
Stove heat output is measured in Watts, commonly annotated as a 'w'. It is fairly easy to understand. The higher the Watt rating, the hotter the flame burns. We recommend anything between 2000 – 3500 Watts in order to ensure that you aren't waiting an age for your coffee.
In Summary
The best carp gas stoves will be portable, lightweight and with enough firepower to heat water relatively quickly. Additional things such as plates and included cups are always nice too. There's nothing nicer than a brew whilst on a carp fishing trip, especially when the bites are slow. Now, where did we put the biscuits…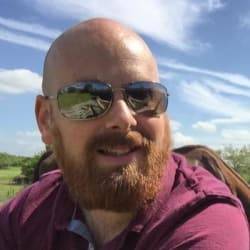 Mike has over 30 years of fishing experience in carp fishing and general coarse fishing. He is always looking for the latest fishing kit to try out and talk about and needs a bigger shed due to all the fishing tackle he owns. You can read more about him here.