A good carp fishing stove is a valuable tool to be found in the kit of every avid angler. If you are one of those outdoors loving, nature craving, camping angler, and you enjoy long weekends besides the water, than having one of these fantastic portable stoves is a must! Whether you are in your camper, a bivvy, or simply want to enjoy a hot cuppa besides the lake, a stove will surely come in handy. With our latest guide, we are presenting you with the finest portable carp fishing stoves that you can find on the market. We've made it easy for you – simply explore our list and you are bound to discover your personal favorite – the best stove for carp fishing. Here it goes!
Best Sellers
Carp Fishing Stoves (Some Great Choices)
1. Lixada Camping Gas Stove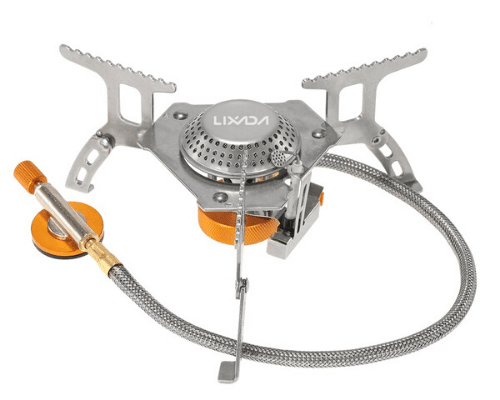 When a fishing gas stove is considered, portability and size are a big deal. And with Lixada gast stove, you really can't get better. This small, portable, and highly efficient stove is perfect for a quick brew by the water. Easily fitting inside the palm of your hand, this portable stove can be hauled in your backpack without any fuss. Quick to set up and connect, you can have it fired up in no time. Sporting a smart, tripod design, it is fully modular and can be folded easily. An interesting aspect is the separate gas tank, which greatly increases safety. It also incorporates the so-called piezoelectric ceramic ignition, making fire starting quick, easy, and safe. Affordable and efficient the Lixada camping stove is a definite recommendation.
2. Odoland Camping Cookware Kit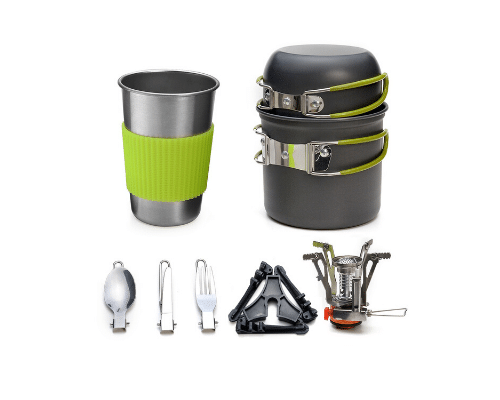 Odoland Cookware Kit is a true gem when it comes to camping and carp fishing gas stoves. This nifty kit comes equipped with all you might need for an outdoors cooking task. It comes together with 2 high quality, durable aluminum pots, utensils, a 16oz cup, and a carry bag. The utensils and pots are all protected for safe handling with insulated non slip handles and rubber grips. The whole kit is modular and fits together snuggly, taking a minimal amount of space in your backpack. It is easy to set up, and with the special holding base it is stable and safe. If you love camping and fishing in the nature, then you can't go wrong about buying this cooking kit.
3. NGT Carp Fishing Set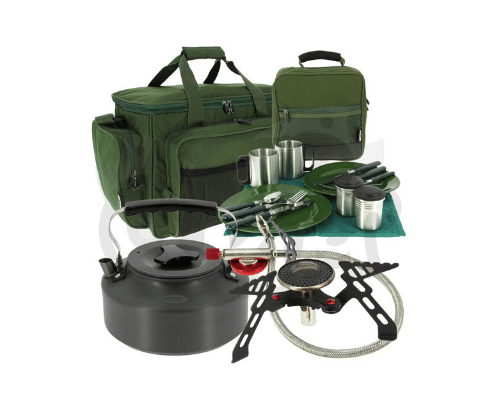 Well, if you ever decide to splurge a little, then this is the kit to go for. The ultimate outdoors cooking kit, it is perfect for long stays in the nature and carp fishing adventures. It comes with its own deluxe carry all bag, and it includes all you might need – cutlery, containers, mugs, a kettle, plates, a towel, and a stove! And all of it made in a deluxe, stainless steel design.
4. Fox Cookware Compact 3000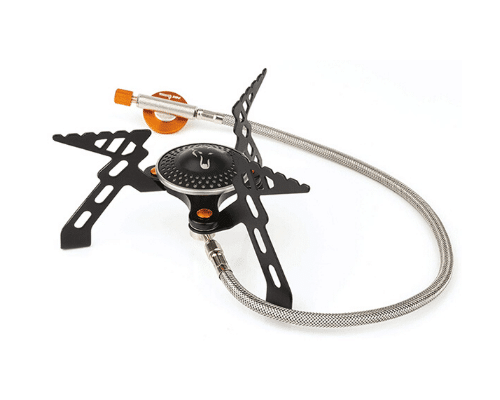 Fox is a renowned brand for all things fishing and outdoors, and their offer of a portable stove is a part of their recognisable quality. This simple and straightforward design follows the pre established guidelines in design, and boasts good quality of manufacture. It is a light, 220 grams, fully foldable tripod cook stove, and can easily fit in your backpack and even a jacket pocket. The gas cartridge is attached away from the flame source adding to safety. The whole stove is designed to be compact and light, without diminishing the strength and the efficiency. Just like any other Fox product, this is a great addition to any angling kit, and boasts good quality.
5. Highlander Blade 2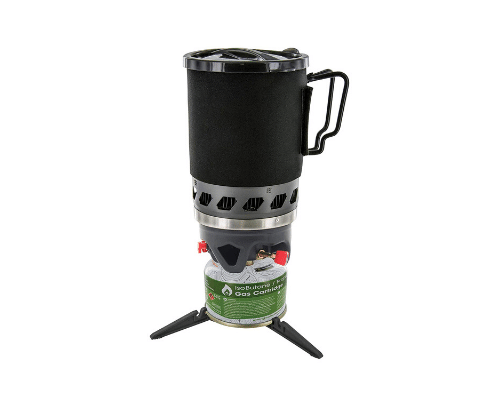 Fittingly named, the Highlander portable stove and cooking kit is a real good deal. Small and durable, this kit comes equipped with a  unique little stove, a 1.1 liter pot, a heat transmiter, and base pod. It features piezo lighting, and a durable, anodised aluminum container that comes with insulators to keep your food and beverages warm. Fitting easily into a backpack, this Highlander kit is a great item to take with you on a fishing trip. You can set it up in no time and have a cup of tea in no minute. And in the chilly autumn days besides the water, it can mean a lot.
6. Ridgemonkey Quad Connect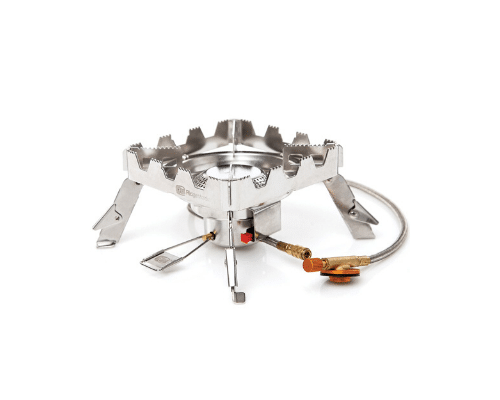 Ridgemonkey Quad is the latest offer from this trusted brand, and features a unique design that focuses on a square approach. The whole stove acts as a base and with the rectangular design you can rest assured it is going to be stable. Like most stoves nowadays it features the hose that separates the gas cartridge from the heat source and adds to the safety. A very stable and compact design, the Ridgemonkey Quad is everything an outdoors angler might want. Affordable and efficient it is more than suitable for most needs. With countless positive reviews, as well as the reputation and experience from the Ridgemonkey brand, you can be certain that the product you are getting will fit perfectly into the intended role. For those long weekends of angling, or camping by the lakes in the nature – this stove is the perfect addition.