Introduction
If you are fishing in the UK you can be sure that at some point, you are going to get all four seasons in one day. It would be a terrible shame to have to call it quits for a brief squall or summer shower, especially if you are catching. The solution is to have a carp fishing day shelter or brolly system. In this article we are going to take a look at a few really decent ones, tell you about their features and see which is the best.
Best Carp Fishing Day Shelters
Green
240 x 120 x 120 cm
Comes with groundsheet
Whether it's a bit bright, or more likely a bit dark and gloomy, this day shelter should have you covered, literally. At over 2 metres long you'll have plenty of room to keep the important things dry. And provided that you stay sat down, you'll be kept firmly under cover. The dome shape gives really decent wind protection from the sides, so if its rainy and windy you aren't going to get wet. The included groundsheet prevents water soaking into things from below, especially useful if there has been a bit of a deluge.
DPM/Camo
135 x 220 x 120cm
Groundsheet included
Well you'll stand out in this carp fishing day shelter… or you would if people could see you. The disruptive pattern material will ensure that you blend into any background, handy for wary carp on hard fished waters. There are pegs and guy lines included, this is good as the last thing you want to be doing is putting down your rod to chase a wayward day shelter. Whilst we wouldn't recommend sleeping in it, for a something lightweight and easy to set up this day shelter should be ideal in most conditions.
Olive green
50"/127cm
Light and portable
This day shelter has a few clever features that make it really stand out. If you like, you can just use it as a standard fishing umbrella. Now if you've ever used one, you'll have probably found that the pole gets in the way. With this clever system, you can get your shelter set up, then remove the pole completely. The structural integrity and wind protection is provided by two storm poles and side panels. This day shelter is lightweight and comes with its own slimline carry case that should easily stuff into a rod holdall or fishing trolley.
Olive green
75"/190cm
Pegs included
As fishing day shelters go, this is a pretty solid choice. As with some of our other offerings, this day shelter comes ready equipped with both guy lines and pegs, to keep it exactly where it belongs, on the bank and not in your swim. The pole on this fishing shelter system is not removeable, but it is adjustable, so you can get the tilt on the shelter just right to avoid rain or shield your eyes from the sun. A key area that can fail on umbrellas are the seams, fortunately Michigan have given them tape reinforcement to prevent water ingress and annoying drips. The ground spike and high side walls will ensure it is secure and dry even in strong winds.
Olive green
260 x 265 x 140cm
Huge capacity
Groundsheet included
This looks rock solid, and we are almost getting into bivvy territory here… But not quite. It's still lightweight and portable enough to make our list. 4 storm poles will keep the structure secure, regardless of the weather. They are made from lightweight and corrosion resistant aluminium, which is good as it will be getting a lot of use. If you want to bring the Mrs with you there's even room for her too! The capacity of this day shelter is huge. The 10,000mm nylon fabric will keep out the water, even in long showers. If it all gets too much you can roll the front of the shelter down, get warm and make a brew!
Conclusion
The things you want to look for in the best carp fishing day shelter are namely; a strong degree of water proofing, wind protection and the means to secure your shelter. Provided it satisfies these three things you can't really go too far wrong. Darker colours are obviously preferable as you don't want to be an eyesore on the bank, to other anglers or the fish. Whatever the weather, you'll be able to fish in it with one of these.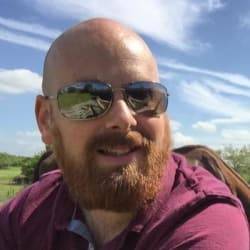 Mike has over 30 years of fishing experience in carp fishing and general coarse fishing. He is always looking for the latest fishing kit to try out and talk about and needs a bigger shed due to all the fishing tackle he owns. You can read more about him here.