Some moments we love when fishing; Warm evenings sat outside the bivvy with a bottle of beer. Watching a float gently dip below the water. Seeing a monstrous carp sip a dog biscuit off the top. Catching a personal best.
Some things we don't love; traipsing miles with 60kg of tackle on our shoulders. There must be an easier way? Well, the good news is, there is! Of course, you can go down the conventional 2 wheel fishing trolley route, but for that added comfort you could let the trolley do the hard work for you by using a motorised fishing trolley. Electric fishing trolley manufacturers have gone down a similar route to their brethren in golf and realised that the less energy expended carrying the gear, the more energy you will have to actually use the gear.
The best-motorised fishing trolley will have several key features. You want a battery that will last, but doesn't add too much to the weight of the trolley. For that reason, straight off the bat we are going recommend a 12v electric fishing trolley. This is a happy compromise between weight and endurance. Even more so than in our 2 wheel fishing trolleys, you will need decent wheels and tyres. The motorised fishing trolley will be doing the work, so it needs a good grip on any terrain.
To prevent you being driven round the bend we have come up with a few suitable suggestions to get your gear down to the peg with absolutely minimum effort
Best Electric Fishing Trolleys
Unbelievable weight bearing capacity
Seatbox incorporated
Stop and fish
This beast packs a lot of punch for a 12v electric fishing trolley. If we asked you to guess how much weight this powerful trolley can move, we bet you wouldn't say over 1500kg! Pretty impressive for something that only weighs 14kg. The motor is powerful, providing a huge amount of torque, it will go up the steepest hill with no difficulty. This system is super easy to use. You drive to the peg, get your self positioned, unship the front and rear wheels, and your seatbox is set up and ready to go.
Made in the UK
durable and weatherproof
4 hour endurance
There is a lot to love about this little workhorse. If we were giving awards, this would definitely win 'best electric fishing trolley UK'. Aside from the extra thick chunky wheels and huge carrying capacity, this beast has some nice additional features, including two 12v power outlets, so if you are there for the day you can charge electrical accessories (or even brew up). The trolley can be fitted with an optional panel kit that allows you to fold it down into a flatbed, almost doubling the carrying capacity.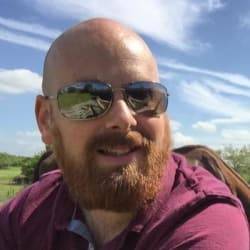 Mike has over 30 years of fishing experience in carp fishing and general coarse fishing. He is always looking for the latest fishing kit to try out and talk about and needs a bigger shed due to all the fishing tackle he owns. You can read more about him here.