Every good fisherman knows the kit he or she needs, and that extends well beyond the rods, reels, line and bait. Some of the best fishing spots are, after all, off the beaten track, and they may not be reachable by car.
What you need is a rucksack with plenty of capacity, compartments for all the fishing tackle you carry with you, and one that is rugged, well-made and not too heavy to become your main carryall. Let's have a look, then, at the best ones we could find on the market right now for your angling.
Best Sellers
Best Carp Fishing Rucksacks (aka Ruckalls)
1: NGT XPR Rucksack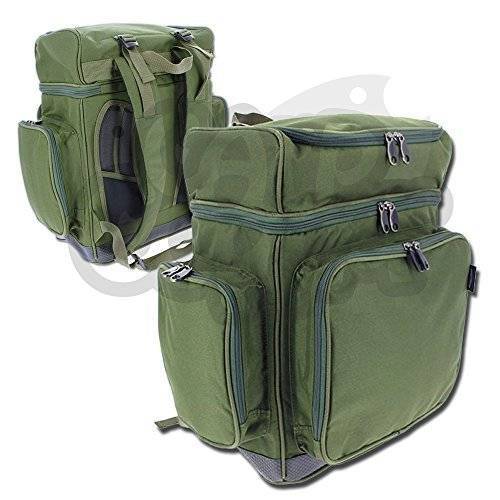 Our first example comes from one of the leading brands in the fishing gear and accessories world, NGT. They offer a comprehensive range of products that are all of high quality, and this is no exception. It is made from durable and tough waterproof material and is fully-padded for added comfort – great for those long walks between spots.
In total, this offers 50-litres of capacity, and that comes via the large central compartment (33litres approx.) and a series of external pockets and sections that are perfect for all your accessories. It's a very nicely made roving rucksack that has fully adjustable straps, and comes at a sensible price from good maker.
Key Features – large capacity, known brand, plenty of pockets, fully padded
2: TFG Ear Banshee Rucksack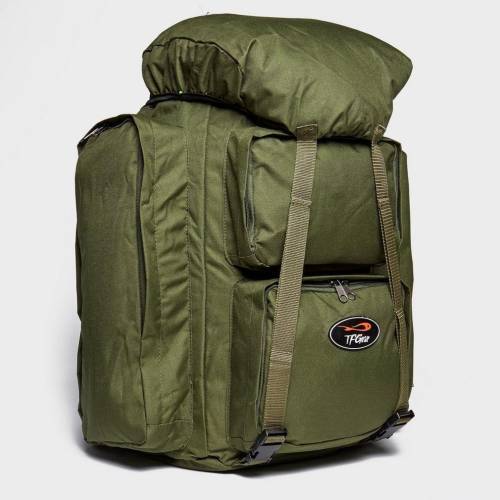 This is very neat and well-made and comes highly recommended by customers who all comment on its value for money and quality. It offers around 40-litres capacity in the main central compartment, and also has a series of external pockets for added versatility. The materials is lightweight but strong, and waterproof, and it is very nicely put together.
You get fully padded, fully adjustable straps for comfort and fit, and while it offers great capacity it is also surprisingly compact, measuring just 62x45x49cm, and weighing just 1.6kg. This one is a perfect fisherman's rucksack and will make those long walks a lot easier, and at the price may well be hard to beat.
Key Features – compact, light, durable, spacious, plenty pockets, padded
3: Riverside Outdoor Camo Rucksack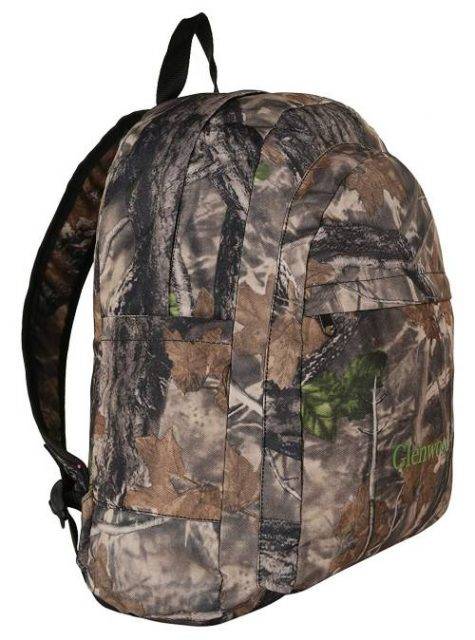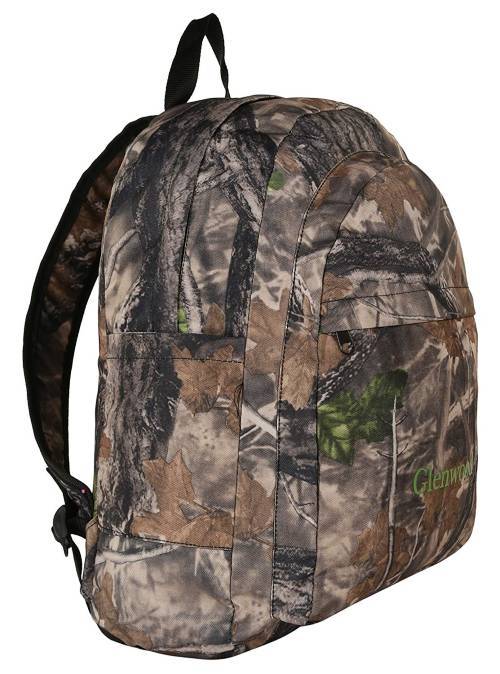 Promoted as being suitable for shooting or fishing, this features a camouflage design that will appeal to those who want something other than the usual green or brown finish. It's a neat and very cheap model, but that doesn't mean it lacks in merit. It's made from strong and waterproof material, comes with padded and adjustable straps, and will do the job of carrying kit and accessories very well.
This one has a sizeable – if not as large as the above – inner compartment, complete with zip fastening, plus three further outside pockets. It measures a very compact 48x42x16cm, so is smaller than those above but still large enough for practical use, and it also features a useful carrying handle. In short, it's a very practical, smaller-sized and cheap rucksack that will appeal to those looking for one for occasional use.
Key Features – compact, large inner section, 3 zip pockets, padded, camo finish
4: Noorsk Rucksack with Cooler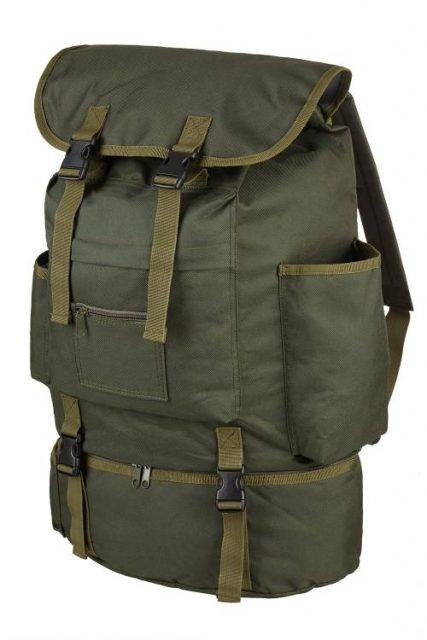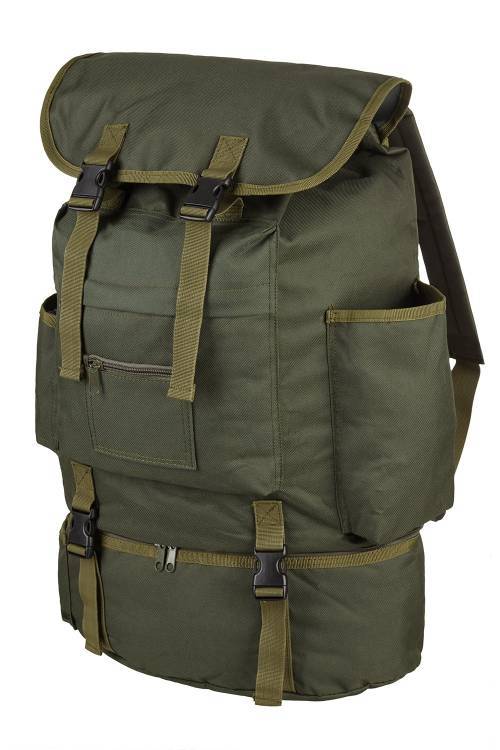 This bag from Noorsk, comes with the additional attraction of including a cooler compartment. Lined with silver foil, this section is perfect for keeping your drink and sandwiches cool, while the rest of the compartments are more than suitable for carrying your accessories and other gear. It's a nice-looking bag that is finished in the usual dark and neutral brown, so will not stand out!
You get a large internal compartment plus four other external pockets – great for fitting in everything you need – and padded straps that are fully adjustable. It is made from very strong, waterproof and durable polyester so will be able to withstand rugged and frequent use, and it is a decent size at 60x45x20cm. In short, this is a serious fishing product at a very affordable price, and certainly one for the shortlist.
Key Features – cooler section, rugged build, inner space plus 4 pockets, padded
5: Roddarch Seat Box and Rucksack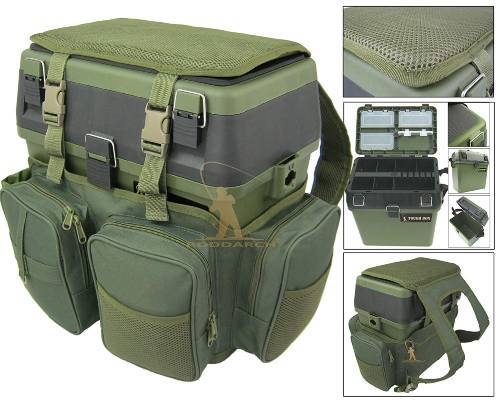 If you want to get serious, this could be the one for you. It's from Roddarch, who offer a wide variety of fishing gear and accessories, and it combines a rucksack with a box that doubles as a seat, in one neat package. The seat box itself features an array of handy tackle compartments, is made from durable ABS, and is accessed easily and quickly by quick-release straps that separate it from the bag.
It also offers a further selection of compartments, including a large central section and many secure external pockets, and comes made from highly durable, fully waterproof nylon that will last a long time. You get fully padded shoulder straps, and a seat that can take up to 20-stone in weight. This is one for the experienced angler who wants to be able to take everything to the river bank, and at the price we believe it is an absolute bargain for such a comprehensive item.
Key Features – rucksack and seat box, plenty compartments, tackle box, quality
6: Eyourlife Tactical Backpack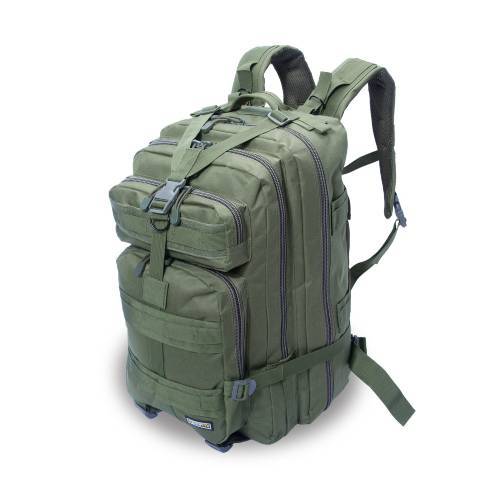 This very nice, top quality backpack offers something that others might not; it's made from military-grade material that is designed to block out certain radio signals, so nobody can use your phone to pay for stuff when it's in there! We're not sure how that applies to the angler, but it's a neat extra. This is a 40litre backpack, so is perfectly sized for fishing, and comes with one major internal section plus a series of external compartments, including a hidden pocket for valuables.
It is very nicely constructed and will be suitable for rugged use over long periods, comes with fully adjustable and padded straps for comfort, and measures 50x30x30cm, so is compact yet usable. It also has a handy carry handle on top for short moves. All taken into account, this is a quality, very strong and well-made and that will provide you with plenty of capacity and last a long time.
Key Features – rugged, military grade, plenty of compartments, adjustable, padded
7: G4Free Tactical Backpack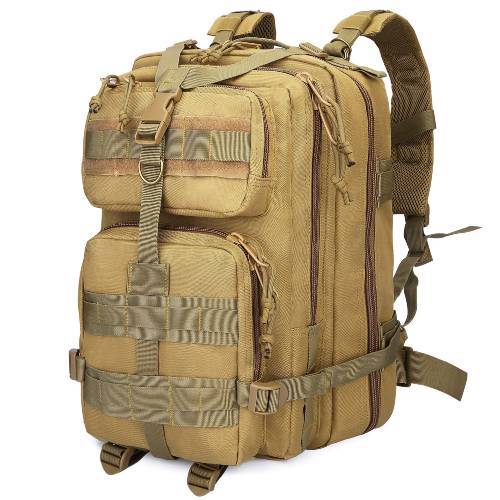 The last on our list is this one, another military-style backpack that has plenty of appeal. This one is made from the desirable 600D polyester that a few of the other quality items use; this provides impressive strength and waterproof qualities, and means you get a rucksack that will withstand rugged and regular use, and that will give you a long life. It's finished in desert-style colour scheme, which is a bit different!
You get the usual large internal space – it's claimed at 40litres – plus plenty of external pockets. There's also a hidden pocket for valuable items. It comes with fully padded, adjustable shoulder straps, and is surprisingly compact for a bag of this size and type. Like all the better models, it also has waist straps for added versatility and comfort.
Key Features – well-made, military style, lots of space, padded, adjustable, strong
That's our list of the best fishing rucksacks, so before we try and give you a verdict, let's check out some of the features we've mentioned that you may want to look out for when choosing the one for you.
Important Features to Consider for Ruckbags
Size – most of the above offer around 40-litres of capacity and above, usually split between a main compartment and a series of external pockets.
Comfort – you may be wearing your rucksack for a long walk, so look for one with padded, adjustable shoulder straps, and preferably waist straps too.
Durability – you want a rucksack that is made for outdoor use; all the above are, but be aware that some are more rugged than others.
Other Features – beyond the basic rucksack, you might want other features; one of the above comes with a tackle box that doubles as a seat, another with a cooler section. Some come with straps to help attach other items such as unhooking mats.
That's about it for our selections, so which is for you? Let's have a look!
Our Verdict
The selection of rucksacks we have chosen covers all the bases, so choosing one is not necessarily going to be easy! We will say that all of these are available for around £30 or under, so the price is not going to be a deciding factor.
We have a couple of favourites; although cumbersome, the Roddarch model – number 5 – combines a rucksack, tackle box and very handy seat in one package, and will serve very well indeed as it is a dedicated fishing rucksack. If you just want the bag, then any of the others will do the job, but we like the Noorsk bag – at number 4 – which although not the biggest, comes with a very handy cooler section that will be appreciated on warmer days.
Read through again, make your choice, and invest in an affordable, usable rucksack that will make your fishing trips easier and more manageable.