A small extension to your current fishing rod, a quiver tip is designed to do precisely that – quiver each time a fish bites!
Simply attached to most fishing rods, these are flexible extensions that many anglers like to use in place of items such as float alarms or electronic bite alarms.
A quiver tip rod setup is perhaps the easiest of tasks to perform! These accessories are designed to fit neatly on the top of your current fishing rod. Therefore, they take just seconds to set in place and then remove when you've finished fishing.
Fishing with a quiver tip rod allows you to fish in calm conditions, still waters, rivers flowing at different rates, distance fishing, rougher conditions, and perhaps even in flood conditions. This is all however dependent on the tip rating you select and therefore its strength.
Weather conditions and the size of the fish you're after tends to dictate which quiver tip you require.
Best Quiver Tip Rods (Some Choices)
Here we look at five of the best quiver tip rods currently retailing on Amazon, and which all do a fantastic job to help you with your coarse fishing.
1. 11ft Hunter Pro Feeder Rod Complete with Quiver Tip Rod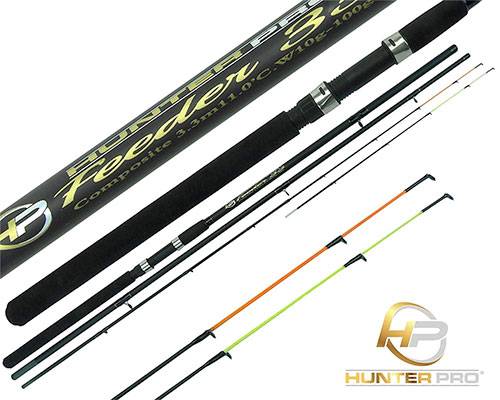 This is a composite feeder rod with twin tips that also comes complete with its very own cloth bag for safekeeping. The quiver tips are finished in a Hi-Viz orange and yellow.
Boasting an EVA handle type, the rod also benefits from screw reel seats which are brushed in aluminium. Therefore, the construction of this rod is reliable and durable.
Best of all, the rod only weighs a mere 260 grams, this is due to its composite construction.
The rod is also superbly finished to look great when casting out because of its anti-reflective matt black finish.
With a casting weight of 10 grams to 100 grams, this is a progressive action model type.
Offering perfect visibility in those darker of conditions and any background, this rod is suitable for all sizes and indeed species of fish.
Customers of the Hunter Pro find this a great choice, especially considering the low cost, but also as a rod which offers more variety by use of the two tips.
2. 8ft Shakespeare Xcede Fishing Rod Quiver/Feeder


Shakespeare offers a fantastic 8ft quiver tip rod which they consider an ideal choice for a range of fish sizes and types.
With the quiver tips finished here in a bright green and orange colour for ensured visibility, this purchase is a quiver/feeder rod which comes complete with an extra spare push-in tip.
The casting weight of this rod is 10 to 40 grams, with a maximum line of 6 Ibs.
Also included here is a cloth bag to keep the rod and indeed quiver tips safe and secure when not in use.
Customers of the Shakespeare 8ft Xcede give some high rated reviews about this with many claiming it to be a sturdy and nicely balanced rod that does all it needs to do and more – and all for a low price.
3. Oakwood Shakespeare Fishing Rod and Quiver Tip Combo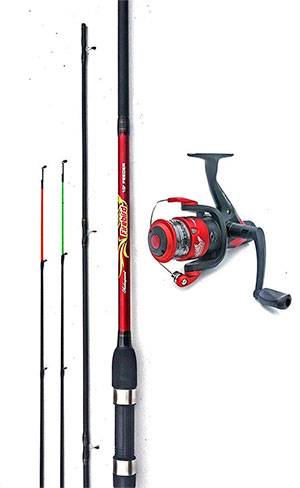 Another Shakespeare model, this time it's the Oakwood Shakespeare fishing rod with quiver feeder and ledger. This also comes complete with a reel combo and line.
Once again, the two tips here are vibrant in colour for better visibility all-round and are finished in green and red.
This is a brand-new model to the market and one that is 8ft in size.
A firebird feeder rod, it also consists of a reel and line two-piece rod carbon composite medium action.
A lightweight model, the accompanying reel and line is 8 Ibs and can be used as left- or right-hand regarding wind rear drag.
This purchase does not, however, come complete with a rod bag.
Customers of the Oakwood Shakespeare fishing rod find this a very well-made type which offers excellent results and is a great value buy.
4. Daiwa Ninja Feeder Fishing Rod with Quiver Tips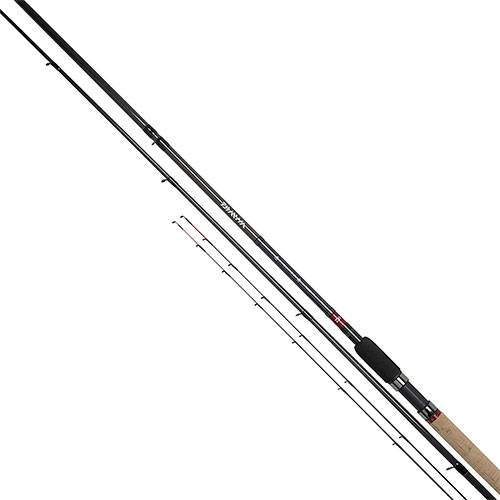 Daiwa presents a feeder fishing rod which is available for purchase in four sizes.
With the ability to select from 10, 11, 12, and 13-ft models, these are all supplied with two tips.
Claiming to serve those commercial and wild water anglers simultaneously, the selection of sizes ensures there's a rod choice for all angling techniques here including that of method distance fishing.
With each rod encouraging all modern feeder techniques, they're also capable of catering to the more traditional of swim feeder tactics in the process.
Whether it's fishing in rivers or still waters, these are claimed to be the best all-round stainless-steel framed rods.
Boasting a lightly balanced carbon black, cork handle and EVA rear grip, the 10, 11, and 12-ft rods also provide users with a two-section assembly process.
Customers of the Daiwa quiver tip fishing rods find them the smoothest of action type rods with the quiver tips of exceptional quality. Believing their construction makes fishing a more pleasurable experience, they're considered the lightweight of models and worth the increased cost.
5. John Wilson Avon Fishing Rod with Quiver Tips


The John Wilson Avon Fishing Rod with Quiver Tips is a five-piece purchase.
This is an 11-foot rod choice which has been continuously redeveloped to ensure the most versatile of fishing rods on the market.
One of the better quiver tip rods for carp choices, this is also ideal for using with tench, chub, and roach.
Utilizing a silicone carbon material, this purchase also offers a practical hard case to place both rod and accompanying equipment in.
Best of all, this comes with three tips brightly coloured with yellow, pink, and green finishes.
A costlier purchase here, this price certainly reflects the brand name and superb quality of the rod and set.
Customers of the John Wilson fishing rod claim this is a powerful industrial rod type which copes well offering some fantastic catch results in the process. It's also considered an ideal travel rod, due to its case and additional pieces.
Final Thoughts and Things To Consider
Quiver tips are the perfect accompaniment for a standard fishing rod and set up, making them ideal companions for almost any angling session. As a kid I used to love using this method on the river, catching Barbel and plenty of Bream. It's one of the most used pieces of my fishing tackle and there's something that bit more appealing about watching the tip of the rod over listening to bite alarms.
Test Curve
Think about what test curve you need the tip to be. This will help with what size fish you are after. The stronger the test curve the less bend there is in the rod.
Method Feeder or Ledgering?
Both are fine to be used with a feeder rod but be warned that a method feeder can weight quite a bit when it got all the bait on it.
Can they be used as a carp rod?
​A feeder rod does not replace a carp rod and I only use it on a mixed fishery where carp is not the major species in the lake.
One of the simplest of products to attach to your rod, simply make sure that the tip rating you select is the correct choice when it comes to your preferred water type.
Can you use it as a float rod?
I mean, you can! I did it a few times when I have forgotten my match or float rod but ideally, you should have a separate rod for float fishing.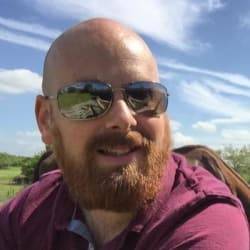 Mike has over 30 years of fishing experience in carp fishing and general coarse fishing. He is always looking for the latest fishing kit to try out and talk about and needs a bigger shed due to all the fishing tackle he owns. You can read more about him here.