When it comes to carp fishing, nothing is as thrilling as exploring new methods of angling. There are numerous different tactics and fishing methods, and one of the more popular ones is feeder fishing. It provides a great challenge, and if done properly can net you some record-breaking carp catches. And when feeder fishing is in question, you have to know that there are tools to make it easier and much more rewarding.
That's why today, Carp N Bait is bringing you the list of ultimate rod rests on the market today. With these rests, feeder fishing will be easier.
Best Rod Rest for Feeder Fishing (Some Choices)
1. Hunter Pro Adjustable Rod Rest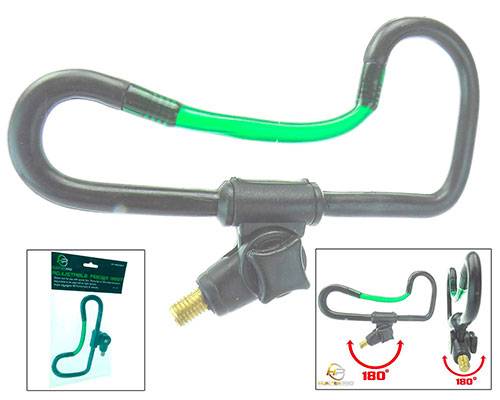 For years, Hunter Pro has been one of the leading manufacturers of fishing accessories, and their line of rod rests stands among the finest on offer. Their Adjustable Quiver Tip Feeder Rod Rest is well balanced, carefully designed, and it can be also used for quiver tips and swing tips, among others. This design is quite adjustable and offers you the option of a 180-degree change both vertically and horizontally. A nifty feature of this is its high side, which is designed to prevent your rod from pulling out of place. It also helps out when you're angling, as there is no need to lift out the rod when you're striking.
2. Oakwood Universal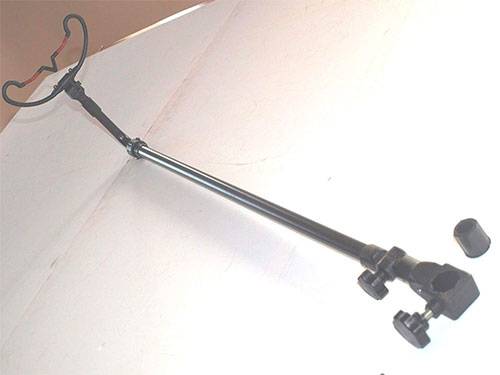 Oakwood is a company with years of experience creating fishing tackle. Their take on a rod rest is certainly a refreshing and useful design that can aid both beginner and experienced anglers. This extending rod rest has a long arm with the carefully added angle on the far end. It also has a fitting at the end that will fit on most seat boxes, or 30mm round legs – a very useful feature giving you a more "hands-free" approach. The head is interchangeable. Without a doubt a very useful addition to your angler's kit, this elongated rod rest can make things much easier. And what's best of all – it's affordable.
3. TMC Multi Rod Rest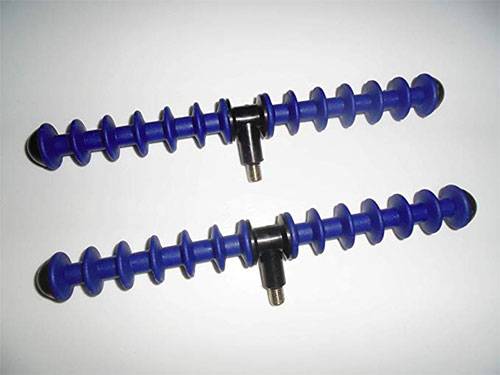 This product TMC just goes all out. Designed for everyone, with a particular focus on ledgering, this rod rest comes in a pair, and features 12 separate slots. This gives you both an option for resting several rods at once or simply shifting your positioning with ease. They fit all standard bank sticks, with a simple screw-on method. These rests are also injection moulded, which means that the product is extremely tough and durable. You're looking at a real bargain, and at a much more affordable price than at the tackle shop. And you know that this 12 slot rest will simply make things so much easier, especially with feeder fishing.
4. Guru Reaper Feeder Rest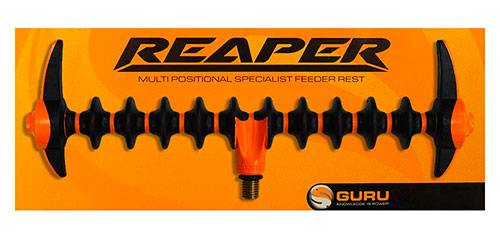 Guru's Reaper is easily one of the finest feeder rests you can currently find. This durable, perfected design is perfectly manufactured and of the utmost quality. It is a multi-positional rest, allowing you plenty of options, and the good choice of notches makes it really easy to use. The sides are higher and curved, preventing any rods potentially falling off. One thing Guru though off is the colour – with its bright orange elements, the Reaper is easy to spot and perfectly stands out in the landscape. The end notch screws into most bank sticks, and once tightened it stays in place.
There is no doubt that Guru perfected the design with their Reaper. Don't miss this.
5. Oakwood Universal Extending Rest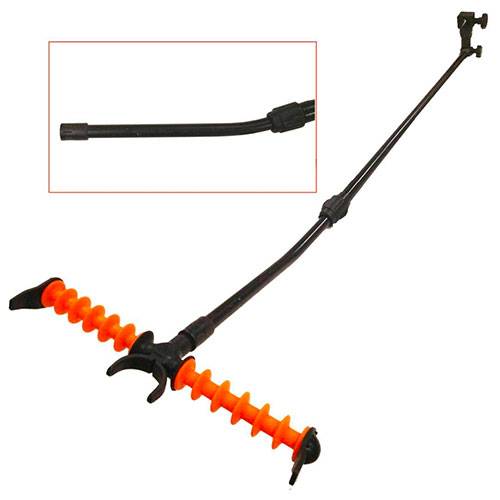 Taking things one step ahead, Oakwood combines length and width into a single, reliable feeder arm. The rest itself looks upon the finest on the market and offers a tough, multi-position design with around 12 notches. It also incorporates the extended sides, so you can be sure that your rod won't spontaneously fly off when there's a big bite. The far side features a tightening which fits on most seat boxes and tightens securely into place. The rest arm itself is extended and adjustable, with a nifty curve at the middle. The length is approx. 3ft, and with extending it gains another 2ft. And like some other designs, it incorporates a bright orange colour on the notches, so you can easily spot it in the foliage.
A lightweight price tag and good quality make this rest a must-buy!
6. Hunter Pro Bank Stick & Rod Rest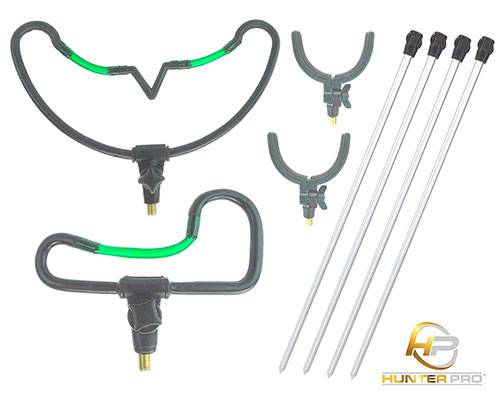 Combining lightweight and sturdy design, Hunter Pro aims to deliver a durable and easy to use rest. It features their usual V rest, which is adjustable, as well as a 180 degrees adjustment both vertically and horizontally. Included are four solid and well made, 60 cm bank sticks, so you can count on some spacing out on the bank. Hunter Pro goes a step further though, and includes with this V rest, an additional adjustable feeder rest, and two adjustable U rests.
The entire set can make your next angling trip much easier and rewarding.
7. Preston Innovations Quiver Rod Rest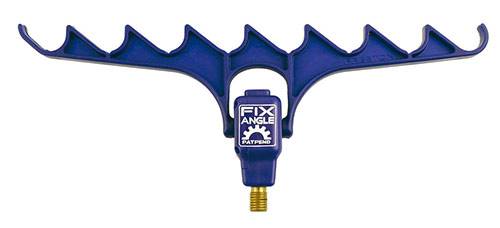 A great feeder rod rest head from Preston which is quite similar to a lot of the others on this page. It is suitable for 2 fishing rods (one on each side) and the angle can be changed easily.
When doing out research we found reviews of this item to be very positive.
Final Thoughts
Feeder and rod rests can be the deciding factor when angling with passion, and especially in matches. For carp anglers, feeder fishing and method feeders can be such a rewarding method, and the catches are often memorable. That's why an investment into a good rest for your rods and feeders can be imperative. And with our helpful guide, you know what's on offer – choose wisely, and refresh your angling experience! That catch of a lifetime awaits!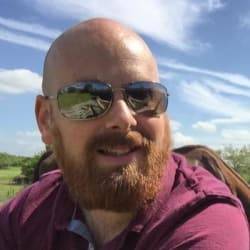 Mike has over 30 years of fishing experience in carp fishing and general coarse fishing. He is always looking for the latest fishing kit to try out and talk about and needs a bigger shed due to all the fishing tackle he owns. You can read more about him here.