A carp fishing bivvy heater is a must-have for all you outdoors anglers, especially when the cold and wet English weather takes hold. Angling and camping in a bivvy is a match made in heaven, but it's not much good when you don't have a proper source of heat. And when you're staying in a bivvy for a weekend or so, this becomes quite important.
That's why our latest article is centred around the very best choice for a bivvy heater carp fishing accessories. Whether it is an electric bivvy heater or a different variation, the choice is varied. We compiled the very best, in hopes of acquainting you with only the best an angler can have. Stay warm – and the angling will get that much better.
Bright Spark Portable Gas Heater - Black, N/A
Camp 4 70656 Adaptor for Cooker, Multi-Colour
How long it can last off 1 use?
Bright Spark Portable Gas Heater - Black, N/A
How long it can last off 1 use?
Camp 4 70656 Adaptor for Cooker, Multi-Colour
How long it can last off 1 use?
How long it can last off 1 use?
Bivvy Heaters (Our Choices)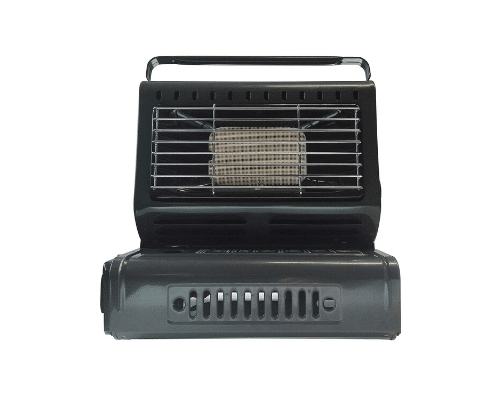 The Bright Spark portable gas heater is a very modern and unique design that features some quite innovative elements. This portable little heater works with a so-called "butane battery" a gas cylinder that is common and readily available at most hardware stores. Such a canister can easily last from 3 to 5 hours of constant highest output heating, which is quite reasonable.
The heat is transmitted through an adjustable heating unit which is protected by a steel mesh. The base features the adjustable temperature knob and provides stability for the unit. The great thing about the heater is the fact that even at less than the highest setting, it can heat up a bivvy with ease, and create a warm temperature.
Of course, this will also prolong the life of the gas canister to at least several hours of use. The heating has 1.3 kW of power and is conveyed through an efficient ceramic element. Without a doubt, the Bright Spark is a great carp fishing bivvy heater and can make a difference that's really felt. A great balance between price and efficiency.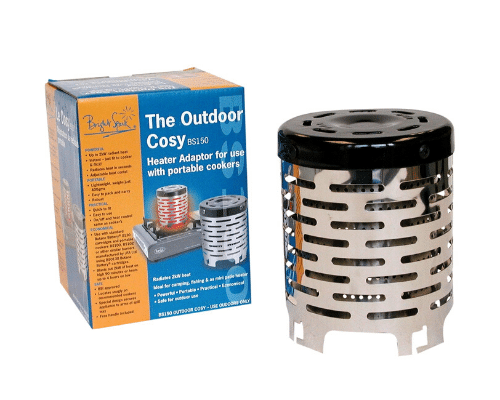 This Camp 4 model of the Bright Sparkline, known as the "Outdoor Cosy", is an interesting little bivvy heater, and makes for an acceptable option. It is unique in the sense that it is a heat adaptor for portable gas cookers – made to fit onto the popular Bright Spark BS1000 stove/range. This small heater is perfect for use in bivvies, vans, and similar small spaces.
It generates around 2 kW of power on the highest setting and efficiently heats up a fishing bivvy. The gas use is moderate and can provide at least a couple of hours of heating.
It is easy to transport and it doesn't take a lot of space, making it easy to pack and carry about. Many anglers confirm the efficiency of this heater, as it can warm a bivvy up even in winter times. Without a doubt it is a great piece of equipment to have when you're planning an outdoors angling trip and staying in a bivvy for any period of time. And the adaptability ensures that you can simply detach it and use your stove in the original role.
This makes it a true 2-in-1 gadget. And the best part about it? Its price. The Outdoor Cosy comes with a feather-light price tag, making it an affordable and efficient purchase. Recommended.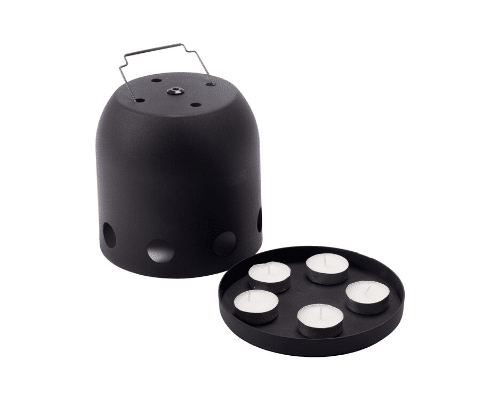 When it comes to fishing bivvy heaters, a lot of users are on the search for something safer than the dangers of gas bottles. And Nash, one of the established and well-known brands of fishing gear, delivered just the right thing.
The Nash bank life bivvy heater is a unique and safe heater, an economic and natural option designed to cosy up your bivvy in the autumn time. And it literally can't get simpler than Nash. It generates heat from five evenly spaced out standard tea lights that are placed on an EVA base with a simple clip off top.
The heater is made out of durable iron material and consists of a "chamber" that goes over the candles, trapping the heat and releasing it through small side holes. It also has a removable carry handle.
This is an eco-friendly and outright simple design, and Nash claims up to 6 hours of heat provided by the tea lights. It also claims a 10-degree rise in temperature. If you are looking for a simpler and natural solution – a true "off-grid" heater – then Nash is a good choice.
Perhaps not ideal for winter times, in any other situation, it can certainly generate some heat. Perhaps a bit on the pricy side, nonetheless it is a viable option and a welcome change from the usual gas-powered heaters. If you like thinking in an off-grid way, look no further than this Nash bivvy heater.
Final Thoughts
Carp fishing bivvy heaters are great, and some say, mandatory addition to your angling kit. If you prefer staying on the banks for a while and using the trusted bivvy, then you can't go without one of these. Heat is important, and having a good and efficient heater can make or break your experience. Nothing contributes more to good angling than a warm and cosy bivvy, a warm sleeping bag and peaceful nature all around, and a good catch. And with our latest guide, we aim to make that known!
To stay extra toasty why not invest in a pair of bivvy slippers.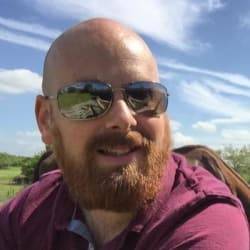 Mike has over 30 years of fishing experience in carp fishing and general coarse fishing. He is always looking for the latest fishing kit to try out and talk about and needs a bigger shed due to all the fishing tackle he owns. You can read more about him here.