Once you have carried all your equipment to the water's edge, set up your bivvy in its place and are ready to get on with a day's – or night's – fishing, it's great to get your heavy boots off and settle into a comfortable pair of bivvy slippers or shoes. They come in a wide range of styles and sizes, but basically, the idea is you want a lightweight, comfortable set of footwear that you can wear in and around the bivvy, and you keep your groundsheet clean and dry at all times. So, without further hesitation, here is our selection of some of the best on the market.
Bivvy Slippers (5 Great Choices)
1. Voovix Winter Slippers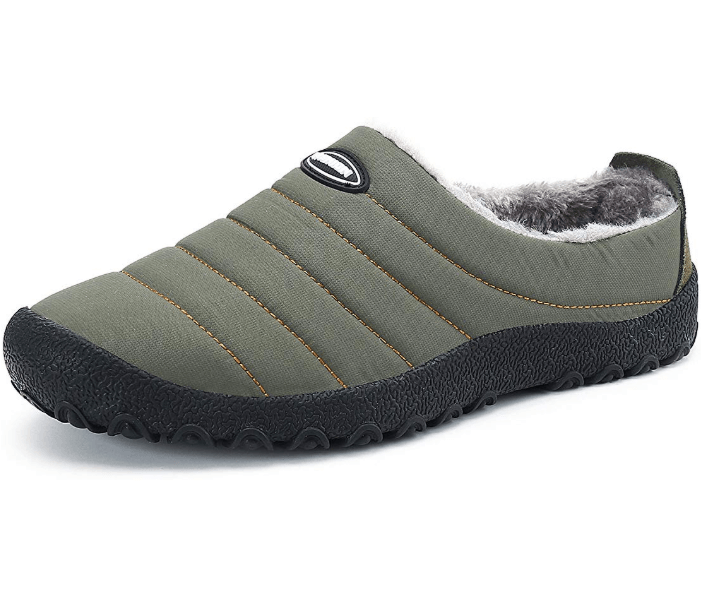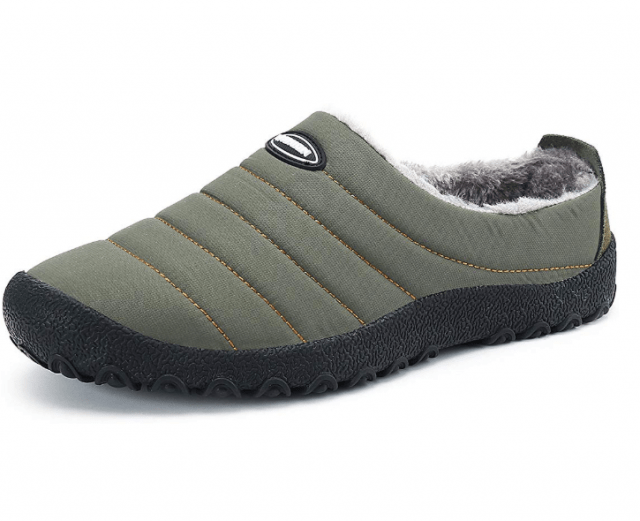 We should say that, in fact, any pair of waterproof indoor/outdoor slippers – such as this pair from Voovix – will serve the purpose as carp fishing bivvy shoes. This pair is rather nice and will certainly keep your feet warm with suede and faux-fur lining for added comfort. They are well-made and the outer is waterproof down cloth to keep the damp out, plus have a slip-on, wide and low opening for ease of getting on and off.
A 2cm heel height means they will be perfect for fishing use, while gum rubber sole means they are anti-slip, which will help you when you get a catch and need some stability. Available in a range of colours and in sizes from UK 3 all the way up to UK 11, they are sensibly priced and come with a lot of customer recommendations. In fact, almost 90% of those who bought these gave them an 85% rating or more, so they are well worth looking at if you want quality bivvy slippers.
Key Features: – gum rubber sole, waterproof outer, suede and fur lining, range of sizes
2. TF Gear Bivvy Slipper

This example is a pair of bivvy slippers that are actually made by a major player in the fishing accessories market, TF Gear. As such, they are worth checking out in some detail. They are designed with a low heel for slipping on and off easily and are made from 100% waterproof material with a warm and comfortable padded inner for extra fit. A tip for you: if you wear thick socks for fishing – as many people do – choose the size above yours for the best fit!
A super-grippy sole means you have non-slip properties with these bivvy slipper shoes, but if there is one downside it's that they appear to be available only in sizes 9 and 11. This may be a stock issue at the time of writing, so it's worth checking back from time to time if these are for you. These are popular and have been bought by a large number of people, and when reviewed they get generally four stars or above, and they are also sensibly priced.
Key Features: dedicated bivvy slipper, waterproof, non-slip sole, easy to get on
3. Dirt Boot Neoprene Bivvy Slippers

These shoes from Dirt Boot – which offers a variety of products of this type – are designed as bivvy slippers, and come highly recommended by a large number of very satisfied customers. In fact, almost 90% of people who bought and commented on these bivvy slippers gave the a four or more star rating, which is pretty impressive where customer satisfaction is concerned. So, what makes these special, or are they just another pair of slippers?
They are pretty impressive with a neoprene rubber and flex foam outer, complete with 4-ply nylon for added waterproofing and comfort, and they heel and toe enhancements for added stability plus a strong anti-slip sole for grip. They are designed to be easy to slip on and off, are available in sizes from UK 5 to UK 13, and are sensibly priced in this selection. Certainly one for the shortlist, you should consider these carefully.
Key Features: known brand, neoprene waterproof, range of sizes, added stability on sole

Another pair designed specifically as bivvy shoes – these even come in a camouflage colour so as not to frighten the fish – this pair from Navitas, who have a range of such products, is nicely made and sensibly priced, and worth a second look. Made from a textile upper with a weave effect that is intended to add comfort and ease of movement (and by all accounts succeeds) these shoes are waterproof and also offer extra stability wherever you may be, and especially on the bank.
The clever design and research that has gone into these shoes includes 'flex and fold' design that means they feel as if you are walking barefoot, and a fold down heel makes them easy to put on and take off. This is a clever touch that will be much appreciated by anglers. 100% customer satisfaction is notable – although there are just a few reviews – and while not the cheapest here these are by no means expensive and are genuinely dedicated for fishing use, so worth a look.
Key Features: weave design, fold down heel, 'flex and fold', grip sole, waterproof
5. Nordisk Mos Down Shoes

This unusually designed pair of bivvy slippers is actually very clever. A lose and waterproof 20 denier ripstop nylon outer not only provides excellent waterproofing qualities but, combined with the ultra-soft synthetic lining, also adds comfort and keeps your feet warm. One other clever design touch is that as these are not a shoe with a hard body, they can be compressed into a very small package for storage and carriage, so won't take up much space in your bag.
Are they usable? Very much so, ad we also like the fact they have a clever non-slip heel that is ideal for the purpose and are very easy to get on and off. One recurring complaint suggests that they are large for the claimed size – this could be due to the flexible nature of the design – and while they are not especially expensive, they are not the cheapest here. For easy to carry, usable bivvy shoes, we think they are worth checking out.
Key Features: loose design, nylon outer, waterproof, grip sole, collapsible
That's our selection of the best bivvy shoes but, is there a pair here for you? Let's see if we can sum things up.
What to Look For
There are several obvious factors to consider when choosing the right bivvy shoes: you need them to be the right size, they must be waterproof, and they should be easy to get on and off. Among the most important factors is that they should also have a very strong grip to the sole, as this will be essential on the riverbank.
To be fair, each of the examples here offers all of these attributes, even if they do so in some cases in a different fashion to that we would expect. Is there one that stands out? We can't single out the best pair of shoes as that would be a personal choice, so have a closer look and check out those on the list, and we are sure you will find a pair of comfortable, waterproof bivvy slippers that suit your requirements.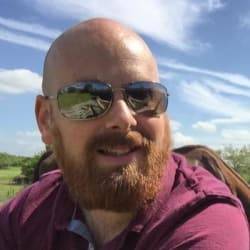 Mike has over 30 years of fishing experience in carp fishing and general coarse fishing. He is always looking for the latest fishing kit to try out and talk about and needs a bigger shed due to all the fishing tackle he owns. You can read more about him here.