It's one aspect of fishing trips as Brits we would probably rather not talk about. However, when nature calls, and even if you are out on the swim for a good couple of hours, you need to go to the toilet. So, it's important to kit yourself out with a suitable bivvy toilet.
There is actually a lot of different options to choose from. More than you thought and certainly more than you're probably prepared to sift through to find the best. We have good news for you though. The team here at Carp N Bait have done all the hard work for you and gone through the products available with a fine-tooth comb.
Although chemical toilets are highly recommended. However, in this post we are going to focus on non-chemical toilets and the products we have been chosen are singled out for their practicality, how easy they are to use and crucially, their portability.
Let's not beat around the bush and take a look at these great bivvy toilet solutions.
Best Bivvy Toilets
1. CarpLife Products Ltd Bivvy Portable Toilet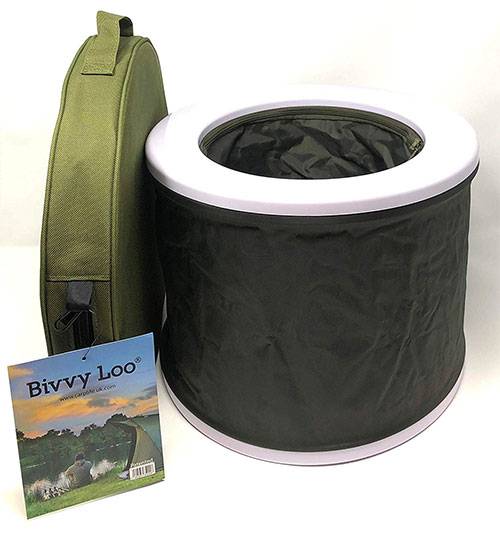 The first product on our list we want to highlight is this rather excellent portable toilet from CarpLife Products Limited. Several standout features make this highly recommendable. For one thing, it is foldable (a common theme in this post) and therefore when it's not erected and ready to use it is as flat as a pancake and won't take up too much room in your bags.
Don't let the fact it's foldable and portable fool you that it's not sturdy or remotely comfortable. Thanks to the steel-built axis frame it is designed around when it's fully unfolded and erect, this bivvy toilet is capable of handling loads heavier than 23-stones. It also has a nice oval-shaped seat that makes it a pleasant experience to go when you need to go.
As well as the bivvy toilet itself, we also love this product because it comes as a full set of everything you need. There is a weatherproof, zipped closure carry case with a convenient and comfortable handle to keep it safe from the British weather. Along with that though, you also get 12 sachets of powder designed to manage waste (each sachet can transform 2 litres of your wastewater and liquid into a more manageable and less unpleasant gel. It also helps get rid of any unpleasant odours. There are also 12 liner bags made from biodegradable materials to place inside the toilet each time you go and 40 biodegradable wipes for cleaning up after yourself.
For just over 50 quid, we think this toilet along with all the extras is a bargain.
2. CarpLife Products Ltd Bivvy Loo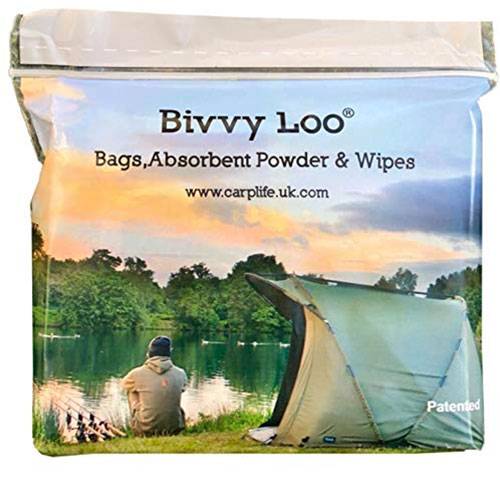 Although this is not a bivvy toilet, this is the same pack of accessories that comes with the above package. Made by CarpLife Limited, you get a pack of 12 waste-managing powder sachets, 12 liner bags for the toilet made from biodegradable materials and 40 wipes also made from biodegradable materials.
It's always a good idea to have spares. Especially if you are going on a trip that's longer than a few days and are going to be out in the middle of nowhere away from civilisation.
3. FiNeWaY 5-Litres Portable Toilet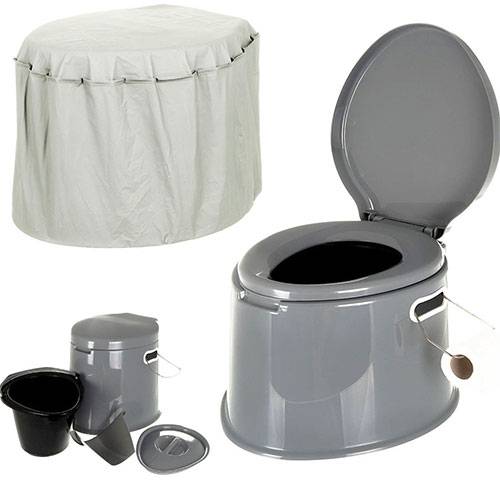 The next bivvy toilet we want to consider is designed and manufactured by a company called FiNeWaY that has a very elegant if practical, look and feel to it. It has been made from high-density polyethene, a material chosen for its reliability and robustness, to help provide a stable place to do your business without fear of it tipping over and potentially messing up your bivvy or the secluded spot you have chosen to answer the call of nature.
This toilet has been designed with an internal 5-litre capacity bucket that can be removed easily using the handle and lid to keep the smells at bay and to make cleaning it easier and more hygienic.
In addition to the loo itself, you also get a PEVA weatherproof bag to keep it in. This will help keep it safe from water, either from the sky or the swim, the sun's UV rays, dust and all other adverse weather conditions. It has been designed with an elasticated hem so that it fits snugly.
To help elevate your outdoors toilet experience and make it feel a little more like home, you also get a handy little toilet roll holder that attaches to the side of the toilet.
4. TOOGOO Folding Outdoor Toilet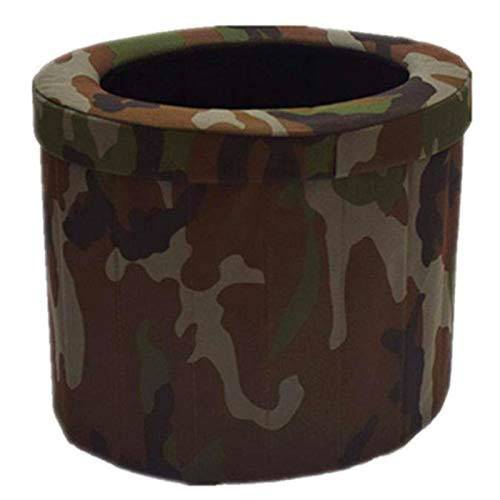 Next up we have a model that has a price tag that sits in between the two we've already discussed. From TOOGOO, this portable toilet also features a folding design to make it easier to store away in your bag. It is made from high-quality Oxford cloth and despite its foldable design, is rather sturdy and can handle loads up to 100kg (15-stone) (which is less than the CarpLife Products Limited option, but still a reasonable weight capacity, given its shape, size and how much it weighs).
It comes with a very cool green, brown and black camouflage-style pattern, which may not be very necessary, but looks great, nonetheless.
5. Highlander Camping Toilet and Refill Pack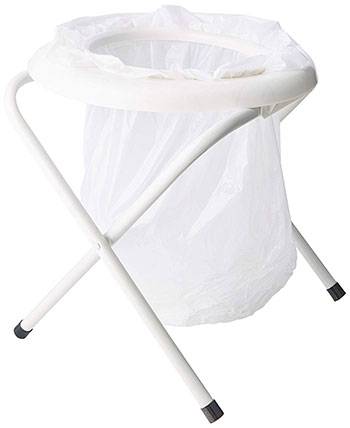 Moving on, we come to this very practical if a little uninspiring option from Highlander. that does look no different from a mini wastepaper basket you may have in your home office or at work. However, in terms of getting the job done, we really can't fault it.
While we can't see there being any real problem using this for urine, it's best suited for when you need to poop, according to customers that have used it.
In addition to the foldable metal frame, you also get 6 replacement bags to get you started. Though we would advise that you buy more because you will probably need to use more than just 6 on even the shortest of camping trips.
6. Reliance Fold-To-Go Collapsible Portable Toilet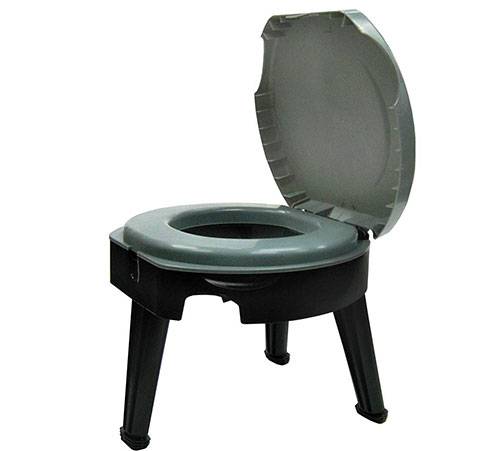 Last on our list, is this collapsible portable toilet called the Fold-To-Go that is made by a Canadian company known as Reliance. Which is just the kind of name you want for a brand of toilet, don't you think?
What makes this product special? Well, it weighs in at a rather impressively low 5-pounds and can be folded down into a compact package of just 5-inches. There is even a built-in handle to make carrying it easy.
Is it sturdy though? Yes, it is sturdy, surprisingly. Most customers that have left reviews we have read have commented that it feels comfortable. The leg locking system helps to just reinforce the loo so you can concentrate on your business.
The major downside we can see with this model is the diameter of the actual toilet itself. While a woman is unlikely to have any problems with it, due to size and biology (trying to be tactful and keep things clean here), many men might struggle to fit everything within the hole.
This toilet has been designed with the Double Doodie bagging system in mind and comes with one free bag.
Overall, though, if you are stuck many miles away from the nearest toilet and it's raining cats and dogs, this is a great alternative to getting soaked while answering the call of nature.
Summary
Although a chemical toilet is by all accounts a better option, it is also one that is a bit more expensive than you may want to invest in. That is why, for a fraction of the price, the options we've highlighted above are great choices. While we don't expect all models to appeal to all anglers, we are sure we have given enough of a variety to choose from that you will find the ideal solution that's right for you.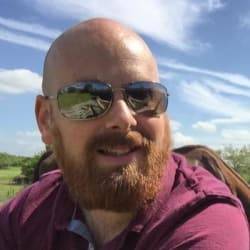 Mike has over 30 years of fishing experience in carp fishing and general coarse fishing. He is always looking for the latest fishing kit to try out and talk about and needs a bigger shed due to all the fishing tackle he owns. You can read more about him here.