They say you are only as good as the tools you use, and when it comes to carp fishing, the equipment you choose is always going to help or hamper your performance.
For carp fishing, choosing the best line for the job is essential. That's why we've taken a look at the best all-around carp line that you can buy, so you can find the best fishing line for you.
Before we look at our selections, let's have a quick reminder of the three different types of line you can use.
Best Selling Carp Fishing Lines
Types of Fishing Line
Fluorocarbon line – this type of line is a very popular one as its extra weight makes it fast sinking. It is made from carbon and fluorine, bonded together, and is easily the most commonly used type of line for carp fishing.
Monofilament – this is the single-strand type of line and is one of the oldest methods of fishing around. It is also very popular, easy to use, and comes in a wide variety of strengths.
Braided – the third type of line is the braided line, and it is made from polyethylene lines that are braided together for added strength. This is a low stretch type of line and usually used as a hook link.
So, now you have that reminder, let's talk about the top 10 carp lines available to put on your reel spool as mainline.
Best Carp Fishing Line for Carp Anglers
1: NGT Carp and Coarse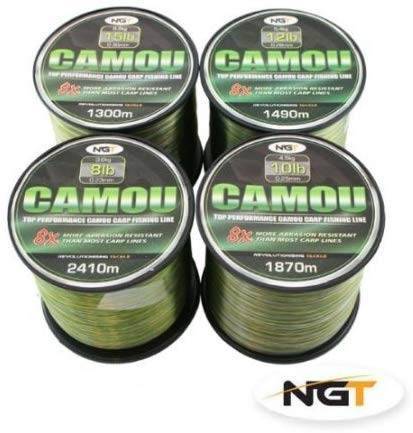 Anglers do tend to find a brand they like and stick to it, a bit like when you form an attachment to a particular make of car! This line is the standard issue from the renowned NGT brand – which you will read more about here – and is a very popular, tried and tested choice for both novices and experienced anglers.
Camo-coloured for stealth fishing, this line is 0.2mm and can be bought in everything from 8lb to 15lb strengths – so covers all the bases bar the very big sport fish – and is perfect for rivers, lakes and commercial fisheries. All in all, a good line that you will find is very affordable and usable.
Key Features – NGT brand, strong, 0.2mm, up to 15lb, 1300m length
2: NGT Duracast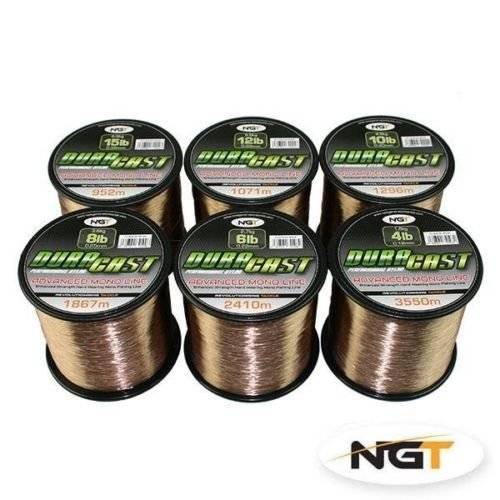 Our second choice of NGT line is a monofilament one, so you may be a little wary. However, we will say it is very strong, is well-established and popular, and if you want a monoline is certainly one for the shortlist. Strength is from 4lb to 15lb, so you have most areas of coarse fishing covered, and it is brown for camouflage.
This is a sensibly priced line that comes with the guarantees of the NGT name, can be bought in up to 3500m and many sizes below that, and is suitably durable and very usable. There's no secret as to why NGT products are so popular, and this excellent mono line is a just another example of the quality of the brand.
Key Features – NGT, monofilament, brown, up to 3500m, popular
3: Korda Touchdown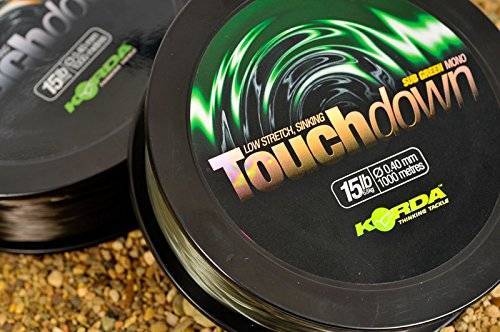 Another brand that ranks among the market leaders in terms of line and fishing gear, Korda has a reputation for great products at sensible prices. This range of line, the Touchdown, is no exception. This one is also a monoline and comes in brown or green -whichever suits your preference – and is strong, proven and very popular.
You can choose from between 10lb to 15lb, so it's a very versatile line whatever you may be fishing for, it comes in bulk reels of 1000m or more – check out the manufacturer specifications for more information – and it has a reputation for being very strong and usable. You may find that, compared to some other brands, it is a little more expensive, but you are paying for the quality line here, and that will become apparent.
Key Features – Korda brand, 10lb to 15lb, monofilament, green or brown,
4: Fox Torque Carp Line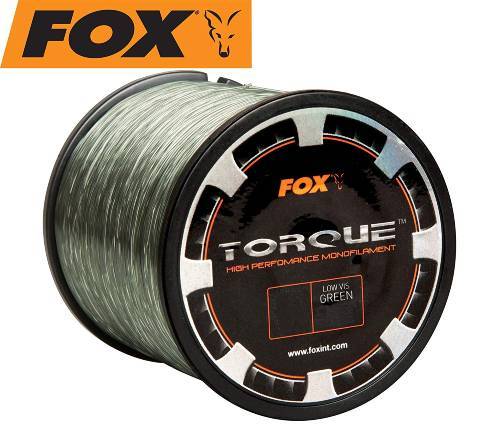 Another monofilament line from a good brand, this one from Fox offers an impressive 20lb break strength, so is perfectly suited for larger coarse fish and competition fishing. It is very good quality and finished in a special green colour that is designed for low-visibility, and as such is a very popular choice with anglers new and experienced.
Monoline is not for everyone, but this one comes highly recommended thanks to its impressive strength. It's also very sensibly priced in terms of the competition, with a 1000m bulk reel being very cheap indeed in comparison to others. Make no mistake, this is a very decent choice if a monofilament line is for you, and is a great option for anyone on a budget.
Key Features – 20lb strength, monofilament, stealth green, great price
5: Daiwa Sensor 15lb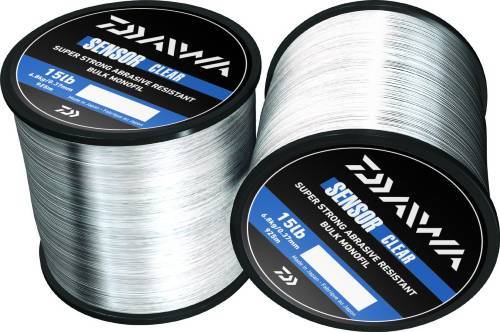 No list of fishing gear, whether line, rods or other accessories, is complete without at least one entry from the true giant of the market, Daiwa. This line is one of their most popular offerings; it's another monofilament line that is great quality, comes in 1000m bulk reels, and that offers excellent versatility and sensible strength rating.
This one is rated at 15lb – there are others in the Daiwa range if you want to take a look – and is finished in a very dark shade so will not stand out in the water. It's a neat and easy to use line, is light and yet durable, and comes with all the guarantees of the Daiwa brand. It is also imbued with the brand's reputation for quality at a sensible price, so is very much worth a look.
Key Features – top brand, 15lb rating, monofilament, dark colour, strong
6: Daiwa Hyper Sensor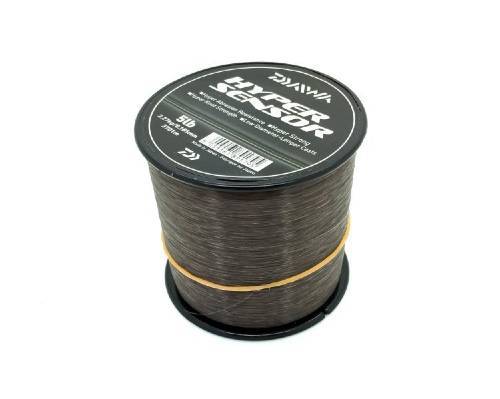 We felt it only right to follow the above entry with this one. It's a more powerful, stronger and more impressive version of the above, and as such is certainly worth your while looking at. This one can be had in a wide variety of strengths; indeed, the maximum is a whopping 30lbs so you really are able to tackle the biggest carp with this line. The lowest available strength is 15lb – which is the highest available on some of the rival entries here! This is, then, serious monofilament line for the serious angler!
The Daiwa name brings with it a promise of quality, and the sheer popularity of this line – combined with great customer testimonies – means it really is a stand-out purchase if you want a very strong line. You can find it in lengths of just under 700m to 1200m, it is finished in a nice dark colour for stealth, and it's a great price. If heavy stuff is your thing, this is for you.
Key Features – Daiwa, strong 30lb maximum, bulk reels, dark colour, great prices
7: FishingSir Superior Strength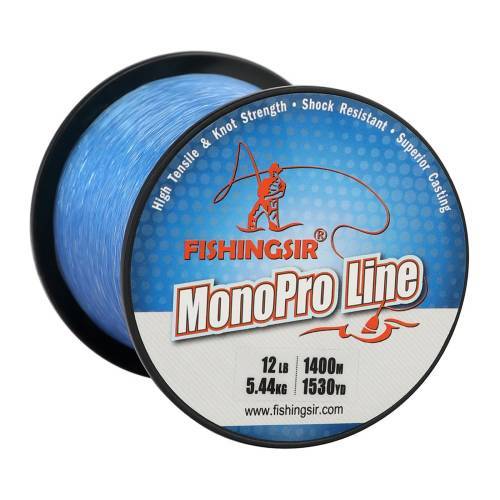 Above we raved about the fact that we had found a monofilament line that can offer up to 30lbs strength. We are about to go well beyond that capability! This line, from FishingSir, is a very impressive purchase indeed. It is a monofilament line, it is finished in a choice of colours – this can be a personal choice – and it comes in a wide choice of reel lengths. What's special about it?
This one can be bought with a break strength of as much as 80lbs! That is surely enough for any able angler. It's a very impressive line, in that case, and one for the serious user. There are various strengths available, so you don't need to go for the strongest, but if competition fishing for serious fish is what you are into, this is a great choice of line at a very affordable price.
Key Features – up to 80lb, bulk reels, great price, choice of colours
8: NGT Duracast Advanced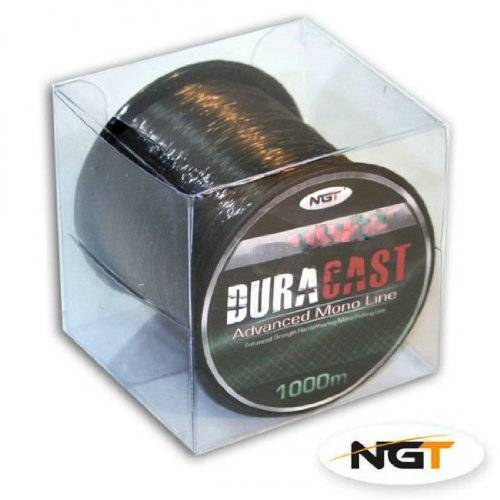 Back with one of the market leaders now, and it's another choice from NGT. You can always rely on this brand to provide quality products, and this no exception. It is very strong, is well-established and popular, and if you want a monoline is certainly one for the shortlist. Strength is from 4lb to 15lb, so you have most areas of coarse fishing covered, and it is brown for camouflage.
This is a sensibly priced line that comes with the guarantees of the NGT name, can be bought in up to 3500m and many sizes below that, and is suitably durable and very usable. There's no secret as to why NGT products are so popular, and this excellent mono line is just another example of the quality of the brand.
Key Features – NGT, up to 15lbs, 3500m bulk reels, great prices
9: Konger Camo Rainbow

Another line designed for heavy fish, this one from Konger – finished in a neat camo colour scheme – can handle as much as 34lb and is designed to be extremely versatile for carp and game fishing. Indeed, it is used by many with excellent results for tackling pike, and for sea fishing in various conditions, so impressive it is when used.
Easy to cast and of great weight, this line comes in bulk reels of 1000m, and you don't have to have the 34lbs rating as there are other strengths available. It's a quality line that has many satisfied users – customer testimonies are very favourable – and it offers great fishing opportunities across the board. It's also very sensibly priced.
Key Features – 1000m reels, up to 34lbs rating, camo colour, easy cast
10: KastKing Fluorocote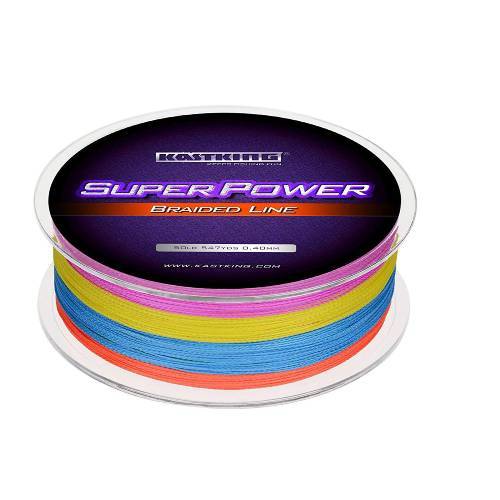 An award-winning line with a nice innovation – it features a very special and unique coating that makes it just about invisible under the water – this line is very impressive indeed, and has many satisfied users. It is available in a range of strengths that should cover all eventualities and is sensibly priced, too.
The only downside with this one is that you can buy it only in 300m reels. That's a lot less than some of the larger bulk offerings on this list, but we will say that it really is a premium quality line and that innovative coating has endeared it to a great number of very happy users. If you want something different to try, give it a go as it is not a bad price at all.
Key Features – 300m reel, various strengths, special coating, monoline
That's a list of the ten best all-round carp lines for you, but which do you need? Before we give you our verdict, here's a look at some of the features you need to consider.
Features to Consider
What do you need to think about when buying a fishing reel? You probably know the score, but here's a quick recap:
Strength – (also known as breaking strain) what are you fishing for? You need a line that can handle in excess of the biggest fish you are likely to catch and the range of strengths on this list covers everything from 4lb to 80lb! We reckon somewhere in the region of 15lb is about right for carp fishing
Durability – line needs to be abrasion-resistant and to be able to resist snags and rocks and other items on the lake bed, and this is usually part and parcel of the product. if you are fishing a weedy venue then you definitely want a strong line.
Length – if you want value for money, look for bulk purchases of 1000m and more, as you will get the best deals.
Visibility – you want your line to be invisible underwater, and the above come as clear, brown, green and with a special coating to enable this, so it's your choice.
Low Diameter – The lower the better, but there's also a trade-off with strength then as well.
Is there one for you? Let's have a look.
Our Verdict
Of the ten carp lines we have talked about, everyone has its attributes. It is up to you which you go for, and there are certain things you will look for when buying your preferred line. The choice is very much yours, and you need to make sure the strength tallies with your angling, but for value for money, quality and sensible specifications, we recommend that you check out the Daiwa range, as you cannot go wrong with this established brand.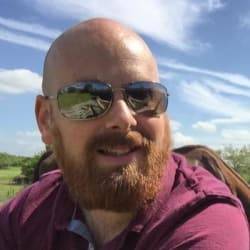 Mike has over 30 years of fishing experience in carp fishing and general coarse fishing. He is always looking for the latest fishing kit to try out and talk about and needs a bigger shed due to all the fishing tackle he owns. You can read more about him here.