There are certain situations where bigger is better. When you need to bang out a huge method feeder or are spodding, it's time to call in the heavy artillery. Also known as big pit carp reels. If you want maximum distance on your cast, and the muscle to pull in huge specimens, here's a handy guide to tell you everything that you need to know.
The Top 7 Best Big Pit Reels for 2022
The Best Big Pit Reel for Beginners
Let's start strong. This carp fishing reel is a serious piece of kit, and for the money offers great value.
If you are going to buy an amazing big pit reel, you'll also want something that is really good looking. This eye-catching reel offers everything you need in a big pit reel. The oversized spool will ensure that you get excellent line lay and superb casting distance.
The substantial wooden handle allows you to get a firm grip and ensure that you can reel in, consistently and quickly.
As with most reels, you will find a front drag system, making it easy to tweak the drag when you have hooked a sizeable and hard fighting fish. You can really put the pressure on with this reel. An oversized main shaft means it can take a large amount of stress.
For such a large big pit reel it is surprisingly lightweight. The big pit reel is constructed from light aluminium, which aside from reducing weight also offers superior anti-corrosion properties.
If you want to see it in action take a look at this.
Approximate cost: £75
Line Capacity: 320 metres / 15lb mono
Ball Bearings: 11
Retrieve Ratio: 4.8:1
Best Budget Big Pit Reel for Carp Fishing
TF gear offers great value for money reels, designed to emulate more premium offerings at a lower price point. This is a perfect example.
You'll find plenty of capacity in the gorgeous looking reel. Which is just what you want for making big casts with heavyweights. The spool is not quite as wide as others, but it is extended and long. A longer spool encourages near perfect line lay, making each cast as good as the last.
13 stainless steel ball bearings ensure a really smooth and reliable action. When twinned with high-quality interior gearing, you will have a reel that should last for years.
Fighting the fish will be effortless. A front drag system ensures that you can apply just the right amount of pressure, so you can get the most out of your setup.
The reel also features anti-reverse technology, preventing costly tangles. Overall, its a great value for money big pit reel.
Approximate cost: £40
Line Capacity: 300 metres / 15lb mono
Ball Bearings: 13
Retrieve Ratio:4.1:1
The Best Mid Range Big Pit Reel for Carp Fishing
This is the biggest reel in the Fox EOS line-up, and a big reel means a lot of line and a lot of power!
When you are throwing out a lot of line you will want the ability to bring it back in quickly. This reel has a fearsome retrieve rate meaning you can get your rig, and hopefully a specimen carp up into your hand quickly.
Provided you fill your spool you can ensure a silky smooth action both in the cast and the retrieve.
The chunky handle offers an excellent grip, perfect for giving you heavy duty cranking power and conquering your catch.
The reel and rotor on this reel are precision engineered to ensure absolutely flawless and consistent performance each and every time.
As an allrounder, this is one of the topbig pit carp reels we have seen.
It's good. How good? See for yourself here.
Approximate cost: £65
Line Capacity: 320 metres /15lb mono
Ball Bearings: 5
Retrieve Ratio: 5.5:1
The Best All Round Big Pit Reel
Just because a reel is big, doesn't mean that it has to be overly heavy. Sonik has used premium-grade materials in the construction of this high-quality big pit reel. Aluminium and graphite to be precise. As a result, you have a corrosion-resistant and lightweight reel with all of the pulling power you will ever need.
It weighs a mere 500 grammes. Which is super light for a big pit reel.
The aesthetics of this reel are astounding. The matt black exterior is offset beautifully with a chunky wooden handle.
An extra spool is included with the reel, so you can perhaps experiment with your choice of fishing line to achieve an optimum casting distance.
The line roller features anti-twist technology. This can be useful when retrieving big rigs that may spin in the water. To prevent tangles there is an anti-reverse switch fitted as standard.
Approximate cost: £46
Line Capacity: 300m / 15lb mono
Ball Bearings: 5
Retrieve Ratio: 4.1:1
Our Top Pick
The Best Premium Big Pit Reel Available in 2021
If you are serious about your carp fishing and aren't fussy about budget then you'll want a serious piece of kit. The Penn Affinity II is one of the top big pit carp reels available.
Why? Read on…
Every part of this reel is precision engineered and constructed of quality components. A carbon drag system gives superior control and fish handling capability. The body of the reel is manufactured from high quality carbon offering both great strength and lightweight performance.
You will notice you can fit a huge amount of line on the oversized spool. If you manage to cast it all off in one go, call the Guinness book of records!
6 bearings give a really crisp performance, on the retrieve this reel is practically frictionless and is ideal for pulling in larger weights.
As with our other suggestions this reel features infinite anti-reverse.
Oh, and before we forget it comes with its own velvety carry case!
Approximate cost: £170
Line Capacity: 450m / 15lb
Ball Bearings: 6
Retrieve Ratio: 4.7:1
Best Big Pit Reel Combo Deal
If you've fished for any considerable amount of time, you'll know that the key to success lies in being consistent. One way to achieve this is by having two matching carp reels.
The fact that you get two means that these carp reels offer really great value. Not to mention great performance.
The spool size is moderate so they would be great for intermediate distances. The retrieval ratio is amongst some of the fastest we have seen.
Each reel comes with a spare spool so you can load different types of line depending on the conditions on the day or your choice of venue.
The reel features an integrated worm drive that ensures consistent and even line lay.
As an interesting extra feature, these carp reels feature a bait runner switch. If you are dealing with finicky fish, this can be a great feature to use to up your catch rate.
Approximate cost: £85
Line Capacity: 220m/ 15lb
Ball Bearings: 10
Retrieve Ratio: 4.9:1
The Ultimate Best Big Pit Reel
This reel is not for the faint-hearted angler. Only serious carp anglers need apply.
If you were to invest in this carp reel, and it would be an investment, you'll be subscribing to the ultimate in big pit perfection. It is simply flawless.
This reel offers a lightweight magnesium body, 'big pit' doesn't mean 'big weight'.
An air bail system makes this carp reel a joy to use. Simply touch the bail arm to raise it, and wind to lower it. It can all be done one handed.
You'll be able to impart 10kg of drag on the line. More than enough to fight the biggest fish.
The patented air Zaion rotor ensures consistent and even line lay and makes reeling in smooth as silk.
Aesthetically it is ultra-beautiful, featuring a stainless steel folding handle complete with a wooden knob. You'll be the envy of the entire swim.
Approximate cost: £500-600
Line Capacity: 300m/ 15lb
Ball Bearings: 8
Retrieve Ratio: 4.1:1
Buying Guide
Big pit reels are high-performance pieces of equipment and are placed under a lot of stress and strain, so it is vital you choose one that is right for you. Here we'll talk about some things specific to the big pit reels so you can make the right decision.
The Best Big Pit Carp Reel Will Have a Large Handle
If you are using a big pit reel, then there is a chance that you will be targeting larger fish. And if that is the case you will want to be able to get a decent purchase on the reel handle when you are battling with a fish.
Look for a chunky and easy to grip handle. One slip at the wrong moment and the fish of a lifetime could be gone. You'll notice that all of our suggestions for the big pit reels have large handles.
There's a reason for that. They work.
Understanding Retrieve Ratio
If you are distance casting then you are going to have a lot of line out. And regardless of whether you hook a specimen carp or just want to wind in and refill your spod rig, a lot of line out will take a large amount of time to reel in. To reduce the effort, you will need a big pit reel with a fast retrieve ratio. But what does this mean?
You'll see in our suggestions 3 numbers that look like this "X . X : X". This is the retrieve ratio. It may look complex but it's really easy to understand. The thing to concentrate on is the first two numbers.
What these numbers will tell you is how many revolutions the spool will make for each full turn of the handle.
Generally, the big pit reels for carp fishing will have a ratio of around 5.1:1… Or as we have just learned the spool will turn 5.1 times for every one turn of the reel handle. A little less is no big deal, a little more is excellent.
The Best Big Pit Reel Will Have a Front Drag System
With a lot of line out, you will need an easy means of gaining sensory information or 'feel'. It is all too easy to break your line as you aren't in perfect contact with the fish.
 Having an easily adjustable front drag system means that you can 'tune' your reel in to ensure maximum fighting power without the risk of breaking your line. Front mounted drags are easier to reach allowing you to keep fighting whilst you tweak your setup.
The Best Big Pit Reel Will Have a Large Spool
This is one of the defining features of big pit reels for carp fishing. A larger spool obviously allows you to carry more line. However, this isn't the only reason that you can cast further with a big pit reel.
By having a wider spool, you get a much better line lay. As a result, the line goes onto the spool really easily. And if it goes on well, it also comes off well during the cast, aiding distance.
FAQ
What Are Big Pit Reels?
Big pit reels are basically the offspring of surf casting reels. They feature many similar features. The reason for this is that they achieved pretty much the same aim as their nautical counterparts.
Basically, that was to throw a really heavy weight, a long distance, to catch bigger fish.
Consider them a beefed-up version of a fixed spool reel for carp fishing that are made for distance casting.
What Are Big Pit Reels Used For?
Big pit reels were developed for use in deep and sizeable gravel pits… Hence the name. However, their use has now spread to any large Stillwater.
With regards to how they are used, big pit reels are not really suited for float fishing or light work. You'll generally see them employed for use with really heavy weights such as a big method feeder or when 'spod bombing' a distant area of the lake.
Due to their size and the fact that they are 'heavy duty' big pit reels are much more suited to the stresses and strains of casting heavy weights.
Casting a longer distance can catch more fish. Why?
In heavily fished commercials the carp may naturally tend to hold 'outside' of average casting distance, safe in the knowledge that they can't be caught. As a result, they can often drop their guard. By being able to reach areas where others can't you might stand a chance of hooking a fish which has previously been 'uncatchable'.
What Line to Use on a Big Pit Reel?
Big pit reels are not light pieces of kit, so your line shouldn't be either. As a bare minimum, we would suggest going down no lower than 12lbs. But to be honest, 15lbs would probably be better.
Provided you have chosen one of the a reel with a decent capacity, there's little chance that you are going to outcast your spool. You may also want to consider the use of a shock leader, especially if casting very heavy weights.
Conclusion
The best big pit reels will have a decent line capacity, an easy to use drag system and a decent retrieve ratio. Other nice features include anti-reverse and anti-twist technology. You'll find that all of our suggestions satisfy these criteria, so it's up to you how much you want to spend. If you've got any tips on using a big pit reel, by all means, feel free to share them in the comment section below.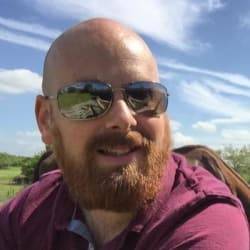 Mike has over 30 years of fishing experience in carp fishing and general coarse fishing. He is always looking for the latest fishing kit to try out and talk about and needs a bigger shed due to all the fishing tackle he owns. You can read more about him here.