The fixed spool reel remains one of the most popular types of reel, and with good reason. First developed to enable the effective casting of very light flies and lures, the fixed spool reel relies on gravity, and tends to be fitted beneath the rod.
First seen in the late 1800's, the fixed spool reel soon caught on as the choice for distance casting, and remains the one to use today. With many different brands, sizes and types on offer, there is certain to be a reel for you that suits your needs and your budget.
We took a look at five of the best that you can buy today, so let's not hang about, here are our reviews of the best-fixed spool reels for distance casting.
Best Fixed Spool Reel for Distance Casting (Some Choices)
1: Abu Garcia Fixed Spool Reel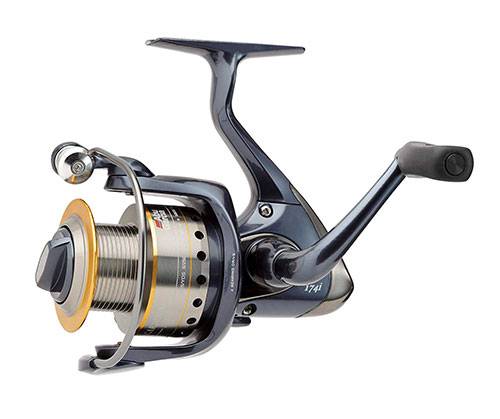 This quality range of reels from Abu Garcia offers excellent performance and quality construction at sensible prices. Available in three sizes – 174, 176 and 177 – this reel is equipped with top quality HPCR bearings for excellent smooth performance, and the main shaft and fitments are made from durable stainless steel.
You get the benefit of instant reverse with this reel, and it comes with a spare spool. Customer reviews are very favourable and report its suitability for use with braid, and also for trout spinning. Corrosion resistant – hence the saltwater suitability – and weighing in at just over 800g, this is a very impressive choice of reel and great value for money.
Key Features – corrosion resistant, three sizes, instant reverse, quality bearings
2: Matt Hayes Adventure Fixed Spool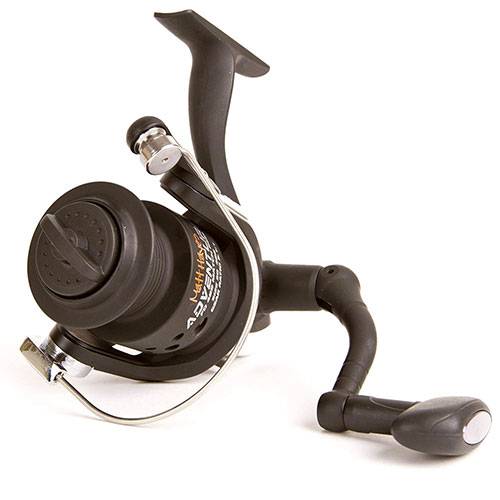 This budget-priced fixed spool reel offers excellent value for money and has some impressive features. It is a front-drag reel that is designed for use on lakes and rivers, and has a nice feel to the clutch which gives easily when required.
It has capacity for 190yards of 10lb line, which is plenty enough for most lake or river usage, and gives accurate casting thanks to careful and traditional design. It is fitted with four quality bearings, has a spare spool so you can change from one type of casting to another without worry, and is a great, low-priced yet quality reel for float or ledger fishing.
Key Features – budget price, quality reel, large capacity, great features
3: Fladen Maxximus Big Shooter 7000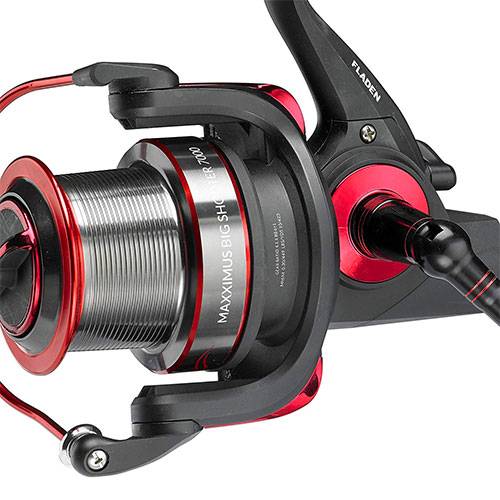 This is a reel for the serious fisherman. A 7-bearing front-drag reel that offers superb performance for both larger coarse and surf fishing, it is one that comes at what can only be described as an impressive price given what you get. The aluminium spool and casting give this reel durability with light weight – it comes in at under 800g – and yet it is a very powerful reel with great capability.
This reel features a work shaft and gear for added performance and durability; this allows for greater power and also faster speed reduction. It has huge capacity of 400+ yards of 10lb line, and can be used with braided lines too. The overall build quality is excellent – this is a renowned brand after all – and the speed management means that it is easy to by anyone. In short, a great reel at an excellent price that might be hard to beat if you want to fish coarse or surf.
Key Features – aluminium case, light weight, worm gear, 400yds capacity, coarse or surf
4: Fladen Power 30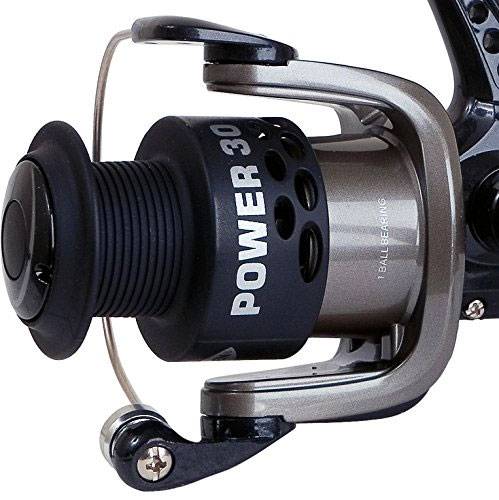 From the same maker as the above comes this excellent starter reel, which you can have for a price that you really will not notice! It's made to the brand's usual high standard, and is perfect for beginners in many ways. This rear-drag reel weighs less than 300g, which makes it easy to handle by the youngest of anglers, and offers capacity of 185yards or 10lb line, so is great for smaller lakes and rivers. It has a graphite body and single bearing technology for simplicity.
This one comes with instant anti-reverse and anti-twist technology, is designed to be easily switched between left and right handle use, and is recommended for freshwater use. It's not an all-out coarse reel, but the experienced angler will know that on sight. It is, however, a very nicely made reel from a respected maker, and one that would be absolutely ideal for getting the children hooked on the sport, or for a novice adult who wants to know what it's all about at very little cost.
Key Features – beginners reel, anti-reverse, easy change over
5: Penn Fierce II Fixed Spool 5000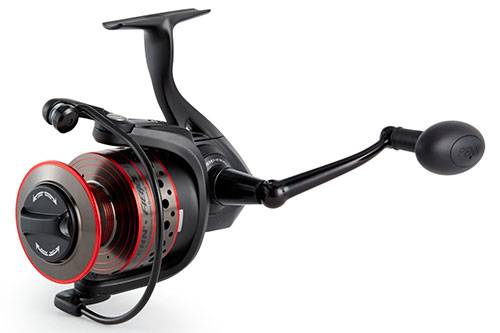 The final item on our list is this one from the Penn Fierce range, with Penn being regarded as one of the top names in the business. A genuinely high-quality, top performance reel, this one is for the serious user, and offers everything you could need across a range of sizes. This is the 5000, and for that you get a capacity of 420-yards of 20lb braid line, from a reel that weighs not much more than 300g.
This finely engineered reel is one that you will be looking at if you are an experienced angler in need of the best available equipment. It has five stainless steel bearings for smooth operation, features instant anti-reverse and all other expected actions, is easy to use and can be used just about anywhere. Powerful enough to handle even the biggest fish – and extensively trialled in the field – this is the one you want if you are confident and need to trade up. It's not the cheapest, but you are paying for quality here.
Key Features – top quality, 5 bearings, large capacity, smooth operation
That's our list of the 5 best fixed spool reels for distance casting, so which is for you? Let's have a look at some of the features you need to look for.
Important Features to Consider
What do you need in a fixed spool reel? Here's a quick reminder:
Power – some of the above are very powerful reels that are suitable for larger fish, while others are more for beginners; check which you want before you buy.
Line Capacity – you want distance casting, so you need to be able to handle plenty of line. The capacity of the above reels varies greatly, so make sure you check the manufacturers specifications before you make your decision.
Bearings – the better the bearings, the smoother and easier the operation of the reel. The above feature anywhere between one and seven bearings, so you have plenty of choice.
Gears – you need the gearing to be able to allow clutch slip when wanted, and you need features such as instant anti-reverse if you are going to make your life easier.
Novice or Experienced – be aware that while a couple of the above reels are suitable for novices, so a couple are top quality reels that are perhaps only suitable for use by experienced anglers. This may well be reflected in the price.
That's our check list complete, so which of the above reels is best for you? Let's see if we can choose one for you.
Which is Best?
The choice of reels from the above five – and these are our suggestions for the best in the business – comes down to who you are and what you need it for, so let's deal with novices first.
The very low price of the Fladen Power 30, number 4 on the list, makes it a very attractive reel for the true novice. It comes with the guarantee of a brand name, too. However, if you don't want to cast too far in your early exploits, we reckon the Matt Hayes model, number 2, may be an equally good buy, and might last you a little longer before you need to trade up.
For experienced anglers looking for a good distance casting reel, there are two main candidates here: the Fladen Maximus Big Shooter, at number 3 on the list, is an excellent all-round reel with fine attributes and everything you expect, but we also like the final one on the list, the Penn Fierce II 5000, which we feel comes out on top in many ways, so that would be our recommendation for experienced anglers who want a genuine top quality reel with overall excellent performance.
We hope our review has helped you get an idea of your next reel purchase, so happy fishing!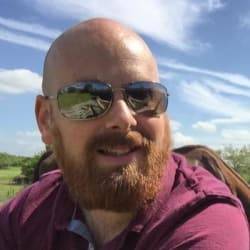 Mike has over 30 years of fishing experience in carp fishing and general coarse fishing. He is always looking for the latest fishing kit to try out and talk about and needs a bigger shed due to all the fishing tackle he owns. You can read more about him here.