Yes, we know, not the most exciting subject. But have you ever been manhandling your gear back from the swim after a heavy day only to find that one of your wheels on your fishing trolley has decided to call it a day? We have. And we'd blanked. And it was raining. By having the kit we needed we could have made the day 33% less tedious.
Serviceability issues aside, it can sometimes make sense to have different sets of wheels depending on the ground that you are going to be traversing. Pushing thick chunky wheels along a smooth surface is probably wasted energy. Likewise trying to navigate a bog with wheels thinner than Donald Trump's comb-over is about as easy as actually carrying the gear yourself. As a general guide Pneumatic trolley wheels give a smoother ride, but they are more prone to punctures and deflation.
There are other considerations with regards to buying spare wheels for your fishing trolley. It is a good idea to make a note of the size of the axle on your box or trolley. There is variation in the wheel bearings size.
We've assembled a list of some of the best spare wheels for fishing trolleys, so with luck, you won't ever be let down:
Recommended Trolley Wheel Spares
Best budget fishing trolley wheels.
Provided these will fit your axle, these aren't a bad investment. The solid tyres mean you won't need to worry about punctures. The solid plastic inner should be pretty durable, just don't expect any suspension.
Best fishing trolley wheels 14mm
It pays to note that you only get one, so if you are looking to 'pimp' your trolley, get two. The hub hole is 14mm wide. These tyres are inflatable, and at 80mm wide will cover a range of terrain. Supporting loads of up to 69kg should give enough scope to deal with most gear.
Best value spares for a four-wheel fishing trolley
If you anticipate getting through a lot of wheels, or happen to have a four-wheel fishing trolley Then this could be the set for you. The wheels are durable and rugged. At 7.5cm wide, they are a good all-rounder. The central hub is 16mm which should accommodate most axles. The galvanised steel rims should be long-lasting too.
Best value spares for a two wheel fishing trolley
This fishing trolley wheelset comes in a pack of two. As with the above, the central hub is a generous 16mm. As the wheels are filled with air they offer suspension, and can even be deflated slightly for softer ground.
Best durable fishing trolley wheels
Well, no one is going to lose you on the bank if you have these fitted. The bright yellow tyres are chunky and puncture-proof. This is because they are constructed of solid rubber. This offers a nice mix of reliability, a bit of spring, and puncture resistance. The bore diameter is 16mm. Due to their solid construction, they aren't the lightest tyres.
Best fishing trolley inner tube replacement
If you have already invested in a set of spare pneumatic wheels for your fishing trolley, it can be more cost-effective to simply replace the inner tube. These can be pumped up to 35psi, giving more than enough pressure to adequately deal with most terrain.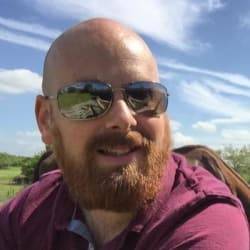 Mike has over 30 years of fishing experience in carp fishing and general coarse fishing. He is always looking for the latest fishing kit to try out and talk about and needs a bigger shed due to all the fishing tackle he owns. You can read more about him here.