You may have already seen our article on keepnets, in which we explained a lot of key features. A river keepnet is very similar, but there are one or two additional considerations that make it much more suitable. Our advice would be to have a dedicated keepnet for river fishing. If you try and use a standard keepnet, you might get away with it… But you might not, in which case you'll be buying one anyway, and will have had a days fishing spoiled.
The standout difference in the best river keepnets are the style of mesh used. River keepnets are subject to the pull of the current, which can often be significant. The mesh they are constructed from generally allows the water to flow through the net more quickly. This is also true of the shape. Round keepnets offer less resistance, and have the ability to roll in the water, preventing abrasion on the bottom. You'll often find they are tapered to allow easier pull-through at the end of a session. Predator proof mesh is vital for river swims, the chances of a fish species' natural predator being present is much higher when fishing rivers.
We've gone with the flow and assembled a few of our current ideas to help you choose the best river keepnet:
Best all rounder
Strong mesh
Multi angle fixing
50cm x 40cm x 400cm
Black
Matrix are a well known and quality brand. Considering how much stress the keepnet will be continually put under, you will want something durable. Each spacer ring of the landing net has a full abrasion proof coating and to make sure there are no mishaps and they are also constructed using heavy duty polycarbonate, meaning no rust or corrosion. The mesh is 6mm wide, allowing water to flow through the net easily. The black colour of the mesh should hide your catch meaning if pike or other nasties make their way to you they can't see what is inside. We would recommend this product for anglers who are expecting to fish in strong currents and deeper water.
Best for beginners
Lightweight
Keepnet and landing net combo
50cm x 40cm x 300cm
Brown
With this offering you are getting two good quality nets for the price of one. The keepnet is made of durable brown mesh, which due to its wide gauge, should prevent too much pull caused by flowing water. Likewise the landing net is made of wide 'easi-flo' netting allowing you to hold it in the water in the correct position. It is worth noting that whilst the net spacer bar at the top is 50cm x 40cm the net itself is a slightly smaller diameter, giving a reduced profile in the water. Also worth a mention is that the nets come with their very own stinkbag, so after a day at the swim you'll be able to keep the car nice and fresh. This keepnet and landing net combo would make an ideal investment for someone just getting into river fishing.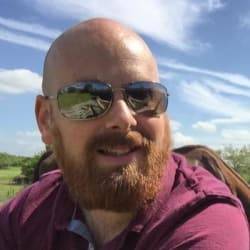 Mike has over 30 years of fishing experience in carp fishing and general coarse fishing. He is always looking for the latest fishing kit to try out and talk about and needs a bigger shed due to all the fishing tackle he owns. You can read more about him here.