There are two things that should occupy your mind when you think 'keepnet'. If you are anything like us the first will be "a huge, match winning catch rate". Fair enough, after all that is why we pursue our sport so vigorously! However the second thing should almost certainly be the welfare of your catch.
If you have read any of our other articles we are sure that you will be aware that we are all about protecting the fish, and therefore the future of our sport. The best Carp Keepnet will keep your fish safe and secure, but ultimately happy and stress free whilst they are waiting to win you the match.
To save you the hard work and to make sure you don't get too caught up, we've assembled a list of some of our best carp keepnets based on several keepnet reviews.
Best Carp Keepnets
Best competitor to the Drennan Carp Keepnet 3m
Black
5/3.0 Metres
Quick dry mesh technology
Preston have scored again with a net that focuses on function. This net, especially as part of a keepnet set, is like a fish filing cabinet that fits in front of your box. You can stack up to five all in one easy to reach setup, and they are compatible with the Preston's revolutionary 'Offbox 36' attachment set.  The shorter length means your swim is unimpeded if fishing close in. The quick dry mesh doesn't hold water for long so you wont have the bothersome task of rinsing out your stinkbag at the end of the busy day. The mesh is fine, and suitable for all species. If you are already an accomplished angler and looking for something advanced, this keepnet would be ideal.
Best Premium Carp Keepnet
Black
5 Metres
Durable and safe
This is Preston's standard offering. As you would expect from a company like Preston, the net is durable and of good quality. More importantly it is specifically designed to minimise abrasion on the fish, reducing the likelihood of injury or parasites. The Spreader block on this net is durable and will ensure that this net should last for a fair few seasons. For an intermediate angler looking to invest in something a bit more refined, this might be a good choice.
Best Keepnet for Intermediate Anglers
Black
5/3 Metres
Clever additional features
With an aluminium spreader frame and durable nylon netting this is a reliable Carp keepnet. The compact design and universal fittings mean it will attach to bank sticks and accessory bars with ease. One feature that is quite unique is the handles located on the bottom sections of the net. These allow for easy hauling and lifting, so if you have netted a bumper catch the net will be easier to handle. A nylon neck on the net ensures that the carp's delicate scales are protected even when they are being placed inside. For a beginner who has just got into match fishing this combines some of the best bits of more premium nets with a few nice features.
Best Keepnet for Carp Beginners
Black
Traditional design
Universal mounting
Shakespeare are a well known name in angling, producing simple and reliable solutions. This Carp keepnet is no exception. The adjustable lock means you can set the angle of the net just right, and it will attach to any bank stick. Shakespeare aren't going to win an award for innovation with this one, but as a first keepnet, especially for carp anglers, it satisfies all of the criteria to keep the fish in tip top condition. If you might catch a few carp but wouldn't consider yourself an expert than this net is well worth a look.
Best Carp Keepnet for Deeper Venues
We've already talked about the benefits of Preston's 'standard' keepnets. This one just happens to be longer. "But with a weight limit in match we can't fit in any more fish anyway, so why the longer length?" we hear you say. Well the answer is actually due to the depth of the venue. Ideally a keepnet should rest as near to horizontally on the bottom as possible, not vertically. This net is designed to penetrate the depths and lie touching the bottom at deeper venues, keeping your fish pointing in the right direction. If you regularly fish gravel pits or steep sided banks you could consider this.
Best All-round Keepnet.
Black
5/3.0 Metres
Solid construction
Guru have combined a mixture of form and function in this net. The rings supporting the net are weighted and reinforced giving two benefits. Firstly they are built to last. They also ensure the net stays submerged in a straight line, giving the fish an optimal amount of swimming room. The oversized top ring is a cracking feature as it presents a nice wide slot to ensure the fish are introduced to the net easily and reducing the risk of any 'mishaps' with particularly 'lively' or large customers. As with most of our nets this keepnet has a universal fitting and easy angular adjustment so getting it into position is a breeze. If you catch a good mix of different species and want something to handle everything at a low price point then we recommend this net as a decent choice.
Best lightweight Carp Keepnet.
Black
3 Metres
Easy lift handles
As the name suggests the netting in this particular keepnet is fine, protecting our finned friends from any harm. At 3 metres it represents a good compromise between space and will handle everything but the deepest venues. The frame of the net is lightweight aluminium, so it won't be the heaviest net on offer, but that said it should be easy to carry down to the swim and easy to retrieve at the end of your session. If you are walking miles to the swim or have a lot of gear this net is one of the lightest on offer.
Best General Purpose Budget Keepnet
We would have liked to have seen a little finer mesh on this keepnet. As a general purpose keepnet it will serve adequately, but for the more serious angler you will probably want something a little more advanced. This offering by Browning is as simple as it gets. With a wide and solid spreader bar at the top you'll have plenty of room to fit your catch and 'haul in'. Due to the spread of the mesh the keepnet will dry relatively quickly, which makes storage easier, and leads to the net lasting longer. If you aren't targeting big Carp or fish in a venue free of predators, this represents a handy budget option.
Best Keepnet for Smaller Fish
Black
5 Metres
Wide gauge mesh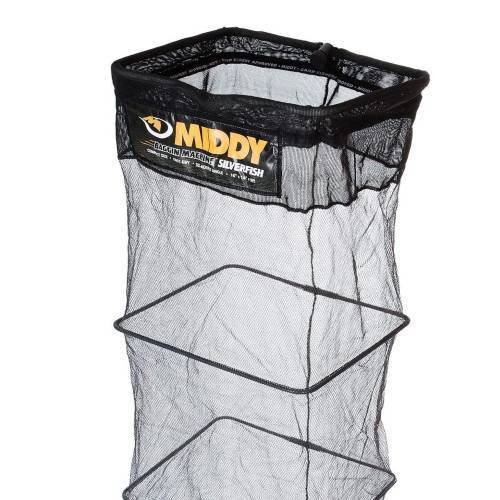 As a general purpose keepnet and if you are trying to keep the costs down this net is ideal. Due to the large gauge of the mesh when you are done fishing, just give it a swish through the air and it will be bone dry. The mesh isn't suitable for large carp, but as the name suggests if you are looking for a bag full of skimmers to win the match then it will perform adequately. If you like racking up big bags of smaller fish this should fit the bill nicely.
If you are after a keepnet for river fishing then we also have an article on those and don't forget your keepnet stink bag!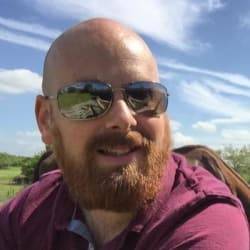 Mike has over 30 years of fishing experience in carp fishing and general coarse fishing. He is always looking for the latest fishing kit to try out and talk about and needs a bigger shed due to all the fishing tackle he owns. You can read more about him here.