Pellets are a super-effective bait for a lot of species, especially carp. Most carp will have grown up eating them in one form or another. It's like their version of comfort food. The problem with pellets is that they are rock hard, fiddly and difficult to secure on a hook. If you soak them they don't tend to hold their shape well. If you try and make a hole in them there's a good chance that all you will hook is your finger.
The answer is to wrap the pellet in a transparent band which can then easily be threaded onto the hook. However, the bands can also be fiddly. Fortunately, there are several devices out there to stretch the bands. They all work in a similar way. You push the nose of the tool into a band, hit the plunger and the nose spreads into 4 'legs'. You pop your pellet into the gap, release the plunger, hey presto, you've got a banded pellet.
We've stretched our imagination and wrapped our heads around a pretty comprehensive list of some of the best Pellet band stretchers out there:
Best Pellet Band Stretchers
The advantage of this tool is that its legs are spring loaded, so it doesn't require a band to close them. This means that your pellet will sit snug inside the jaws whilst you apply the band. With the bright orange plunger you'll be able to see the bander easily. As an additional bonus it comes with 20 bands
You get quite a lot of value with this little set. Included in the pack is 150 pellet bands of different sizes, which is ideal if you have different sized pellets. The bands provided are 4mm and 6mm.
Once again Preston have taken something and made it just that little bit better. This pellet bander comes in an eye catching black and blue colour. It works in a similar way to our other band stretchers. The best feature is that it is constructed from floating plastic preventing accidental loss.
Another worthy bait banding tool. This contribution by matrix comes with three different sizes of bands meaning you can use it with micro pellets and even boilies. Similar to the NGT pellet banding tool, it's jaws are spring loaded ensuring constant grip on your bait of choice.
Drennan are known for good quality angling tools. This band stretcher is no exception. You'll be able to band pellets all the way up to 18mm, It even accommodates dumbbell shaped pellets. As with our other good quality band stretchers the jaws are spring loaded.
And if you need Carp pellet bands…
For next to nothing its worth throwing a couple of packs of these in your bag. With 100 in a pack you'll be covered for a good few sessions. They are compatible with all of the band stretchers that we have featured, and are high strength, keeping your banded pellet where it belongs, on the hook.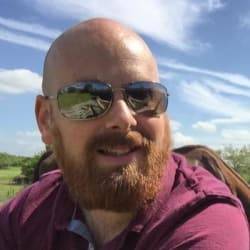 Mike has over 30 years of fishing experience in carp fishing and general coarse fishing. He is always looking for the latest fishing kit to try out and talk about and needs a bigger shed due to all the fishing tackle he owns. You can read more about him here.