If you have a lot of rods then you are going to need a pretty sizeable bag to fit them all in. Holdalls make life easy as you can take all of your tackle down to the swim in an easy to carry package. In this article, we are going to go through 7 of the best rod holdalls, and offer a quick buyer's guide to talk you through some great features that you'll want to be aware of.
NGT Carp QuickFish 3 Made & 3 Unmade Rod Holdall for 12ft Rods with Pockets
Carp Fishing 3 + 3 Michigan Rod & Reel Padded Holdall Tackle Bag For 12 Foot Rods
Wychwood Tactical 9/10ft Rod Sleeve
How many rods it can hold
NGT Carp QuickFish 3 Made & 3 Unmade Rod Holdall for 12ft Rods with Pockets
How many rods it can hold
Carp Fishing 3 + 3 Michigan Rod & Reel Padded Holdall Tackle Bag For 12 Foot Rods
How many rods it can hold
Wychwood Tactical 9/10ft Rod Sleeve
How many rods it can hold
Top Rod Holdalls
Best Carp Rod Holdall for 6 Rods
For Rod Sizes: 12ft+
Colour: Green
Number of Rods: 6
This one has a huge capacity and the ability to store up to 3 rods fully assembled. And space for another 3 unmade rods.
The outer layer of the bag is constructed from lightweight and water-resistant nylon so will keep your your tackle nice and dry when not in use, and prevent them from dripping on the car floor if they are wet.
There is an accessory pocket on the bag's exterior, perfect for storing bank sticks. The bag also has an extended section to allow space for your big pit reels when they are setup.
For those anglers who think that 3 rods just aren't enough, this one should have you covered.
Best Budget 6 Rod Holdall for Carp Fishing
For Rod Sizes: 12ft+
Colour: Olive green
Number of Rods: 6
If time is important to you, you'll want to be able to carry made up rods ready to fish. This holdall for carp fishing allows you to do exactly that. You'll fit 3 made up in this bag with ease and another three spares.
Inside the bag, you'll find durable pockets. There are also secure tie strings located in the centre of your bag for extra security and organisation.
This carp product also features two external pockets, ideal for extras. The entire bag is constructed from heavy-duty polyester, making it super robust.
It offers quite a lot of storage for the money, making it ideal for anglers looking to invest in new carp tackle, but wanting to keep their old ones too!
Best Lightweight Carp Rod Holdall
For Rod Sizes: 9ft
Colour: Green/DPM
Number of Rods: 2
As lightweight solutions go, this is a really great rod holdall. You aren't going to fit vast amounts inside, but what it will do is keep 2 carp rods nice and safe on their way to the swim.
You can leave your made-up rod, a nylon cup holds the butt and the tip section, and then you 'cover' your setup with the elasticated outer sheath.
A padded strap makes this bag comfortable to carry and features an oversized karabiner clip, which is really useful if you want to attach other gear or bags.
It's actually a really neat solution, especially for those anglers who don't want to lug a huge holdall without having the carp rods to fill it.
Best Compact 3 Rod Holdall for Carp Fishing
For Rod Sizes: 12-13ft
Colour: Olive
Number of Rods: 3
No products found.
As holdalls go, this is high on our list. It's just right, not too big, not too small. You'll be able to fit three fully made up with reels attached inside its large interior.
The outer of the bag is constructed from hard-wearing and waterproof polyester.
One feature that we really like is the extended outer pocket, perfect for storing bigger items such as a fishing brolly system, landing net handle or maybe even a carp fishing bivvy.
There is also an extra shorter pocket that has ample room for bank sticks and buzz bars.
For what you can carry, this is actually a really compact piece of luggage. It's big enough to do the job without being too bulky.
Our Top Pick – Best All Round Carp Rod Holdall
For Rod Sizes: 12ft
Colour: DPM
Number of Rods: 3
This is really great for carp fishing. It has a lot of little extra features. It feels fantastic quality.
Once you have opened the substantial 'up and down' zip you'll be presented with a thick padded interior.
There is a belly section allowing you to leave your reels in place. These are big enough to accommodate big pit reels too!
The bag is divided into 3 rod sleeves, stopping them from making contact, which is vital for preventing damage.
There is a side pocket system which is capacious enough to hold a bivvy or brolly. And there is a strap system on the bag's exterior, great for if you have a few extra rods to carry. It really can carry a lot of luggage.
One really nice feature are the extra handles, designed and placed to make this high-quality fishing holdall easy to load into the car. A well padded carry strap finishes the bag off nicely.
Best Premium Carp Rod Holdall
For Rod Size: 10ft
Colour: Olive Green
Number of Rods: 3
As all in one holdalls go, this is pretty great design. It is more than just a rod holder. This spacious bag will allow you to fit a whole manner of things inside, including clothing, buzz bars, bite alarms, everything you need for a day's fishing.
The padded interior features three Velcro loops. These sit on top of two top and bottom bags, with room in the middle to allow your fitted reels to hang.
There is also a sizeable side pocket running the length of the bag for other bits and pieces.
Velcro tabs allow you to open and close the bag easily, giving you full access to the contents within. The bag is carried with two hard-wearing and substantial side handles.
If you have shorter rods (max 10ft) then this would be a great solution. It looks really smart and is quite compact.
Best Budget Carp Rod Holdall
Size: 12ft
Colour: Green
Number of Rods: 3
Well, for the money this offers really excellent value, it's looks and performance are far in excess of its price point.
The Bag has three separate zippable compartments, perfect for storing up to three assembled rods and a host of other accessories.
It is made from heavy-duty canvas, making it super durable. It's really portable too, you can use either the padded shoulder strap or carry it by hand if you have other gear on your shoulder.
It has two spacious side-mounted pockets.
If you want something that looks the business, but you are on a budget then this could be the bag for you.
Buying Guide
Choosing the best holdall can be a little tricky. We've included a few things that you might want to consider before you invest:
Price
The price tag is going to be very important. The ones in our list really do cover everyone's budget.
Size
The aim is to be able to carry all of your rods safely. And to do that they need to be able to fit. It is worth checking the length of your longest rod against any bag. If you have a 4" section poking out the top, that is a recipe for trouble.
Also consider whether you are intending to store them made up, I.E with reels attached, or completely broken down. Look for things such as belly sections that will easily allow you to accommodate your reels, and think whether these will be big enough. For a 3000 sized reel, you will not have to worry. However, if you fish with big pit reels or bait runners then size might be an issue.
A key point to mention is the number of rods you intend to carry. If you only have two then one for 6 might be overkill. Likewise, if you like a rod for every eventuality then you don't want to risk damage by jamming too many all in.
Handles and Straps
If you are carrying six rods and a bivvy, that is going to be a little heavy, and the last thing you want is for a strap to be digging into your shoulder. The best carp holdalls will have padded shoulder straps or substantial handles to allow you to carry your bag.
Extra Pockets
Remember it's called a hold ALL. That means you should be able to take a bit extra. As a general guide, the more pockets you have, the better.
Look for long side-mounted pockets to allow you to stow things like your bivvy or brolly. Shorter pockets make the ideal space for you to store things like rod rests and accessory arms for fishing.
Padding
When choosing the best holdall for carp fishing it isn't just about carrying your gear. You also want protection. There is nothing more frustrating than getting down to the swim only to discover a bent eye or cracked rod. Bank rash is bound to happen, but by ensuring your holdall is thickly padded you can keep your expensive kit in tip-top condition. Look for one with decent padding, both inside and for your body.
Dividers in Rod Holdall
It isn't just contact with the outside world that you need to be careful of when you are transporting your rods. When two rods (or more) are pressed together this can create pressure points that will damage them. The best way to prevent damage is to look for products that have protection and divide the sections to keep the rods from coming into contact with each other when they are in transit.
If you prefer to go for a lightweight holdall then your best bet is to look for a means to secure them on their journey. The best way to do this is to look for features such as loops within the body of the fishing holdall. These provide a quick, easy and lightweight way to stop them from moving around whilst they are in transit.
Extras
There are a few things that can make an average holdall into the best holdall for carp fishing. As you'll already know most of us to have extra bits and pieces that don't store anywhere. In the best rod holdalls, you'll find the ability to add extras and accessories. We mean things like clips and loops that will allow you to stow those bits of gear that won't conveniently fit elsewhere.
Summary
So, there we have it. 7 of the best rod holdalls. Depending on the number you need and own, and the amount of gear you carry you should find a great rod holdall in our list above. Most represent a great storage space that can be used for so much more than just rods, and can really save a lot of effort (and often time). Hopefully, you've found something that you like. See you down on the bank.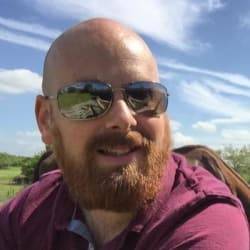 Mike has over 30 years of fishing experience in carp fishing and general coarse fishing. He is always looking for the latest fishing kit to try out and talk about and needs a bigger shed due to all the fishing tackle he owns. You can read more about him here.