When you are fishing, especially if you are out by water throughout a weekend or maybe even longer, your bivvy is ultimately very important. As well as being the place where you seek shelter from inclement weather, it is also the spot where you will sleep at night or sit to eat some food if the temperature is low. Above all else, it is basically your base camp, where you are likely to keep all of your gear for the duration of the time you are out.h
Therefore, it makes sense that you should be interested in keeping it tidy. After all, space is at a premium in even the most spacious and sophisticated bivvy. If you're not careful and don't compartmentalise or divide off the space, it will be chaotic and could cause you more stress than anything else.
Without rhyme and reason as to where everything is stored, you could end up with a bivvy that's even less tidy than a teenager's bedroom!
How do you rein in the chaos and mess and stop it from becoming a problem to utilise the sheltered space your bivvy offers to you better? That's exactly what we are going to explore in this post.
Top Tips
Keep Any Bags Out of Sight
For many of the things you have on a fishing trip in your bivvy, that are in use, is there a bag that is just there taking up space? Even if they still have some things in them that you may need at some point, but don't need immediately, the best place to keep them so you win in that fight for floor space is under the bed you have set up,
That way, you are not having to go all the way back to the car just to keep them, as you will need them close to hand when you pack everything up, but they are out of sight, out of mind until that point.
Invest in a Bivvy Table
Another great way to bring some order to your bivvy is by investing in a bivvy table. In case you are unfamiliar with this accessory, it is a piece of portable and usually foldable/collapsible furniture that you can use as a workstation and as a storage solution for inside your bivvy. Depending on the model you buy, they are relatively easy to set up and provide you with a surface off the ground where you can store items like your phone, power bank, rigs, lures and anything else you want close to hand but don't want to trip over because you've left it on the floor of the bivvy.
Invest In a Bivvy Table with a Drawer
You could go one step better if you are looking for additional storage options for your bivvy that won't take up any extra space. If you are already thinking of buying a bivvy table, why not cut to the chase and buy one with a drawer or two incorporated into its design. That could then be used as a workstation and storage unit.
Bivvy Mat
The term bivvy mat appears to be used interchangeably in the industry. It can either mean a comfortable groundsheet-style mat that lifts you up from the ground a little and provides a more comfortable surface underfoot inside your bivvy. Or it can refer to the kind of mat you can have installed towards the entrance of your bivvy, where you can keep shoes and other wet items that you don't want to bring into the main area to stop getting everything wet.
Bivvy Slippers
Okay, so it may seem like a counterintuitive move to invest in yet more stuff to take along with you on your trip but hear us out. Shoes that you intend on using as bivvy slippers are a great investment to make. It means you don't need to wear your wet and dirty outdoor boots all the time and can just slip them off and put them either outside in a waterproof bag, at the entrance on the bivvy mat or slid under the table or bed and out of the way, When you are not wearing your bivvy slippers or heading out to check on your rods or anything else, simply leave them on the bivvy mat, close to the entrance ready to be put on when you return.
Hanging Light and Heater
Light and heat are two things you will definitely want to have inside your bivvy. Especially if the temperature is down or it is in one of the colder parts of the year that you're out fishing. However, as useful as having a bivvy light and heater is, they are also floor space stealers. Unless, of course, you invest in lighting and heating solutions that can be hung up from the top of your bivvy.
With the heater, you will need to make sure you are not going to create a fire risk and although you may like a bivvy light to produce the main source of illumination, it is always worth considering a head torch for other activities you may need to do when the sun goes down.
Divide the Space Into Different Areas
On top of all we've discussed, you could go even further towards bringing order and harmony to your bivvy by dividing it up into clear and specific areas. Rather than just putting anything anywhere, having areas of your bivvy designated for certain activities or uses, it will make the place feel a lot tidier almost instantly. Obviously, the bed area is for sitting and sleeping, whereas the bivvy table area is for working. Other parts of the bivvy can be devoted to storage. Unless of course you are doubling up space under the bed and the table as storage too.
It is also a good idea to have a bivvy bin of some kind. Even if this takes the form of a large black sack or carrier bag, having a place to put your rubbish will help keep the space clean and tidy.
Final Thoughts
You may not choose to follow all the tips we've given, but we hope we've made it clear that the more planning and thought you put into the layout of your bivvy, the better and more effective use you will get out of the area. You can't really extend or expand the dimensions of your bivvy, but you can make the existing space work harder, by storing items under the bed or the table and keeping things off the ground, if possible.
We hope the next time you are out in your bivvy you win the battle for floor space using some of these tips!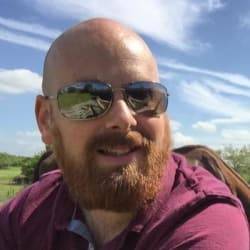 Mike has over 30 years of fishing experience in carp fishing and general coarse fishing. He is always looking for the latest fishing kit to try out and talk about and needs a bigger shed due to all the fishing tackle he owns. You can read more about him here.