When you go carp fishing you want to make sure you have the best kit available to make your day at the river or lake more enjoyable, let alone easier! Some of the kit you have will be standard for carp fishing – rods, reels, poles and a carp fishing bag with your tackle – But what about a bivvy table?
The bivvy table is a great item of equipment that you will find invaluable once you have used one. It allows you to work easily and at a sensible level, and they are made to be light and portable, too. They come in a range of sizes and styles, and from a number of makers.
To give you an idea of what you want to look at, we found a handful of the best items available right now, so let's get down to business and have a close look at them.
Bivvy Tables (Some of the best available)
1: CarpZone Adjusta Bivvy Table
Our first example of the best bivvy table should give you a fair idea of what a bivvy table is all about, and it's a very good benchmark to start our list with. It's from CarpZone, a brand that has a wide variety of such products, and it is a neat and portable design. The top, which includes raised edges so that your items don't fall off, is made from very durable aluminium, while aluminium legs make it light yet sturdy. It measures 49x30x18cm, although height can be adjusted to 24cm, and has a simple twist and lock motion to set the adjustable legs. A good bivvy table that sets the standard.
Key Features – all aluminium, adjustable height, raised edges, moulded feet, portable and light
2: NGT Large Tackle Table
The trend for bivvy tables follows the design of that above, which this one largely emulates. This is a slightly bigger bivvy table than the first table and comes from the NGT brand – a well known provider of a wide range of angling products and accessories. It's also aluminium, the best metal for a lightweight bivvy table, and has raised lips around the edges to prevent accessories rolling off. The legs clip into place and fold down for transport, and it is easy to move around. It's also very well-priced, so worth a look for your carp fishing.
Key Features – all aluminium, raised lip, easy to set up, light, large format
3: Koala Adobe DLX Table
Third, on our best bivvy table list is from the Koala brand. They are regarded for its innovative and practical designs, and this very impressive bivvy table is a good example. Like those above it is made from aluminium. It also has a raised lip around the edges of the flat top. Where it differs slightly is that it has cut-away corners in the lip to enable cleaning, a neat touch. It measures 47x30cm and height can be adjusted through 20 to 27cm, the legs lock into place and are also adjustable for uneven ground and have rubber feet for grip, ad it folds flat for carriage. It's also a very competitive price, and we like it a lot.
Key Features – good size, cut out corners, adjustable height, folds flat, light and cheap
4: Hardware Lightweight Bivvy Table
Fourth on our best bivvy table list is an aluminium lightweight bivvy table. It is simple to erect with flat-folding legs and a lip around the edge of the table. It's nicely made and a good size – it measures 39x34x18cm – but does not have adjustable height. It folds flat for ease of carriage and given the size is surprisingly portable, and it's very simple to erect, the legs just click into place. If you are happy with the fixed height and the size is sufficient for you, this could be the bargain of the lot at a very cheap price.
Key Features – 39x34cm, fixed height 18cm, folds flat, aluminium, lightweight
5: Carp Corner Tackle Station
Our fifth choice of best bivvy table is a little different; it's not just a table, it's a tackle bag too, and it all folds away into a handy carry package so you can get a lot of carp fishing gear inside. The legs of this table fold flat and erect easily, and the bag – which sits on top of the table – includes various bags and pockets and is removable if you wish, leaving you with a standard-issue bivvy table with a raised lip. It's a good idea, and we like the convenience, but if you already have a good tackle box, much of it is going to be surplus to requirements. Not the cheapest table, but if it appeals to you it's worth a look.
Key Features – table and bag, plenty compartments, legs fold flat, well-made
6. Sonik SK-TEK Bivvy Table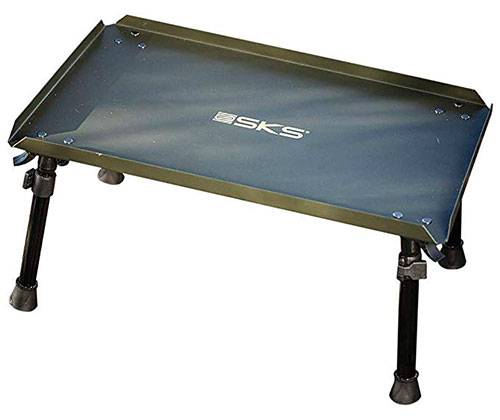 Number 6 on our best bivvy table list is from Sonik. Not only does it have a very sturdy and durable design, with non-slip feet and leg locks that prevent it from collapsing, but it is also very easy to adjust. You can extend the height of the SK-TEK to suit your needs and when you are done with it, you can simply pack it down and fold it up so it's ready to transport again. As a nice bonus, it comes with its own carry bag and handles. This table is a small, but an efficient solution, especially if you want to pack lightly when carp fishing.
7. Leeda Specimen Bivvy Table, Silver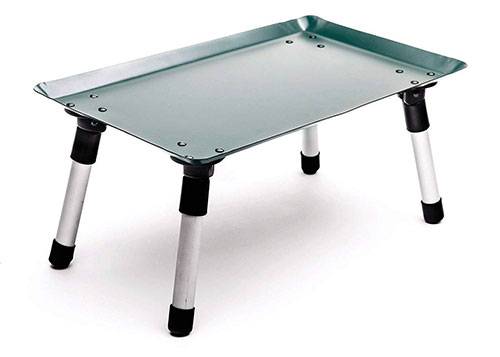 Next up we have a bivvy table that looks and feels like an extremely robust and reliable product. The fact that it has been crafted from tough aluminium, both the tabletop and the legs, is evidence that this is one storage and workspace solution when you are by the river or another body of water that won't let you down. Its basic size is 40 x 24 x 17.5cm, but like many of the others we've featured, its height can be adjusted. To ensure it always stays firmly on the ground or floor of your bivvy, the table has non-slip rubberised feet on the legs.
8. NGT Unisex CARP Bivvy Table System II, One Size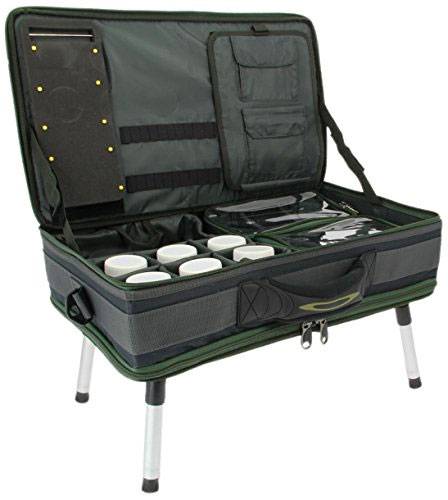 Next on our best bivvy table list is another fine product from the masters at Next Generation Tackle, which definitely ranks as a favourite item in this list. Rather than just designing another bivvy table, with the Bivvy Table System II, NGT has crafted a storage system for the carp angler who likes to travel lightly. This is a multi-pocketed organiser and bag as well as a table, meaning you can store your tackle and other small, but important bits of kit.
It has space for it all, with the two big pockets mounted at the front, along with two terminal tackle organisers ideal for putty, hair extender stops, rig rings and swivels and two lead bags. There are also 6 glug pots too. Like other tables on our list, all the legs are adjustable, which is great when you are working on uneven surfaces and terrains and it comes with a rig board, to give you a space to store pre-baited and pre-maid rigs. Given the relatively low price it retails at too, it's an absolute steal.
9. Avid Carp Bivvy Organiser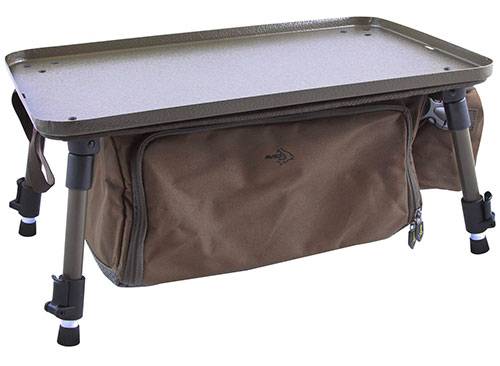 The final product on our best bivvy table list that we want to highlight is another that benefits from a space-saving design that can help to rein in the untidiness of your bivvy. First and foremost, as its name suggests, this is actually a bivvy organiser. We'll get to the table aspect in a moment. In the form of a storage bag, there is a variety of compartments and places to store things safely like your accessories, food bag, your wallet, tackle boxes and hook baits. There is even a specially designed gas bottle holder that can be clipped onto the organiser, so your gas canister isn't left on the ground.
As expected, this table is set on telescopic legs which can be adjusted individually to help level things out on uneven surfaces. Now, we mentioned this can be used as a table and that is due to the non-slip surface on the top which provides a sturdy work area and space to cook on. With its own Velcro carry bag and two handles that make it easy to carry even when it is unfolded and full of stuff, this is an amazingly affordable and practical accessory to invest in.
Buying Guide
We hope our reviews have helped guide you to the best decision about which bivvy table is best for you. If, though, you are completely new to this kind of product or carp fishing in general, we appreciate the fact that you may need a little help in understanding what you should be looking for when buying a bivvy table. There are several aspects you should always consider, which we are going to highlight in this handy and brief buying guide.
Weight
First and foremost, it is important to consider the weight of the table. This will add to the overall weight of what you will need to carry on your trip. If you are going without transportation, you will obviously want a very portable and lightweight bivvy table. Even if you are travelling by car and have the storage space for it, you will need to carry your gear and accessories from your car to the spot you are setting up camp beside the water.
Size
Following on nicely from the point above, the size is the other most important aspect you need to consider when choosing the one that's right for you. As well as factoring in that you will need to carry it along with everything else, finding one that is the right size is imperative for making sure it fits inside. The last thing you want is to get there by the swim and set your shelter up only to discover that either you or your table needs to stay outside. Therefore, always factor the size of the table you choose with everything else that's going into your bivvy (as well as your own measurements).
Size – When Folded
To tie in with the points made above, it's worth noting that most tables are collapsible and fold away so that they are easier and less bulky to transport and carry. Ideally, if you are already taking a lot of gear and accessories for your fishing adventure, you may want a table that folds right down into a small package. It may even be worth sacrificing a little in the way of tabletop space if it means your table fits into a bag and is not awkwardly shaped and hard to carry. It's all about personal preference.
Adjustable Legs
You will probably have noticed that the majority of the bivvy tables we reviewed on this page have adjustable legs. We would recommend really that you should only buy one with adjustable legs. Not only is it helpful for finding the sweet spot height that works best for you but when you can individually adjust all four of the legs it means you can correct any issues you have with uneven terrain and ensure you have a level and sturdy surface to work on. The last thing you want is having a slight slant on which could cause your cooking equipment or baits to fall off.
Materials – Metal or Plastic
You obviously want a bivvy table that is robust and durable enough that it will last for a reasonable number of carp fishing trips. How sturdy a table will be and the lifespan you can expect to get from it will largely depend on the materials that were used in its construction. Most commonly, plastic and metal are used by manufacturers in the production of these tables.
While plastic is a lot easier to deal with and more lightweight, it is not nearly as reliable or tough as steel, aluminium or any other metal.
Price
We would not suggest you base the whole decision on price alone, it is something you need to consider. There is obviously a lot of difference between a table that's just 20 or 30 quid and one that's closer to 100. Expensive doesn't always mean better. Many of the cost-effective and relatively cheap tables we've featured in this post are under £50 and perfectly reliable and a sound investment.
Think about your budget, think about what you need from a bivvy table and then find the one that ticks all the important boxes.
Our Verdict
That's our choice of the top bivvy tables for you, but have we included one that will suit your requirements? We think we've covered all the budget and types very nicely, so let's see if we can come to a verdict on which you should buy.
If you just want a bivvy table, and not the bag that comes with it, no.6 is out of the running, but bear it in mind as it does offer some decent advantages at a sensible price.
Of the remaining five, all do a decent job, are light, a good size and fold flat for carriage and storage. Our favourite is no.4, the Koala model; it's a clever design with the cut out corners for wiping clean, is a good size, has adjustable legs and is a sensible price.
So, get yourself a bivvy table to complete your fishing kit, and enjoy your days by the water.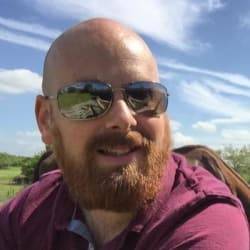 Mike has over 30 years of fishing experience in carp fishing and general coarse fishing. He is always looking for the latest fishing kit to try out and talk about and needs a bigger shed due to all the fishing tackle he owns. You can read more about him here.