Every fisherman – or woman, as our sport is popular with both sexes – likes to have the right equipment to hand, and that means having a set of rods for every occasion. Among your kit you should have a carp stalking rod, an essential item if you are fishing a variety of different swims. Used for close range work and as versatile as they can be, these rods are available in a number of different sizes and from a variety of makers.
Stalking is a great way of fishing for carp, and one that is made all the more easy when using the best tackle. Let's have a look at the best carp stalking rods available now, and all at prices that you can afford.
Best Sellers
Best Carp Stalking Rods (some choices)
1: NGT Unisex Carp Stalker Rod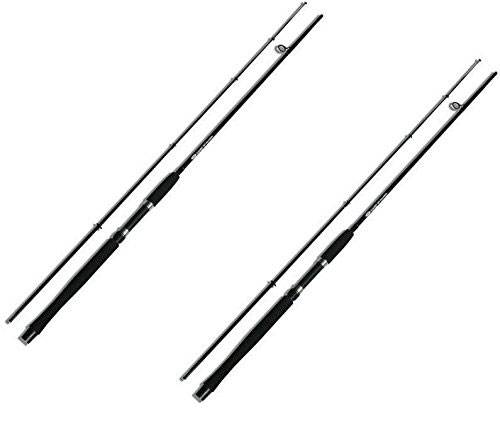 We begin our list with a rod from one of the leading brands I the world of angling gear and accessories, NGT, and they are highly regarded in terms of the quality of their products. This stalker rod is no exception, being an 8-foot rod that breaks down into two pieces for carriage, made from fibreglass for excellent response and strength, and coming with its own bag.
It weighs less than 200g and is very effective when using stalking techniques, and is sensibly priced for a name brand.
Key Features – NGT brand, 8ft, fibreglass, two piece rod, light, bag supplied
2: NGT 6ft Carp Stalker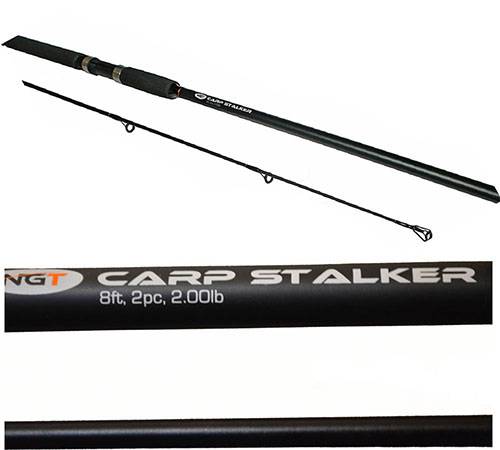 Another carp stalker rod from NGT, this one is a 6-foot rod that is ideal for fishing close range, and comes with all the usual quality attributes associated with the brand. It also comes with a neat cloth bag and is easy to handle – it's very light yet can take fish up to around 14lbs according to satisfied users – and breaks into two pieces for ease of transport. It's a handy rod to have in your kit in case you want a change of tactics, and at the price you'll hardly notice the expense.
Key Features – NGT brand, 6ft, fibreglass, two piece, cloth bag
3: NGT 2 Rod and Reel Set Up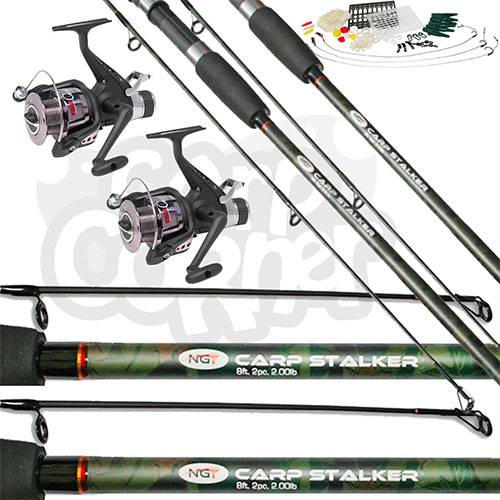 If you're looking for a fishing tackle set to perhaps get a son or daughter interested, this could make a handy father and child purchase: it's the NGT 8ft rod as we reviewed first, but with this package you get two of them, and you also get reels. Everything is to NGT quality and it makes a great deal of sense, you get the bags with the rods, and it is a very neat way to make sure your kid – or a spouse or friend – gets into fishing with you.
Key Features – 2 x NGT rod and reel set, 8ft rods, decent reels, bags
4: Oakwood 8ft Carp Stalking Rod x 2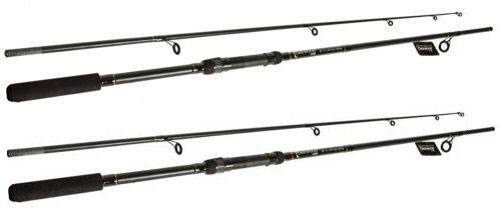 Oakwood is a brand with a reputation for decent quality products at sensible prices – a sort of mid-range brand if you like – and this offer of two 8ft carp stalking rods for the price of one is certainly not to be sniffed at. These are by no means the top quality rods you would get if you paid top money, but look at the price! Where else are you going to be able to buy two decent rods, with carbon shafts, plus a bag for each, and with testimonies from many satisfied users for this little money? A bargain in every way.
Key Features – two Oakwood rods, 8ft, carbon, 2lb test curve, amazing price
5: NGT Stalker Set Up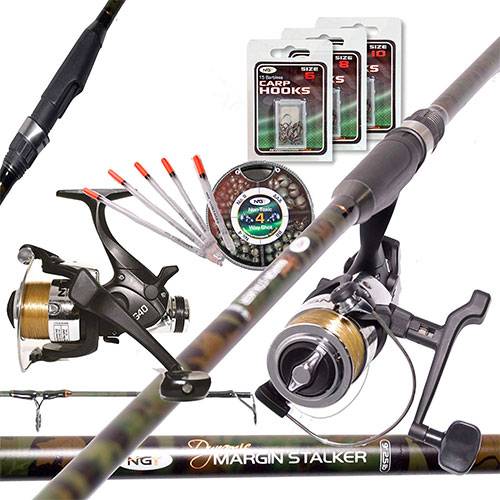 Our final selection is from the NGT brand and it's a very worthy contender for the best on the list. Here you get a nice 8ft stalker rod, perfect for margin fishing, plus a very decent reel, with all the line, tackle, floats and more that you need to get going. This would make a perfect set for someone who has been out of the game for a while, or for a beginner wanting to make a start and see it its for them. It's all good quality, and comes at a price that really is very impressive for what is almost a complete starter kit.
Key Features – NGT, 8ft rod, reel, line and tackle, bag included, great starter set
That's our list of the best carp stalker rods available – and some are a little more than that, too – so which is for you? Let's see if we can come to a verdict.
Our Choice
If you want a carp stalker rod you are looking for one that is between 6 and 10ft, and all of these fit the bill. It comes down to personal choice, and also to what you are looking for. If you want a rod that you will keep with your tackle for occasional use, and want to spend the least, we recommend you check out the Oakwood, and you get two very decent rods for a simply amazing price.
If you want a decent rod that will last the test of time and that is great quality, the NGT that is first on the list might be your choice. However, you have two other options of buying that same rod – the twin pack at no. 3, or the full fishing set up kit that is the last of the six we have featured, and this is the one for us. Whatever you choose, happy stalking!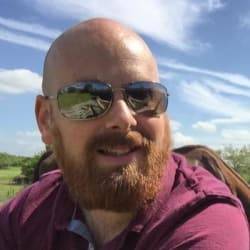 Mike has over 30 years of fishing experience in carp fishing and general coarse fishing. He is always looking for the latest fishing kit to try out and talk about and needs a bigger shed due to all the fishing tackle he owns. You can read more about him here.