If you're a fan of Daiwa, then you'll love our Daiwa carp rod reviews.
Known for designing great looking rods, at very competitive prices, they're a trusted brand within the carp scene.
So, let's review a few of the more well known carp rods, made by Daiwa.
1. Daiwa Black Widow Review

Features
Medium fast to progressive actions
Matt, low glare finish
Low profile soft touch grips and metal trim rings
Graphite DPS reel seat
Ultra low friction Aluminum Oxide guides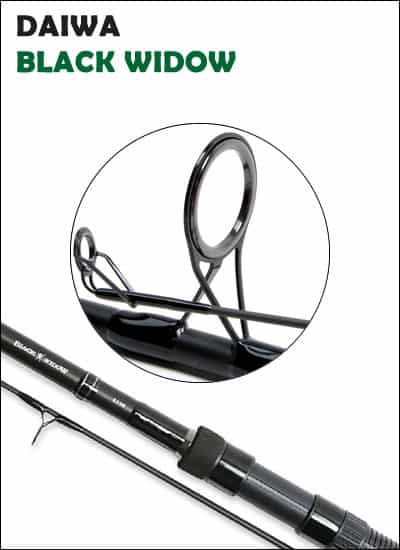 Length: 12ft
Test Curve(s): 2.75lb – 3.25lb
A carp rod that offers plenty of power and distance, the 'Black Widow' is a ideal entry rod for newcomers to carp angling.
The casting action allows very good accuracy and delivers power suited to more expensive rods.
We would describe the tip as medium to fast action.
Housed in the lower section is a graphite DPS reel seat and the low friction aluminum oxide guides handle mono, fluorocarbon or braid with ease.
The rod is finished in a matt black low glare top coat.
The handle is soft to the touch.
There is also a Black Widow spod rod version available.
Daiwa Black Widow Video
---
2. Daiwa Longbow DF Review

Features:
Designed in conjunction with Danny Fairbrass
High grade, ultra slim blanks
Silk matt low glare finish
Medium profile, high diameter butt configuration
Fuji DPS reel seat
Profiled, NS shrink tube handle
Metal butt cap and trim rings
Custom build finish throughout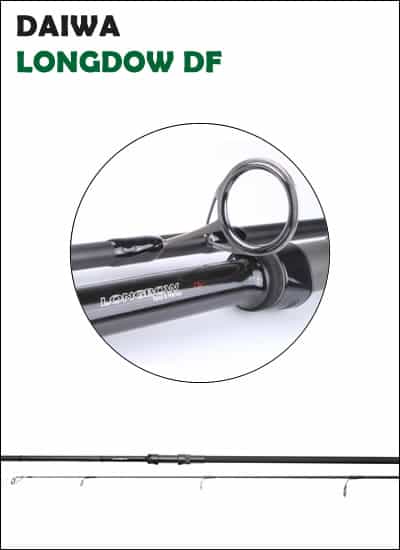 Length: 12ft
Test Curve(s): 2.75lb – 4.25lb
Following on from the highly successful 'Infinity' range, good old Danny Fairbrass has improved and the result is the Daiwa Longbow DF.
Offering a slim & sleek profile, the look has been toned down somewhat but that hasn't effected the capabilities at all.
The slimmer blank provides maximum strength throughout to hit longer casting distances capable of holding heavier loads than ever.
It's believed the Longbow can hit distances of over 140 yards, so ideal for those well thought out trips to France.
From the bottom up, there is an integrated solid metal butt cap leading to a Fuji DPS reel seat that can house almost any reel you can chuck at it.
The series includes a wide range of test curves, the maximum being 4.25lb.
Read more about the Daiwa Longbow DF
Daiwa Longbow DF Video
---
3. Daiwa Theory
Features:
High grade carbon blanks with 3K Carbon
Over Cap Joints
Abbreviated Japanese shrink tube
Matt low glare finish
Fuji DPS reel seat
Slim lightweight SiC guides
Matt textured shrink tube grips
1 ft thread marker
Aluminum butt cap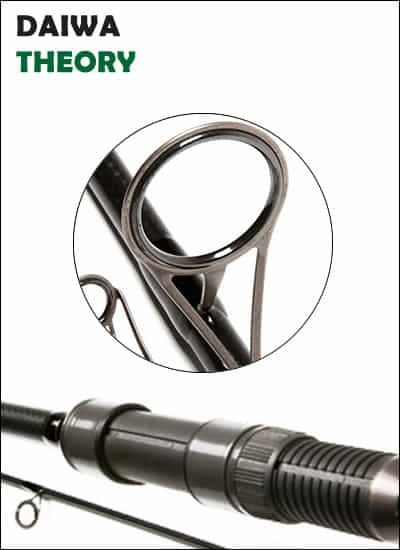 Length: 12ft
Test Curve(s): 2.75lb – 3.5lb
The Daiwa Theory is a powerful carp rod considering it's slim blank profile.
Combining a 3K weave into it's construction allows for a highly responsive 'feel' during action whilst hitting those spots with great accuracy.
The single SIC guides add balance to the rod which houses a reel via the Fuji reel seat.
For the big hitters out there, the series extends to a test curve model of 3.5lb.
For margin hunters, the smaller Theory is 2.75lb.
---
4. Daiwa Phantom
Features:
Lightweight
Progressive Tip
Great If On A Limited Budget
Titanium Leg Guides
Strong Backbone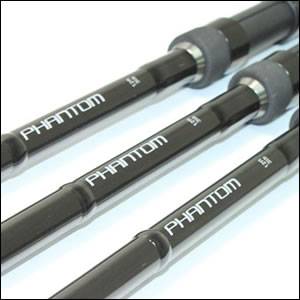 Length: 12ft
Test Curve(s): 3lb
Constructed from carbon fiber, the phantom has a strong backbone topped off  with a nice progressive tip.
The double leg guides (used to connect the rings to the rod)  are made using titanium oxide to minimise damage.
The black matte finish completes a sleek look.
Its more than capable of seating a big pit reel such as the Nash H-Gun Big Pit 10 for those who prefer long distance casting.
Moving down the rod to the butt section, it doesn't seem as slim as the picture suggests , but again, this is not really a disadvantage to how the rod feels during casting which is smooth all the way through.
If you're the type of carp angler that prefers the same brand for rod & reel, we suggest the Daiwa Crosscast carp reel.
---
Other Carp Rod Reviews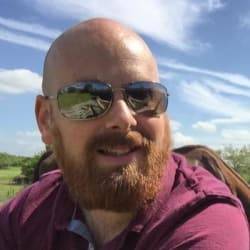 Mike has over 30 years of fishing experience in carp fishing and general coarse fishing. He is always looking for the latest fishing kit to try out and talk about and needs a bigger shed due to all the fishing tackle he owns. You can read more about him here.