The Nash Team have created a stunning carp rod with the Scope.
Yes, it may be little (10ft to be precise) – but what it lacks for in length certainly makes it up in the performance.
The Scope is really useful in confined swims and also a great choice for stalking carp along the margins.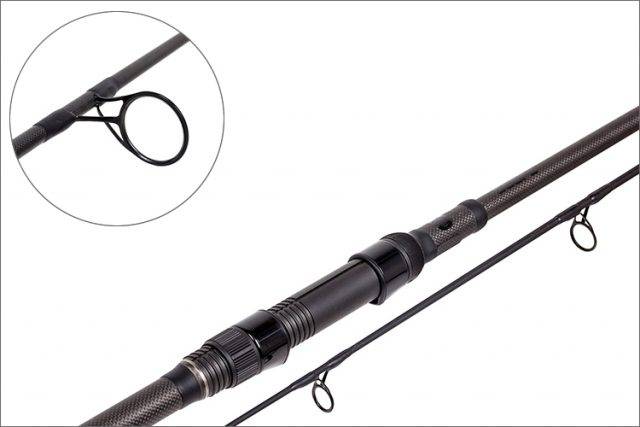 At just 10ft complimented with a 3lb test curve, big carp anglers can now expect a really powerful carp rod.
If you thought 10ft was pretty small, there is also a 9ft version available too!
The butt is actually retractable – and the Scope packs down into an impressive 50inches, depending on the version you choose.
As for casting distance, you may be surpirsied to hear that tests have shown the 9ft scope to be capable of hitting up to 170 yards.
The Scope is made from a super light high modulus carbon blank which utilises a Fiji Minima one piece guide to enhance casting sensitivity.
Along with a Fiji DPS Reel Seat, the Scope also has a Japanese full shrink wrapped handle (also found on the cork butt option) and Caron line clip.
Finally, etched into the butt, is a black stainless steel cap with beta light slot.
Features
Unique retractable butt for the most compact big fish performance ever achieved
Super light high modulus carbon blanks with 1K weave
Genuine Fuji DPS reel seat
Fuji Minima low profile one piece guides for improved casting and enhanced sensitivity
Japanese full shrink and Cork handle options
Carbon line clips on 2.75lb models and above
Keeper rings on 1.75 and 2.25lb models
Black stainless laser etched butt cap with beta light slot (fits Scope Rectangular Isotope)
Final Thoughts
Nash have certainly increased accuracy, sensitivity and achieved superb performance with the Scope.
All round, it's an ultra light carp rod and quite innovative as far as the retractable butt goes.
But will it catch on?
---
Nash Scope Video Review