What could be nicer than sitting down on the swim, with a bit of a feast going? By keeping yourself well fed you'll be able to concentrate on the task that matters. Fishing. Gone are the days of clingfilm and foil. You're going to want to go all classy with a carp fishing food bag. In this article, we are going to look at some really great options and talk you through what you need.
The best carp fishing food bag should have a few key qualities. You'll want something that is well insulated. Insulation helps keep your food cool, and the cooler the food the fresher it will be. We like a fair few pockets in our food bag for fishing. You can divide it up into portions, and internal pockets are often great for stowing ice packs. You'll also need a bag that is big enough to hold the food for the day and is easy to carry and one that will fit inside your fishing rucksack.
Carp Fishing Food Bags
If you've done your job right, you'll have plenty of food. And plenty of food needs plenty of storage. This bag is insulated and lined keeping your sandwiches nice and fresh even on really hot summer days. The rubber base means that you can put it down on the bank without worrying about anything soaking up into your food. There are quite a few pockets too so you might be able to sneak a choccy bar or two in as well.
Whilst more on the budget end this bag will serve to keep your food fresh all day long. The best bit is that it is collapsible, so once you've troughed your way through the lot you can easily stow it elsewhere. The bag is made from cotton meaning that any inadvertent spills can be dealt with, just stick in in the washing machine.
Do you know what's nicer than a nice roast beef and mustard sandwich? A nice roast beef sandwich with a steaming brew on the go. This bag is sized to fit a small gas stove and mug. Even if you don't have one the bag is insulated, perfect for throwing in an ice pack and some goodies. The padded shoulder strap makes the bag easy to carry, which is great if you are bringing a banquet to the bank.
This foldable bag looks really cool. That's because it is, especially inside. It is really well insulated with a thick reflective coating. With a capacity of 6 litres you should be able to fit a whole range of snacks inside. The wipeable PVC ling means that you can easily mop up any spills.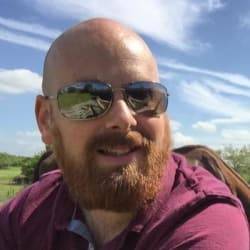 Mike has over 30 years of fishing experience in carp fishing and general coarse fishing. He is always looking for the latest fishing kit to try out and talk about and needs a bigger shed due to all the fishing tackle he owns. You can read more about him here.