One of the most popular participation sports in the world, and in the UK, fishing is a pastime that can be enjoyed by both youngsters and older people. It's all about patience and having the skills to land that prize fish, and like all such pursuits, if you have the right gear you are going to have a more enjoyable and fruitful time.
The basic kit for an average fisherman – or woman, as it's a sport enjoyed by the female population too – includes the usual rods, reels, line and also a fishing box. The latter is one of the most important of all items of kit, as it is not only used to carry your spares, bait and any other items you might take with you, but often the box doubles as a handy seat.
Some fishing boxes – those at the upper end of the market – can be surprisingly expensive, but it is not necessary to pay absurd amounts for a well-made, quality and practical fishing box. We have looked at the best models for less than £100, and we reckon there will be one among these that is just right for you.
Best Budget Fishing Boxes Under £100
1: Fishingmad Tackle Seat Box


One of the advantages of reviewing fishing kit is that it's a specialist market, so the makers know what the punters are looking for. This very cheap box is a prime example of that: it's from Fishingmad, is a neatly made box – again from moulded plastic – and it comes with a wealth of compartments within that make it well worth a look. The 18litre main compartment is more than adequate for anything you want to transport.
The box itself measures 38x38x23cm – not as large as that above but still adequate – and in the lid are a collection of handy lure compartments complete with lids that seal tightly. The tray on top is divided and removable, and the box comes with a neoprene pad for added comfort when seated. With good locking tabs and a carry strap, this box is very cheap, but don't let that put you off as it does the job.
Key Features – 38x38x23cm, lid compartments, removable tray, sturdy, very cheap
2: Koala Products KS3 System


With this box, from the extensive Koala range, we move into a different league entirely. This is a box for the serious angler, one that will satisfy professional match fishermen, and it's very impressive indeed. It comes with an aluminium frame with adjustable mud feet so can be used on any terrain, is made from very strong material, and features a deep cushioned seat for added comfort. This box also has a pole retainer for added convenience.
The overall measurements of the box itself are 56x36x36cm, including the leg frame and system, and it features two drawers on the front and one on the side for tackle. Inside is a spacious cavity that is perfect for the storage of reels and bigger kit, and it is easily secured with good locks. It comes with a carry strap too, so you get the benefit of ease of movement, and is a serious piece of fishing gear n every way. It's also at the top end of our price range, so bear that in mind.
Key Features – 56x36x36cm, aluminium frame, 3 x drawers, pole retainer, rig storage, mud feet
3: Fishingmad Seat Box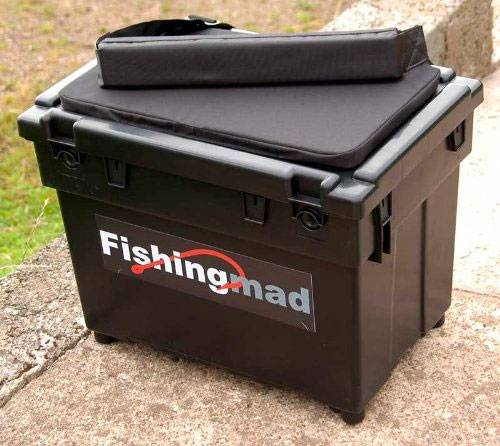 Another box from the good people at Fishingmad, and this one is an impressive size too. It measures 54x40x36.5cm, and offers a large internal capacity for carrying reels and larger gear, plus some smaller trays for tackle. Made from very durable moulded plastic – as is the norm with these items – it offers a combination of lightweight and durability, and is designed to take the knocks that it will likely endure when in transit.
Like all of these, this is a waterproof box with tight closing locks so will not open when being transported, and it has a seat cushion that is padded for added comfort. It's a very nice box all round – it's light enough to carry without being overbearing – and also comes with a carry strap so you get the best of all worlds, and you also get a choice of four different sticker designs to decorate your box! All in all, a good box that is a great size, and one that is sensibly priced in the middle of our range.
Key Features – 54x40x36.5cm, strong body, large capacity, padded seat, carry strap
4: Arapaima Fishing Box Seat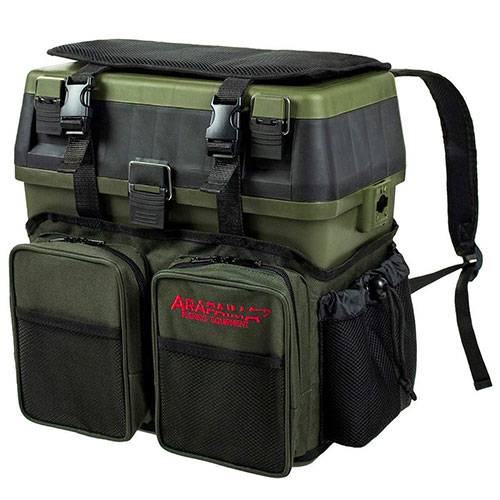 This very nice box and seat is a combination variety; what we mean by this is that it can be carried with the supplied strap as a shoulder bag, or it can be worn as a backpack. It comes with a decent size of internal capacity – it's not the largest box at 39x36x22cm, but is easy to carry thanks to that compact size – and also a series of side pockets that are perfect for tackle boxes, drink bottles or any objects you may wish to carry with you on your fishing trips.
The inside of the lid features four very handy plastic boxes for smaller tackle, while a nicely padded seat makes it a comfortable seat when in place. It's suitably light and finished in a nice green colour, and is very well made indeed. Price-wise, this one sits right in the middle of the range we are reviewing. We reckon that because of the many pockets and sections involved, and the clever design and quality build, it is certainly worth the money, despite being a compact size.
Key Features – 39x36x22cm, many pockets, decent capacity, padded seat, backpack option
5: Koala Products KS7 System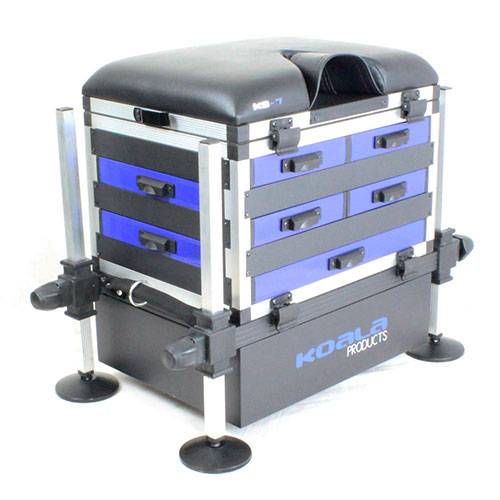 We've included this second model from Koala as although it is a little beyond the upper limit of our price range, it is as comprehensive a fishing box and seat as you will ever find. This is without a doubt a professional-standard box, and that shows in the build quality. It comes with an aluminium frame with adjustable mud feet so can be used on any terrain, is made from very strong material, and features a deep cushioned seat for added comfort. This box also has a pole retainer for added convenience.
The overall measurements of the box itself are 58x37x48cm, including the leg frame and system, and it features a total of seven draws for tackle and smaller items. Side trays could easily be added onto the legs. Inside is a spacious cavity that is perfect for the storage of reels and bigger kit, and it is easily secured with good locks. It comes with a carry strap too, so you get the benefit of ease of movement, and is a serious piece of fishing gear in every way. If you can stretch your budget a little, we recommend you consider this quite excellent box.
Key Features – 58x37x48cm, aluminium frame, 7 x drawers, pole retainer, rig storage, mud feet
6: Roddarch Fishing Seat Box & Rucksack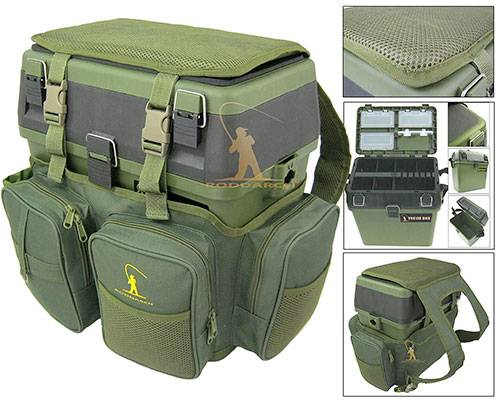 The next in our list of fishing boxes is this fishing seat box and rucksack combo from Roddarch. It may not be the cheapest model in our guide, but it does offer superior value for money. As we've already noted at several points throughout the post, it is not just a great rucksack to keep all your gear in, but a handy seat too. What makes it so special?
It measures at 38 x 23 x 37cm which is adequate enough and is made from high-end and robust ABS with a 10mm thick piece of foam for a truly comfortable place to sit. 600D Ripstop Nylon is also used for additional durability. There are several different sections to keep all of your accessories, bait, tackle and other equipment organised. This includes a 3-litres central compartment and 18-litres main compartment. There are also 4 tackle boxes incorporated into the compartment at the top and dividers that can be moved around the central compartment.
As if that wasn't enough there are four smaller zipper-fastened pockets around the outside. When it comes to lifting and carrying the box, Roddarch has made sure it won't cause too much discomfort or fatigue with the inclusion of the adjustable and padded shoulder straps.
7: Browning Black Magic Ultralight Seat Box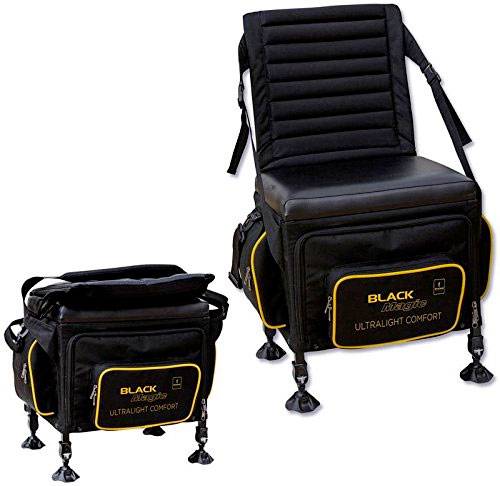 Compared to the others in our list, this Black Magic Ultralight comfort box from Browning is by far the most expensive fishing box. In its defence, we feel it really stands out from the crowd thanks to its larger dimensions than many of the other products of 42 x 42cm and the fact that it is essentially a fishing seat box with backrest bringing a whole new dimension of comfort and relaxation to your time out by the swim or inside your bivvy. Besides this, there are a lot of other great features. Sticking with the backrest for a moment, we love that it is really easy to fold-up so that you can easily move on and re-set it up again, as and when required.
Although it doesn't look as jam-packed with space as others in our list, there are numerous compartments to keep all your important gear in, in a tidy manner. The main compartment can be accessed via a zipper opening section to the front, and there are another three compartments closed by zippers on the exterior. We are also big fans of the legs and how they can all be adjusted individually. This means you can always a flat and level seat to sit on, even when the ground is not even or level.
Best Fishing Boxes Buying Guide
Now that you've seen what the best fishing boxes are available under £100 (The Black Magic Ultralight Comfort Box being the main exception to that), you may still feel a little unsure about which of the great models is right for you. That is why we thought it may be helpful to put together an insightful and to the point buying guide.
Below, therefore, we are going to highlight some of the important features you need to consider when choosing a fishing box/seat.
Size
The size is obviously the first aspect of a fishing box you need to give some due consideration to, for many reasons. For instance, if you are looking to benefit from a spacious enough box to store everything (or almost everything) you need for your fishing adventures that don't fit into your rod bags or tackle box, then you will want a reasonably big fishing box.
If like many anglers, you are looking to save space and use the fishing box as a seat too, whether in your bivvy or outside by the swim, then the size is still very important. The bigger the box, the wider and more comfortable the seating surface will be for you.
On the other side of things, you also need to consider the size and dimensions of the fishing box you by because it will be part of the luggage you take along for the trip. It will need to fit inside your car and be spacious enough to provide adequate storage space but compact enough that it's not too cumbersome to carry around when you are on the move.
Weight
Along with the size and dimensions of any fishing box you are interested in, you also need to consider the weight. This is very important for similar reasons to the above, as you will need to carry/transport it from one location to the next. While you obviously want something with the structural integrity and reinforced materials that mean it will function as a seat as required, you don't want something that is going to be too heavy.
You should also think about the impact it's going to have on your vehicle while you are travelling.
Storage Space
As one of the main reasons why you are investing in a fishing box in the first place is so you have the benefit of storage space, you should make sure the product you buy suits the size and scope of your setup. If you have a relatively simple setup, you may not need quite as big or packed with numerous features. However, if you like to take a lot of different stuff with you, both for the actual fishing and for the sitting around waiting, you should look for one with pockets on the outside and dividers or completely different sections on the inside.
Padding For Seat
A flat and level surface is just what you need if you have been busy from the crack of dawn setting up your baits, lures and rods or checking on the action of the night. However, the best fishing box to sit on needs to be more than just wide enough, it needs to be comfortable too. Therefore, it is crucial to look for a fishing box that has some kind of padded element, if you want to avoid a sore bottom.
Our Conclusion
We believe that we have selected a range of boxes here that includes something for everyone. There is the basic, simple and usable Fishingmad model at number 2 on the list that will do the job if that's what you want, and it's bigger brother at number 4. If, however, you want a serious box we recommend you check out either of the Koala designs which, although more expensive, are very impressive items indeed.
We do feel that the middle of the price range box from Arapaima, number 5, is also worth a recommendation. It may be compact, but it does offer a wide variety of storage options, is nicely made, and can genuinely be worn as a backpack for convenience.
Have another look at our selections and we hope that we've helped find the right fishing box for you.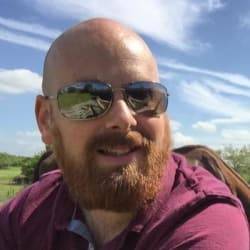 Mike has over 30 years of fishing experience in carp fishing and general coarse fishing. He is always looking for the latest fishing kit to try out and talk about and needs a bigger shed due to all the fishing tackle he owns. You can read more about him here.