We've got the privilege of owning a pair of Sonik SKS rods, and we can tell you that they are incredible!
Reliable and responsive, there a real blend of raw casting power whilst maintaining that delicate hand-to-hand close combat required.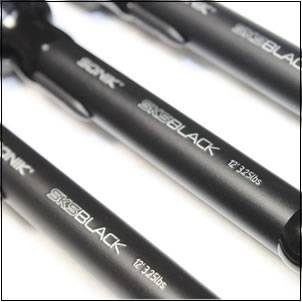 The Review
What truly stands out is how slim line they are, with its sleek matt appearance down to the laser etched butt cap and slim abbreviated handle – it really does belong in a gallery of 'the best looking carp rods'!
Crafted from high modulus carbon fibre blanks with a full Japanese (their rods are just as amazing as their swords!) shrink wrap, they give the angler sufficient stiffness without compromising your confidence in a hard fight.
The soft progressive tip felt like a feather and really allowed us to push the rod to its limits, and with its quality lightweight (double legged) SIC guides; you get an incredibly smooth line that glides out during the cast.
Dependant on the size and model selected, the 12ft version has a 40mm butt ring or for those huge throws out we'd choose the 13ft rod which boasts a 50mm butt ring pattern.
Edit: Both editions also feature an anti-frap tip ring.
Whilst on the point of available options available for this rod – there is a huge array of test curves for you to choose from too….
….you could opt for the industry standard 2.75lb, a slightly stiffer 3lb model or for raw power, the monstrous 3.5lb beast!
Finally, the Sonik SKS houses a neat and tidy DPS graphite reel seat, completed with a gun metal hood, plus a custom line clip which is always a useful addition on any carp rod.
SKS Features
High modulus carbon fibre blanks
Abbreviate duplon handle with laser etched butt cap
Black tyings with copper tippings
Great casting action, soft tip for playing fish
A variety of test curve options
Available as a 12ft or 13ft
Suggested Reel: Sonik 6000FS
Suggested Rod Holdall: Avid Carp Tri-form 13ft Holdall
Similar To: Fox Warrior S
Summary
So, from smaller, tighter swims to large open waters the SKS won't be troubled – it really is an "any style any venue" carp rod for sure!
We are aware that there are also spod and marker rod offerings so whether you're a novice – or a stalwart – these rods will fit comfortably into any setup.

"The Sonik SKS has it all – apart from the high price!"
Performance:

94%


Quality:

91%


**Options:

97%


Price:

92%
** Options – We take into consideration what rod lengths & test curves are available
About Sonik
Sonik take carp angling very seriously, they are known as a reputable company that combine quality with value for money which is shown in all their products.
They also work closely with leading professionals, manufacturers and a team of consultants to lead the way in cutting-edge design.