Located on what was once Gorsty Estate, close to the towns of Crewe and Nantwich in Cheshire, Gorsty Carp Fishing offers a choice of two lakes – one, an ancient natural water with varied fishing opportunities across a range of species including bream, tench and carp, and the second a recently restocked specimen pond with more than 200 carp of many weights, including two prize fish of 33lbs or more. Easy to access and with acceptable facilities, the fishery is popular with local anglers and those from further afield.
The fishing lakes are with easy reach of the M6 motorway. Take junction 16 from the motorway towards Crewe and Nantwich on the A500 and A531, heading for the village of Balterley, and you will find the venue easily. The full address, for your satnav, is listed under contact details at the foot of this review.
Gorsty Carp Fishing is a well regarded fishery with good car parking in easy walking distance of both the lake and the specimen pond, and there are disabled parking spaces around one side of the main lake, with gentle slopes suitable for disabled users down to the shore.
There are toilets provided for the use of anglers, but no shop or food outlets, so it's a bring your own lunch venue.
Rules
As with all fisheries there are rules that visitors are expected to follow. These include the use of the water, baits that are permitted, how many rods you can use and more. Here are some of the important rules that you should be aware of before you travel:
A valid rod licence is required, and this will be checked
The fishery is close to residential properties, so noise must be kept to a minimum
Only barb-less hooks are permitted, no barbs or mini-barbs will be allowed
No fires, but portable barbecues are allowed for a maximum 1 hour
Dogs on leads are welcome
There are also the usual rules on the use of bait, so let's have a quick look at those:
Small amounts of ground baits, in swim feeder or method feeder, are permitted
Floating baits are allowed, such as dog biscuits and bread, but bear in mind this is a match pond, so take care with use of these in such circumstances.
Banned baits are: peanuts, uncooked hemp, aniseed, boilees and cat food.
Also, be aware that beach caster rigs are nor permitted on the lake or pond, and keep nets are for match use only. Gorsty Carp Fishing is a friendly and welcoming fishery but you will be asked to leave if you do not obey these sensible and acceptable rules, so please make sure you follow the rules, and take all litter home with you.
Night Fishing
Gorsty Carp Fishing is open at 7am and closes at 9pm or dusk, whichever is earlier. You can fish through the night, from 4pm to 7am, and must be on site by 7pm. We will list prices later on.
Now to the bit you want to read – what are the pools like, what's in there, and what can you expect to land?
The Ponds
The ancient lake at Gorsty Carp Fishing was once part of a larger estate, and along with the smaller specimen pond is now a very popular fishing venue for anglers in the North-West of England and beyond.
The main lake is renowned for its carp and other species, and offers a real opportunity to land double figure fish. It is a relatively shallow lake with plenty of space, and is frequented by experienced and novice anglers as it is an easy lake to fish. In pleasant surroundings, it is well-stocked. The main lake is home to many smaller species – including bream up to 4lbs – and is also well-stocked with carp up to around 30lbs, so there is plenty of opportunity for satisfying fishing.
The specimen pool is a deeper pond and more specialised, and as it is in-demand may require booking. Get in touch via the numbers we have provided at the foot of the article to book a space. This pond has recently been restocked and features a variety of carp. There are now 200 carp in the pond weighing between 7lb to 24lb, with the prime catches being a pair of carp of 33lbs or more.
Species in the main lake include:
Carp – Mirror, Common and Ghost varieties
Crucians
Roach
Rudd
Tench
Bream
Perch
The two ponds at Gorsty Carp Fishing are very popular with local fisherman and matches over the years have seen some very decent catches, so it's worth checking out if you're looking for fisheries in the north west.
Prices and Availability
It is always best to book ahead for the specimen pond as there may be limited availability. For the main pond there are usually spaces available. Prices at the time of writing are as follows, but be aware these may be susceptible to change so check in advance.
Day Fishing – 7am to 9pm or Dusk
Main Pool – £6.00 for one rod, £2.00 for additional rod
Specimen Pool – £10.00 for one rod. £2.00 for additional rod
Night Fishing – 4pm to 7am (you must be on site by 7pm latest)
Main Pool – £12.00 for up to 2 rods, additional rods £2.00 each
Specimen Pool – £15.00 for up to 2 rods, additional rods £2.00 each
The access times are usually strict, but should you need access at times outside of these it may be possible to arrange.
Further Information
Gorsty Hall Fishery underwent an ownership change a few years ago, with the new owners installing a new bailiff and stating their intention to improve the fishing experience and the facilities at an already-popular venue.
The full address and contact number are:
Gorsty Hall Fishing Lakes
Balterley
Crewe
Cheshire
CW2 5PU
Telephone – Sarah 07796 958298 or Phyllis – 07799 240258
Website – http://gorsty-carp-fishing.net/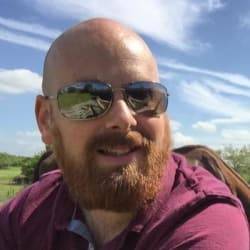 Mike has over 30 years of fishing experience in carp fishing and general coarse fishing. He is always looking for the latest fishing kit to try out and talk about and needs a bigger shed due to all the fishing tackle he owns. You can read more about him here.